We publish a new article every week. Sign up for our Free Email Newsletter to be the first to know!
There's never a shortage of options when it comes to burgers. Every neighborhood has at least one good burger joint, while others have closer to fifty. When all you're craving is a juicy good one, trying to decide where to eat can be overwhelming­. To save you from hours of hangry DoorDash scrolling, we've hand-picked 10 of the best burgers in Lake Norman.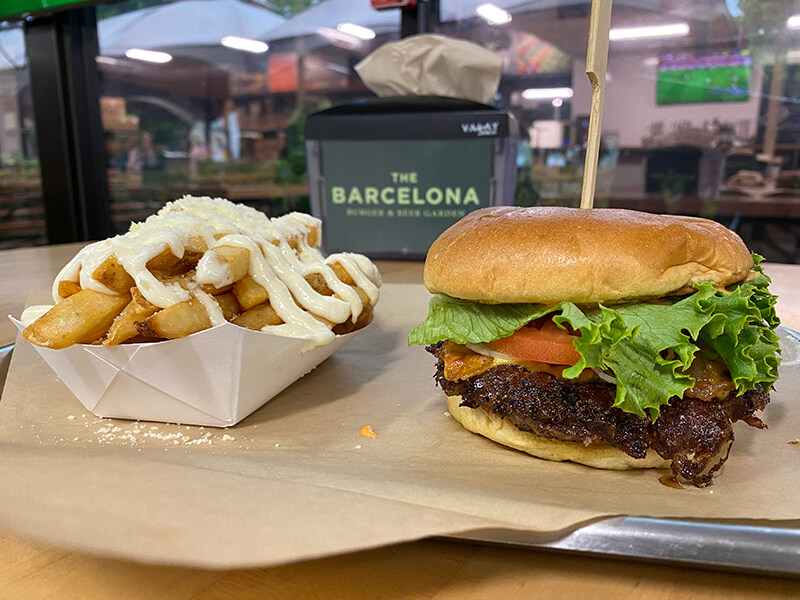 Barcelona Burger and Beer Garden
Something about blue skies and fresh air just makes food taste that much better. Maybe that's the secret to Barcelona Burger and Beer Garden's award-winning fare. Surrounded by the rustic beauty of Merino Mill, this restaurant's charm comes first and foremost from its spacious outdoor seating and lush greenery. The space is pet and family-friendly, so you can enjoy a day out with both your furry friends and your little rugrats! As Barcelona's name might suggest, their specialty is their hand-pressed, certified angus beef burgers (and beer, of course). Inspired by the extraordinary cuisine of Spain, these burgers are topped with anything from caramelized onion and cabrales cheese to peppadew peppers and salsa verde; to match, they're also serving up a Best of LKN favorite, truffle fries. Wash down your burger with a specialty beer, and finish it all off with some homespun cannolis and tiramisu. Your sunny daycation awaits you on S. Main Street in Mooresville.
Get to know the owner of The Barcelona Burger and Beer Garden in episode 62 of the podcast, and in our blog article.
Barcelona Burger and Beer Garden
500 S Main St
Mooresville, NC 28115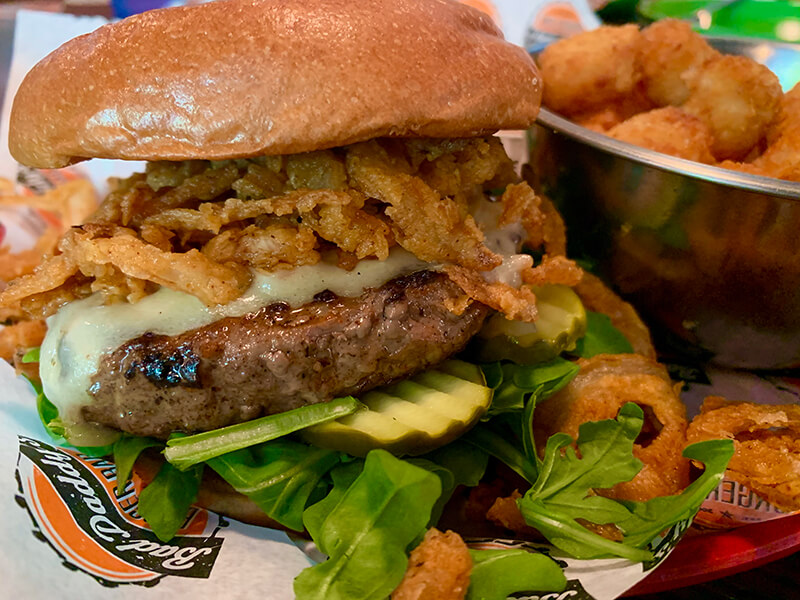 Bad Daddy's Burger Bar – Birkdale Village
If you're into the build-your-own-burger scene, Bad Daddy's Burger Bar is the place for you. With a wide variety of meats, buns, and over xxx toppings, even the craziest burger creations can be yours for devouring. Too many choices got you feeling lost? Don't fret–Bad Daddy's also offers some funky combinations of their own: the Sam I Am ham and egg burger, a BBQ-inspired Smokehouse burger, and their signature Bad Ass Burger, complete with two beef patties, buttermilk fried bacon, and horseradish mayo. The diverse menu and laid-back vibe make for a great gathering spot, perfect for families and large groups. With convenient locations all over NC, including Birkdale Village and Mooresville, there's no excuse for skipping out on the badass flavors at Bad Daddy's.
Bad Daddy's Burger Bar – Birkdale Village
8625 Lindholm Dr Ste A
Huntersville, NC 28078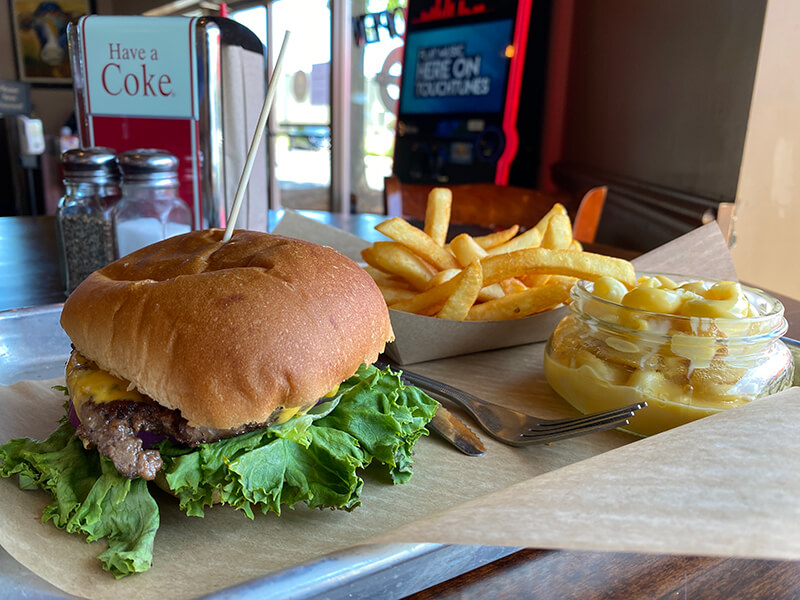 As chef Anthony Bourdain often used to say, good food is simple food. There's no better example of this than CRAFTY BURG'R N' Tap, whose menu is chock-full of comforting classics like traditional hamburgers, house-made fries, and cold beer. For those more adventurous diners out there, you can also find crafty burgers topped with bacon jam, chili and slaw, pulled pork, and even mac n' cheese! The homestyle cooking is complemented by an inviting atmosphere and a cost-effective price point, which makes it another great location for family outings. If an easygoing dine-out is calling your name, you can find CRAFTY BURG'R on Kenton Drive in Cornelius.
Crafty Burg'r & Tap is also one of the most popular restaurants in Cornelius.
17015 Kenton Dr
Cornelius, NC 28031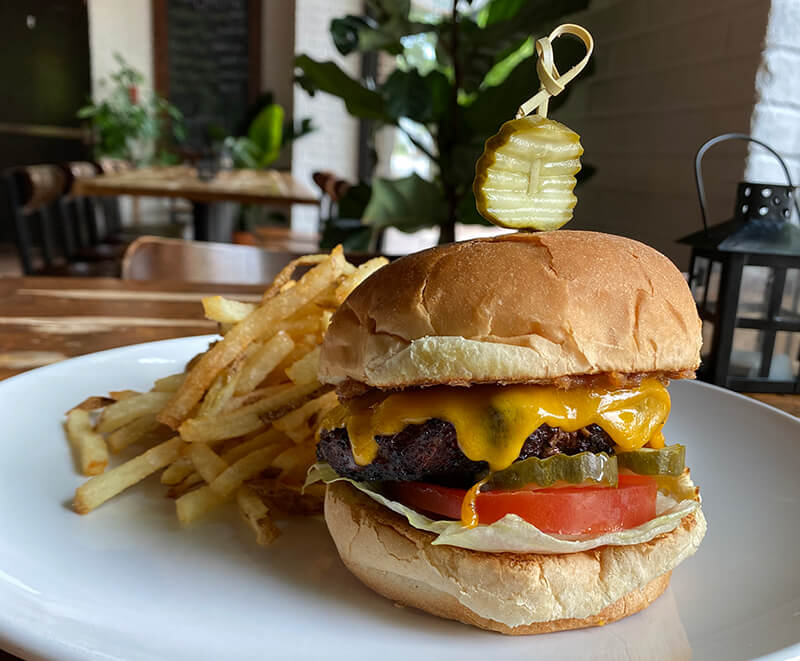 Flatiron Kitchen & Taphouse
For an authentic taste of NC cuisine, you can't go wrong with Flatiron Kitchen & Taphouse. Their locally-sourced ingredients make for fresh, farm-to-table flavors that simply can't be beat. Headlining Flatiron's burger menu is the Taphouse Burger, which features Wagyu-grass fed beef blend, bacon jam, melted cheddar, lettuce, tomato, and pickles served on a brioche bun with housemade fries. Looking for more environmentally-conscious options? Flatiron also offers a multitude of plant-based burgers, so there's something on the menu for everyone. In addition, you'll be able to pair your burger with a wide selection of hand-crafted cocktails and beers from some of NC's finest independent breweries. Head over to Main Street in Davidson for a unique dining experience. 
Flatiron Kitchen and Taphouse was featured in Episode 16 of The Best of LKN podcast!
215 S Main St
Davidson, NC 28036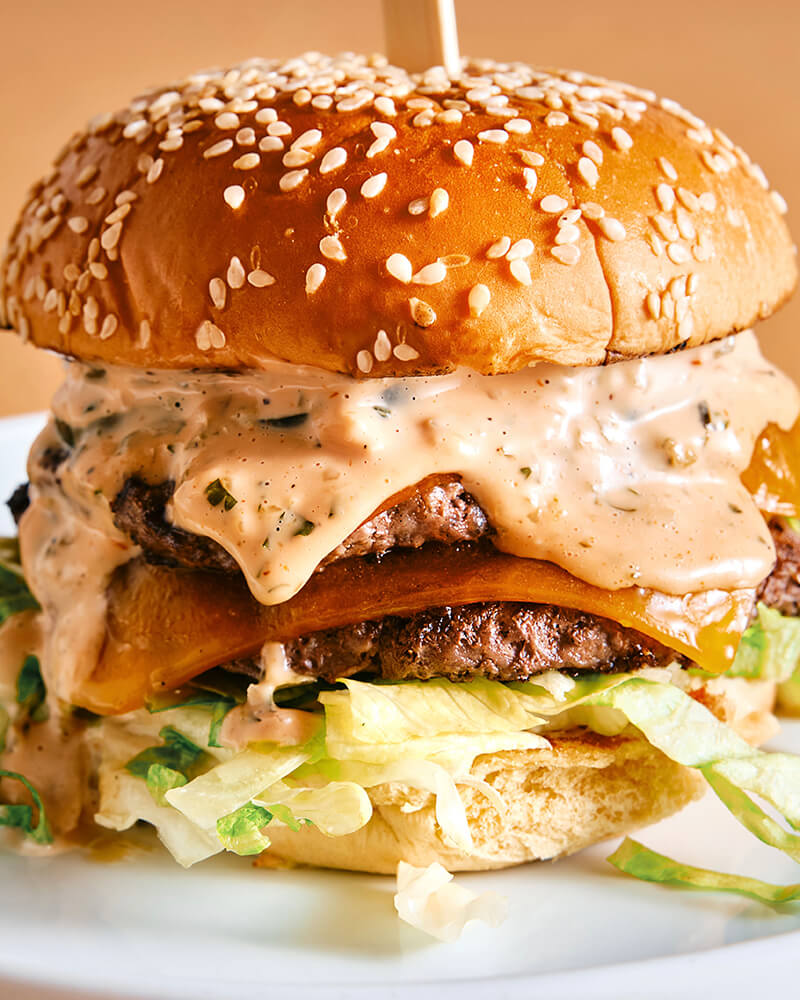 Located along the Lake on Henderson Road, this trendy waterfront establishment is known for its great view and delicious, freshly caught fish. But don't be fooled by its seafood-driven menu—Hello Sailor makes a mean Skillet Burger, topped with their signature magic sauce and served with beef-fat french fries. Trust us when we say that you'll want to ask for extra napkins for this bad boy. You can make the most out of your visit to this stylish joint by pregaming your burger with perfectly fried hush puppies and pickles, as well as creative cocktails. 
Meet Hello, Sailor owners Joe & Katy Kindred in Episode 31 of The Best of LKN podcast!
Hello, Sailor is also one of the top 5 waterfront restaurants on Lake Norman.
20210 Henderson Rd
Cornelius, NC 28031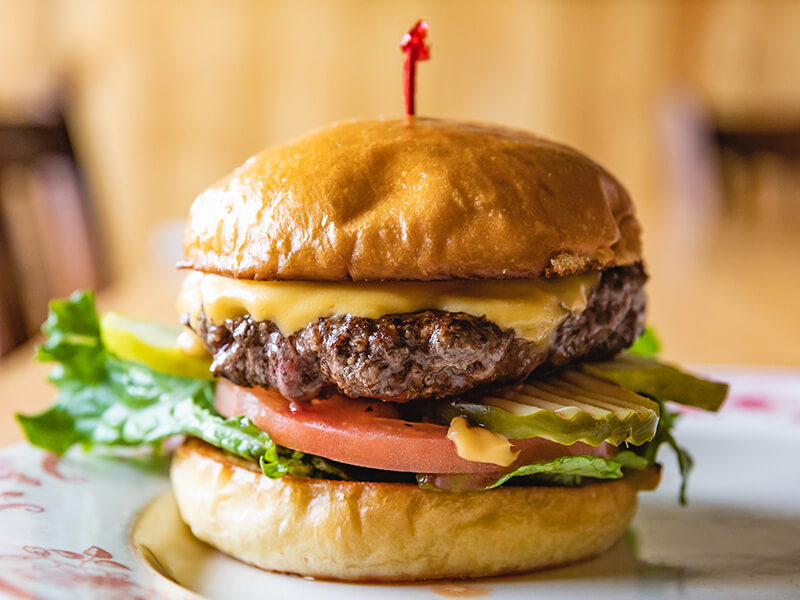 Midwood Smokehouse – Birkdale
Being a classic NC-style BBQ joint, you already know that Midwood Smokehouse knows how to handle their meats. Since their original Midwood location opened up in 2011, they've been serving up classic comfort foods in an equally cozy ambiance. We can guarantee that you'll love their oven-baked mac n' cheese, brunswick stew, and BBQ rub rimmed Bloody Mary. But the real star of the show is the Roadhouse burger, a patty crafted with premium angus chuck and brisket. If not ordering the barbecue at Midwood makes you feel like a criminal, don't worry; you can have your burger, and eat it too! Just ask to get your burger topped with brisket or pork (or both). Have we got your mouth watering yet? Head to Birkdale Village and try this belly-busting burger for yourself.
16710 Birkdale Commons Pkwy #103
Huntersville, NC 28078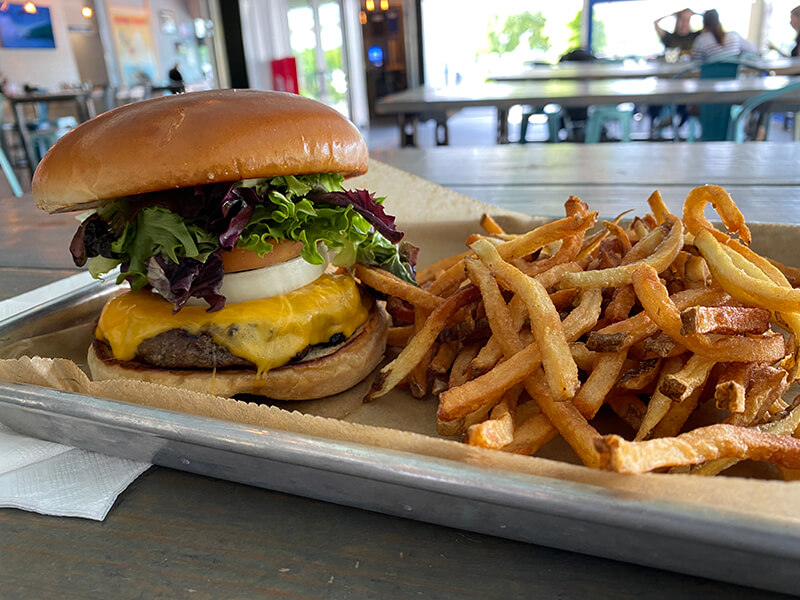 Looking for a place to kick back and relax for a while? At Boatyard Lake Norman, you can do just that. This exceptional eatery doubles as an entertainment venue, with a massive outdoor stage that showcases live music every weekend. We know that there's no good music without good food, so while you jam out, we recommend you try a Smash Burger. If you've never heard of smash burgers before, they're exactly what they sound like: a patty that's been smooshed down on the griddle and browned to crispy perfection. Topped with veggies, cheese, and house-made pickles, you can't go wrong with these babies. The menu is also packed with an assortment of refreshing beers, wines, and seasonal cocktails. When the weather gets warmer, take our advice and seize the day by attending one of Boatyard's events. Located just a short drive to Statesville Road in Cornelius, it's like they've brought the festival scene to you!
BoatYard Lake Norman was featured in Episode 49 of The Best of LKN podcast! BoatYard Lake Norman also made our list of the most popular restaurants in Cornelius.
18418 Statesville Rd
Cornelius, NC 28031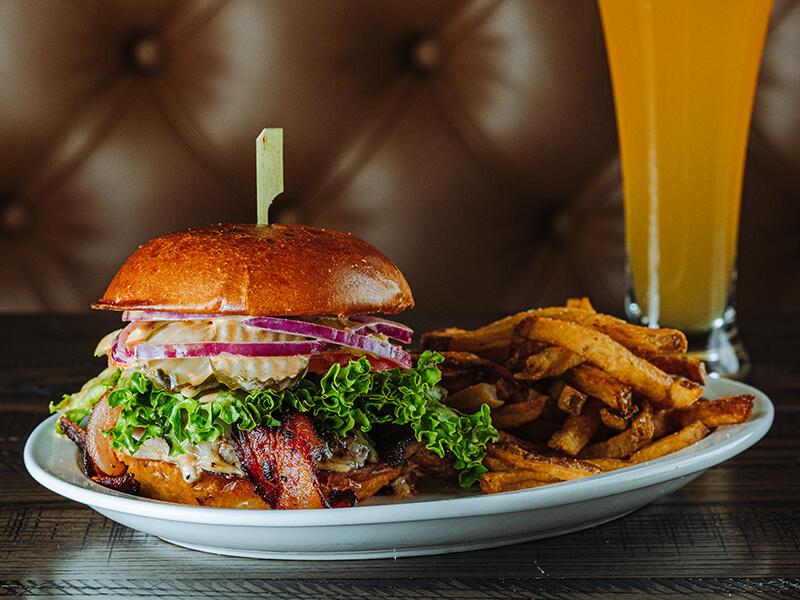 Duckworth's Grill and Taphouse
Another spot that prides itself on being locally owned and operated, Duckworth's Grill and Taphouse is an old-school pub that stays true to tradition by grilling up the classics. Here, you'll find burgers are topped with timeless favorites like fresh lettuce and tomato, applewood smoked bacon, and smoky cheeses. If you're feeling particularly good saucy, you can order the Chorizo Burger, topped with pepper jack cheese, grilled onion, and chipotle mayo, piled high on a sweet onion roll. Of all the joints on this list, Duckworth's offers the largest selection of drinks, with an astounding 388 beers on tap across their five locations! Enjoy your meal in front of the big screens, which broadcast the latest sports games and races. Cheer on your favorite teams while you dine at the Huntersville location on Statesville Road.
Duckworth's Grill and Taphouse
16609 Statesville Rd
Huntersville, NC 28078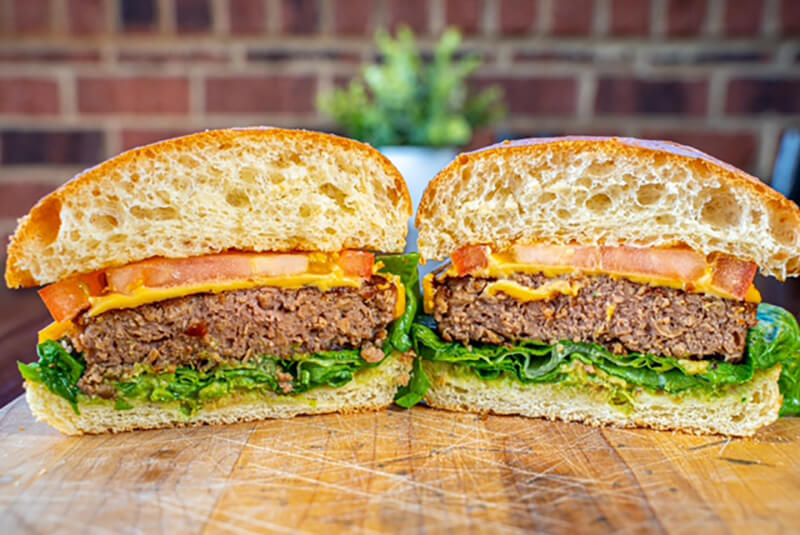 You may know of Famous Toastery as a breakfast powerhouse. With their incredible selection of French toast, flapjacks, and egg dishes, it's a great place to start your day. After a late night out, however, breakfast may not be on your itinerary. If you don't make it out of bed in time for a morning meal, there's no need to worry; the Toastery has got you covered with the Beyond Burger. Grilled to perfection, this vegetarian-friendly option is served on a toasted bun and topped with lettuce and tomato. If you're feeling the breakfast FOMO, you can order your burger with juicy thick-cut or candied bacon. Whether you rise and shine at 7am or roll out of your blanket cave at noon, you can enjoy Famous Toastery's all day breakfast, brunch, and lunch. We frequent their flagship location in Davidson, and recommend you do the same!
Have a listen to our conversation with Famous Toastery founder and CEO, Robert Maynard, in episode 59 of the podcast!
101 N Main St.
Davidson, NC 28036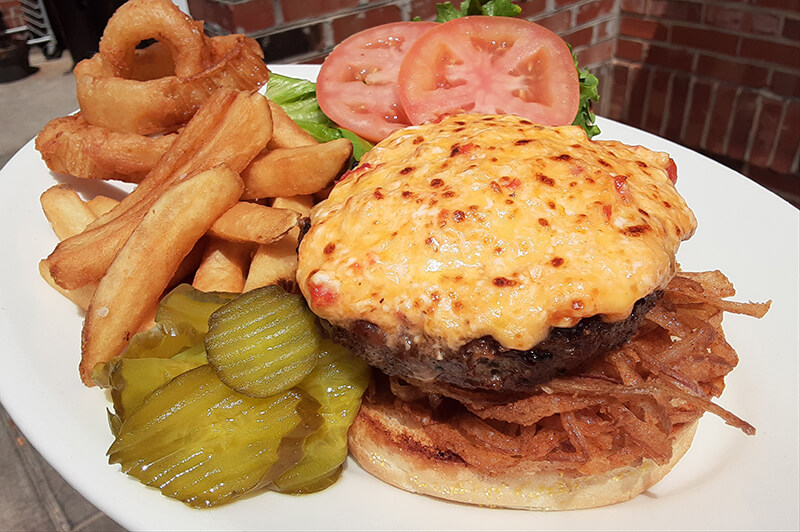 Who said burgers can't be high-class? Jeffrey's is an upscale restaurant built on new American cuisine with an elevated take on the hamburger that'll have you planning your return before you even leave the building. The Jeffrey's Burger consists of a flame-grilled sirloin patty, topped with pimento cheese and crispy onions, all served on Kaiser roll. The meal comes with your choice of a side, but be warned—you might have a hard time choosing between the sweet potato casserole, smoked Gouda and truffle mac, and delicious fried yellow squash. You can expect exceptional service with each visit to Jeffey's, where good times are just as important as good food. Make a memory you'll never forget on Trade Road in Mooresville.
117 Trade Ct
Mooresville, NC 28117
Whatever kind of burger you're after, there's a place on this list for you to chow down at. Lake Norman is a culinary hotspot with an endless stream of eateries, so after you've finished adding a few lines to your foodie bucket list, consider checking out some of the other LKN restaurants we've covered.  
Cheers, Lake Norman!