Hello, Sailor is a casual waterfront seafood restaurant in Cornelius, North Carolina. Hello, Sailor is a concept developed by nationally recognized Chef Joe Kindred and his wife Katy.
Hello, Sailor occupies the waterfront space that formerly housed the Rusty Rudder restaurant and bar. The "Rudder" was a real dive, and there are actually a number of locals that miss that place. They miss it so much that many Rusty Rudder devotees have trolled Hello, Sailor on Yelp and left fictitiously poor reviews.

The Yelp rating for Hello, Sailor is more of an inside joke these days. The restaurant has even made custom t-shirts that pay homage (with humor) to the unpopular online restaurant review platform.
In this article, I'll share my first experience at Hello, Sailor – the good, the bad, and the really excellent.
First, how about those target demographics?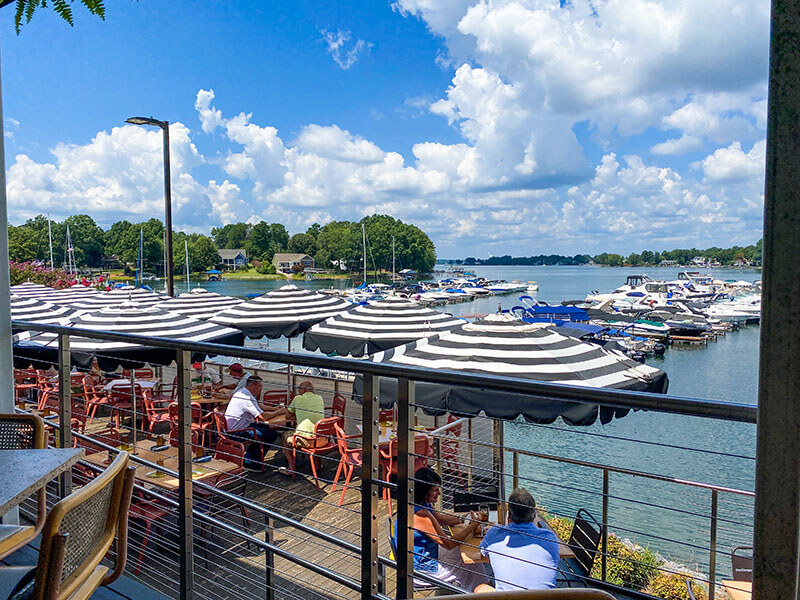 The Hello, Sailor Customer
Hello, Sailor is perched on prime waterfront property adjacent to Holiday Marina. It was no doubt acquired in exchange for a premium price.  
It makes sense then that the proprietors would want to attract a clientele that can not only afford to pay a premium but gladly do so in return for a premium experience.
Gone are the days of the sloven Rusty Rudder. Hello, Sailor is a clean and welcoming place, that oozes a certain "mid-century beach boy vibe." The interior dining and bar areas are bright and open, yet cozy.
Outside on the patio and deck, the atmosphere is reminiscent of a fish bar on the eastern shore of the Carolinas. Diners on the deck enjoy a waterfront view of the marina and surrounding cove.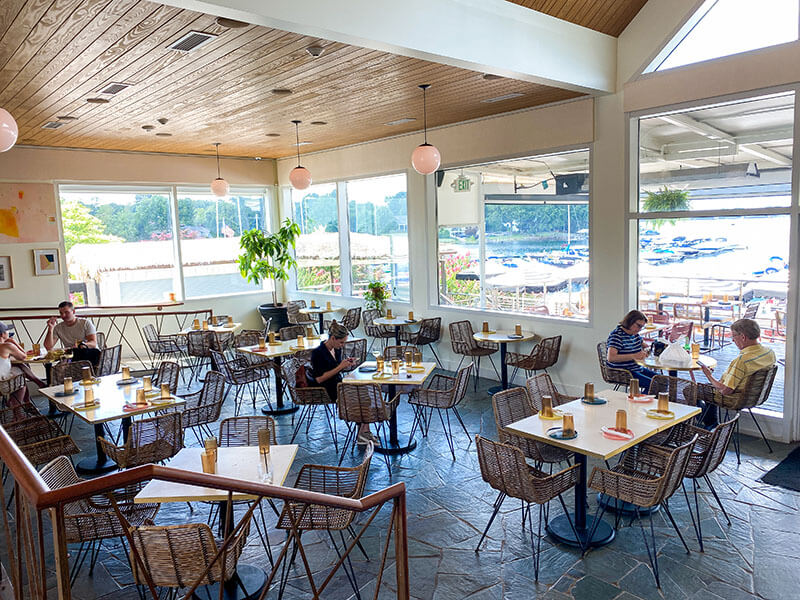 Arriving at Hello, Sailor
Keep your eyes peeled while driving down Catawba Avenue in Cornelius, or you'll certainly miss the right turn onto Henderson Road. Parking at Hello, Sailor is plentiful. But, the place does get busy, like really busy. 
The hostess greeted me politely and inquired whether I'd like to dine inside or outside. It was a hot August afternoon, so I deliberated on the questions for a minute. The outside tables looked to be in a good amount of shade, so I opted to sit outside.
I arrived at 2pm on a Monday afternoon. There were plenty of tables available. However, reservations are highly recommended (and often required) for the more popular dinner time slots.
My server arrived promptly at my table, and her first question was "have you dined with us before?" What a great question! I don't hear this one very often.
"No, as a matter of fact, this is my first visit."
She welcomed me and proceeded to ask if I had any food allergies. Again, a great question!
"Nope." Then off she went to fetch my starter: hushpuppies.
The Appetizer at Hello Sailor
Hushpuppies at Hello, Sailor are interesting. Delicious, but interesting. They are made with Jimmy Red Corn meal, which has an unusually large germ that gives a more pronounced flavor than other corn. 
The hushpuppies are toasty on the outside, and super soft and fluffy on the inside. The texture of the corn meal is more like soft wheat bread.
The hushpuppies are delicious.
*NOTE: I did consider ordering the half-dozen oysters on the half shell, but at a market price of $24 that would have blown the lunch budget.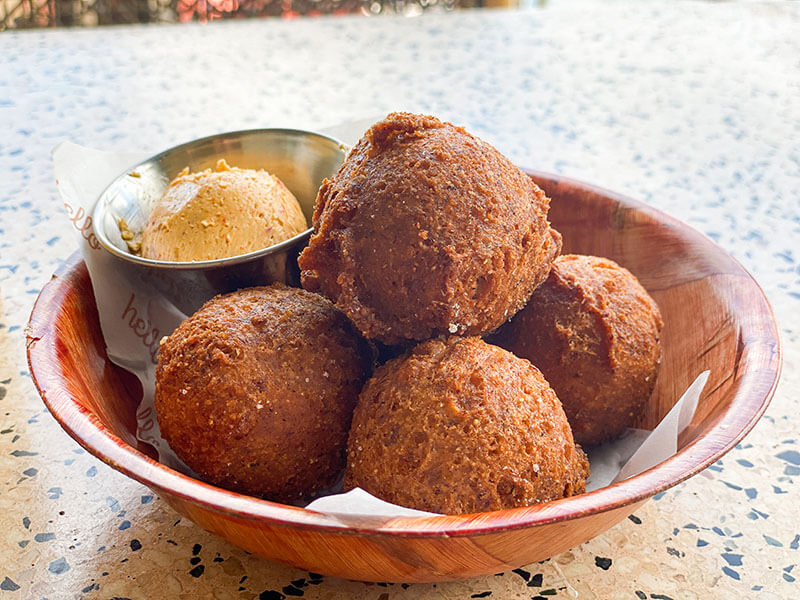 The Cocktail at Hello Sailor
A nautical theme usually means a great cocktail menu, and Hello, Sailor delivers. I chose the Yacht Club cocktail – mezcal, elderflower, lime, grapefruit, and jalapeno.
"Wonderful. And you're good with mezcal, with it's smoky profile?"
"Of course." I lied. I've never had mezcal, and I didn't know it had a "smoky taste profile." I considered canceling that order, but I didn't want to seem unsophisticated having never tried mezcal before, and whatnot. 
I'm not a fan of smoky drinks, but the Yacht Club was delicious.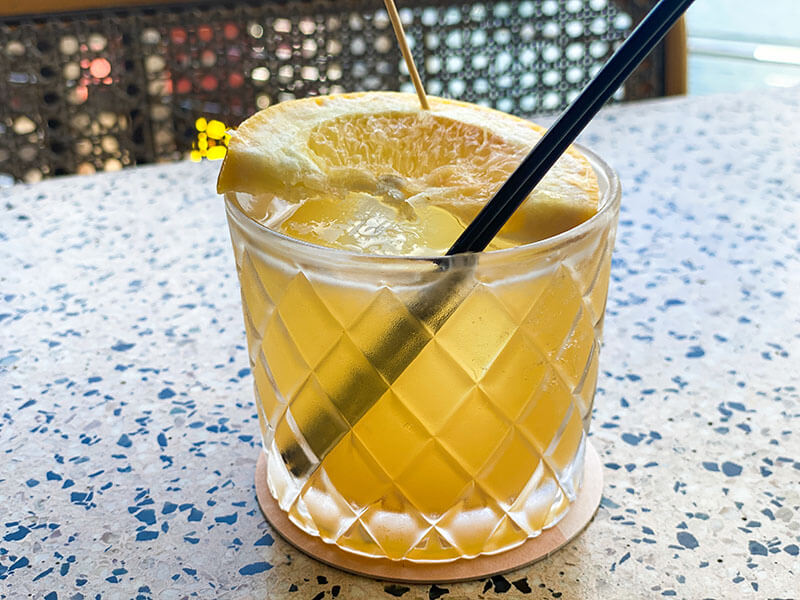 The Entree at Hello Sailor
During my interview with Joe and Katy Kindred back in 2020, I inquired about the calabash style of seafood of which Joe is such a fan. So, of course, I had to try something fried on my first visit to Hello, Sailor.
The popcorn shrimp basket with beef fat fries would do nicely. Coated in a flavorful batter, then flash-fried to a light golden color, the popcorn shrimp are excellent. 
The fries? Fatty, crispy, and oh-so good.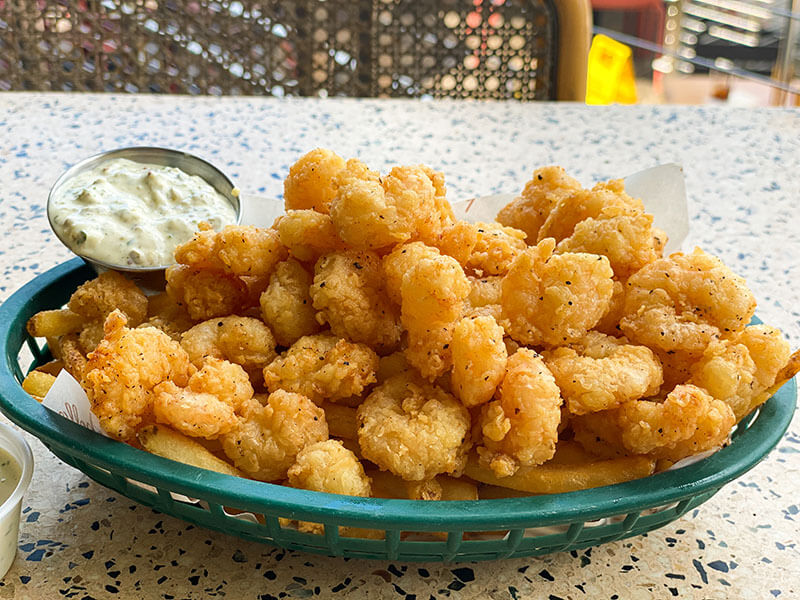 The Dessert at Hello Sailor
There is really only one choice for dessert (though there are actually a few choices.) The Key Lime Cheesecake is a must-try.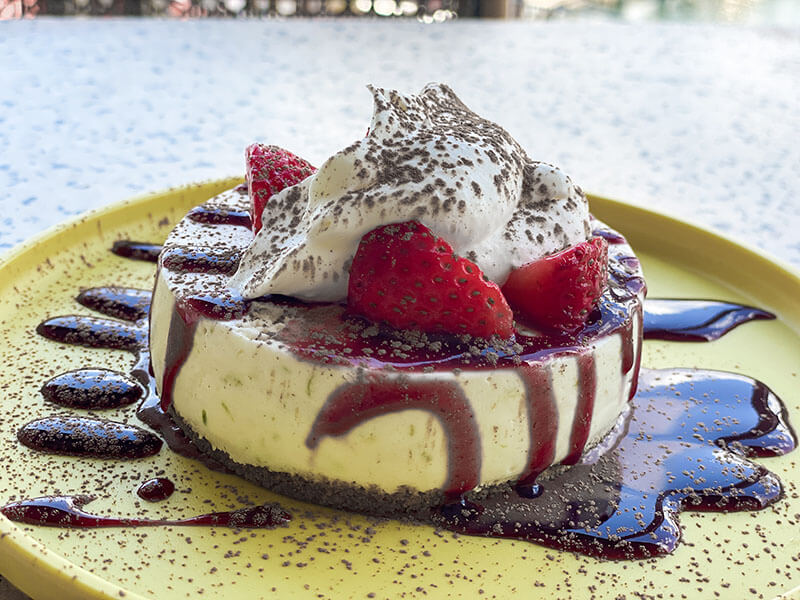 I did say I would share anything that was bad about my experience. Honestly, everything went very smoothly. My first experience at Hello, Sailor was an excellent one. Sorry, Yelp. 
Hello, Sailor
Address: 20210 Henderson Rd, Cornelius, NC 28031
Hours: 11AM-9PM, daily
(704) 997-5365