Nestled in the heart of Morrison Plantation (Mooresville, NC) is Flock Bistro, one of Lake Norman's most exceptional dining destinations.
We featured the leadership team at Flock Bistro back in episode 142 of the podcast. On that day, Chef Nick Catel and General Manager Garret Sheehan rolled out the red carpet for The Best of LKN and prepared several of their staple menu items for me to sample.
I sat with Garret and Chef Nick and enjoyed an amazing meal while they shared their vision for creating such an exceptional dining experience for their guests.
It was spectacular!
So, it was such a pleasure to come back to Flock a few months later with my wife and share with her what I believe to be one of the best dining experiences in Mooresville. We relaxed, enjoyed, and took a few photos for what I knew would become one of my favorite articles on this blog.
In this article, I'll share with you our dinner experience at Flock Bistro.
Flock is situated in the Morrison Plantation community in Mooresville, NC. It is a lovely neighborhood with some very popular businesses and attractions nearby. You may have heard of a few:
Parking here is pretty straightforward. There are spots on the street right in front of Flock (that's where we parked) and other lots nearby.
When you walk into the restaurant, you'll be greeted by a friendly smile and taken right to your table (reservations recommended.)
While Flock is well-known for their curated bourbon selection and outstanding cocktail program, I decided to start things off rather "light" with Tito's on the rocks & a lime twist. My wife enjoyed a delicious Sauvignon Blanc by Davesté Vineyards.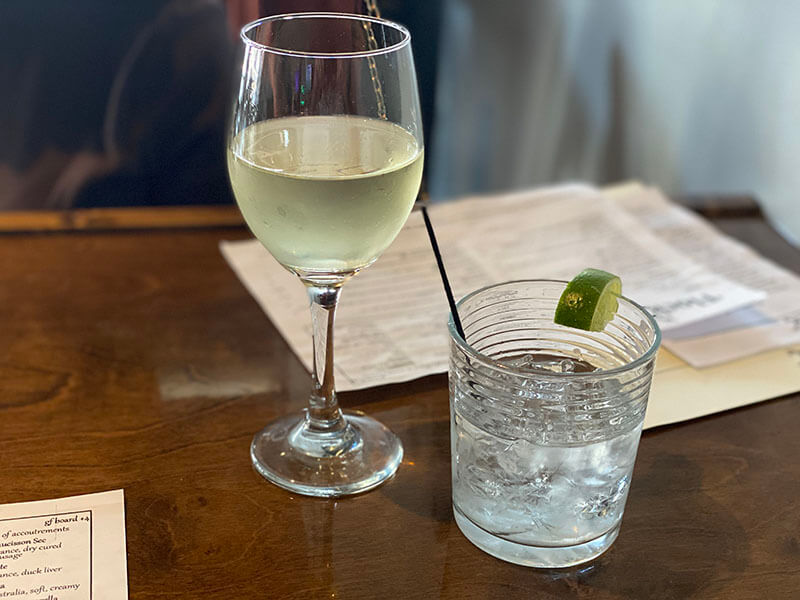 Flock features a Chef-Driven menu. Specials rotate daily, and there are staples on the menu that will always stand the test of time. When we dine, we take our time. 
Beginning with…
We began with one of those staples I was talking about. The Lamb Lollipops were a new experience for me, and I will be ordering these every time I return to Flock. The name says it all – eat them with your hands.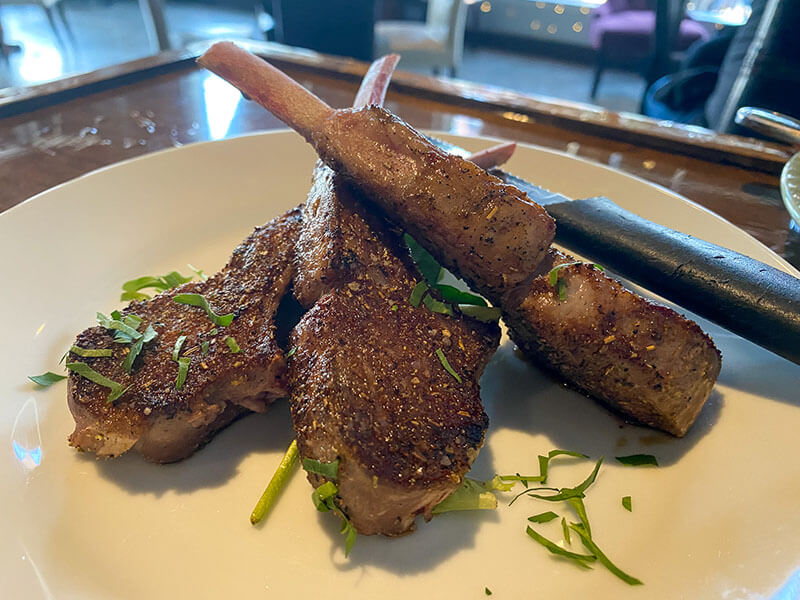 A special on this particular evening. Chef Nick's play on poutine. Instead of the classic French-fried concoction, this dish was a fluffy potato cake adorned with beef and gravy. 5-stars.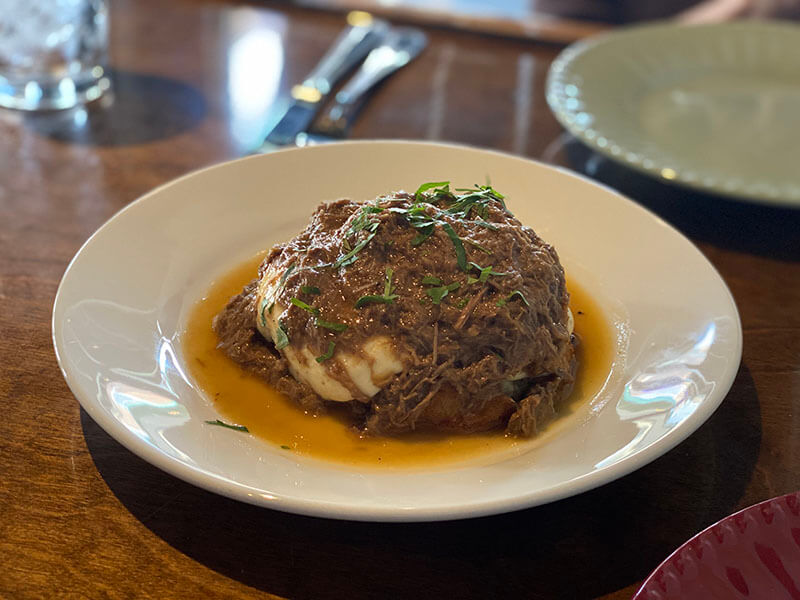 Goat Cheese and Apricot Jam Crustini
I mean… need I to say more?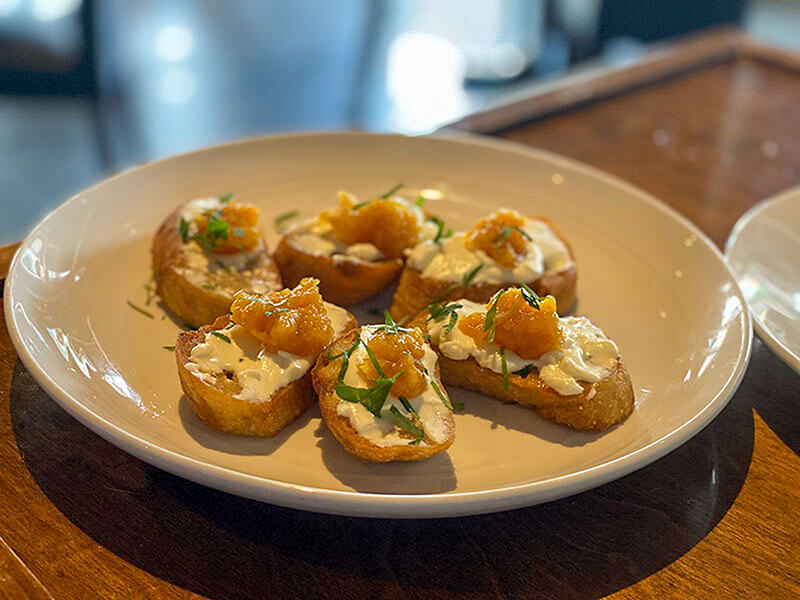 This seasonal special is the stuff of legend, and after hearing so many people rave about it I had to order it. This is a lightly breaded haddock filet with French fries accompanied by house-made chili and tartar sauce. It lived up to its reputation.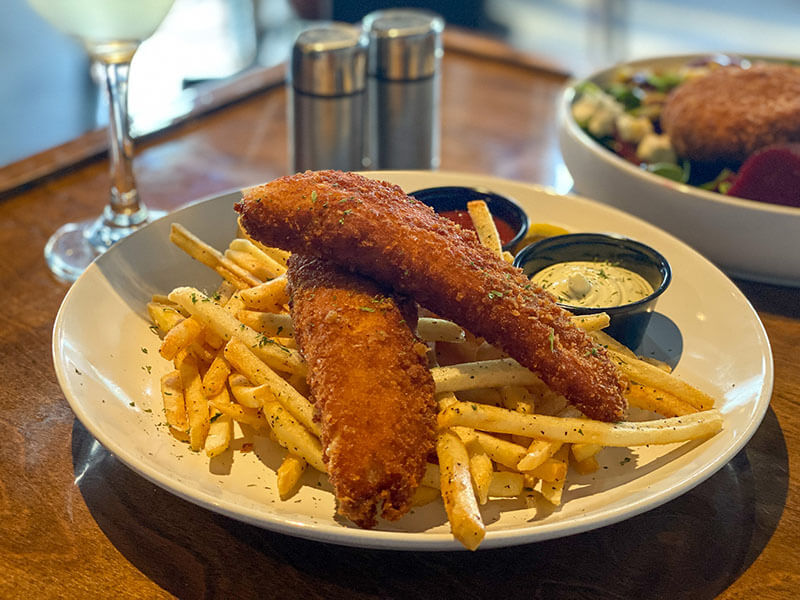 Beet & Goat Cheese Salad with Crab Cake
Between the two of us, my wife is the more sensible diner. Always looking for a great salad, and she loves her crab cakes. I sometimes think that one measure of a restaurant's culinary talent is its ability to deliver an extraordinary salad. Flock wins, again.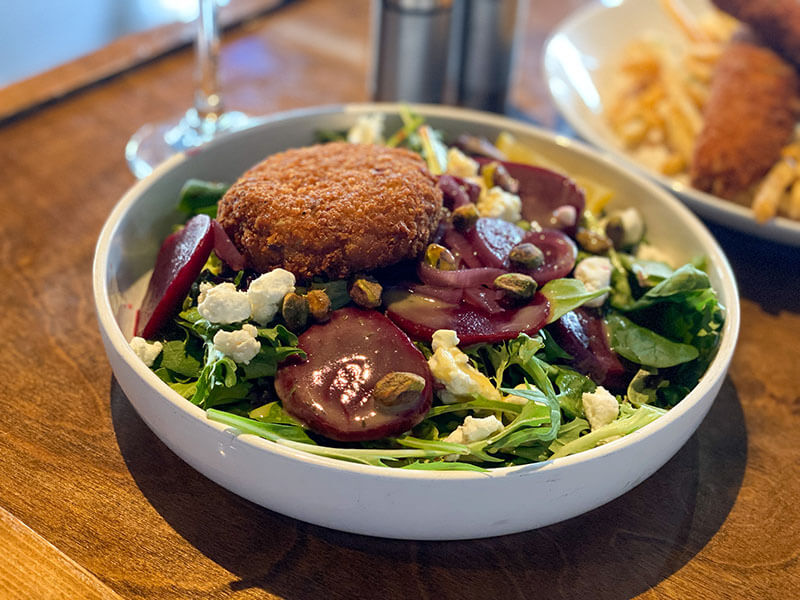 Flock's desserts are house-made and baked fresh daily. There's always something new, and this evening we enjoyed a Chocolate Cupcake with Cream Cheese Icing & Salted Caramel Glaze, a special Rice Crispy Treat, and a delicious Tiramisu Truffle. Just one truffle, because by this point we were stuffed!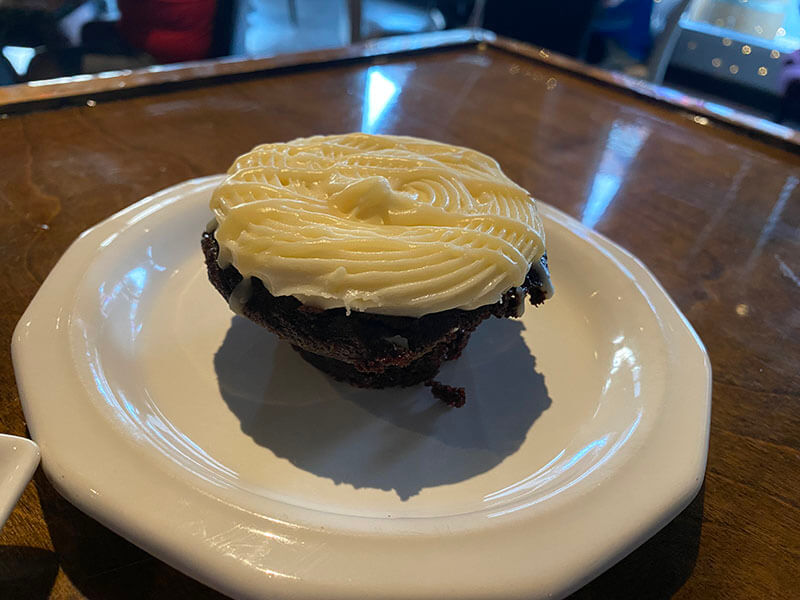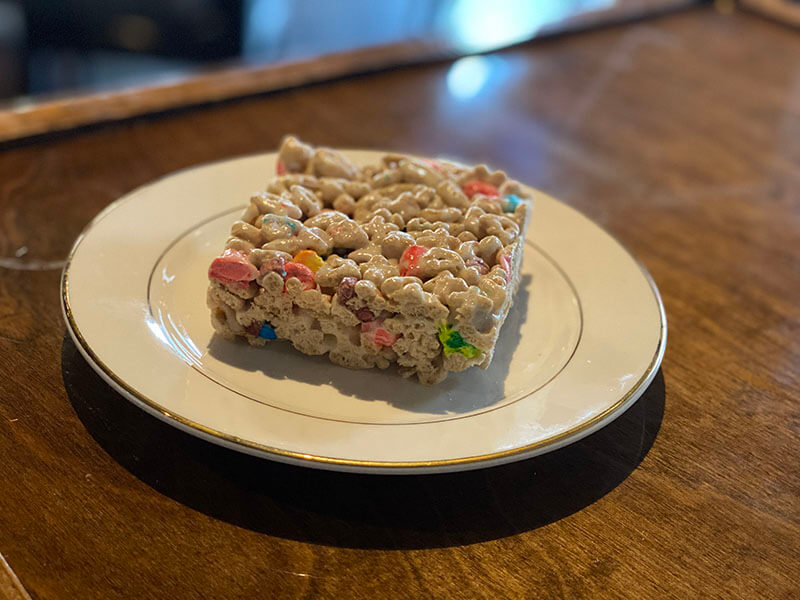 I mentioned earlier in this article that the team at Flock Bistro brought out several of their staple entrees during my first meeting with them last year. I met with them at the restaurant on a Monday (when they're closed) to record our podcast interview in person. 
Before hitting the record button, Chef Nick prepared an array of his mainstay entrees and appetizers and we all sat around a table to enjoy a magnificent lunch. Here are some highlights from that experience:
Possibly the best burger in the Lake Norman area. The name says it all, plus provolone, cheddar, lettuce, tomato, onion, and house-made mayo, on a brioche bun. A masterpiece.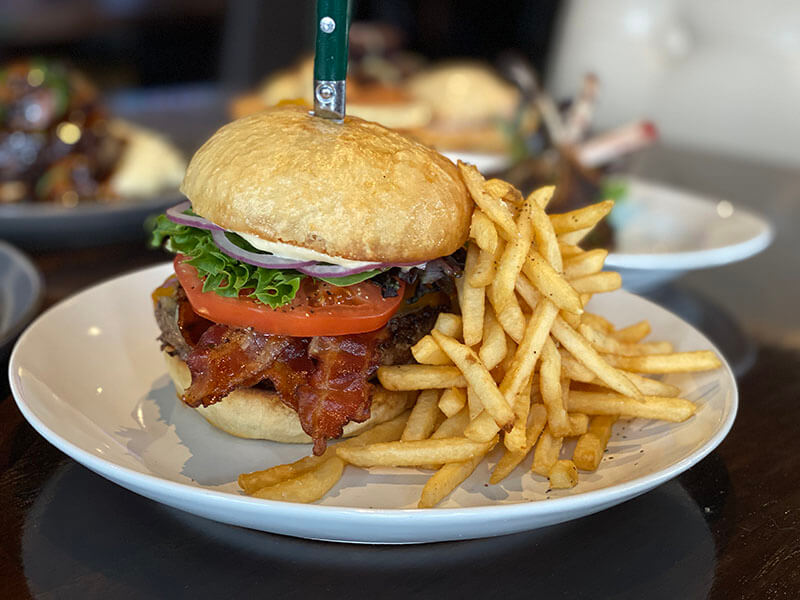 8-ounces of pure decadence seared to perfection. Sautéed mushroom demi, mashed potatoes, and seasonal vegetables (broccoli on that day.) One of the best steaks in LKN.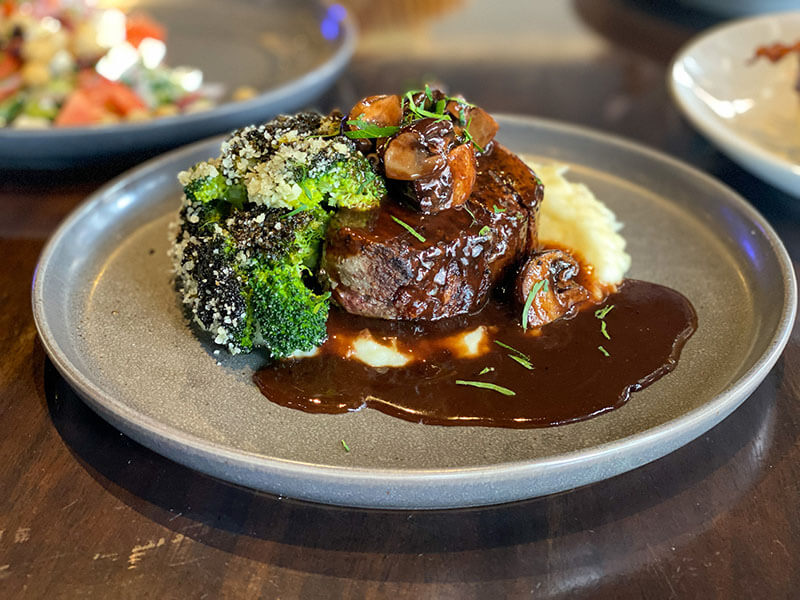 House-made and baked fresh daily, Flock's pastries are a must-order.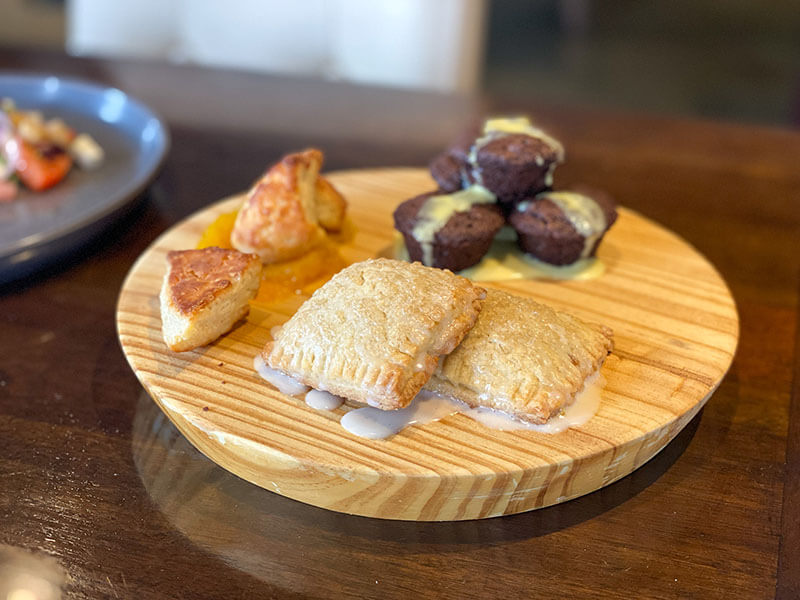 I did mention the great bourbon selection here. I couldn't resist ordering a glass of Eagle Rare. Neat, of course.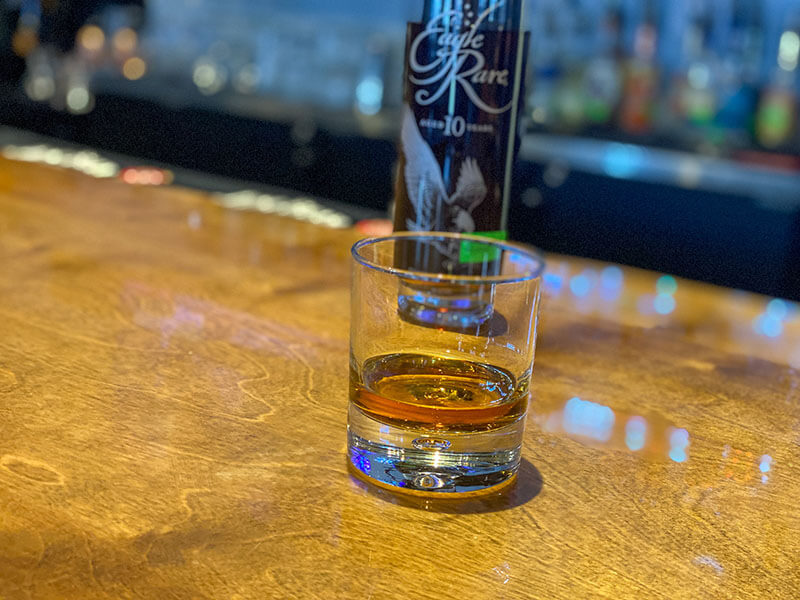 While I'm not a professional restaurant "critic," I do know what a great dining experience feels like. One of the wonderful perks of my job as the producer of The Best of LKN platform is that I've had the opportunity to dine at some really exceptional local restaurants.
Flock Bistro stands tall among the best fine dining establishments around Lake Norman and is even a worthy destination for Charlotteans. It's fine dining with a comfortable, come-as-you-are atmosphere. The space is inviting, the team is outstanding, and the food is world-class.
I highly, highly recommend you visit Flock Bistro soon!
Address: 129A Marketplace Ave, Mooresville, NC 28117
Phone: (980) 444-0275
Let's feature your business on The Best of LKN! Contact Us