A great Lake Norman waterfront dining experience isn't just about the food. Sure, the fare has to be delicious—that's a given. Appealing presentation is another vital component, and we'd be lying if we said we didn't enjoy taking a deep, glorious whiff when the plates first hit the table.
But while rousing your tastebuds is important,  a truly satisfying feast caters to all of your senses.
Picture the playful glimmer of the sun against blue waters, a gentle summer breeze sweeping across your skin, and the faint call of a seagull as it soars overhead; now tell us that you'd prefer to dine in a dingy tool shed. We're willing to bet that you won't say that.
The atmosphere can play just as big a role in your meal as the cuisine itself, and as July rolls around, there's nothing better than lakeside dining.
Here are five of our favorite Lake Norman waterfront eateries to help you make the most of NC's beautiful summers.
5 Best Lake Norman Waterfront Restaurants.
If you've been keeping up with us for a while, you'll know that we're huge fans of the Kindreds here at BoLKN, and there's a good reason for that. Upon opening their namesake Davidson restaurant in 2015, Joe and Katy Kindred became a cornerstone of the greater Lake Norman community. Intimate and charming, their first culinary venture offers patrons a quiet reprieve from life's commotion. They've since expanded their repertoire with Hello, Sailor, a trendy waterfront establishment that turned their original concept on its head. Though its lively mid-century modern atmosphere subverts Kindred habitué's expectations, this eatery is good. Really good. So good, in fact, that this isn't the first time we've mentioned it.
Located on Henderson Road, Hello, Sailor features a seafood-driven menu and an open concept dining area that keeps it light, bright, and breezy. The tiki bar and patio seating allow you to get up-close and cozy with the water, making it the perfect place to enjoy an afternoon cocktail or bring your date for a casual evening out. The menu is fairly straightforward, so we won't elaborate too much. From the Baby-back Ribs, to the Citrus Crab Salad, to the Jerk Spiced Catfish, anything you order is sure to be incredible; however, it's worth noting that Hello, Sailor's Hushpuppies and Calabash are a must-try. Many-a Yelp review has called them "the best on the planet," and we're not inclined to disagree. 
www.hellosailornc.com
20210 Henderson Road
Cornelius, NC  28031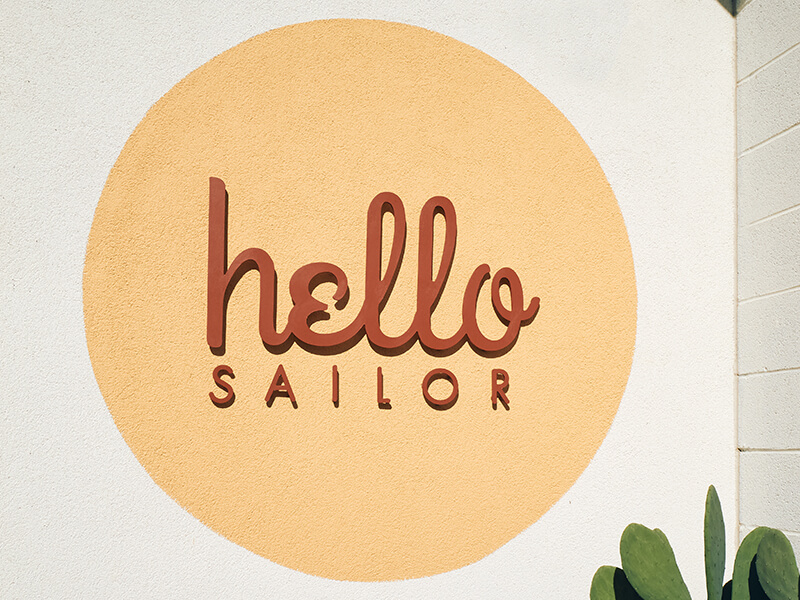 Line-caught Charleston seafood, farm-fresh produce and scratch-made breads await you at Port City Club, Lake Norman's largest waterfront restaurant. The 13,500 square foot venue is composed of a luxurious open dining room, a covered deck, and a beach patio with comfy cabana-style seating. Whether you like to enjoy the water from a distance or relax right on the shoreline, this eatery has a seat with your name on it.
The vibrant atmosphere at PCC is complemented by a menu that's brimming with colorful, high-quality, upscale American fare. You'll find staples like Filet, Ribeye and Atlantic salmon, as well as hand-crafted flatbreads, pasta dishes, sandwiches, and crisp salads. Particularly appetizing is the Lobster & Shrimp Roll: Maine lobster and perfectly poached shrimp  topped with scallion, Mayo, basil, and fried capers. Not in the mood for seafood? Try the incredible Lamb Pita Burger with feta cheese, dill, spinach, tomato, red onion, arugula, and house tzatziki. All entreés are served with a side of fresh air, making PCC both an ideal date destination and a cozy spot to unwind (and loosen your belt a notch or two). There's even private vessel docking, so mariners need not go out of their way to enjoy a hot meal.
www.portcityclub.com
18665 Harborside Drive
Cornelius, NC 28031
When you first set foot in North Harbor Club, you might mistake it for a watercraft museum. It's an easy mistake to make, given the plethora of historic watercraft and sailing memorabilia lining the walls. Don't let the large sailboat in the entryway fool you, either—although the decor is a sight to behold, North Harbor Club is in fact one of the area's premier fine dining establishments, serving up favorites like Succulent Shrimp & Scallop Linguine, Cornmeal Crusted Catfish, and Lobster Chowder with a zest you can't find at just any old seafood joint. Specializing in contemporary American Cuisine, North Harbor hand-prepares its dishes with only the finest locally-sourced ingredients. They also offer a variety of vegan and vegetarian options, imported wines and craft beers, as well as weekend brunch.
Driven by the belief that your dinner should be more than just a meal, North Harbor Club is committed to bringing its patrons a complete epicurean experience. It's touted by guests as having exceptional service and a marvelous atmosphere. With its oar-clad walls, panoramic lake view and superb culinary spread, it's no wonder that this regatta-themed restaurant is one of the most beloved venues in Lake Norman.
www.northharborclub.com
100 N. Harbor Place
Davidson, NC  28036
4. Eddie's on Lake Norman
Nothing stands as a testament to Lake Norman's natural beauty quite like this next joint. Owned and operated by New York natives Eddie Lubic and Ann-Margaret Wagner, Eddie's on Lake Norman was established in 2013 after the duo fell in love with North Carolina during a visit and decided to make it their new home. Having managed two successful restaurants in New York, the two brought their culinary expertise along for the ride and transformed Vinnie's Raw Bar into the restaurant we know today as Eddie's.
Perhaps surprisingly, the spread at Eddie's is headlined by homey, Italian-inspired dishes such as Eggplant Rollatini, Spicy Cajun Shrimp Pasta, and Zuppa De Pesca. You'll also find favorites like meatballs, bacon-wrapped scallops, and a fine selection of beer and wine. While such indulgent continental fare isn't what most folks would think of when it comes to the lake, Eddie's takes a departure from the routine and opts instead for a casalingo atmosphere. Ann-Margaret and Eddie alike take genuine enjoyment in cooking, and have made it a mission to provide only the highest quality food and service with every meal. Drop by and make yourself at home; when you're at Eddie's, you're la famiglia.
www.eddieslkn.com
643 Williamson Road
Mooresville, NC 28117
If you're looking for a good time, there's a lively spot just off of highway 150 in Mooresville that's ready to welcome you with open arms (and cocktails). Apps & Taps is a lakefront eatery jam-packed with excitement—not only is it a great destination for large groups, but its in-house stage, the Pontoon, is equipped with state of the art show equipment to present you with some of the best live music performances in the area.
While you kick back with your crew, you'll be privy to a wide array of bar bites to keep your spirits high. Carefully crafted sandwiches, salads, and seafood plates make for great personal entreés, while shareables like crispy Calamari, Hickory-smoked Wings, really big pizzas, Loaded Nachos, and dips allow you and your company to get a little taste of everything. Who doesn't love a good smorgasbord?  Even better, you can wash it all down with one A&T's signature cocktails, craft beers, or hand-picked wines.
www.appsntapslkn.com
155 Pinnacle Lane
Mooresville, NC 28117
The best time of year to enjoy our beautiful lake town has finally come around, and there's no better way to ring in the season than with some good eats on the water. So what are you waiting for? Get settled in, watch the sunset, and say ahoy to gourmet. 
Cheers, Lake Norman!