The Story Behind Lake Norman's Technology Startup Ecosystem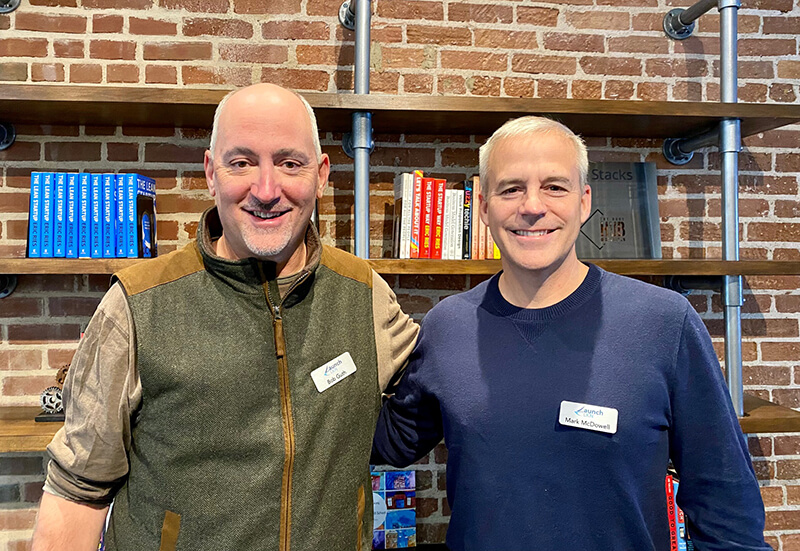 Show Notes:
In this episode, we're featuring Launch LKN. This is an organization that I've been really hoping to feature on the podcast for a long time. I think the best way to describe Launch LKN is to simply quote the copy on their website. Here's what I found on the launchlkn.com "our story" page:
Launch LKN is a collaborative community of entrepreneurs, educators, mentors, and community leaders dedicated to sharing knowledge and motivating the growth of the technology startup scene in the Lake Norman area.
Lake Norman's rapidly growing communities are ripe with talent, expertise, academic excellence, and innovative minds. Launch LKN connects these pieces to advance entrepreneurial success and impact our changing economic landscape.
Obviously, the work that the team at Launch LKN is doing in the Lake Norman area makes them a perfect fit for this podcast. Joining me for this conversation is the co-founder of Launch LKN, Mark McDowell, and the chairman of the board at Launch LKN, Bob Guth.
Companies mentioned that were mentored by Launch LKN:
Books recommended:
Team of Rivals
by Doris Kearns Goodwin
The Everything Store
by Brad Stone
The Bezos Letters
by Steve Anderson
The Storyteller
by Dave Grohl
Transcript:
Narrator  
Welcome to The Best of LKN, a podcast featuring the best small businesses and the most influential professionals around Lake Norman, North Carolina. Each week, we spotlight those businesses and individuals that are making a positive impact here in the Lake Norman area. Thanks for joining us enjoy the show.
Jeff  
Hello, everyone. Welcome back to another episode of The Best of LKN Lake Norman number one small business podcast. As usual, I want to begin by thanking our sponsors. They make the work we do here at The Best of LKN possible. They are, as of January 2022, Sodoma Law North, Blumengärten Florist, Clean Eatz Cafes in Cornelius and Mooresville, and Juelerye Fine Gifts and Art in downtown Mooresville. Each of our sponsors has been featured on the podcast in past episodes, and I encourage you to have a listen and get to know their stories. I'll have links in the show notes at thebestoflkn.com. In this episode, we're featuring Launch LKN. This is an organization that I've been really hoping to feature on the podcast for a long time. I think the best way to describe Launch LKN is to simply quote the copy on their website. Here's what I found on the launchlkn.org "our story" page: Launch LKN is a collaborative community of entrepreneurs, educators, mentors, and community leaders dedicated to sharing knowledge and motivating the growth of the technology startup scene in the Lake Norman area. Lake Norman's rapidly growing communities are ripe with talent, expertise, academic excellence, and innovative minds. Launch LKN connects these pieces to advance entrepreneurial success and impact our changing economic landscape. Obviously, the work that the team at Launch LKN is doing in the Lake Norman area makes them a perfect fit for this podcast. Joining me for this conversation is the co-founder of Launch LKN, Mark McDowell, and the Chairman of the Board at Launch LKN, Bob Guth. Listeners, thanks for joining us. Now, let's get stuck right in.
Jeff  
Joining me is Bob Guth, the chairman of the board at Launch LKN and Mark McDowell, the co-founder of Launch LKN. Bob, welcome to the podcast.
Bob  
Thank you, Jeff. Thanks for having us.
Jeff  
Mark, welcome.
Mark  
Thank you. Good to be here.
Jeff  
Great to have you. I've been looking forward to this conversation. Launch LKN, obviously, is something that interests me a great deal, the work that you and your team are doing. I say here, because we're recording at The Hurt Hub in Davidson, and I believe a lot of your work is based here. Is that correct?
Mark  
That's right.
Jeff  
I've had Liz Brigham, the Executive Director here at The Hurt Hub on the podcast. She of course mentioned and recognized Launch LKN in our conversation. I've had several other guests that have recognized Launch LKN, so I've really been looking forward to this conversation. So again, welcome, and thank you for joining me. Before we get into the details and the work that you and your team are doing at Launch LKN and the kind of resources available to entrepreneurs and startups here, I'd love to get a little bit of a background on the two of you. A little a little bio on your careers and what led to the inspiration for Launch LKN. Mark, I'm gonna start with you. Go ahead. 
Mark  
All right, thanks, Jeff. Let's see, I'm an engineer by education and I spent the first half of my career as an entrepreneur, mostly in the wireless industry. I was living in the DC area at the time. And I was part of two startup wireless carriers, which is a category that doesn't exist anymore. But back before AT&T and Verizon had nationwide coverage, there were smaller carriers that built out smaller service areas, and then eventually sold to those guys. So, I spent the late 80s and most of the 90s doing that. The second half of my career I spent as an angel investor, and then as a professional venture capital investor. My experience in the wireless industry left me thinking there was a lot more opportunity for innovation. I kind of left the wireless industry before the iPhone even appeared, so just imagine, you know, the potential that was out there at the time. So, for most of the last 20 years, I've been an active investor, both as a personal angel and through a fund that I cofounded called Real Ventures. Real Ventures is based in Montreal, and I've got several friends and long-term business associates who cofounded that fund with me. So, I spent part of my time in Canada, investing in Canadian companies and sitting on their boards. And part of my time, actually since the pandemic, most of my time here in North Carolina trying to help the local startup ecosystem get going.
Jeff  
Excellent. And you were in the DC area. Did you live in DC? I lived in Northern Virginia, Washington DC area off and on throughout my life a few times.
Mark  
Me too. Me too. I went to high school there, I went to Lake Braddock High School, and I left and came back, I don't know, 10 years later and lived in Arlington and Alexandria.
Jeff  
Yeah, love Alexandria. Old Town Alexandria is a neat place. Very cool. Thank you, Mark. Bob, share a little of your story.
Bob  
Sure. Thank you. Mark, and I, no surprise, have a few similar origins. I have an engineering degree as well. I think the difference, probably one of the early differences is, I knew long before I got out of college that I didn't necessarily have the aptitude or mindset to be an engineer. So, I finished my degree, but I took it in a different direction. I went to work for AT&T right out of college, but more in sales support and ultimately into sales roles. And this was in 1985, so just a year after divestiture, something we don't talk about much these days, but it's still pretty relevant. But the company was in a lot of turmoil, the company was going through a lot of changes, but what they did in those days, and few companies do as well these days, is they just invested so much time and money into educating their new employees. So, for the first six or nine months of my time at AT&T, I just got the greatest education in the telecom sector and everything I ever needed to know about it. So, I have fond memories of AT&T, I thought at one point I'd probably stay there my whole life, but about 11 or 12 years into my career there, I thought I wanted to do something less bureaucratic, where I could have more of a personal impact. And this was right around the time of telecom deregulation in 1996. So, kind of a wild west time for sure. And I left AT&T and joined a small little company that was building fiber optic networks around the Eastern US. And I won't go into all the details, I'll just say through a, in retrospect, almost an unbelievable sequence of events, I actually ended up as the CEO of that company. We put the company through a restructuring, and we came out the other side with a really great kind of disciplined business plan. And over the next couple of years, were able to build up a really, really nice business. And ultimately, we sold it to a company called Level 3 out in Colorado. And that's when I retired for the first time, or semi-retired. I decided I wasn't going to go back and do anything else full-time. But I started joining some boards, most of those were in the telecom space, but I ventured out into one board role that was in the publishing space with Reader's Digest. And through yet another strange sequence of events ended up as the CEO for two and a half years at Reader's Digest, which was a very, kind of a life-affirming type of opportunity and wonderful people and one of the great American brands. So, it really, really something I was very lucky to be involved with. But since that ended, I've just continued to do board work, mostly trying to wind that down now. And just trying to be focused on being involved in the community here, around the lake in in things like Launch Lake Norman, which has been a great opportunity to meet some really, really terrific people.
Jeff  
That's really cool. Reader's Digest, you're right, is such an iconic American brand. That's really neat. The nice thing about retiring somewhat early is that you're able to pursue things like that, that are really rewarding. And like you said, semi-retire.
Bob  
Right, right.
Jeff  
Mark, you're one of the co-founders for Launch LKN. Would love to get a little bit of a background on the story of what inspired the formation of Launch Lake Norman and how did you and your partners come up with the idea. And what was the inspiration behind it.
Mark  
Yeah, I love telling the story. I moved to the Lake Norman area from DC in '05. And I was a techie and an entrepreneur and a tech investor, and I really had a hard time finding my people around here. And in fact, I was jumping on airplanes, you know, probably once a week or every other week to go either to DC or New York or Montreal or California, you know, to ply my trade. But beginning when I first got here, I would meet other very interesting people who had relocated to the LKN area for similar reasons as me, but just like me, they were on airplanes a lot. They moved here because of the Charlotte airport. But social encounters and, you know, parties in the neighborhood, I started to make a kind of an informal list of really interesting entrepreneurs or former entrepreneurs or retired execs or semi-retired execs, and I realized there was a really, pretty large number of people that had a lot to do with entrepreneurship and business success, who lived here but did not know each other. They were running to the airport, you know, on Sunday night. And when they were here, they were enjoying their homes, they were enjoying the lake, they were enjoying golf. They didn't know each other. And I kept saying, hey, do you know Bob? Do you know Karen? And people didn't know one another. Things came to a head for me when I was getting to know Chris and Jon Boggiano, who are two entrepreneurs who live in this area, and actually have an office here at The Hurt Hub. I think it was the 2013 or 2014 timeframe, they were both accepted to a master's program at Stanford in the business school. And I remember talking to them about, they asked my advice on whether they should go, I said, absolutely. I visited them at Stanford a few times, they actually organized for me to be a guest speaker at the business school at one point during the year they were there. So, our friendship grew and when they came back, they were really full of Silicon Valley mojo. And we started talking about why don't we have more of this in the Lake Norman area? We've got really interesting people here, why doesn't anybody know each other? And so, actually it was 2017, I remember it well, because it was my birthday, it was January of 2017, we decided to kind of put out a cattle call to all of these people that we knew, and invite everybody to the Cornelius Drafthouse for free beer, that beer being on my credit card.
Bob  
A true founder.
Mark  
And it was my birthday and my wife said, why do you want to do this on your birthday? And I said, well, look, it's not going to last very long. It's just going to be a few people, a few beers, and we can go do something after that. Plus, it was a Wednesday night, so we didn't have any big plans. Anyway, I showed up at the Cornelius Drafthouse and so to 75 other people. And it was truly a shocker because I just didn't know who would come. But we everybody we invited, we told them to bring somebody as well. And they took us up on the challenge. It ended up lasting until they closed the place. It was a very expensive bar tab. And at the end of the night, I said, you know what, we've got critical mass. Charlotte's got some great entrepreneurship programs in Uptown, other parts of town, but most of us aren't consistently making that drive down 77. This was also during the 77 construction period. So, we said, look, we got enough of us here, and we have enough good beer in this town to have our own nonprofit organization. And that's really when the idea of Launch LKN first started, and that was kind of the underlying motivation.
Jeff  
That's an awesome story. Yeah, I love that. And nothing brings entrepreneurs together like free beer, that's for sure. There is such a wealth of business and entrepreneurial knowledge and talent and success in the Lake Norman area. That came up in another conversation I had with a team that you're familiar with at First Turn Innovations as well. In fact, they were kind enough to connect me with you and Bob. And we had that discussion, that was a big topic of our discussion was the wealth of talent, specifically in that conversation, the engineering talent, but also just so much business acumen and entrepreneurial, successful, highly successful entrepreneurs in the Lake Norman area. So, I can see why you were inspired to bring a lot of this talent together.
Mark  
And by the way, at first turn, I only met Kevin Maul less than a year ago, even though we both been here in town for, I don't know, a decade plus. I know there are still other great Launch LKN members hiding out there, and I hope if they're hearing us today that they'll look into the organization.
Jeff  
Absolutely, absolutely. I'm gonna do my best to help you spread the word as well, which is another reason why I've been looking forward to this conversation. Thanks for sharing that. Mark. Bob, when did you come on board? When did you connect with Launch LKN?
Bob  
Well, Mark and I first connected probably four or five years ago now, in a different context. Mark and others were involved in helping the towns of Mooresville and Davidson with the support of the cable business that the two towns owned. And I think we first met in the context of that, and potentially other than just general getting to know neighbors, just generally, whether there was an opportunity for me to join that board and help with what they were doing. And that blossomed into me getting to know more about Launch Lake Norman and getting to know more about this whole group and being very eager to be involved. I think I became a board member just two, two and a half years ago maybe but I've been involved in the group for a little bit longer than that. And it's all that Mark said, it's just a great group of folks. Each one with a resume you just can't believe from right around the corner.
Jeff  
Yeah, I've spent quite a bit of time on the Launch LKN website. I've familiarized myself with several of the members that are highlighted, or mentors, I should say, that are highlighted on the website, a few names I recognize, which doesn't surprise me. And of those names that I recognize, definitely successful, smart, really, really smart, businesspeople and entrepreneurs. And it's really impressive, the team of mentors that you guys have been able to organize and bring together. That leads me to my next topic, which was, I'd love to share with listeners, the resources, what are some resources, what are some examples of resources that startups and entrepreneurs can have access to at Launch LKN?
Bob  
Sure, obviously a really important question. And I think we can get right into the heart of what makes us unique and valuable in the community here. Kind of take the next leg of Mark's origin story of Launch LKN and going back to his and Jon and Chris's initial vision. I think they had ideas first of socializing, building a social network to adding an educational element using this forum to educate people about issues, whether technological or social or otherwise, in the community at that time. Three was to build a network of mentoring capability, or mentors. And four, ultimately, was to try to build a funding source that could help make this ecosystem even more successful. And I think Mark will certainly talk about that in more detail here going forward. But I would say, of all those resources, I would say the one that we point to most as our special sauce is our group of mentors. And it is, number one, it's about the quality of them as individuals. But number two, it's about the organization that's been created to point that resource at founders at entrepreneurs with ideas, whether they're students at Davidson here, or whether they're folks being displaced from NASCAR due to technology changes there, or anybody else in the community, it's been a really great resource. And I would say, from a founder perspective, it's a very, very valuable thing to tap into. Conversely, I'll say it's not a free ride, I think to be a founder working with a mentor means there's work to do. You're not going to, I often use the expression, probably too often use the expression, we're teaching folks to fish not giving them fish. And that's very much true here. So, folks coming in that are really willing to do the work and take advice from these mentors can get a whole lot out of it. But I think those are the primary, the mentoring resource would be, to me, the primary tool that we can offer. I mean, there's other important elements of it too that we can talk about throughout the conversation here.
Jeff  
During a lot of my conversations with some of the, you know, just really wonderful small business owners that I have on the podcast, and many of them have built really successful small businesses that have provided for their families, pay for their kids' education, in my mind, these are folks that are really living the dream, and it's taken a lot of hard work. There seems to be a common denominator among the successful entrepreneurs, and that is that especially freelancers or small business owners who provide a service or a craft, they tend to get a lot of help when it comes to how to run the business, how to run a profitable business. They seek out mentors and mentorship. And I think that's really so key in building a successful small business is, you know, I've said this before in other episodes, that we don't really need more help or training on how to apply our craft or our trade or our service or build a better product, it's really we need, small business owners need so much help with how to run a business, the nuts and bolts, the stuff that we joke about that aren't so much fun. So, I can see why the mentorship program would be so valuable at Launch LKN. I appreciate you sharing that Bob, those resources that are available. I'd love to talk about a few examples, if you could share some examples of some of the work that Launch LKN has done with local startups. Can you share any of those?
Bob  
Sure, I can start, and Mark, please jump in here. You know, we've mentored, in the almost three years that we've been doing this, we've mentored about 65 founders. So, about 65 ventures as well. And that's across a group of mentors that's actually about the same size. We have some mentors that are more active, and some mentors that are less active, but those are the big picture stats since we started. Somewhere between 35 and 40 of all of those are still, those entrepreneurs are still moving forward, they're still running those ventures and trying to grow them. So, it's still a really active group of folks. Some examples within that, there's a couple, Mark can speak to one or two of them more closely than I can, Portfolio Kings has been a really nice story, started by a couple of Davidson, three Davidson students here. Lucid Drone, Andrew Ashur and his group have been a really nice success story, one of the really early success stories here, maybe even before the mentor program was officially launched. StoryNow has been a really nice story, as well. And she's gotten a lot of real positive feedback out of her mentor team.
Jeff  
Liz Brigham, I follow Liz Brigham, the director here at Hurt Hub on LinkedIn. And she shares a lot of the work that obviously, that's going on here at The Hurt Hub, but she's also shared links to stories for some of these entrepreneurs and success stories coming out of Launch LKN and a couple of those ring a bell, I recognize a couple of those names.
Bob  
Right. You know, one other aspect of that we talk a lot about as a group is that we're still early in this, we're still trying to build this ecosystem. So, we don't consider the most important measure yet to be how many ventures have been launched. Someday that will probably be our primary metric, but right now, we're also just trying to help all members of this community get better. So, whether it's this first venture that a founder pursues or the second one that they pursue in a year or more down the road, our ultimate goal is just to grow the ecosystem and help the community, and whether those ultimately launch into a permanent state is not the focus right now.
Jeff  
Yeah, makes total sense. But I will say that 65 founders in three years, that's a pretty big number. I mean, that's a lot of work that's been accomplished here at Launch LKN, for sure.
Bob  
I appreciate that. It's been a nice group, and it's come from all over the community, so we're really pleased.
Jeff  
What are some goals for the future of Launch LKN? You brought up some, kind of a little bit of a vision for the future. What future goals or what kind of vision for the future do you have at Launch LKN?
Mark  
Yeah, maybe I'll take that one. Two goals come to mind for me. One is developing a pool of capital, so that we can invest in these founders that come to the program. And I'll talk about that a bit more. And the other one is to get a broader reach around the community. Our goal is to launch Lake Norman. And right now, I feel like we've got a great program in place with Davidson College, and a great program in place with First Turn, but that's only two data points on the shores of this lake. And I think our goal in the next decade is to have active programs and mentorship and entrepreneurship anywhere it's happening around the lake. I don't know when it'll happen, but take me to Troutman, take me to Denver. I know there's entrepreneurs in those places. And I know there's mentors in those places, too.
Bob  
Absolutely.
Jeff  
Going back to a topic earlier, some of the resources here at Launch LKN, you had mentioned mentoring and funding. And those are really two of the key things that most founders and startups need, right? Are mentoring on how to structure, how to brand, how to design, and maybe not so much engineer, the engineers probably already have that talent, right? But how to stand this business up. And the, you know, so mentoring, and then of course, funding. Most founders need a leg up, maybe not so much on the third or fourth enterprise, but on the first or second, founders usually need a leg up financially, so that makes total sense to me.
Mark  
Let me comment on the funding a little bit. One of the things, we were very careful not to make funding part of our mission statement and part of our focus in the early years. Because we don't want entrepreneurs to come into Launch LKN thinking that they're going to ask for money. It really distorts the relationship with a mentor. If one party thinks that they are supposed to ask for money, and the other party thinks that they're going to be asked for money, then it creates a very awkward relationship from the beginning. And we don't want Launch LKN to be about, you know, handing out cash, we want it to be about helping entrepreneurs grow and make the right decisions about their businesses. I'll just say, I'm just as happy, well, maybe not just as happy, but I consider it a win when an entrepreneur pivots or drops an idea as a result of mentoring. We don't just count the wins. If somebody can save themselves five years of heartache, and pivot to something that's a better use of their time, that is a win. So, we want to make sure that entrepreneurs can have those kinds of conversations with mentors, and we kind of take the heat off of the relationship. On the other hand, we've already started to produce some companies of value in this community. These, you know, typically, we tend to want to work with companies that are addressing a national market or a global market, as opposed to a mainstream business. And we have had some, some of these early ventures look like they could be national scale successes. With those kinds of companies, we would have a little bit of money on hand to invest in them. So, we're not all about the investment. But on the other hand, if we don't have investment capital, the best and brightest are going to move, and they're going to move to the valley, and they're gonna move to Austin, and other places where they can find money. And so, we don't want to clip their wings, but we also don't want them to have to flee town for cash.
Jeff  
Sure. Yeah, it makes total sense. And the founders, I have noticed that in some of the examples that you shared, and examples that I've seen, both on Launch LKN, your website, and with discussions with other guests that yeah, the founders that you've been working with are developing national or global brands, and it's really impressive, the companies that have come out of Launch LKN.
Jeff  
Yeah, that's kind of a filter for who we decide to take into the mentoring program. They have to be thinking beyond Main Street and beyond the local area.
Bob  
Beyond a lifestyle business.
Jeff  
Yeah.
Mark  
Lifestyle businesses can be a great life. But we're looking for businesses that can produce returns of 10 times or 100 times the amount of money that goes in. So, that takes us more towards digital businesses and businesses with a global reach or national reach.
Jeff  
Yeah, I did mention in my brief introduction when we started our conversation, that Launch LKN is dedicated to sharing knowledge and motivating the growth of the technology-based startup scene in Lake Norman, so that's key. And I appreciate you bringing that back up, because it's worth mentioning again, that these are the kind of founders that we would like to connect with. Well, thanks for sharing some of the goals, some of the vision for the future of Launch LKN. One of my favorite topics in these conversations, and I'm gonna put you on the spot a little bit. I don't know who looked at the topics ahead of time or not, I think we're about to find out. But, no pressure, I hate to put you on the spot, because I know that you would love to recognize so many different businesses, but one of my favorite topics in these conversations is to ask my guests to recognize or sort of give a shout out to local small businesses that either you and your family love, or have been good partners in some way, shape, or form with Launch LKN. Do you guys have any small businesses locally that you could recognize?
Bob  
Well, you mentioned Laurel Belle earlier, she's been a real huge part of us building the right infrastructure for all that we do. One of our early founders and still a member of our community runs a business called Bloom Communications, Erica Madden. Certainly, I think it's worthy of calling her out, she's done a great job for us in the past with communications and other needs, and she serves this whole area with those kinds of skills. Those are a couple that come to mind for me. How about you, Mark?
Mark  
Yeah, I've got to salute the craft brewers in the town, and I'm serious about it. Places like D9 and Barley Market and the Public House in Cornelius, Eleven Lakes, Ass Clown. These are entrepreneurs that are making a high-quality product and it has, the craft beer has really made it possible for us to have distinctive, fun, relaxed social events. I think for the first year of our life, we were more of a beer drinking society than a mentoring society. That's how the mentors all got to know one another. And you can say it's a funny thing but it's what creates a culture of an area, and it attracts people of all ages and creates a venue where people can interact. So, I think it's worth recognizing that group too.
Jeff  
Absolutely. Yeah. I mean, you know, nothing brings people together quite like food and beverage. And without a doubt beverage, probably more so than food at times. But yeah, I appreciate you mentioning them. We've had several of the local craft breweries on the podcast, with conversations with the founders, and brew masters, and of course, I'm a big fan of the local craft brewery scene as well and the work that they're doing.
Mark  
Did I leave off any of your favorites in my list?
Bob  
Did you mention D9? We've got, our neighbors, our neighbors at First Turn.
Jeff  
Yeah, yeah, D9, of course down on Treynorth in Cornelius, neighbors with First Turn. I've had Eleven Lakes on the podcast. They were actually the second episode, over almost two years ago with Ray Hutchinson, their brew master. And another one that comes to mind is Lost Worlds in Cornelius, another really cool place.
Mark  
We've got to do an event there sometime this year.
Jeff  
And we continue to reach out to more because there are so many great ones in the area. Royal Bliss in Denver, you mentioned Denver earlier.
Bob  
Sure, Larry Griffin.
Jeff  
Yeah, we had a conversation with Larry and Ginger on the podcast as well. That was a really great conversation and really amazing facility they built over there in Denver. Really, really cool place. Obviously not Larry and Ginger's first go around as entrepreneurs, so they kind of know what they're doing at this point, right. Laurel Belle, Branding, Laurel is going to be a guest on the podcast coming up soon, as I mentioned before I hit record, and looking forward to that. She has worked with some really cool organizations here in the Lake Norman area and in Charlotte. So, I'm looking forward to kind of picking her brain a little bit on branding and marketing and imagery and that sort of thing as it applies to small business. Bloom Communications, I will look them up for sure. And the Barley Market, Old Town Public House, and Ass Clown Brewery, of course, the brewery that we all feel a little awkward naming.
Bob  
They'll bleep us out here.
Mark  
And Cornelius Drafthouse, that's where we were born.
Jeff  
Yeah, absolutely, Cornelius Drafthouse. What about, another topic that I love to ask, and this is a great conversation, because it's my experience and the experience of most journalists that leaders are readers. And I love to ask, you know, the entrepreneurs that come on this podcast for advice for listeners, for reading recommendations, in the space of mindset, marketing, entrepreneurship, anything that might be relevant to our conversation, or I also leave it open to online resources. Most of the books that I read these days I read through Audible, and then I follow up on the authors, and listen to podcast episodes that they've appeared on or that they produced themselves. So, obviously love online digital resources, I produce one. So, any recommendations there?
Mark  
Well, I'll start, I am, it's funny because ever since the pandemic, I've become an Audible fanatic, and I'm practically quote-unquote, reading a book every week on Audible. So, when people ask me about what to read, I can overwhelm them. I'm probably atypical for your podcast, Jeff, because I really don't generally like reading business books. I think the best way to learn about business and entrepreneurship is actually to read history and biographies. I love reading stories of how people have overcome impossible situations. And to me, like studying what people did in the past, it's so informative. I'll just throw out two that I've really enjoyed this past year. One is Team of Rivals, which is a Pulitzer Prize-winning book about Abraham Lincoln and his cabinet. It's long. It's easier to get through on Audible, but it's an incredible story of personality and character and perseverance that can help any entrepreneur. The other which I just finished recently is The Storyteller by Dave Grohl, who was the drummer for Nirvana and then the front man for Foo Fighters. This is a guy that dropped out of high school, you're not gonna find somebody with more of an entrepreneurial spirit. And he's also, he's a gifted storyteller. He's kind of, he kind of is the voice of, I'll say, the 90s rock era. Not that he was the best musician. He was a very good musician, but he's kind of the one who's become the, he's kind of the archivist for that decade, and he really tells beautiful stories. Again, not a traditional entrepreneur, but you get to know his story. He's got every single quality of the best entrepreneurs that you've ever heard of.
Jeff  
That's interesting. I love that suggestion. We're big Foo Fighters fans, and Dave Grohl fans at our house. Seeing them live is definitely on my wife's bucket list. So, we're going to have to make that happen someday.
Mark  
Well on Audible, by the way, he reads the book himself, which adds to the cool factor.
Jeff  
I do love that. I do love it when an author reads their own book for Audible, for the audio recording. Sometimes I don't like it. Sometimes I kind of think that they may have hired somebody to do that instead. But usually, I love it when they can read their own material and kind of, you get all the inflection from the author, and I love that. That's one I'll be listening to. Yeah, I'll check out Storyteller.
Mark  
He does drop a lot of F bombs. So, if you're gonna listen to it with your family, warn them ahead of time. He's still a rocker at heart.
Jeff  
Sure. Yeah, makes sense. So, maybe not the book to listen to on Audible in the car on the trip to Disney next summer, or something with the kids, but cool. And Team of Rivals, I'll have these in the show notes for listeners to follow up on and check out. Bob, what do you have for me?
Bob  
Well, I think, like in so many other ways, Mark and I think about this one the same way as well. I'm not much of a management book guy, I'm much more of a history and a biography reader. And the ones that he's named, I would enjoy both of those fully. I think you can go back as far as, all the way back and read about Ulysses S. Grant if you want to. He's a very interesting leadership style, which actually is much more nuanced than you think once you once you dive in. The most recent book I've read, and it is a few years old now. But the one I took the most away from was the book about Jeff Bezos, The Everything Store, probably a lot that are listening will have already read it. But if they haven't, I highly recommend it. I still, when I first read it, I would say there were dozens and dozens of things I took away and carried around explicitly with me. Now they're probably all, you know, built in. But one that I still love quoting a line that he used in the book, or that was attributed to him, was that when he was hiring, he was looking for missionaries, not mercenaries. And it's such a simple way to capture such a complicated point. And I think that it's a big part of why Amazon has been such a success. So, a great book.
Jeff  
Missionaries not mercenaries, I love that. Yeah, I have to say I'm a little bit of a Jeff Bezos fanboy. I have listened to a lot of his keynote speeches; I've listened to a lot of his interviews. Fascinating story. And he's obviously off-the-charts intelligent, Jeff Bezos. And I think that that's a founder and entrepreneur that's really worth getting to know, for sure.
Bob  
Absolutely. And since you mentioned it, I'll add, I don't remember the name of the book, actually, but he released a book about a year ago, maybe a year and a half. That was all of his graduation speeches, along with a number of all of his shareholder letters for a 20-year span, which were absolutely fascinating. His ability to see the future in his shareholder letters and talk about what the company was going to do to take advantage, is just astounding.
Jeff  
I will definitely check that out and have a link in the show notes. Something Jeff Bezos has mentioned in a couple of his interviews is that always kind of makes me laugh and which I certainly appreciate too, the point he makes when, in the Amazon days, when someone would congratulate him on a really successful quarter, he would just sort of laugh and shrug and say, that quarter was baked five years ago. He was always looking so far into the future. So, that's a great suggestion. I'll definitely have links in the show notes, and we'll be checking that out for sure. Mark and Bob, this has been a real honor, a real pleasure to have you on the podcast. I've been looking forward to featuring Launch LKN on the podcast. How can listeners learn more about Launch LKN and how can a founder reach out and get involved?
Bob  
Well, I think it's thankfully very straightforward. Visit us on our website launchlkn.org. There are multiple avenues available on the website, one for membership to the greater Launch LKN community, and one for founders that are seeking mentor help. Those are all pretty obvious tabs right on the front page of the website and it'll send a form to us to alert us to your interest, and we'll get in touch. And we, you know, we want to grow this community in so many different ways geographically and just in terms of numbers of the group and the quality of it as well. But we, we're still, I think, just in the early innings of doing that. So, we welcome everybody.
Jeff  
Excellent. And I know we're still in the middle of the COVID-19 pandemic and trying to, you know, exercise careful, safety protocols. So, public events and group gatherings probably are going to be few and far between in the near future. But I will definitely pay attention and share as things hopefully open up again in the future. And as there are more opportunities for the public to come and meet mentors and participate in public events, I'll share those as well, going forward.
Bob  
Thank you.
Mark  
Well, Jeff, I was gonna say how much I appreciate what you're doing for the LKN area with your podcast, The Best of LKN. Although at the same time, I want to ask you to stop immediately because this is like a well-kept secret, and you're destroying it.
Jeff  
The Lake Norman area?
Mark  
That's right.
Jeff  
Yeah, I know. Well, I get it. Yeah. Thank you very much. I appreciate it. I appreciate the compliment. And it's been, it's been a lot of fun. It's been a real journey. We've really enjoyed it. And we continue to enjoy creating this content and I personally really have just enjoyed connecting with really smart and successful entrepreneurs and businesspeople here in the Lake Norman area. As we mentioned before, there is such a depth and wealth of business knowledge and talent in the Lake Norman area. So, this has been a really great journey for me personally. And it's been a real honor to be able to bring it to our listeners and to the public.
Mark  
And we feel lucky to be within the first 100 episodes.
Jeff  
Yeah, that's right. Yeah. You're one of the founders.
Mark  
We'll take it.
Jeff  
Bob Guth, the chairman of the board at Launch LKN. Bob, thank you again for joining the podcast.
Bob  
Thank you, Jeff. Really appreciate it.
Jeff  
And Mark McDowell, cofounder of Launch LKN. Mark, thank you again for joining the podcast.
Mark  
You're welcome, Jeff.
Jeff  
Huge thanks to Mark McDowell and Bob Guth for joining the podcast and sharing the story of Launch LKN. Listeners, you can learn more about Launch LKN at www.launchlkn.org. I'll have that link as well as the links to the local small businesses we recognized during our conversation in the show notes for this episode. As always, you can find the complete show notes for all of our episodes at the home for Lake Norman's number one small business podcast, www.thebestoflkn.com. While you're there, please consider signing up for our weekly email newsletter. Signing up is free and easy, and it's a great way to show some support for this production. The weekly newsletter includes links to our latest podcast episodes and blog articles, as well as links to special blog articles that we only share with our email newsletter subscribers. Again, it's a great way to support this podcast and it won't cost you a dime. Special thanks to our brand partners for their sponsorship and support for The Best of LKN. You can find links to our sponsors on our homepage and in the show notes for this episode. Each one has been a guest on the podcast, and I encourage you to have a listen and get to know them. Thanks for supporting the local businesses that support this production. That's going to do it for this episode. Thanks as always for having a listen and following along with The Best of LKN. We'll be back next week with another episode. So until then, cheers Lake Norman. Bye for now.
Narrator  
We hope you've enjoyed this episode of The Best of LKN. For more information about this podcast, show notes, video episodes, and links to our featured businesses, please visit www.thebestoflkn.com. We publish episodes weekly, so be sure to subscribe and stay up to date. Until next time, cheers Lake Norman.