Meet Owner Jacqueline Bassett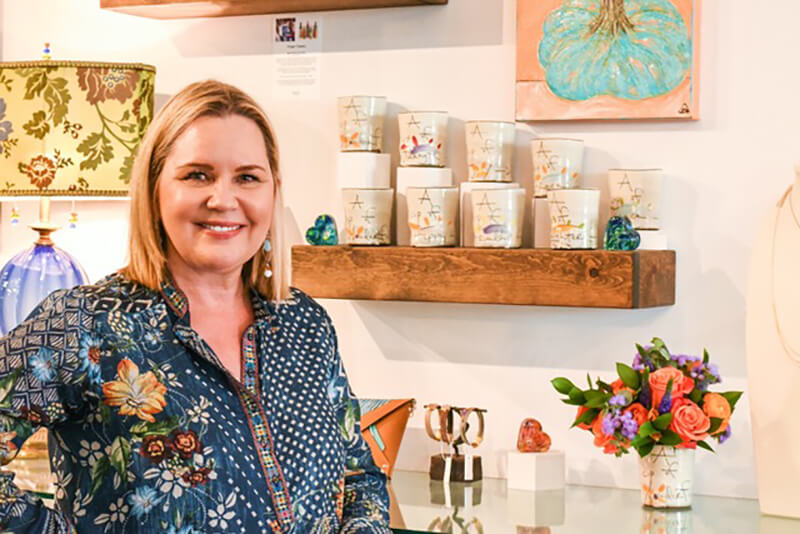 Show Notes:
Sponsored by Discover Lake Norman – A concierge experience for home buyers!
Welcome Jacqueline Bassett to the podcast! Jacqueline owns Juelerye Fine Gifts and Art, a unique shopping destination in Mooresville. Jacqueline founded Juelerye in 2015 on the idea that a rewarding life is built with gratitude, purpose, and memorable moments. We discuss more about her inspiration for her small business, as well as how she and the artists she collaborates with have been able to successfully adapt to the current challenges facing small retail shops. This is a heartening interview with the owner of one of the Lake's loveliest small businesses – enjoy!
From the Juelerye website:
"MEET JACQUELINE
People will stare, make it worth their while — Harry Winston
My dream has always been to have a small business in the community that would impact & inspire others. A place that people would remember and want to come back and bring their family & friends.  In 2016, I realized that there was a way to combine my love of one of a kind artist made treasures with the dream to open a small, independently owned business.
Juelerye is a place where artist made and handcrafted are the standard. If you believe in supporting creativity and filling your home and life with something more meaningful, you've found the right place. . There's just something special about giving and receiving a gift that is made by individuals that have put their time and unique creativity into their work. I've had the opportunity to sit with many of them and watch as they create the pieces that allow me to bring their happiness to you."
2022 Update: Juelerye is now located in Downtown Mooresville!
Juelerye
112 S. Main Street
Mooresville, NC 28115
(704) 728-0460
Local Lake Norman businesses we mentioned in this episode:
Pho Me | 138 Village View Drive, Mooresville, NC 28117
Ferrucci's Old Tyme Italian Market | 20910 Torrence Chapel Road, Cornelius, NC 28031
Josh's Farmers Market | 170 Joe V. Knox Ave., Mooresville, NC 28117
Dearness Gardens and Landscaping | 13501 South Old Statesville Road, Huntersville, NC 28078
The Pickled Peach | 202 S. Main Street, Davidson, NC 28036
Books Jacqueline loves:
The Simple Truths of Service – Inspired by Johnny the Bagger
by Ken Blanchard and Barbara A. Glanz
It's OK That You're Not OK – Meeting Grief and Loss in A Culture That Doesn't Understand
by Megan Devine
Tribes: We Need You To Lead Us
by Seth Godin
The Four Agreements: A Practical Guide to Personal Freedom
by Don Miguel Ruiz
This episode was recorded via Zoom in the private conference room at:
Main Street Coffee and Coworking in Huntersville