Episode 087
Aguilar Design Studio
Meet Founders Laura and Aaron Aguilar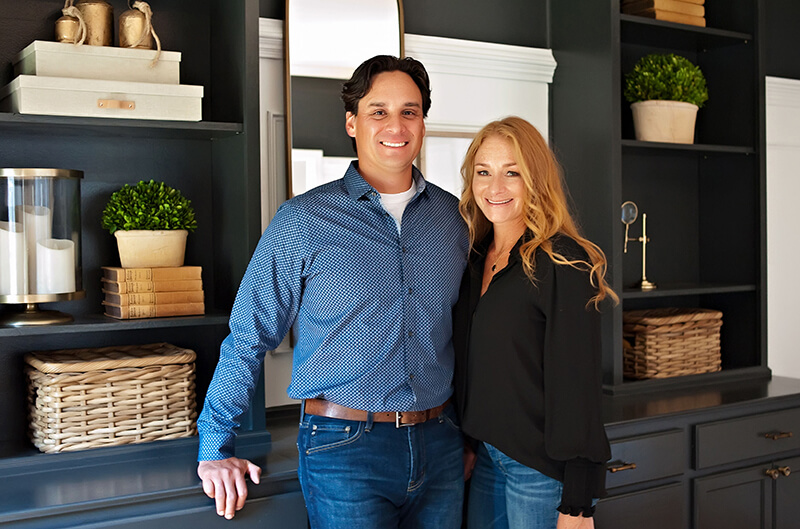 Show Notes:
Cornelius residents Laura and Aaron Aguilar join me to share the story of their entrepreneurial journeys and the formation of their own business partnership: Aguilar Design Studio.
Laura shares her background in interior design, and how merging these talents with Aaron's work as a general contractor has enabled them to bring their own full-service design-build concept to the Lake Norman area.
We talk about the value of a business coach for new and seasoned entrepreneurs, the use of some really cool 3D rendering technology that helps guide their clients through a comprehensive design process, and of course, I have to ask the question: what's it like to partner with your spouse in a small business?
It's a visionary episode 87 of Lake Norman's #1 small business podcast. Enjoy getting to know Laura and Aaron Aguilar, founders of Aguilar Design Studio.
Aguilar Design Studio
16930 W. Catawba Ave.
Suite 203
Cornelius, NC 28031
(980) 689-2332
Books recommended:
Rich Dad Poor Dad 
by Robert Kiyosaki
Profit First 
by Mike Michalowicz
The E-Myth 
by Michael E. Gerber
Transcript:
Narrator
Welcome to The Best of LKN, a podcast featuring the best small businesses and the most influential professionals around Lake Norman, North Carolina. Each week, we spotlight those businesses and individuals that are making a positive impact here in the Lake Norman area. Thanks for joining us, enjoy the show.
Jeff  
Hello, and welcome back to the Best of Lake Norman podcast. This episode is sponsored by Sodoma Law North in Cornelius. Sodoma Law is the Charlotte area's premier family law firm with a new office on Catawba Avenue in Cornelius. Sodoma Law, our family taking care of your family. And also, by Blumengärten, Lake Norman's premier florist. Blumengärten is your source for any and all floral arrangements from home and office decor to extravagant weddings and events. You can find links to both of these exceptional local Lake Norman businesses in the show notes for this episode at www.thebestoflkn.com.
Jeff  
Now about this episode, Cornelius residents Laura and Aaron Aguilar join me to share the story of their entrepreneurial journeys and the formation of their own business partnership, Aguilar Design Studio. Laura shares her background in interior design and how merging these talents with Aaron's work as a general contractor has enabled them to bring their own full-service design build concept to the Lake Norman area. We talk about the value of a business coach for new and seasoned entrepreneurs, the use of some really cool 3D rendering technology that helps guide their clients through a comprehensive design process, and of course, I have to ask the question, what's it like to partner with your spouse in a small business. It's a visionary Episode 87 of Lake Norman's number one small business podcast. Enjoy getting to know Laura and Aaron Aguilar, founders of Aguilar Design Studio.
Jeff  
Laura and Aaron, welcome to the podcast.
Laura  
Thank you so much for having us. We're excited to be here and talk with you.
Aaron  
Yeah. Thanks for having us, Jeff.
Jeff  
Absolutely, I've been looking forward to this. Laura, I'm familiar with your work. I've followed you on Instagram for quite a while. I've had conversations with another interior designer on this podcast, quite a while back, and really, I'll be honest with you just the photography and the social media, interior designers are just on point. You know what you're doing. So, I've really enjoyed following the account. Before we get into Aguilar Design Studio and the work that you and Aaron are doing and what inspired the formation of Aguilar Design Studio, I'd love to get a little bit of a bio and background on both of your careers and what kind of led up to this point. Laura, let's start with you.
Laura  
Yeah, for sure. Well, we are married, we've been married for 22 years. And we have three boys, they're 19, 18, and 16. So, they have kept us busy for a very long time. But the whole time, you know, we first got married and bought our first apartment and bought our first house I just loved interior design, always had loved it, love pulling our house together, friends would come over, family would come over, love our house, and I would help them do their house. It kind of all started from there. Just as a pure passion of mine. Then eventually, I started noticing a lot of people, you know, wanted my help. And I eventually went to school to get a certificate of interior design. And this was back when we lived in Southern California. I went to school out there, got a certificate of interior design. But still it was just all part-time work. You know, we had three boys very close in age, they were my main priority. But interior design was something I was able to do on the side. So, I was able to still kind of get that, you know, out of me every now and then, you know when I wanted to work for clients and stuff. It's not until we decided to move out here about seven years ago. And the boys were all older, and as soon as they're all in school, I think our youngest started high school so all of them were in school full-time. That's when I really got serious about my interior design business. I hired a business coach, because as any real interior designer will tell you it's not all shopping and picking out pretty fabrics. You know, if you don't fully grasp the knowledge of the business of interior design, you'll never make it in this industry. So anyway, I hired an amazing interior design coach. She really helped me get my processes and procedures into place. And from there just my business really skyrocketed and got really busy. I was able just to stay very busy every single year, I just always had clients. You know, the busier you get, the better your projects are, the better your clients are. And eventually I was getting into, you know, helping clients design their homes, or their vacation homes, working with more contractors. Sometimes that can be a little difficult, you know, contractors are great, and I love them, but sometimes they want to do it their way, I see it a different way anyways. So eventually, my husband will be able to tell you his story, but he does have a background in architecture and being a contractor. So, he ended up getting his contractor's license out here. And once that happened, we were able to just join forces, and become basically your one-stop shop for all of our clients and their project needs. So, I know that was a really quick kind of background bio, but that's pretty much how it happened. I've always loved interior design, and just had a passion for it. And always wanted to get into the building part of it and really own that part. And so now that we have it, it's been fantastic to be able to do it together.
Jeff  
That's a perfect job. Perfect summary of what led you to this point in your business. You brought up hiring a business coach, and wow, that can't be, the value of a business coach can't be overstated for someone, yeah, especially for us creatives who really, you know, I don't know, that right-brain left-brain thing. You know, sometimes we need someone with more left brain to help us guide us through the process of running a successful and profitable business. So yeah, I can definitely see the value there and would recommend to any other small business owner that doesn't maybe come from a finance or accounting background or marketing background to hire a business coach. And wow, three boys 19, 18, 16. So you're busy, you've always been busy?
Laura  
Always been busy. Yeah, always been busy. And my boys were very used to going to, you know, home goods stores with me. These poor kids, like they, even to this day, they'll be able to walk into a space and know if it's been designed correctly. So, I don't know if that's a good thing or a bad thing, but it's been fun. I was very, very happy that I was able to be home with my boys for as long as I possibly could have been, and still kind of dabble, you know, in my career a little bit. But I'll tell you, it has been super fun to be able to do it full-time these past several years. So, I've really enjoyed it.
Aaron  
Touching on that business coach topic, I've really seen Laura's confidence, really build and grow from having an outside source and being able to have a different perspective, which wasn't my own. Most importantly, because you know, sometimes as husband and wife, you don't take advice, as well as hearing it from others.
Jeff  
Yeah, I have no idea what you're talking about.
Laura  
No, not at all.
Aaron  
An outside third party was really beneficial. To see her confidence grow, as well as her business grow just from that alone.
Jeff  
That's a great point. And especially when it's a husband/wife team, it's good to have, you know, certainly some objective opinions and some objective advice for sure. Where in Southern California are you from?
Laura  
So, we're from the Southern California part is called Riverside, it's about probably an hour south of LA. We're about 40-45 minutes inland from the beach. So, it was great, you know, we loved it. Our boys grew up on the beach, and it was just it was really fun. But as you know, California is an expensive place to live. And just both of us being real, true entrepreneurs at heart, we just kind of wanted a different lifestyle for our boys and to be able to have easier access to owning your own businesses and all that kind of stuff. So, a lot of things went into us moving, but we love it, we will never go back. We absolutely love to visit California, but we really do love it out here in North Carolina. It's fantastic.
Aaron  
You can't beat the Lake Norman area. It's beautiful. The seasons are great. The people are very nice. It's not overcrowded, yet. And so yeah, coming from Southern California, there's a huge population, you have a million people around. Traffic is crazy. You got six lanes of traffic each way every morning to deal with, so we kind of like this way of living out here and to slow down a bit and be able to focus on our family.
Jeff  
Yeah, a little bit different pace for sure than Southern California. Not the first entrepreneurs I've had on the podcast who, you know, made hat journey from California to North Carolina, and for good reason. I totally get it, you know, North Carolina's obviously so appealing to, it's just such an appealing place to live. And how long have you, I may have already asked this, so I apologize if I did. How long have you lived in Lake Norman area?
Laura  
So, we'll be out here. It'll be, it's seven years this year we moved out here. Seven years ago, yeah.
Jeff  
Where are you in? Which town?
Laura  
We're in Cornelius. And we're real close to the lake, which we love. We've completely loved the lake life living out here.
Aaron  
Well, moving away from Southern California and the beaches, we had to be close to some type of water. Like she said, we were at the beach every weekend boogie boarding, surfing, enjoying the waves, so now we get to enjoy it in a little different way in the boat and manmade waves.
Jeff  
Yeah, I was gonna say you can still surf, you just need the Malibu or The Mastercraft to surf around Lake Norman. Aaron, share a little bit with the listeners, a little bio on yourself, a little of your background.
Aaron  
Yeah, well, my background started back at the age of 16. I started working with my father who's a building designer, I would go to his office after high school, work there a few hours every night, learn the trade. Back then we used pencil and rulers and drafting tables and electric erasers. So, I mean, you had to really know what you're doing and think about the size of a paper before you started the first line. But um, so we primarily designed tract homes for builders, as well as custom homes. And then, so I continued to work in there part-time in high school. And after we graduated and got married, I started working there full-time. And that's kind of where my eyes were opened to remodeling and room additions, because I noticed that we were passing on them. Phone calls would come into the office and no, we're not, we don't do room additions, we don't do remodels. So, me being young and dumb, I took those on the side. And that's where the real education started. Because designing new homes, you're in control of everything, you know, size, width, style, the look, things like that. Structural engineering is very easy, but with remodels and room additions, you have existing circumstances, you have flow patterns that you have to deal with, you have, when you remove a wall, you have to keep the roof up, you have to add a beam, you have plumbing in the walls, you have electrical, you have, you know you name it. So, I really jumped into something that I didn't know about. But I went full steam ahead and I had, I was lucky to have some good mentors and some good contractors that taught me the ways. I had some good engineers that helped me along the way, and I just asked lots of questions, and did these projects. And after doing a lot of them, I really enjoyed it. Because it's such a challenge, being able to design a room addition or a kitchen and have it flow, and have it match the existing space and make it look like it's always been there, or it should have been done this way. So, I really enjoyed that. And so, we did that for a few years and then eventually, I got a lot of experience and started our own company in 2004. So, we did that successfully since 2004 until this thing called a 2008 recession.
Jeff  
Oh yeah.
Aaron  
Yeah, so it was called the Great Recession and in Southern California man, it was like turning off a water faucet, you know, in 2007 you had a hose just blowing water out everywhere and then 2008 it was off.
Jeff  
Yeah.
Aaron  
And so, that was a great opportunity for me to go look for work. And where I found work was bank-owned homes. And so, I got my contractor's license and started working for banks, and so I started rehabbing homes because there was a lot on the market back then. Banks were taking over homes and they needed a lot of work. So, I got my contractor's license and started rehabbing. And that's where I learned a lot about rehabbing homes in Southern California. So eventually, I started going, I got kind of tired of that work out there dealing with banks, it wasn't fulfilling, it was just a job for them. I was just a number. And so, I was like, you know, I'm gonna get back into the office and that's where I got hired as a mechanical engineer. And so, my background is learning, you know, software. We moved on from pencil and paper to computers eventually in this architecture world. And so, I was able to know the software. That was a benefit for me. And so, I started working for a mechanical engineering company. That's where I learned mechanical systems, electrical systems, and plumbing systems. And that really helped me because I never had to think of those things as a building designer, you know, as a contractor, other people do those things, I don't do them. But I was forced into doing it, and I learned the process, and I really liked it. And that kind of gave me a different way of thinking, a systematic approach. As engineers, you think systematically how's this system going to work, and how does it tie into other systems? So, that was a huge benefit for me. And it also gave me an opportunity to relocate us to North Carolina seven years ago. And so that job allowed me to move the family here in 2014, and I continued learning that craft for another, about five years total. And then eventually, after that, we just got the bug of wanting to do design work around the Lake Norman area, we saw the beauty of it, we saw the age of the homes, we saw that they could be better, you know, we saw that they needed help, so to speak. And so, I just started making my contacts and then I went on my own about 2017 again, so started the residential design business again in 2017. And then, like Laura said, she's doing a lot of interior design on her own. She ran into a little bit of frustrations with other contractors, and I saw that, and I just watched it. And then eventually, one day, she asked me to be her contractor. Please, will you just be my contractor? And I said yes, and that's when I went through getting my contractor license in North Carolina. And then we did that, started our first job in 2020, and we've been doing it ever since. And then we've, you know, as we continue to grow, we decided we don't want to do this alone. Because we do have a family, we do have three boys. We wanted to build a team that will be able to support this business. And that's when we started, Laura got her business coach, I hired a construction coach as well. And we're designing systems to implement in the business as well as have our staff run and help us out with it.
Jeff  
Excellent. Yeah. And so, you started the new concept at a perfect time, right at the beginning of 2020. So, not the first company I've talked to that started their new concept in 2020. But it's going well?
Laura  
Yeah, it is. I think for sure, nobody knew, obviously, at the beginning of 2020 what was gonna happen. Definitely those thoughts ran through our minds, like, what are we doing? Why are we doing this now? But who would have known that the interior design industry and the building industry would have exploded the way that it did? Thank God, we did start that business when we did. Obviously at the time, it was beyond scary, and we second guessed ourselves a million times, but I'm so happy we did. And we have stayed continually busy and getting busier and busier ever since. We know this isn't gonna last forever, but for right now, I mean, it's fantastic. And we're making steps along the way to make sure we're always continually busy with projects. So, it's been great.
Jeff  
Laura, you just mentioned something that I'm going to circle back to in just a second. But Aaron, a concept that, two concepts actually that came to mind, one that you explicitly spelled out and that was when you were doing rehabbing homes for banks, the work was, it kept you busy, it paid the bills, but you didn't find it very rewarding or fulfilling. It's a sentiment that's shared by a lot of really, of these great entrepreneurs that we've had on this production. And that is the concept of finding purpose in your work and having purpose in your work. And that's just a sentiment that's echoed almost every episode that comes up and I think it's really cool. And it's definitely common ground and like that common denominator among like, really thoughtful entrepreneurs. And I love that you mentioned that, and I appreciate that. The other thing, the concept that came to mind was this idea that we talk about a lot, and that is you can't wait for everything to be perfect before you start a new concept, a new journey, a new business. And so, you know, we're lucky if we've got it about 75-80% perfect, but you got to launch, right? You got to go and kind of figure out the other things usually pretty shortly after starting.
Laura  
Yeah, we kind of have a joke that we say, sometimes we feel like we're building the cars we're speeding down the freeway. Like we're just, oh, we better put some tires on, you know? That's kind of how it seems like we've always done things, where we just, it's been working. Not saying it's not been hard, it's been very difficult, but we love it, and like you said, it is a passion of ours. We love waking up every morning being able to do this. It's very exhausting and it's a lot of work, but we love it. So, it's been worth it.
Jeff  
Yeah, yeah. And building the car as you're speeding down the highway, that's, yeah, and totally relatable. Most entrepreneurs can relate to that, I can certainly relate to that for sure. So, that's a great analogy. The other thing you mentioned, Laura, was how the interior design space really exploded in the last year and a half. And I can tell you that our house has never looked better. You know, all the new furniture and remodeled bathrooms, and it's all happened within the last 18 months. So, it's a phenomenon for sure that I'm familiar with as well.
Laura  
Very good. I know, I think, obviously, we love it, but I love that people are loving their homes, you know, it's majority of everyone's biggest investment, really it is. And there's no reason why your home can't live up to that. That's what we feel, I think your home, you know, the minute you walk home, you should just exhale, and just love to live, you know where you're at. And that's what we love to do. I love having our clients just so satisfied at the end of every project and continually telling us, oh, we just can't wait to get home every day or, you know, things like that. So, it's very satisfying work. We love it.
Jeff  
I know that we've, you know, it's funny, it's been a really positive byproduct of the pandemic was that I know, my wife and I really, really fell back in love with the house again, you know, and really kind of gotten this, enjoyed this habit of enjoying the house more, you know, staying home more and although, you know, we love to go out too, but we really just started looking around, you know, really enjoying time at home together. And then that's when you kind of look around the house and you kind of see things that you want to improve right, or you want to change.
Laura  
Right, right. 100% Yeah, it's been great.
Jeff  
So, Aguilar Design Studio was inspired by Laura, your interior design work and Aaron, your general contracting and architecture design. What are, share a little bit about the company. What are the services that you provide your clients and the process, what does the process look like? Just 30,000-foot level, I know we don't have a lot of time to go into the details of that, and any recent projects that you can share?
Aaron  
Yeah, so as we mentioned before, in addition to full-service interior design, we also design and build kitchens, bathrooms, additions, as well as custom homes. One project I'm thinking of recently we completed was a renovation of a bathroom in Davidson. Our process is we have a, once they, we move forward, we have an eight-week design process. And during those eight weeks, we select everything. Laura is highly involved, she selects the paint colors, the finishes, the hard surfaces, the plumbing fixtures, you name it. We're designing the floor plans concurrently with all those things. And about four weeks in, we meet with the clients again and have a preliminary design review, we make sure that everybody's on the same page. And once they approve that we move forward. And at that time, I'm able to get my team out there, plumbing, electrical, HVAC, and so they're able to put eyes on the project and as well as have a preliminary design as well. And during that time, we're able to get accurate pricing. So, Laura's already chosen the plumbing fixtures, so we know what the plumbing fixtures are going to cost. She's already chosen, maybe the marble countertop, the tile, things like that. So, we're not guessing at pricing, we can have accurate costs. So, we're able to get these pricing together, have a scope of work, and then at eight weeks we have a deliverable. We have a design presentation with our client and we're able to give them accurate pricing and timeframes. So, that's exactly what we did with this bathroom. We were, it was a, you know a standard tract home bathroom with builder-grade products, and they just wanted something a little better, a little updated for their son. And so, we gutted the whole thing, Laura designed a beautiful space. And one thing I forgot to mention was we do all 3D renderings, and walkthroughs as well, part of our design package. So, the clients are able to actually see what's inside of Laura's vision inside of her head and they're able to see it in a 3D environment. And so, they know what they're getting, how much it's going to cost and how long it's going to take to renovate.
Jeff  
That's really cool technology. I've seen that. And, yeah, it's really cool technology that 3D, when you can render it and literally walk your client through what it's going to look like. And then having those exact costs and everything lined up, so very few surprises, if any, once the project has begun.
Aaron  
Yeah, one thing we don't have is x-ray vision. So, we can't see through the walls and see what's already there, but we like to educate our clients as well. And we've seen many things behind those walls.
Jeff  
Oh, I believe it. Yeah, I can tell you and you know, totally understandable. I can tell you, when we were having our bathrooms done last year, that I was crossing my fingers, you know, you never know if you're going to find water damage or what you're going to find back there. But fortunately, it all went well. But yeah, I get it, you know, you don't know until you start knocking down walls.
Laura  
Exactly, yeah, but with that eight-week design process and the 3D renderings, it's been a game changer for us, you know, our clients know exactly what the room is going to look like, how it's going to be all pulled together, what it's going to cost and how long it's going to take us to get there. There's, you know, the clients aren't worried about anything, you know, we're not going back and asking for more money or anything like that, it's all figured out. These are all things the client is approving along the way too, I'm not just you know, selecting pieces out of the air, you know, these are all things that they love and are approving. But sometimes they may question something or question a design idea, that's where these renderings come into play. Because then they can see what I can see in my head already. You know what, they can see it right off and they're, oh, you know, a majority of the time, they're like, oh, my gosh, you're right. You know, that's fantastic. I never would have selected that. I'm so happy we did, you know, but it's been a game changer for us. And it's causing the construction part of our process to go 100% smoother. We have everything purchased and selected before the construction begins. So it just goes, you know, we're not ever waiting for anything to come in. It's all there, it all gets done real smoothly. So, it's been a great process and we implement it every single project. You know, the minute you stray, from any process that you have, something goes wrong every time. So, we sometimes seem like very strict on our processes but there's a reason behind it and we don't stray from it.
Jeff  
Yeah.
Aaron  
Yeah, one thing that we've noticed, obviously, everybody knows about this delay of products. So, we have a rule, you know, we'll design everything upfront, and we'll order the products but we're not going to start the construction until we have every single piece in stock. Because we don't know, if a six-week delay is going to come on a faucet or window and things like that. And that's things that we've experienced, and we've had to deal with those in 2020. You know, we've learned from it, and we've implemented processes to remediate that problem.
Jeff  
Yeah, you bring up a good point, I mean, we'd be remiss not to bring up the supply chain issues. And of course, the ever-increasing cost of materials and furnishings and fixtures. I'm sure we could probably talk about that for an hour, in addition to everything else we want to talk about. But what has that been like? Has it seemed to have stabilized? Right now, it's December of 2021. Does it seem to be stabilizing? But what's that like, is it still really kind of a fluid situation?
Laura  
Well, I mean, I can speak for all the furniture and decor and the pretty stuff. It's getting slightly better. But right off the bat with any client, I have to right away, just say, you know, what used to take us eight to 12 weeks, is now taking us 16 plus weeks at the very beginning to get anything in. That's not even things that are custom made. It's just the state of life right now. So, we try to be very upfront in the very beginning. You know, you're going to be with us for a while. I promise this is going to be a great experience and you're going to love it at the end. But yeah, we definitely at the very beginning we let them all know. Furniture and decor is getting slightly better but not by much. It's pretty much the same. I know construction…
Aaron  
Yeah, you know, we have long lead times as construction materials, but also in addition to that we have an increase in cost of goods. So, we've seen anywhere from between a 20 and 50% increase, just the cost of materials. And so, when we come across those, sometimes it's already after we've started. We always come to the client, give them, tell them the bad news, but also give them the good news. We came up with three other options. This is readily available, maybe it's the same cost, or maybe it's a little more. So, we like to come up with solutions before we give them the problems.
Jeff  
Sure, yeah. I had Vinnie Giglio with MV2 Investments who, he and his partners developed Mill One in Mooresville, and another building up there as well. And they're working on a new project, and the cost for that project within six months increased 50%. And this is a, you know, I think that the cost was around $14 million, and it went up $7 million. So, he's like, how do you plan for that?
Aaron  
That's not chump change.
Jeff  
No, talk about challenging. I mean, it's just, but you'd basically echoed the same stats, 20 to 50%, is what you're seeing a lot of materials. What about labor, Aaron?
Aaron  
That's increased as well, I've seen an increase in labor. For example, we just designed a room addition, we did the presentation, and yes, costs went up. And labor, this was about 30% than it was six months ago. A 40% increase. And so unfortunately, the clients had to hold off on it, because it was just out of their budget range for this particular job.
Jeff  
Yeah, yeah. It's understandable. Well, again, that's another, that's an economic discussion that I'm not qualified to host that conversation. But that is definitely a conversation for another time, but I appreciate you sharing that. I know that listeners will be a little curious as well, to see if, you know, what it's like on the front lines, so to speak. I got to ask, Laura and Aaron, what's it been like working together as a team full time?
Laura  
I think we've actually always worked really well together; I think we have similar likes in what we like to do for a living, you know, our careers are very much intwined. You know, with architecture and building and interior design, we have always had a love for just architecture. We'll go on vacations to you know, different cities, and that's one of our first things we want to do is an architectural tour of the city. You know, we probably sound so boring to other people, but you know, we just have a love for it. How things are made, the quality of the materials that they use, those kinds of things. So, we've always had that in common, so I think having that love in common has helped us work really well together. Obviously, husband and wife there, you know, things can happen. And we may be having a fight, the minute we get to a client's house we're like very best friends and right on it, and then we pick up the fight as soon as we leave. We're able to turn it off and on, which I don't know if that's a good or bad thing. But we've been able to make it work really well.
Jeff  
Excellent. Yeah, well, you created the business with this mutual love for building and interior design and architecture and obviously, that helps a lot. I had to ask that question, because my wife and I have basically agreed though we love each other deeply, we could never work together. So, but then again, we don't, you know, we don't share that mutual love for, you know, a specific industry, so that's really cool. I appreciate those insights. And Aaron, would you concur?
Aaron  
Yes, I would. What helps out a lot, we're both passionate about what we do like she said. We have the same vision, we want what, we love quality, we love quality work, and we love to give our clients the best experience possible. That's why when we started and got together, we said, let's put ourselves in their shoes. What would be the best experience for them and be able to find the problems and be able to solve them and give them and that's why we came up with our 10-Step Design Build process, which will help our clients have a smooth process from the very start, the very beginning to when we're putting in that last piece of furniture, you know, lighting the candle before the reveal. We have it, you know, done for them. It's like, you know, we're a one-stop shop, and we just like to be able to see that progression from a very, you know, from the first line on the paper to the very end when they're actually coming in and seeing it for the first time. We just love that. And then yeah, and like Laura said, we have a good work ethic, and we just get the job done no matter what, no matter how we feel.
Laura  
No matter how bad that fight is we're gonna get that job done.
Jeff  
And worry about that later. Yeah, well, you both bring up a really good point. And that is both sharing the vision for the company and for the concept. And that's so important. That's so important, even if you're, whether you're working with your spouse, or a business partner, or even courting sponsors and advertisers, which is something that I won't go into, but that's something we're doing and it takes, you really need to partner with companies who share the same vision, who understand the vision. So that's, yeah, I can totally relate. And that's a really good point. I'm glad you brought that up. Because that, it's critical. You really have to share that vision. The way you guys, the way that Aguilar Design Studio builds projects, is that pretty unique in the industry? Or is that something that kind of sets your firm apart from other companies?
Aaron  
Yeah, so the traditional method is you go find, hire an architect, you start there, it gets designed, maybe they'll bring in a separate interior designer, they find their own interior designer, that gets designed. Maybe they talk about budget, maybe they don't. But once they get those plans completed, they give it to a contractor. And then the contractor prices it out, and maybe gives them certain allowances for plumbing fixtures for, you know, other things as well. And then here comes the sticker shock. What? I didn't realize it was going to be this expensive. Who designed this? You know, the contractor always says, who designed this? Didn't he know how much things cost? This is the things that we're going to have to take out, eliminate, things like that. So, that's the traditional process. Like we said, our in-house team does it all from the very beginning, upfront. We design it, Laura gathers all their ideas, their thoughts, their processes, she has them share pictures from their Pinterest boards. Pictures are wonderful. Pinterest is amazing. Because they're able, Laura is able to get into their head and be able to kind of see what they like, what they love and then Laura is able to take that information and create their dream out of it. You know, and that's what our process, we love it because we have an in-house team of in-house interior designers, in-house building designers, and contractors. And so, we're able to provide a seamless process for our client all in-house without them having to go out and find individual people that may or may not work well together. And we also have accurate pricing as well.
Jeff  
I've heard some horror stories about GCs and architects. They don't always see eye to eye, to get things done very quickly.
Aaron  
Yeah, that's a classic, butting of heads.
Jeff  
Yeah, well that's good to know, that's really interesting. There's so many other things I want to talk about. But in the spirit of time, I want to move on to another topic. And it actually it's one of my favorite topics, in all of these conversations that I have with local business owners, and that is to recognize a few of the other small businesses in the area. And typically, we recognize businesses that are, either have been helpful to your company, or have been good partners, or it's always open to just small businesses in the area that you and your family love.
Laura  
Yeah, I'll start. We, obviously we have a lot, you know, of little businesses that we have used, that have helped us. There have been a couple that have really stood out that I have really loved and that work really well with our company. One of them is, it's called Bloom and Johnson Millworks and they're out of Davidson and they supply like reclaimed wood for, I mean, you think of it, they can do it. So, fireplaces, furniture, you know, if you need reclaimed wood for your house that you're building, I mean, anything, this company is amazing. They're young boys who, well, young men, who own this company, but they're just fantastic. We've used them for a project where we put reclaimed beams, you know, on a ceiling, fireplace mantles, I mean, they're awesome. And they're out of Davidson, and they're fantastic. So, we've loved working with them. And then I also love going to, it's this little home decor shop, it's called The Bungalow Market, and that is in Cornelius. And I just love the owner there, she's fantastic, helps me every single time I go in. The selection of decor and accessories she has there is just above. I love it. We go there almost every single project and she's just a little shop and I just love shopping there. So, it's fantastic. And then I have a couple amazing photographers, local photographers, I think you had one on before, Tiffany Ringwald. I've used her.
Jeff  
Yes.
Laura  
For just multiple, multiple projects. She's absolutely amazing. Her eye for photography is just, I've never seen one like it, she's fantastic. And then I've also just started working with, her name is Heather Ison. And she's an amazing interiors photographer, just absolutely fantastic. Both of these women are just absolute pros in their field. And again, any good interior designer knows, you don't have good interior design work unless you can get it photographed. And put it on your you know, social media sites. So, having a good interior photographer is absolute key in being able to have a good business for interior design and our construction business to be able to show our clients exactly what we do, but have it done so beautifully. You know, and they really capture the projects. I think that has been key for our business, but I just love these two photographers, especially they've been really, really helpful for us.
Jeff  
Yeah, Tiffany Ringwald is, she's just wonderful. And she's been probably the most recognized person on this podcast over the last year and a half going on two years. But yeah, she's super and just what an amazing talent and a really, really great person.
Laura  
Yeah, she's fantastic.
Jeff  
Heather Ison, I'll look her up and the Bungalow Market sounds cool. Where is that exactly in Cornelius?
Laura  
It's in downtown Cornelius. Right off of Catawba.
Jeff  
Okay. The historic area?
Aaron  
I'm not sure.
Laura  
Yeah, it's right down where School of Rock is.
Aaron  
Yeah, Main Street.
Laura  
Yeah. Main Street.
Jeff  
Yeah, kind of the historic district or Old Town, Cornelius?
Laura  
Yes, it's right there, yeah.
Jeff  
And then Bloom and Johnson Millworks. Yeah, reclaimed wood is so cool. Like what these companies are doing with reclaimed wood. I'm acquainted with the owners of another similar outfit in Cornelius and yeah, the work is amazing. It's so cool.
Laura  
Yeah, I love it. And it's so popular right now. So, it's fantastic to have some good places to be able to go work with for these kinds of projects. So, it's great.
Aaron  
Plus, these owners are young kids. They're young entrepreneurs, young and upcoming entrepreneurs. I'm sure they're gonna be around for a long time.
Laura  
Yeah.
Aaron  
They're very professional, very polite. Very good experience.
Laura  
Yeah, they're great.
Jeff  
I love that. Yeah, I will, I'll be looking them up as well. And of course, I'll have links in the show notes. Aaron, did you have a few?
Aaron  
Yeah, mine are a little different than Laura's. I'm a little on the nerdy side. And so, like she said, without photography, you know, we can't get by, but also without our good CPA, we can't get by either. So, I focus a lot on the financials and the cash flow of the business. So, I love my CPA, Ron Schuntich of Potter & Company. They're in Mooresville, I just met with him yesterday. We go over financials, projections, all the things I don't understand he teaches me and I'm able to, you know, leave there feeling a little bit better. 
Jeff  
Yeah. So, like a little bit smarter, a little more comfortable, right?
Aaron  
Yeah, a little bit more. Exactly.
Jeff  
Or at least you leave there knowing what you need to work on.
Aaron  
Exactly, exactly. The second one I want to mention is the CORE Group in Cornelius. They provided business and financial coaching, primarily in the real estate and mortgage brokerage, but I got to know that team there and they've been really helpful in helping us push the limits there.
Jeff  
Yeah, the CORE Group was recognized by Phil Puma, who is obviously a prominent realtor in the Lake Norman area and Charlotte in general. He had mentioned them, in fact, I think he does some coaching with them as well. Really cool organization, I've looked them up and we'll, I might try to get one of their team members on the podcast sometime.
Aaron  
Yeah, they're amazing, they know what they're doing, track record to show it. Real tough, you know, really keep you accountable.
Jeff  
And super relevant with everything that's going on, and while real estate is so hot, obviously, like that's just, goes without saying, it's just crazy, the real estate market, but also, I think they work with mortgage brokers as well and builders, as you said, so very cool. Anyone else?
Aaron  
Yeah, I have to mention I love eating. That's one of my other part-time things I love to do. So, I love Prosciutto's Pizza, that's over there in Cornelius. I love the pizza and wings there.
Laura  
And I would say our favorite restaurant probably by far right now is Barrel and Fork. And that is in Cornelius. Just a fantastic kind of farm to table, speakeasy. I mean, combines the best of everything.
Aaron  
Yeah, it's quality, it's good stuff.
Laura  
Amazing food, amazing cocktails. Really, really cool owners that work there too. So, that one's one of our favorites for sure.
Jeff  
Yeah, same. Yeah, we love to write about food and beverage at The Best of LKN. Most of our blog articles revolve around food and beverage and Prosciutto's is actually a place that I haven't tried yet. As long as, you know, I've been here many years, and I still haven't gotten over there. And it has been, they've been recommended as well. And I need to get over there, check it out, and also add them to our article that kind of highlights our favorite pizza places in the Lake Norman area. So, I'll be in touch, I'll be checking them out soon. And we'll be, I have no doubt that they'll be an addition to that article as well.
Aaron  
Let me know when you're going there. I'll meet you.
Jeff  
Yeah, twist your arm.
Laura  
He's not kidding.
Jeff  
Okay, yeah, I will. And Barrel and Fork, of course we brag on Barrel and Fork all the time. We're just, huge fans. Yeah, we've had Jason, Sarah, the owners on the podcast for an interview. And we wrote a full blog article about an experience we had there recently, and just, really amazing place. And Lake Norman, really the food and beverage, the dining scene around Lake Norman has just exploded over the last 10 years. And really, I have to give a shout out to Kindred as well, because they were one of the forerunners in the fine dining, farm to table, chef-driven space in the Lake Norman area. But yeah, so many great choices. It's hard to just list a few because there's so many great ones. Another question that I like to ask is, so, small business owners and entrepreneurs tend to be readers because there's so much we have to learn and stay up to date on. And sometimes we just need advice and inspiration, too. But I was wondering if maybe you had some reading recommendations for not only small business owners, but specifically those who are in the interior design space, or maybe aspire to enter the interior design space? And also podcasts if you have any of those.
Laura  
Yeah, for sure. I actually, when it comes to those kinds of, you know, books about business and learning, I actually do better listening to podcasts on topics like that. I can put on a podcast and just blow through a project that I'm working on because I love to just, you know, I can kind of listen to the whole thing at once. My absolute favorite for the business of interior design is the LuAnn Nigara podcast. She really does focus on the business of being an interior designer, which has been a tremendous help to me and a lot of other designers that I know, listening to her podcast. She has on, it's always teaching you something, you know, she'll have on super-famous interior designers who are just more than willing to share what their process is. She has on up-and-coming interior designers, she has on even, you know, the business of it like CPAs and how to do your taxes every year. I mean, you think about the business of interior design, she talks about it, and it's absolutely fantastic. The person who is not into interior design probably won't want to listen to this podcast, but I'll tell you, it's one of the best ones I've ever listened to and I look forward to it every week. She, I think she releases about two new podcasts a week, so it's fantastic. I absolutely love that one.
Jeff  
That kind of goes back to my point of the value of a business coach. I think that service professionals and craftspeople and anyone in the technical space, we don't really need advice on, or instruction on how to be better technicians. I think what we lack most is how to be better businesspeople, how to run our business better, and so, that's a really great, really great recommendation, I appreciate you bringing that up. Because again, I just think it's like so important that we as technicians and creators, really, really get all the help we can get on how to properly run a business.
Laura  
Right, yeah, you have to understand the not so fun stuff to be able to really do the fun stuff that you love. So, yeah.
Jeff  
Absolutely. What else do you guys have for me?
Aaron  
Another podcast, AFT Construction Podcast, he's a general contractor, does custom builds. And he works with interior designers as well. So, that's an interesting topic in itself. But yeah, gets into the ins and outs of the construction business, the problems, how they solve it, their systems, their processes, real eye opening. I really enjoy that one. And then as far as books, I think this has been mentioned before, Rich Dad Poor Dad by Robert Kiyosaki, that was fundamental, opening my eyes. And like we talked about, seeing the business side of things, the financial side of running a business and I mean, you can't live on passion alone, you have to actually have capital and income and profit and losses and things like that. And so, that kind of helped me see it and visualize it and inspire me as well. Second one is Profit First by, I'm gonna butcher his name, Mike Michalowicz.
Jeff  
Everyone does, that's okay. I know who you're talking about. Yeah, it'll be in the show notes.
Aaron  
But Profit First, that really opened my eyes on the financials as well. It's, you know, it's a little nerdy side of things but that's my forte. Digging into, how do you achieve profit in a small business in this environment. So, that was really eye opening as well. And lastly, I just want to finish with E-Myth. So, E-Myth by Michael Gerber, that's to help small businesses implement systems and processes to help run the business.
Jeff  
All excellent choices. Yeah, Rich Dad Poor Dad is one of the most, that's really, should be required reading for anyone whether you're going into business or not for yourself, and I've mentioned this in another episode, my biggest takeaway from Rich Dad Poor Dad was the way it awakened my, opened my eyes to the difference between an asset and a liability, like really fundamental stuff that you really need to know the difference between an asset and a liability and don't confuse the two. But yeah, excellent reading. Profit First, also recommended several times as well. Another really good one, yeah. Not as often as Rich Dad Poor Dad, a couple have recommended it that I remember, in fact, I didn't read it until it was recommended a couple times on this podcast. So, another great read and E-Myth, of course, a classic like, again should be required reading and really opens your mind to what, you know, running a business and not letting the business run you.
Aaron  
Exactly.
Jeff  
So yeah. Excellent, excellent choices, AFT Podcast and LuAnn Nigara?
Laura  
Yeah, Nigara.
Jeff  
Yeah, I'll have links to those as well in the show notes. Laura and Aaron, I just want to say, before we close, I want to say a huge thanks for taking time out of your busy schedules to join the podcast and I'm really looking forward to sharing your journey and your business with the listeners and I know that, I know we have a lot of listeners who aspire to be entrepreneurs or maybe struggling early in their journey and will love a lot of the insights that you shared, and also want to congratulate you on the formation of Aguilar Design Studio. And it sounds like it's off to an excellent start and definitely I wish you all the best going forward as well. How can listeners learn more about Aguilar Design Studio?
Aaron  
Yeah, they can reach us at our website, aguilardesignstudio.com. In addition, lauraaguilar.com, that's her interior design only website, as well as Instagram, Facebook, Twitter and LinkedIn.
Jeff  
Perfect. Of course, I'll have all those links in the show notes as well. And once again, Laura and Aaron Aguilar, owners of Aguilar Design Studio. Laura and Aaron, thank you again so much for joining the podcast. I really appreciate it.
Aaron  
Thanks so much, Jeff. We appreciated you having us.
Laura  
Thank you. It's been great.
Jeff  
Big thanks to Laura and Aaron Aguilar for joining the podcast and sharing the story of their entrepreneurial journey. Friends, you can learn more about Aguilar Design Studio at www.aguilardesignstudio.com. And Laura Aguilar Interiors at lauraaguilar.com. I'll have those links as well as the links to the local businesses and business resources Laura and Aaron mentioned in the show notes for this episode. As always, you can find the complete show notes for all of our episodes at the home for Lake Norman's number one small business podcast, www.thebestoflkn.com. While you're there, consider signing up for our email newsletter to stay up to date on our content and interesting happenings around the Lake Norman area. We just published a great new article on the blog featuring the area's favorite women's fashion boutiques. Have a look and see if your favorite shop made the list. Big thanks to our sponsors, Sodoma Law North and Blumengärten Florist, both located in Cornelius. You can get to know the team at Sodoma Law in Episode 54 of the podcast and the team at Blumengärten way back in Episode 7. I may be a little biased, but both of those episodes are among my all-time favorites. Have a listen, I think you'll really enjoy them too. My friends, that will do it for Episode 87 of the podcast. Thanks as always for joining us, having a listen, and following along with the team here at The Best of LKN as we navigate our own entrepreneurial journey.
Happy New Year, Lake Norman. Cheers. Bye for now.
Narrator
We hope you've enjoyed this episode of The Best of LKN. For more information about this podcast, show notes, video episodes, and links to our featured businesses, please visit www.thebestoflkn.com. We publish episodes weekly, so be sure to subscribe and stay up to date. Until next time, cheers Lake Norman.