Episode 031
Joe and Katy Kindred
A Conversation in Culinary and Hospitality Excellence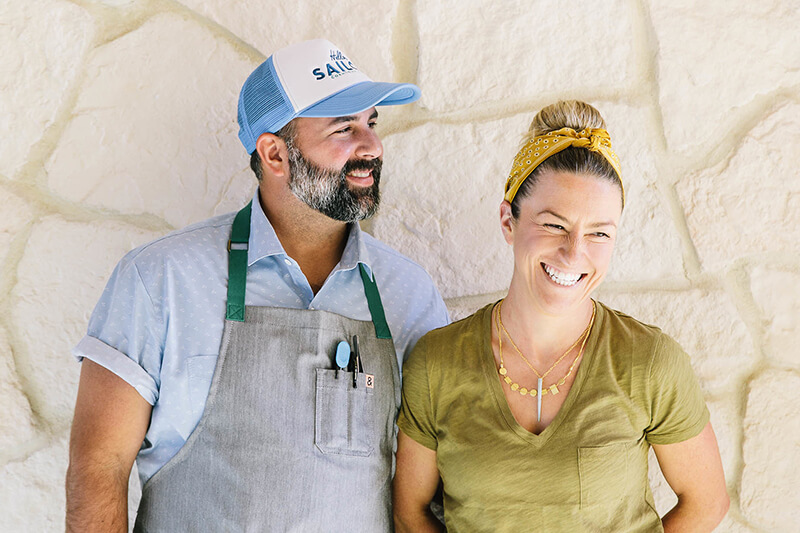 Show Notes:
In this episode, I have a great conversation with Joe and Katy Kindred, the owners of Kindred Restaurant in Davidson, and Hello, Sailor in Cornelius. To say that Joe and Katy are superstar restaurateurs would not be an overstatement – their career experience has spanned the globe, and their first restaurant – Kindred in Davidson – transformed the culinary landscape in the Lake Norman area. During our conversation, Joe and Katy share the story of their entrepreneurial journey and the inspiration behind their two amazing restaurants. It was such an honor to have this conversation with them, and I just know you're going to love this episode!
Kindred made our list of the BEST Fine Dining Restaurants around Lake Norman!
Check out our list of the 20 BEST Restaurants in Cornelius!
Hello Sailor is featured in our BEST Lake Norman Waterfront Dining article, and we also wrote a first-hand review in 2022!
Also in 2022, the Kindreds opened Milkbread Cafe, a fast-casual place in Davidson.
Local businesses recognized in this episode:
Katy's reading recommendations:
Integrity, by Henry Cloud
Radical Candor, by Kim Scott
Daring Greatly, by Brene' Brown
Setting the Table, by Danny Meyer
Atomic Habits, by James Clear
Transcript:
Jeff  
This episode of The Best of LKN podcast is brought to you by Hemplily, your CBD oil source. Trusted since 2017, Hemplily CBD helps you find balanced wellness, stress less, and feel better fast. Use code LKN15 for 15% off at hemplily.com. That's hemplily.com.
Narrator  
Welcome to The Best of LKN, a podcast featuring the best small businesses and the most influential professionals around Lake Norman, North Carolina. Each week, we spotlight those businesses and individuals that are making a positive impact here in the Lake Norman area. Thanks for joining us, enjoy the show.
Jeff  
Hello, friends. Welcome back to The Best of LKN podcast. I'm your host, Jeff Hamm. And before I roll Episode 31, which is a tremendous episode, I can't wait to share this conversation with you, I have a quick favor to ask. And that is, if you are inclined to support this podcast, and would like a suggestion on how to do that, I have a great suggestion for you, and it's free. If you would go to our homepage, www.thebestoflkn.com, scroll to the bottom, there's a form there to sign up for our weekly email. And all I need is your first name and your email address, and I'll put you on the list to receive our weekly email. Those emails are short and to the point, they'll have a note or two about the guests on the podcast that week. Perhaps another note or two regarding previous guests, or current events, and notes regarding our sponsors for that week. So again, the emails are pretty short and to the point, have some great information included, and you'll only receive one per week. Again, the form is at the bottom of our homepage. So go to www.thebestoflkn.com, scroll to the bottom, and just type in your first name and your email address. And you'll begin receiving those emails, just one weekly. Of course, I will always be respectful of your inbox and will never share your email address with another party. So, I hope you'll do that. And I really appreciate it. So on to this episode, Episode 31 of The Best of LKN podcast, I have for you a conversation with a wonderful husband and wife team that are so well-known and so adored throughout the Lake Norman community, especially Cornelius and Davidson, where their businesses are and where they live, in Davidson. And they are really, in a way they're kind of responsible for putting the Lake Norman area, specifically Davidson, on the map as a dining destination for folks who live in other areas of Charlotte, or even other areas of the state. And their names, of course, are Joe and Katy Kindred and they own Kindred Restaurant in Davidson, and Hello, Sailor in Cornelius. Joe and Katy spend a little over an hour with me in this episode, and they share the story of their entrepreneurial journey, and I think you're just going to love the story. So, it's worth listening to. If you listen on your commute, you only have a 20-minute commute, you'll be listening to this one for a couple days. But it's totally worth it. So, I hope you enjoy the conversation. I hope you enjoy this episode as much as I enjoyed recording it. And meeting Joe and Katy, virtually. So, without any more delay, let me go ahead and roll this episode, number 31 of The Best of LKN podcast featuring Joe and Katy Kindred.
Jeff  
Joe and Katy, welcome to the podcast.
Katy Kindred  
Hey, thanks for having us. 
Joe Kindred  
Thanks for having us. We're super stoked to be here.
Jeff  
So glad that you can make some time to come on the podcast. I've been looking forward to featuring both of those restaurants and having a conversation with the both of you as well. So really looking forward to this. Before we get into details about Kindred and Hello, Sailor, let's get into a little bit of your backgrounds and the inspirations behind, I believe Kindred was the first restaurant, Hello, Sailor followed a few years later. Let's talk just a little bit about your backgrounds then we'll get into the restaurants. Katy, let's start with you.
Katy Kindred  
So yeah, thank you. I have actually been in the restaurant business for just about my entire working life. I started as an AM baker at a bakery, and a barista when I was like 14, but it wasn't really until my early 20s that I got really hooked and actually started considering restaurants as a career. It was a trip to France, while Europe, a couple different countries, but mainly France, where I had food and wine kind of in the proper context for the first time in my life and was just really struck by how it kind of checked all my boxes of things that I'm passionate about. I love people, I love communicating. I love travel, I love food. And it's sort of like, it kind of meshed all those things together. Fast forward to coming back home to Chicago, which is where I'm from and where I was living at the time, I kind of just walked right into the nicest restaurant I had ever been to and told them that they needed to hire me. And, surprisingly, they did. But I worked my way up at that restaurant from a hostess to a sommelier. And because while I was working during the evenings, during the day, I would study wine in order to pass a sommelier exam, which I did, very, very early in my career. So, I spent the better part of 10 years in Chicago and then in San Francisco, in the wine side of the business before being hired as the Assistant General Manager at a 3-Star Michelin fine dining restaurant in San Francisco called Quince, which was my first real leadership position in a restaurant. When you're a sommelier you kind of take on managerial responsibilities just as that sort of like, you know, part of the gig, but this was my first sort of management role. And it sort of opened my eyes to more aspects of the restaurant and I think I slowly started to learn that it wasn't just the wine and the service for that matter, but also all the aspects of the restaurant that really made me curious. So, after Joe and I got married, we moved back to the Charlotte area, and I was hired as a GM at a restaurant in Charlotte called Good Food on Montford. Which was great because then I got to sort of start learning the accounting and pieces of the business that I had not gotten to do yet. By the time we were getting ready to open Kindred, I had started working for Jim Noble, who's a very prolific restauranteur in Charlotte, I'm sure you know, really great guy, and he had me doing his marketing and branding sort of side of things so by the time we opened Kindred, I think I've pretty much worked in every single position that there is in a restaurant between server and busser and hostess and sommelier and manager and assistant general manager and marketing person and accounting person. I was like, okay, I feel like feel pretty well-rounded, so if we're gonna do this, we're gonna do this. So, that's basically my, my sort of foray into the business. Till right about when we open Kindred.
Jeff  
Yeah, so you knew you had a very good idea of what you're getting into. I'm actually really, I did some research, I listened to a few podcast interviews that you both have done in the past, I didn't realize your experience in the restaurant industry was so vast, I didn't realize you had that much experience. I knew that you had worked in restaurants before, but that's news to me. And obviously not surprising, considering the success of Kindred and Hello, Sailor that you have, that you brought so much of that experience to your businesses.
Katy Kindred  
Thank you.
Jeff  
Also, a little known fact for our listeners, Katy was quite the athlete in high school and in college. What was your sport, Katy?
Katy Kindred  
Oh, you have done your homework. I was a cross country runner in high school and then I ran marathons and triathlons after that. Not, well, competitively, just as a citizen, and then I played water polo all throughout high school and then also played in college. I actually played on the men's team at University of Iowa, because the women's team was not very good. And I made the men's team, me and one other girl, so that was pretty fun. I played water polo and cross country, which are no joke, very difficult sports.
Jeff  
Yeah, I believe it. Well, you definitely, you have the distinction of being my first guest, who had competed in water polo. So yeah, that's a new one for me, that's awesome, though. Very, very cool.
Katy Kindred  
Thank you.
Jeff  
You and Joe met in Chicago, is that correct?
Katy Kindred  
That's right, yeah. So, we both worked in the business, we met at work. There's a hotel with a famous restaurant called The Pump Room, the hotel is called The Ambassador East Hotel. It's in the Gold Coast, in downtown Chicago. And we met there, I was the wine director and Joe was a sous chef, and we were friends for quite some time, just working together. And it was actually right before I left that position that we started dating, because I was moving overseas to Italy for a work opportunity over there. But yeah, that's where we met, we met in Chicago.
Jeff  
Okay, Joe, let's hand it over to you Now, you're from the Charlotte, Lake Norman area originally, if I'm not mistaken?
Joe Kindred  
Yeah, so I grew up right around the cove. I'm here in the office at Hello, Sailor. And yeah, my family, we grew up off of Bethel Church Road here in Cornelius, and then we ended up moving over to another neighborhood and Cornelius, but yes, super grounded in the whole Cornelius, Davidson, Lake Norman area. Spent a lot of time on the lake growing up and kind of terrorizing this town.
Jeff  
Well, I wish we had more time to talk about some of those stories. But you went to school to be a chef, you went to culinary school. Where did you go?
Joe Kindred  
Yes, sir. So, I went to Johnson and Wales in Charleston, South Carolina. And throughout high school, I was actually in a baking and pastry class. And that's where one of my first mentors, who was my teacher, Kevin Wilson, who still lives in Davidson to this day, and helps us out, fixing miscellaneous knickknacks around Kindred and a good friend of ours, he kind of took me under his wing and was like, you know, I think you're kind of good at this. And he was the one who suggested me, going to Johnson and Wales and kind of the rest was history.
Jeff  
That's awesome. Now after Johnson and Wales, you obviously wound up in Chicago for a bit. What other areas or regions were you working in before you came back to Charlotte?
Joe Kindred  
Yeah, I really love sports. And it's kind of like, do I want to go to New York, or do I go to Chicago, or do I want to move out west, and New York seemed a little bit too fast-paced for me. My dad had lived outside of Chicago. I was always a Cubs fan, because that was the only baseball we could watch around here other than the Braves on WGN growing up. So, I said, hey, Chicago, seems like it'd be cool, great, great sports, obviously, really cold winters. That was kind of a bummer. But yeah, it was basically worked in, in Charlotte, and then I moved to Chicago. And then I worked in kitchens in San Francisco, and then, obviously now back here at Kindred and Sailor.
Jeff  
As a chef, obviously, to prove your mettle, you really need to go to a market like New York, Chicago, San Francisco, those are those are the big times, right? The big leagues, so to speak.
Joe Kindred  
Yeah, I mean, I think it's helpful if you're in a position where, you know, your life can kind of permit that. I think nowadays, a lot of folks are going to the smaller markets and going to work for kind of like the big fish in the small market. Sometimes I encourage even cooks that we have at Kindred or at Sailor to go work for a chef that you admire wherever, doesn't necessarily have to be Chicago or New York, because those places are obviously very expensive to live in. But, you know, think of a place like Davidson, you come to work there and the cost of living in Cornelius isn't that bad compared to Chicago and you can learn a lot of cool things from some great chefs. So, I think it's just more or less, what it is that you're passionate about and what your end goals are and trying to get yourself under a great chef that can mentor you.
Jeff  
Yeah, that makes sense. Well, speaking of great chefs, you're obviously, both Hello, Sailor and Kindred, the menus are chef driven. Kindred is very unique in that it's very seasonal, the menus. Do the menus at Kindred change fairly often?
Joe Kindred  
Yeah, so our menus change pretty much every day. There's going to be some sort of little tweak to a dish, whether it's a different herb or it's a different type of squash, right now different type of apple. But we generally try and change the menu every day. And then we'll go through very large-scale changes weekly as well. It's just kind of like whatever we can get from our friends and our vendors, whatever fish that our fish guy texts us about. And a lot of our menu, not right now during the middle of COVID, but a lot of our menu kind of reflects our travels and where we've been and what chefs have inspired us, and then just trying to do like a Kindred interpretation of that. Or if it's Sailor, kind of have a little bit more fun with it and a little bit more playful.
Jeff  
Yeah, so let's go ahead and get into the details behind the inspiration behind Kindred Restaurant and tell the listeners a little bit about that. I have a feeling that most of our audience are very familiar with Kindred Restaurant and Hello, Sailor, but for those who aren't, let's tell the story about the inspiration behind Kindred and a little bit about the vibe, the atmosphere, the menu, and what guests can expect when they go to Kindred
Joe Kindred  
Katy, do you want to kick this off, and I'll kind of bring it home with the menu.
Katy Kindred  
Yeah, that sounds good. So, Kindred, to be honest with you, the first time we talked about Kindred, the restaurant, was back in The Pump Room days. So, I can recall, very vividly, a conversation Joe and I had way back in Chicago when we were just friends at that point, we weren't even dating yet, where we talked about how we felt like we would make a great team, we're like, oh, we would make a really good team. Maybe one day we could open a restaurant, we could call it Kindred because that's your last name and it's perfect. That's great, let's do it. You know, like, kind of joking, but kind of not joking. And then through the years, we had always, I mean, we met together in the business, we love food. Like when we have days off, we cook and we you know, talk about food. And we talk about travel, like those are the things that make us excited and happy and what brought us together in the first place. So it's no surprise that our entire sort of like engagement period and early marriage before we had kids, when we were sort of like running around and learning and cutting our teeth with different chefs and trying to get as well-rounded as possible. It was all with this sort of like looking at it through the lens of like, one day, we want to open a restaurant and we're gonna call it Kindred, and so when we finally got the courage to actually do it, we had always talked about, this was going to be the restaurant, you know, we had never kind of gotten into this business thinking we're gonna be just this one off mom and pop joint. You know, like, we are true entrepreneurs that think, probably way too dreamy and big for our own good. And we were like, well, we want to do multiple things, but this one is going to be the one that everything draws back to, this is the heart like, this is the heartbeat of the company that we want to build. And this is going to be the restaurant that has our name on the door. And it's going to tell our story, in the sense that we, you know, I grew, I shouldn't say grew up but like my early adulthood was filled with lots of travel, I was kind of a little bit of a gypsy for a solid 10 years, just like bouncing around the world and South America and Europe and Canada, Mexico, everywhere, to kind of learn that way. I've always been a very tactile kind of hands-on and very visual learner. And I love people and meeting people and seeing things firsthand and putting on a backpack and wandering around somewhere not really knowing where I'm going to end up. Like that's just sort of the way I'm wired. And Joe, he went to culinary school, and he's an incredibly disciplined person and a very humble, hungry learner. And so he kind of came up through that more rigid, kitchen culture, right. And so when the two of us got together, we wanted the restaurant to kind of tell that story of these two people who are very different. We wanted you to feel like you're walking into this very intimate restaurant that tells a story. We wanted the food to tell a story. It's always been rooted very southern like Joe but has a lot of international flair, if you will, and ingredients and techniques. And we felt like that was another vehicle to tell our story. The music, a lot of the music is stuff that we both just really love, so we just wanted the experience to be very intimate, and very personal. And we hope people kinda got that when they got there that you're walking into a place that two people made together and that they really love very much. It's like the ultimate mom and pop kind of restaurant and I'll let Joe speak further on the menu.
Jeff  
Well, I think you've definitely accomplished that for sure. You know, Katy, you have a reputation for exceptional attention to detail and having a real talent for design. And I've heard that guests at Kindred and Hello, Sailor as well, remark, not just about how phenomenal and amazing the food is but also just the feeling of the space that you've created there. And I know from a little bit of my research that Joe will give you so much of the credit when it comes to the space that you guys have built there at Kindred and Hello, Sailor, so I know that you have, you've just had an amazing and a huge role in that. Where did that come from? Has design and creativity always been kind of come naturally to you? Is it something that you've studied? Or is it just from your experience from traveling and working in so many different places?
Katy Kindred  
Oh, well, thank you for the kind words, that's very generous of you to say all that. I'd say it's kind of a mix, I have not, like, by any means formally trained as an artist or designer or anything like that. But I have always been a very creative, visually creative person. I can recall in high school that was, for example, I went to a huge, enormous high school. And I've always been attracted to things like visual art, and I remember winning like contests throughout, school-wide contest to make, like, I took welding. And I welded a weathervane for the for the baseball team for their field. Because my design won the contest or whatever, silly little things like that. But I definitely have always been a very visual, creative person, but I never in my wildest dreams, thought I would ever design a restaurant like that. But when it came time to do it, and we walked into the building that is now Kindred, it's almost like I could just see it, you know what I mean? And I was not comfortable handing that vision off to anybody else. So, to be honest with you it was very scary. Because I was like, what if it's the worst, you know, because like, you're literally like going off of a thought in your head, you have to communicate that vision to an architect or to a builder, and every square inch of that restaurant was a decision that had to be made and it was, I've never made those decisions before. So, it was quite scary to be honest with you because I was like, I just don't know how this is gonna turn out, like I see it in my head, but what if it looks horrible when it comes out? So, it was a thrilling experience. And after I did Kindred, I felt a lot more confident going into Sailor because it actually did work out for the most part. I made a ton of mistakes. But, you know, it was a learning process. And then with Sailor, you know, which I'm sure we'll get into later, I had a little bit more confidence. And I took a lot more risks creatively with that space. But yeah, it is definitely a passion of mine. And I do credit a lot of the travel that I did early on with maybe some inspiration for some of it, but yeah, no, it's definitely fun for me and it's sort of like a you know, I always love stories about when people reinvent themselves later in life and while I have not done that, I still, I'm in the restaurant business, I always will be, but the whole design element has been this very exciting new passion for me, and I turn 40 next year, so I think that's kind of fun to sort of like have a new thing.
Jeff  
Yeah, absolutely. No, I think that's awesome. And obviously, Sailor, the vibe's a little bit different than at Kindred, but we'll get into that shortly. And but an equally cool space, just a slightly different atmosphere. Joe, let's talk about the menu. Chef Joe, tell us about the inspiration behind the menu at Kindred.
Joe Kindred  
Yeah, so Kindred, we really wanted to be able to kind of not have limitations from a standpoint of, you know, Katy and I always joke around about, we call it the C word and the C word being concept. We didn't really want to have, you know, if you're a steak house, it's kind of hard to do, you know, you kind of got to specialize in steak, but when we were chef-driven, we kind of got to specialize in whatever it is that's kind of inspiring us at the moment. So, we worked really hard to kind of not have any sort of limitations for that. So, with that being said, you can see all sorts of different influences from, you know, our menu, whether it's, you know, there's a lot of Italian stuff, there's a little bit of California vibe from our time in San Francisco. But a lot of it is just kind of like fresh, we love to, kind of aggressively season our food, heavy acid, we like everything to have a perfect balance of like salt, fat, acid, spice when necessary, but we didn't want people to come in and kind of be able to get what you can get a Kindred at another restaurant down the road, we wanted to really kind of excite people with the menu. And we've been fortunate enough to establish a lot of regulars in the Lake Norman area, and they're almost, you know, just excited as our team is, and our staff members are with how fun it is to get to change the menu. And every time they come in, there's something new on, you know, their favorite salad, or there's a different vinaigrette on this or a different sauce with the scallop or whatever it may be. So, I think it just keeps everyone kind of engaged, and it keeps everyone focused. And I think the people that enjoy it the most are our staff as well; they really get into it. So yeah.
Jeff  
Yeah, well, it definitely keeps everyone kind of on their toes and keeps things, it's nice to have an unexpected surprise when you come to your favorite place every other week or so and see something new that you haven't tried before, a new take on an older dish or something like that.
Joe Kindred  
Yeah, I will say, just to kind of add on to what you were saying when you were kind of chatting about Katy is, I feel like she doesn't kind of talk herself up much. But I mean, my job is pretty easy. I mean, she created this beautiful atmosphere and our services, I think it makes the kitchen's job so easy because of how amazing they all are and the training and the wine list and the music and just all those feels, it really makes our job in the kitchen, we kind of just got to focus on execution because she has just absolutely teed it up with her team. And like I said, it makes our job pretty easy.
Jeff  
Yeah, absolutely. So, you know, the team's so important, I know that the service at Kindred and Sailor are just phenomenal, as most people have come to expect, but yeah, service is so important. The food, we kind of expect when we go to a fine dining restaurant, we sort of expect the food to be great. But it's really, it always comes down to service as well. So, I know that your team there is phenomenal. And Katy, it sounds like you have a lot to do with the front of the house team?
Katy Kindred  
I mean, I can't take credit for them. They're all so amazing. I mean, we are, honestly no, I would be, I can't do that, we've got, our leadership team at Kindred and Sailor are so amazing. I could probably disappear for a month, and you wouldn't notice. I mean, they are, they're awesome. And I honestly can't take credit for that, but I appreciate the kind words.
Jeff  
Okay, well, we'll give you credit anyway, and we'll go with that for now. Joe, since I've got you on the menu with Kindred, let's go ahead and transition over to Hello, Sailor and let's talk about the menu at Hello, Sailor, and first of all, let me just ask you this, what's the deal with Calabash shrimp?
Joe Kindred  
So Calabash shrimp, you know, it's funny, we took them off for a little while and we added them back on. I think it was like two days ago. We didn't, and when I say we took them off, we just kind of did that thing that we do a lot of where we change it up a little bit, and during the shutdown we obviously had a lot of time on our hands. So, we were just testing recipes. And I think the team at Kindred was probably ready for me to get out of the kitchen because of all the recipes we kind of changed and tweaked and stuff like that. But yeah, it was, we got really into brining things. And I got into brining things with pickle juice. And so, we changed the Calabash shrimp to pickle-brined Calabash shrimp, and we actually just changed it back because I think a lot of our regulars got very upset with me. But I thought it was pretty delicious but no, so Calabash shrimp, again, like one of the things that we do at both restaurants is we try and interpret some of the classics or you know, interpret different types of ethnicities, different types of cuisines, and just try and really offer our kind of basic knowledge and foundation of how to make certain sauces and how to combine certain flavor profiles. And then what we do is we apply those towards various new techniques. So, this is a fun play. There's an area on the coast of North Carolina, it's right on the North Carolina, South Carolina border, called Calabash, that is famous for fried seafood. You can have Calabash shrimp, Calabash flounder, whatever, but our interpretation of it is it's dredged in buttermilk, and then it's a quick light dusting of all-purpose flour. And then it's fried until golden brown, but it's not like fried super hard. You just fry it till the sugars of the shrimp start to caramelize and it's kind of a nice light fry and then one of the most important techniques with our Calabash shrimp is making sure that when you pull it out of the fryer that you give it the opportunity to rest right above the fryer in the basket and really get rid of all that excess grease that it just fried in and what happens is as soon as the air hits that flour, it forms this really hard crust. And that's what gives it that really crispy but then the shrimp are like barely warm on the inside. So they're like super tender and soft and delicious and briny. So that's kind of our play on Calabash shrimp. We do the same thing with flounder. And then with our whole flounder dish, we actually do a similar technique but instead of using all-purpose flour, we use this really nice corn meal that we get from Geechie Boy Mills.
Jeff  
Yeah, I was just teasing about the Calabash shrimp. The reason I brought it up, I know from previous interviews that I've listened to that you draw quite a lot of inspiration from the Calabash region for the menu at Sailor and I had heard the story about Calabash shrimp quite a few times so I had to poke a little fun at you there but the Calabash shrimp sound amazing and I wanted to talk a little bit more about the Calabash style which you elaborated on, so thank you for that. But the rest of the menu, I know that there are some dishes that draw on that inspiration from Calabash. What else can guests find on the menu at Sailor?
Joe Kindred  
So, Sailor's just fun, you know we, growing up here, I'm looking at the menu. It's a neat story. So, the guy who owned this restaurant, in one of its previous iterations, is a guy named Jack, who, it was called Harbor Lights, and at one point it was called Jack's after him, and right before we opened Hello, Sailor, he brought us a framed thing of the original menu from Harbor Lights. And he explained to us why it was called Harbor Lights. And the neatest part was, he said, I remember you coming in here with your parents on the boat, and your parents were some of my best customers. So that was a really neat thing. And he showed me where him and his daughter carved their names into the cement before it dried. And I'm sitting here looking at the pricing right now. And it's like, flounder $2.65, fried catfish $5.23, so we did draw some inspiration from him. And we added little things like, we don't do it anymore, but when we opened, we would have something that would be like $7.49 as kind of like an ode to Jack and Harbor Lights and just kind of having fun with those little like instead of something being like $7.00 it's $7.19 you know, we thought that was neat. So, growing up I remember coming here and eating fried shrimp and hush puppies and catfish and my favorite thing was feeding the fish, there was a bunch of catfish and carp and all sorts of stuff and the first thing that we did when we brought it to its current iteration was we added a fish food container, that of course, Katy designed and put like this custom yellow color on and put her really wonderful touch on. And what's neat is the first thing that my kids do when they get here is they come in here and they steal quarters from wherever laying around in our office here and feed the fish. And it's just a great memory that we were able to kind of generationally keep that going. But yeah, so as far as the food, we wanted to have something for everyone, we wanted boaters to be able to come up and have chicken wings and a burger. We wanted people to feel comfortable in flip flops, we wanted, we have Kindred, that's this kind of more high-end, not to say that Sailor's not high-end, we're incredibly ingredient-driven, and ingredient-focused. But we wanted to be able to cater to folks that want to come in for a date night, but we also wanted to be able to cater for a group of men or a group of women that would want to come in here fresh off the boat and just have a good time and be able to enjoy tiki drinks and kind of look at Katy's design and just really kind of like fall in love with the place. But yeah, I mean, it's the same kind of philosophy as Kindred where we try and make everything in-house whenever we can, we get everything fresh that we can, and we really are ingredient driven. Consistency is huge here because the amount of, it's not like at Kindred where you might sell like 20 orders of scallops on a busy Saturday. I mean, here, it's like you're gonna sell 200 orders of scallops. So, you really have to focus on recipe development and then being able to learn how to execute something quick, which was not something that I'm super, I was super good at. And I had to learn that quick. You know, with the help of an awesome management team that, you know, our kitchen here is amazing. We were able to kind of get that learning curve going. But yeah, I mean, there's definitely some Southern feels, but like right now, one of the things that we changed in the middle of the Coronavirus was our chicken sandwich, and it's just super fun. Katy and I went down to Louisiana and got to tour Tabasco. And they let us taste this garlic Tabasco sauce, which I thought was just amazing. And so now our fried chicken sandwiches dipped into that, and it's served with like a sea urchin mayonnaise and Grandfather's Pickles which, that's one of the only things that's on the menu at both restaurants. So Hello, Sailor's, it's kind of like a pick your poison. You can come in and do a date night and eat some, you know, really awesome king crab legs or you can kind of take it easy and have wings and drink a Miller Light and nobody's here to judge you. You know, we just want you to have fun and there's a little something for everyone.
Jeff  
The chicken sandwich sounds amazing.
Joe Kindred  
It's quite good.
Katy Kindred  
It is really good, man.
Jeff  
Well, one of the guiding principles I noticed on the Kindred website was sourcing matters and touch on that real quick Joe, and then I want to talk to Katy more about some of the design that went into Sailor.
Joe Kindred  
Yeah, so, just to bring up that, like, you know, that garlic Tabasco example, I feel that food is best enjoyed when you can tell a story. Obviously, with how nostalgic this place is to me and how important it was to my childhood and now being married and having these three wonderful kids and having them experience something that their mom designed and that their dad gets to cook the food, I mean, it's very humbling. But I think it's the whole thing's just, it's really neat. But yeah, hopefully that helps.
Jeff  
Yeah, it's so cool. I mean, to think that you would go there and eat shrimp and hushpuppies as a kid with your family and decades later, now it's your restaurant, and you and Katy own it. And that's got to be just, do you ever just stand back and say, wow, I can't believe that this is my place now?
Joe Kindred  
Yeah, it's neat. Sometimes on Tuesdays when Hello, Sailor's closed, I'll sneak away from Kindred, and I'll come over here and check my email and I'll just sit on the porch. And there's nobody here, you know, because we're closed. And then, I think it was a couple weeks ago, I was like, hey, Katy, I want you to come over here, check this out. She's like, why do you wanna go over there, we're closed. I'm like, just trust me. And so, we came over here and our nanny had the kids and we just kind of sat out back and I had a beer, she had a glass of wine, and we just kind of soaked it in. And, you know, it's really neat. But you know, back to the sourcing matters thing, you know, I think that if you can put out a great steak, it's cool. But I mean, if you can put out a great steak that tells a story and you talk about how me or whoever it was goes up and we meet with these farmers and we learn about these cows, and then we picked the right cut, and then we age it in-house. And then we talk about what type of cow it is and stuff like that, you know, it's like, we don't just order a ribeye, we want to call our vendor and we want to talk about the ribeye, we want to learn about the ribeye, we want to taste it. And then we want to kind of perfect it. You know, and what's funny is like one night we might sear it, and then the next night, we might grill it, and then the following night, we might do like some reverse sear thing. So that's one of the best parts of being a chef and particularly working at Kindred or at Hello, Sailor is that we're always trying to make whatever it is a little bit better. And here's the deal, we strike out a lot. But it's kind of that constant goal of changing and just making it a little bit better than you made it last time i think is what really fuels both kitchens, and the service staff for that matter, and keeps them excited. And just working with the local farmers, the relationships that we've cultivated. We love working with Sammy from New Town Farms, we love working with Brent and Tommy Barbee Farms. And, you know, that's what's cool, one of our favorite things is when we get to cook for them and really celebrate their ingredients on our plate. It's kind of fun.
Jeff  
Yeah, being able to tell that story and share that story with your guests about a certain menu item or the ingredients that are going into that menu item, it goes so far toward making it more of an experience, right, rather than just a great meal, it becomes just a much more special experience. And obviously it's super cool that you work with local farms and regional farms, and I just love that note that you guys had on the Kindred website about how sourcing matters. I just, that struck a chord with me, I really liked that. Katy, the vibe at Sailor, I've heard it described as a mid-century, beach-boy vibe. What's going on over at Sailor?
Katy Kindred  
Yeah, we definitely had some fun with that one. So, when we were, it's kind of a longer story, I'll try and shorten it, though. But when we were presented with the idea that this restaurant could be ours, so we had not signed the lease or anything yet, there was obviously a tremendous amount of interest in the space from many, many different entities because it's a great location. I mean, it's right on the water. It's beautiful. It's one of the very few lakefront restaurants on Lake Norman. And so, we were competing against I think, like 18 other folks for the space. And so, we felt a lot of pressure to kind of like come up with something really quickly. So Joe and I, and one of our best employees, top employees, Blake Pope, who has been with us since we open Kindred, who is now in more of, I hastily call it a corporate role, but he sort of helps us oversee both restaurants, so I guess that's the only way to put it. But we, the three of us, were just like, okay, we got to think of something, we got to make this great. And so, we went there, to the restaurant and just sat there and like looked around and took in as much, and for me, obviously visual information as I could about the space and in that process. I kind of like, there was something about, for me at least, driving, okay, first of all, you're in Cornelius, North Carolina, which on a national scale is kind of the middle of nowhere to most people, right? I mean, most people don't know where Davidson or Cornelius is. So, it had this sort of middle of nowhere thing going but then it took to like kind of reinforce that, you drive down this half-mile road, that's winding around with trees on one side and a couple apartments on the other, but you're sort of like, am I going the right way, you know what I mean? It's sort of feels like you're going off into the middle of nowhere. And then all of a sudden, boom, it just like the trees open up and you see the water and you see that building and it's just, it has this kind of mirage sort of vibe to it. And so creatively I'm like, okay, I kind of want to go with that I want to go with that I want people to like, with Kindred, we want you to feel like, it's always been there. And it's grounded. And it's like, you know, you are in this intimate place that is very much here, and it evolves with time. With Sailor, I wanted to kind of like create a completely different experience to where you pull up and it's sort of like, I don't even know where I'm at right now, you know what I mean? And like, you walk into this building, and it transforms you into, like, it almost takes you away to another place. And so, the whole mirage thing and like that, it kept, and I was really just struck by the idea of like, Palm Springs, you know, where you like, you're driving forever, and you feel like you're lost, and then all of a sudden, like a mirage in the desert, it just pops up.
Jeff  
Yeah.
Katy Kindred  
And a lot of these fish camps we were going to and seafood places we were going to drawing inspiration from, all we're in that same era. So, it's this kind of midcentury sort of, like vintagey kind of thing. And I'm like, I think we can make this work. You know, and like, I remember having conversation with people I'm like, we're gonna kind of take this like Palm Springs mid-century vibe and mix it with a North Carolina fish camp from the 60s. They're like, oh my God, you guys are so crazy. But you know, but I don't know, I guess I always had this idea that you could kind of create this. And then obviously, the tiki element like that you see a lot in Palm Springs, like that folds so well. It was already tiki bar. I mean, who inherits a tiki bar? We got to inherit a tiki bar that was going on my gravestone. So, yeah, so like, all these things just sort of kind of came together, we're like, I just think this is gonna work. Like we're gonna, we can put some fish on the wall. And like, we can make it fun. And it'll all feel very playful and fun. And that's really what we wanted. And again, that's sort of where the name came from too, we were going through all these visual, like imagery of waterfront, like imagery and trying to come up with a name and then we see these tattoos that say, with the gal from the 50s that say hello, sailor, I'm like, oh my God, that's perfect! Because, you know, somebody pulls up on a boat, and it's like, hello, sailor. Here we are, we're fun, we're playful. It's like, it all just kind of came together in this weird pile of mid-century. What did you call it, beach boy?
Jeff  
Beach boy vibe. Yeah, beach boy.
Katy Kindred  
Yeah, it was definitely this very long, winding, creative path to get there. But somehow it just all works.
Jeff  
It does. Yeah, for sure. And there's, how many boat slips out back?
Katy Kindred  
About 20, was it was it 20, Joe, or 19? Something like that.
Joe Kindred  
Yeah, I think it's like 21.
Jeff  
Literally, a place that you can roll up on a Saturday night, relatively dressed up for date night or you might float up on the boat with flip flops on right, and board shorts and be comfortable either way.
Katy Kindred  
Yep, and all are welcome. And everybody seems to just be cool with it. You know what I mean? It's a very comfortable place, we have lots of people who go there on anniversary dates, like watching the sunset, drinking champagne eating oysters. And then we have like, a fun boisterous crowd at the tiki bar, just drinking tiki drinks and sharing stories. And then you've got lots of kids, like it's very popular for families, which we love, because obviously, we have three kids. And you know, like Joe said, he has such vivid memories of that place, we wanted to ensure that it was going to be very family friendly. And it's actually, so if you want like a little interesting anecdote, right now is actually also our homeschool. You know, in the true 2020 fashion, we have the office set up as a homeschool for our three kids now. So yeah, but that's just a whole little 2020 anecdote, but yeah, so we wanted it to be super family friendly and for people to feel comfortable in flip flops but at the same time, like totally cool to have like a date night or a corporate dinner or a wedding or whatever. It's just a really versatile space. And we wanted to make sure it felt right for everybody.
Jeff  
Yeah, it's Friday, October 23, 2020, is when we're recording this episode and yeah, that is a very 2020 thing, we're homeschooling at Hello, Sailor, so parents bring your kids to Hello, Sailor for school, no, probably not.
Katy Kindred  
Oh, God, we've got enough on our hands, sorry. 
Jeff  
I'm not going to put that out but parents, no, don't bring your kids for homeschool to Hello, Sailor. So, on that note, we could spend hours probably talking about how COVID and the pandemic has affected so many industries, but God, the restaurant industry, and hospitality industries in general, so difficult. What, in a nutshell, and I know we could take a lot of time and we don't have a lot of time this afternoon, but in a nutshell, what have been some highs and lows of being in the restaurant business this year? It's a tough one, I know.
Katy Kindred  
Yeah, it's, honestly, we can't complain. I mean, we have, we're in a good enough position right now. I mean, as best as we could, I mean, our staff is healthy. And we're able to operate, even if it's a limited capacity. So, we're grateful for that. But yeah, it's been a really, really difficult year. And I think that the highs have been finding the gifts in all this because there are many, you know, being forced to slow your life down is a gift. Having so much time with our kids is a gift, even if it is difficult with homeschool and juggling all of that with the restaurants and trying to keep them afloat while you're trying to homeschool your kids. And I mean, it's no different than what every other family is going through. So, but yeah, I mean, I think that we, it was the scariest thing that we've ever been through, all the unknowns, especially in the early parts of like, you know, March, April, when we didn't know what was going to happen. But, you know, having so much intimate time with our leadership team, because Joe will be the first to tell you, we were working like we were there, like I mean, it was like the only way to get through it was to lace up and pivot and get to work. And so that's what we did. And so, Joe was the one making the milk bread Joe was the one washing the dishes, Joe was the one taking out the trash. I was the one answering the phones, I was the one running your to-go food to your car. I was, you know what I mean? I mean, it was tough. But we got some really intimate time with our family, we got intimate time with our leadership team. We took it as an opportunity to come out better than when we closed and so we repainted, I mean, I shouldn't say we, Joe will make fun of me because I literally repainted the entire restaurant. And we fixed a lot of things. And we took the time and the opportunity, we're like, okay, how can we come out of this better than before? And so, like Joe said, and I'll let him speak to that. But he changed a bunch of recipes, we're like, well, let's get creative, you know, how can we make this place better? And we tried to kind of rally our community and our industry and we did a lot of lobbying for other restaurants and for our industries to get help, so there were good pieces of it, but I'm not gonna lie it was the absolute, I can speak for myself, it was the hardest year of my life.
Joe Kindred  
Yeah, again, I'm just gonna like toot Katy's horn. You can't cook your way out of a pandemic. You know what I'm saying? And without her leadership, I mean, it's crazy. Like we're renovating a house right now and her vision for that it's just, I mean, it's crazy how good she is and how talented she is with all this stuff. And then all of a sudden, she became like, the spokesman for North Carolina, for the whole restaurant acts, relief program and she's getting all these senators on board and I mean, it's just like it's crazy. Meanwhile, also homeschooling our kids, I was up at work, I had to go to work I think it was like seven o'clock in the morning to get the milk bread going and stuff like that. So, she's homeschooling our kids and then working at night, I mean, you said it best, I mean it was highs and lows, but also one of the things, you're always talking to your friends, hey, how's everything going? Oh, we're good. I could complain but I choose not to. We had to close Hello, Sailor, the toughest day was March 18th. I still remember, it was either the 18th or the 19th, I can't remember, but that's when we got the thing that we had to close our dining room. That was the hardest day, we had to basically furlough 118 people, something to that tune, but then the highs were like, I mean, literally, like one of the best parts of my day was running the trash, like I would, you know, empty all the trash cans, I would take them out back behind Kindred, and I would walk them down on the cart in downtown Davidson, because we have to go about two, three blocks to get to the trash. And it was like, getting out of the kitchen and getting that fresh breath of air. And you kind of knew at that point, that the toughest part of your day was done. You know, the bread's baked, the pasta doughs are made, the pastas were rolled out, you know, it's kind of like downhill from there. But I echo what Katy was saying, I mean, we also became incredibly close with our management staff during that time, you learn a lot about them, we learned a lot about, kind of cash flow, what was that my grandfather used to always say, like intestinal fortitude, you know, I think it, it really, it tests you, but I mean, you also kind of, you got to lace up and just, and just get at it, because again, like, you can't cook your way out of that. And I think that Katy really thought, or helped cast that vision to think our way out of it, which was, and we're still in it, don't get me wrong, but you know, it was just really neat to have someone that was so on the ball, whether it was whatever relief package or whatever grant, or whatever, I would see something pop up in my email, and I'd text her about it, and her response was, already done. Oh, man, it was just a really good time to. I mean, it was a tough time, but it was a really good time to learn a lot about the things that like, I just don't see that, you know, all the little things that she does for our company, and for our family.
Jeff  
You guys are a great team, I firmly believe that it is just, it's almost impossible to run a business by yourself, it takes a team, it takes a partner, and it sounds like you and Katy are an amazing team. Katy, I love that you brought up the gifts, that you found some gifts. You're not the first guest to mention that and use those exact words. And I love that perspective. It's been a super-challenging year. And like you Joe, I could complain, but I choose not to. Because, man, I mean, so many positive things have also happened and I just feel so fortunate and lucky to not have, my complaints are so, ours are so trivial compared to what others are going through. So, I don't know, it's kind of hard to describe, I'm not the best with words, I'm not a Toastmaster. So, I'll just leave it at that. But well said, I really appreciate that perspective. Speaking of local small businesses, I always like to ask my guests if you wanted to give a few shout outs to some friends in the industry or some local businesses that could use to love right now.
Joe Kindred  
Yeah, absolutely. I think a lot of people talk about the restaurant business and how hard we've been hit. And obviously, that's very true. But you also have to think about the bars, and I think even more importantly, you got to think about the hotels. I mean, because with the restaurant, your vodka isn't going bad, your frozen, whatever you have in your freezer isn't going bad, but with a hotel, that money, there's nothing you can do. I think their industry really got hit hard. But I always like to give a shout out to Mariano from the Davidson Village Inn, they do a tremendous job. And as far as local restaurants, we love Joe Douglas from 131 Main and what he brings to the table as well as John Dressler. He's been a business mentor to Katy and I and really helped us kind of navigate some new projects that are on the horizon. And then as far as our kind of even smaller, Cornelius or Davidson restaurants we really love Pho Nam. We think they do a phenomenal job. But yeah, I would say those are the ones I can think of really quick off the top of my head. How about you, Katy?
Katy Kindred  
Yeah, you hit a lot of the ones that I love. I mean, we love our Davidson community. Aside from restaurants, there's also just such incredible businesses like Elisabeth Rose Stationery is amazing. It's such a beautiful space and she does incredible work. Main Street Books is awesome. They are just salt of the earth and our kids just absolutely love going in there. The Village Store has just always been such great neighbors to us. Gosh, I don't know, like Flatiron, we love those guys. It's such a great community. So, we definitely love when folks come in to Davidson and just spend the day walking around and enjoying a lot of those different shops before they come to dinner. It makes us very proud because we know our neighbors are so amazing. And you know, they all come from a place of like love and integrity and love for community and it's just a really, really special place. So, I want to give a shout out to our Davidson friends.
Jeff  
I love that. Yeah, Davidson has so many lovely small businesses. A few of them that you mentioned have been mentioned by previous guests as well. Elisabeth Rose was mentioned, I forget which guest though. I think it was Carrie Uehlein, one of the doctors at Davidson Veterinary Hospital was a guest. Main Street Books has been mentioned. Of course, 131 Main, one of the staples of the area for sure. Oh, go ahead.
Katy Kindred  
Well, I was just gonna say kind of special little like for all of us here in the Lake Norman area, we all kind of appreciate the benefits and the lovely parts of living in this small community. But our daughters, Liz and my daughter and Gemini's daughter are the same age. And so, like our daughter Alba, our oldest will run, you know behind Main Street on that little like brick path that runs the length of Main Street, she'll run down to that park behind Summit and meet Liz's daughter. And they'll play and climb trees and like run in and out getting juice boxes from the stationery store run down to Kindred steal some milk bread and go climb trees together. And I was just like, is this not the best? Like this is exactly why you live in a small town.
Jeff  
It's like out of a movie, right?
Katy Kindred  
Yeah, it really is. But I mean, we know their family intimately. They're really good people. So just little anecdote about them.
Jeff  
Very cool. I had one of the owners of Flatiron on, Flatiron's an amazing place as well. And John Dressler, no wonder he spoke so highly of you and Joe. John was a guest on the podcast, one of my earlier guests, I want to say, episode seven or eight, something like that, that was a really, really great interview. And what an amazing company that he and his wife have built, and I'm sure they have business partners, and they'll have to forgive me for not mentioning them. I don't know who they are. But John, the Dresslers, have just done an amazing job as well. But yeah, he gave you guys a shout out in his interview as well.
Joe Kindred  
John's a great guy, he is one of our best friends.
Katy Kindred  
Yeah, and I could call him more than just a friend. I would consider him a mentor. Talking about COVID and everything, we were on the phone with him every other day. Like, you know, what are you gonna do? What are you gonna do? Like, how are you going to navigate this? Bah, bah, bah. I mean, he was such a generous resource for us during that time. So, we're very grateful for his friendship and mentorship.
Jeff  
Yeah, an all-around pretty cool guy, too. He was a lot of fun to talk to.
Katy Kindred  
He's a nut.
Jeff  
What about books? Who's the reader in the family?
Katy Kindred  
I'm definitely the reader of the of the fam.
Jeff  
Any recommendations in the area of like small business or self-improvement?
Katy Kindred  
Sure, yeah. I have three. When I get a new member of the leadership team at either restaurant. There's three, actually four books that I always recommend that they read. The first one which is my favorite is called Integrity by Henry Cloud, who's a really brilliant writer. And it is just a phenomenal book. It really summarizes and wraps up our philosophy on leadership at the restaurants pretty succinctly. The other one is Radical Candor, that is a wonderful book. And then Daring Greatly, who's a writer and speaker, Brene Brown, who's very famous. That is, I think, her best book to date, although she's got a new one coming out, I'm very excited about. And that is just about taking risks as a leader, and it's wonderful. And then one that's a more industry-specific book is called Setting the Table, by easily one of the most celebrated restauranteurs, Danny Meyer, which is a really great book that is industry-specific, that summarizes a lot of our feelings about how to operate, not even just a restaurant, I would say that book could apply to any organization, but it is restaurant-specific, which makes it helpful, but those are the four that I recommend to folks.
Jeff  
Awesome, probably the first time that someone has named for books that I'm not familiar with at least one of them. So, that's interesting, I'll have to check out a few of them. Integrity, Radical Candor sounds like, I love the title. So that might be the first one I check out.
Katy Kindred  
It's wonderful.
Jeff  
I'll have links in the show notes for listeners, if they want to check out these books. Those are affiliate links, and there's a disclosure there on the page. So, that's if you order through those links, that's a good way to support the podcast. Trust me, those affiliate commissions don't pay the bills, but it doesn't hurt. And I'll also have links to the small businesses that you mentioned in Davidson and Cornelius and make sure that there are links and information for those businesses for listeners to check out in the show notes as well.
Katy Kindred  
I've got one more, I'm sorry to interrupt you. But I've got one more that is both a book recommendation and a local business shout out. So, the book that I have on the docket to start next is a book called Atomic Habits. And while I have not read it yet, it comes highly recommended by a new small business from one of Joe and I's most dear friends Andrea Sharp, she just started a business called Mbrace where they're doing online based workouts. And she's a personal trainer. And she is incredible. Like she is literally just a firecracker and a bottle of energy. I don't know where she gets it from. But she's an incredible personal trainer and such a generous spirit. And is literally just like so excited about the idea of getting people healthy. She's also like a Whole30 Ambassador, and just a really, really amazing person. But they do free workouts actually, a couple days a week in various parks around the community up here in Lake Norman, which I think is incredibly generous, but they partner with Eyes-Up Lake Norman, which is actually our brother-in-law's new company, which is youth-focused exercise. And so, they partnered together so you can take your kids, they'll get some really fun high-energy workout and then she'll focus on the adults. So, I know COVID has been so tough on people physically and emotionally. And she focuses a lot about emotional health and good habits and healthy eating and does it with this perpetual smile on her face. So that's a little shout out to their new business. I think it's super awesome what they're doing. And she's always recommending great books like that to me, so I'm sure I'll love it. But the book is Atomic Habits, and her company is called Mbrace.
Jeff  
Mbrace. And what's her name?
Katy Kindred  
Andrea Sharp.
Jeff  
Andrea Sharp, okay. Atomic Habits has been recommended, not on this podcast, but in podcasts that I listen to. I listen to a lot of small business, marketing, coaching, you name it podcasts and Atomic Habits has come up as a recommendation, so that's a title I need to check out for sure. And I'll have a link to that as well in the show notes. Well, I know we've, as usual, I asked you for about a half-hour and you've given me over an hour. So, I just want to say thank you so much. Hang on the line after I stop recording so we can close our conversation, but just want to say, thank you again, so much. Is there a message that Katy or Joe, that you'd like to share with the community before we wrap things up?
Joe Kindred  
I think it's just been it's been such a pleasure. And we're just incredibly grateful for this community support and welcoming us. We consider it a privilege to be able to have the opportunity to serve you guys and we wouldn't be able to do what we do without y'all.
Katy Kindred  
I think Joe put that perfect.
Jeff  
You concur, Katy?
Katy Kindred  
I do indeed.
Jeff  
Well, I'm very grateful that you both made time to join this podcast. I truly, truly appreciate it. And I'm so happy we were able to connect. The restaurants are Kindred in Davidson and Hello, Sailor in Cornelius. Owners, Joe and Katy Kindred, thank you again so much for joining the podcast.
Katy Kindred  
Oh, it was a delight. Thank you.
Joe Kindred  
Thanks a lot. Our pleasure.
Jeff  
There you have it, friends, Joe and Katy Kindred. Joe and Katy, thank you again so much for your time. Really appreciate it. Really enjoyed our conversation. It was great meeting both of you. Friends, you can find all the links to the businesses we discussed in this episode, specifically Kindred Restaurant in Davidson, and Hello, Sailor in Cornelius, as well as the other small businesses that Joe and Katy recommended in the area and kind of gave shout outs to, and also the links to the books, the titles that Katy recommended. The show notes, as always, are located at the home for The Best of LKN podcast and that is www.thebestoflkn.com. While you're there, don't forget to scroll down on the homepage and sign up for our weekly newsletter. That would be awesome. That would mean the world to me. Thank you so much. And thanks to our sponsor, Hemplily. Be sure to use code LKN15 when you're shopping at Hemplily, either at their boutique in Cornelius or online at www.hemplily.com. There'll be a link in the show notes as well. Thanks again, Hemplily, really appreciate your sponsorship. Friends, that will do it for now. Thank you as always for listening. Thank you for supporting your favorite local small businesses. I'll be back in just about a week with another episode. Bye for now.
Narrator  
We hope you've enjoyed this episode of The Best of LKN. For more information about this podcast, show notes, video episodes, and links to our featured businesses, please visit www.thebestoflkn.com. We publish episodes weekly, so be sure to subscribe and stay up to date. Until next time, cheers Lake Norman.