They've been interviewed for our podcast, featured in our fine dining article, and written into our calendars many a time—I'm talking, of course, about Barrel & Fork, one of the best culinary experiences since sliced bread (which, fun fact, was invented in 1928.) 
Situated at the heart of Cornelius, Barrel & Fork is a historical landmark and fine dining establishment whose roots go back as far as 1906. Its brick and mortar is a home: one that housed a family, that weathered two World Wars, and that endured a depression. It's a building that watched as the world around it grew up, that provided a haven for underdogs who fought against oppression, and that once again became a home to the rebels and visionaries that gathered within. It's a treasure trove of memories, of laughter, of love, of action, and of life without inhibition. Simply put, the Home is a journey that owners Jason Tuton and Sarah Conrad invite you to embark on by dining at Barrel & Fork. 
I recently had the pleasure of dining at Barrel & Fork with my parents (BoLKN's very own Jeff, and my dear mom). Although they'd been lucky enough to visit a year prior, it was my first time ever seeing The House in person.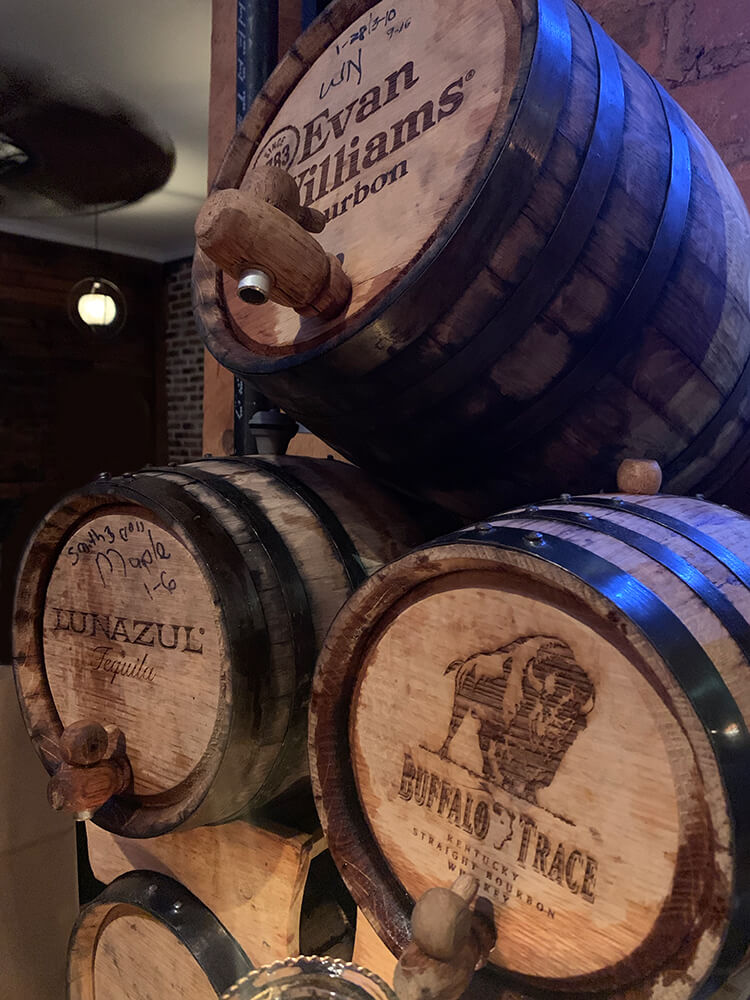 Upon arriving at the restaurant, I was immediately entranced. The fuzzy glow of the vintage chandeliers, the faint bustle of the bar across the hall, and the washed-out undercurrent of 30's jazz made the front door feel more like a time machine. Through the main corridor, past scattered portraits of McQueen and Bugsy, was the Capone dining room, where our table awaited us. We were seated by a server, Mackenzie, whose passion was infectious. She knew the ins and outs of The House and everything in it, drawing our attention to some of the room's focal points. After recanting us with a story or two about the history of the space's decor, she took our drink orders with the care that a seamstress would hold for a bride. Her smile never faltered as she walked us through the cocktail menu, pointing out her favorite drinks and suggesting the various ways we might like to personalize our orders. This is one of the aspects of Barrel & Fork that makes the experience incomparable: each team member takes such genuine pride and gratification from their work, it's almost as if The House has no employees—only residents. Jeff and Mackenzie chatted for a moment about the spirits on hand until he was recommended a bourbon, one that hit the nail on the head. 
We sat back and enjoyed the atmosphere, melting into the leather seats, and at the same time, buzzing with anticipation. Behind the counter we could see our drinks being made by expert hands, artistically but precisely flicking bottles and spoons and shakers about. Soon enough our lovely server returned, informing us about the origins of the 60's Waterford and French Crystal that held our drinks. I had a whipped orange whiskey sour dubbed Son of the Soil, and mom got a raspberry and lemon gin cocktail named I Put a Spell on You. It did just that; after sneaking a sip, I couldn't help but order one for myself. Mackenzie excitedly asked me if I'd like to try it with a spritz of lavender, as that was her favorite way to order the drink. I decided to take her advice, and was delighted! The sweet herbal notes stuck a chord with me, as well as pricked mom with a bit of jealousy; I jested that we'd just have to come back soon so she could get her own.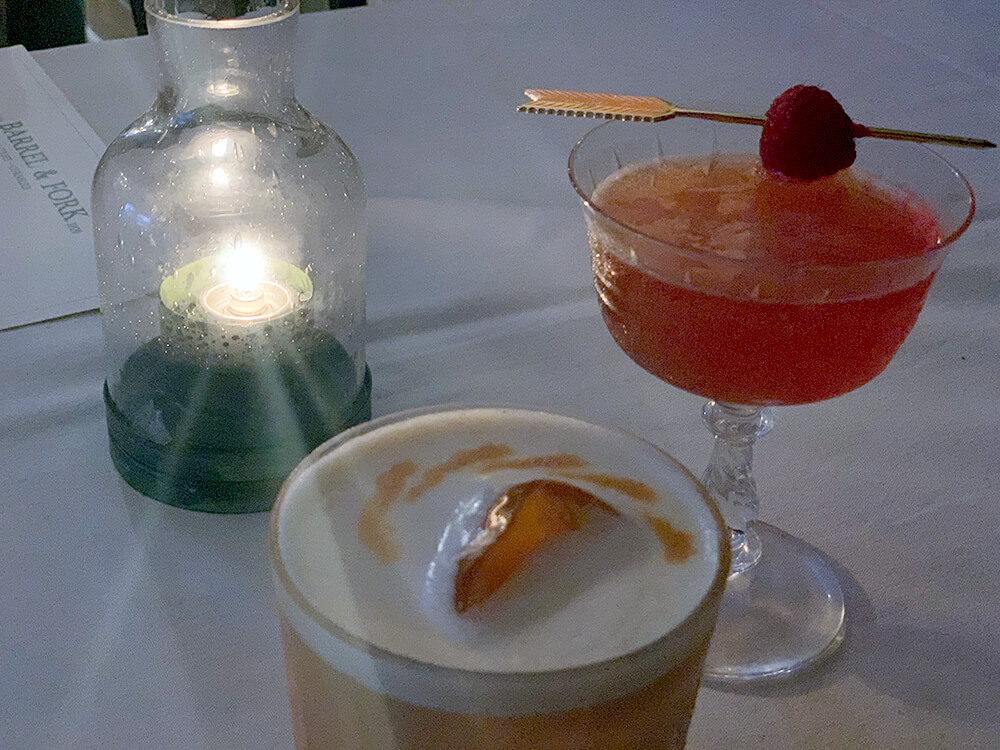 The bourbon Jeff ordered, Mackenzie explained, was produced in Buffalo Trace, single barrel and bottled in bond. According to the 2020 International Wine and Spirits Competition, this 100 proof whiskey is one of the finest in the world, and we were quite inclined to agree.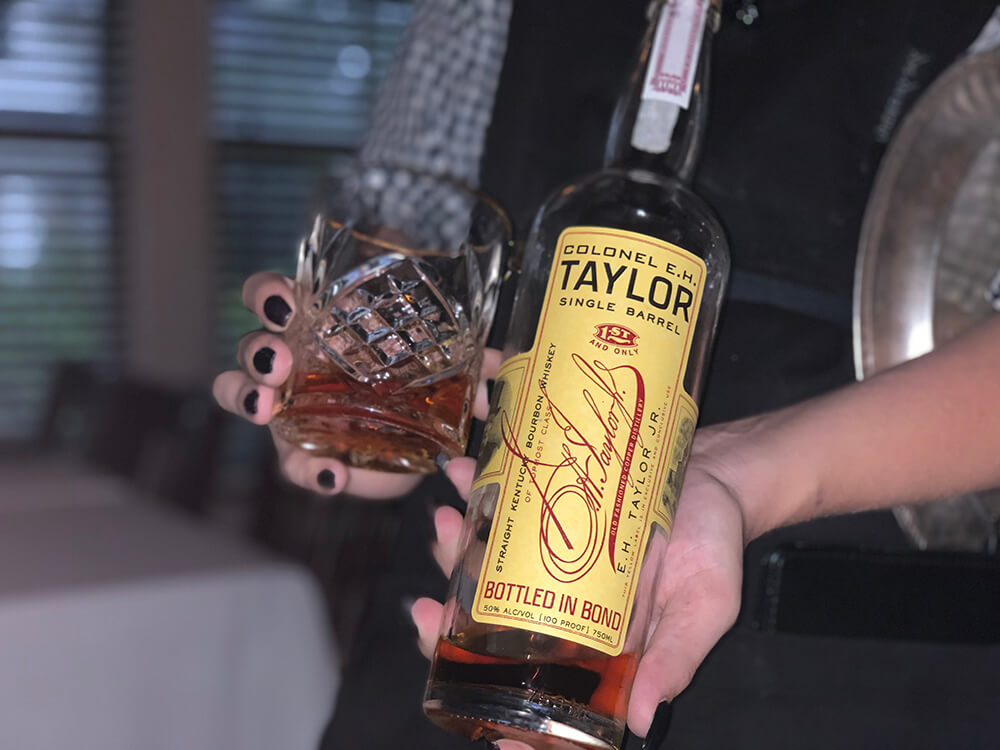 "I find the more you drink whiskey, the more whiskey you want in your whiskey," Mackenzie laughed, telling us that she, too, preferred more intense bourbon. "If you like that one, I have another one that's just as dark, if you want to try it." Of course, we took her up on that offer, as well as put in an order of Arancini: crispy rice balls stuffed with short rib and gouda, and topped with a whole-grain sage aioli.
In the blink of an eye, Mackenzie was back with the second round of bourbon and our first dish of the night. I took one bite, and I knew at that moment that the post-dinner depression I would experience after leaving that night would be comparable to a fall from heaven—that's a real-time quote from the table, by the way. It was incredible, so much so that the appetizer alone took me a half-hour to eat because I was afraid that I'd go into withdrawal as soon as the plate was empty. Luckily by that time, our main courses were already well on their way to our table. 
This is the part where I type two paragraphs, erase it all, and repeat the process 20-odd times because I can't find the words that will do this cuisine proper justice. I wish I were kidding, but the food was just so dang good that that's about the best I can do to describe it. That day's market special was swordfish, flaky and exquisitely seared, served with an exotic pineapple jalapeno risotto.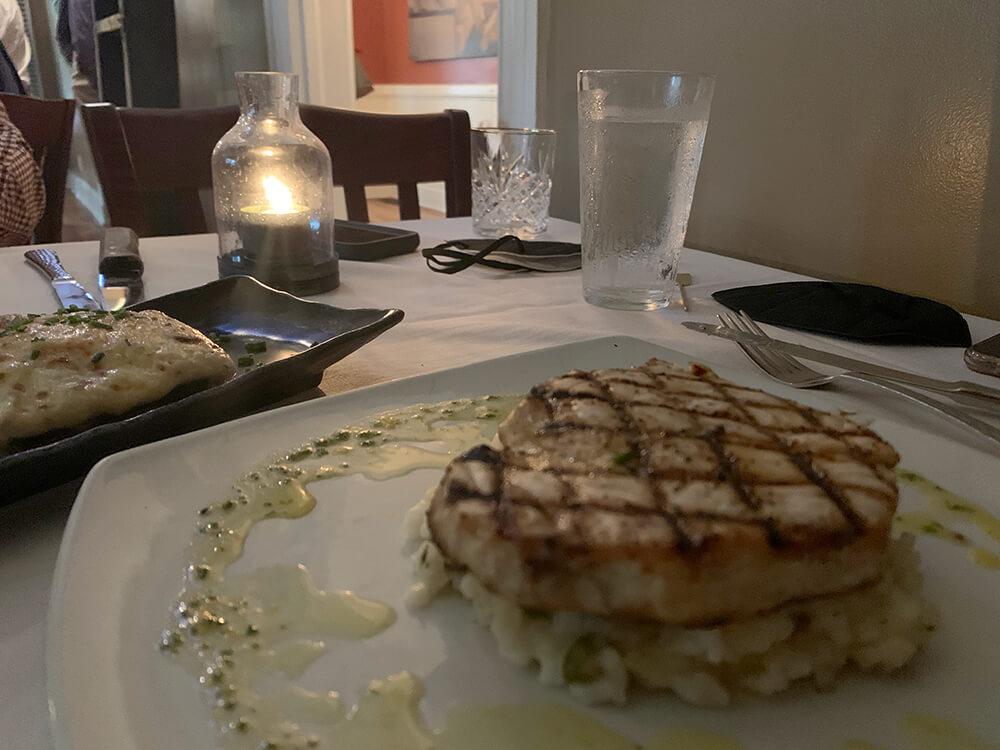 The seared scallops were tender little, melt-in-your-mouth, bourbon-glazed balls of heaven that I had to be blackmailed into sharing. The sweet potato orzo and asparagus pairing was a beautiful complement to the scallops, and if I'm being honest, I was quite hard-pressed not to lick my plate. The cowgirl-cut, bone-in 16oz Ribeye, called Masterpiece on Main, was mouthwateringly juicy, seasoned perfectly, and finished with a red wine demi-glaze. Its companion was the potato and spinach au gratin, which is so amazing, in fact, that we've made a habit of ordering extra despite not having that choice on the menu.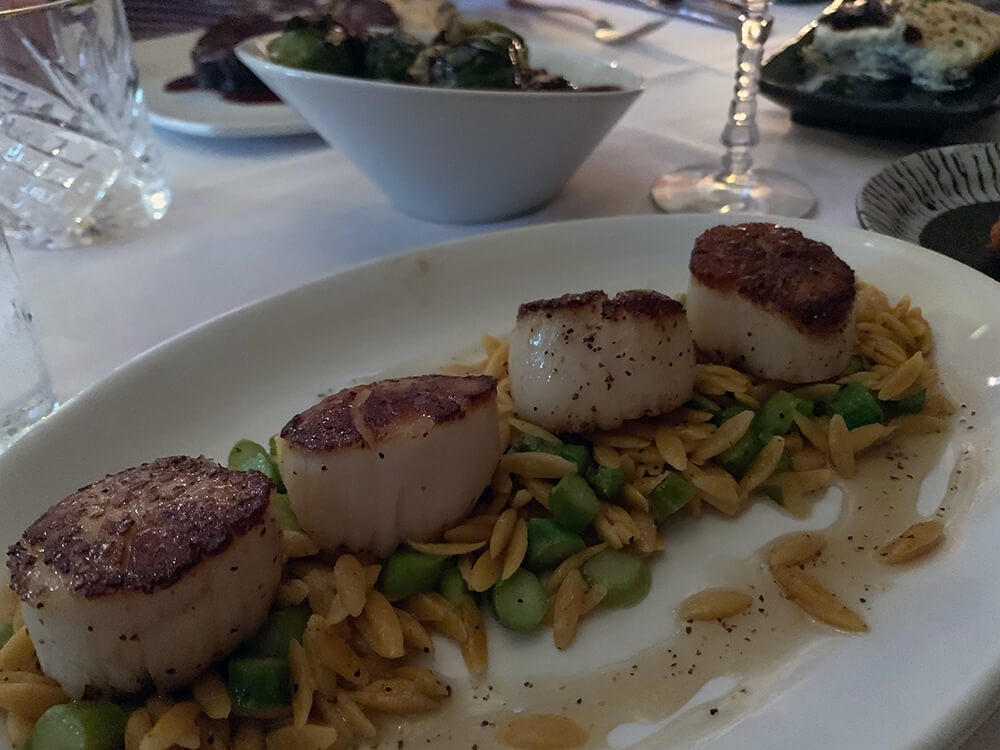 This special request brings me to another important point about Barrel & Fork's service: general manager Eric Carter is a master of customer experience. His devotion and attention to detail are unmatched, and his hospitality knows no bounds. Though I was only able to meet Eric for a very brief moment, I watched as he waltzed around the establishment for the duration of my stay, taking care of this and that and whatnot, serving him and her and them, all with a genuine smile on his face. From seeing to it that our Potato au Gratin addiction is quenched, to guiding the restaurant's creative visions, to warming the atmosphere with his smile, Eric's comforting presence can be felt in every nook and cranny of The House.
After taking a moment to savor our dinners, we took a seat at the bar, where we were treated to the apothecaric stylings of Jade Finn, the libations guy. Mom and Jeff knew what they wanted right off the bat, but I spent quite a while bouncing between various cocktails. More time passed before I was finally asked what I'd have to drink…but I still didn't have an answer.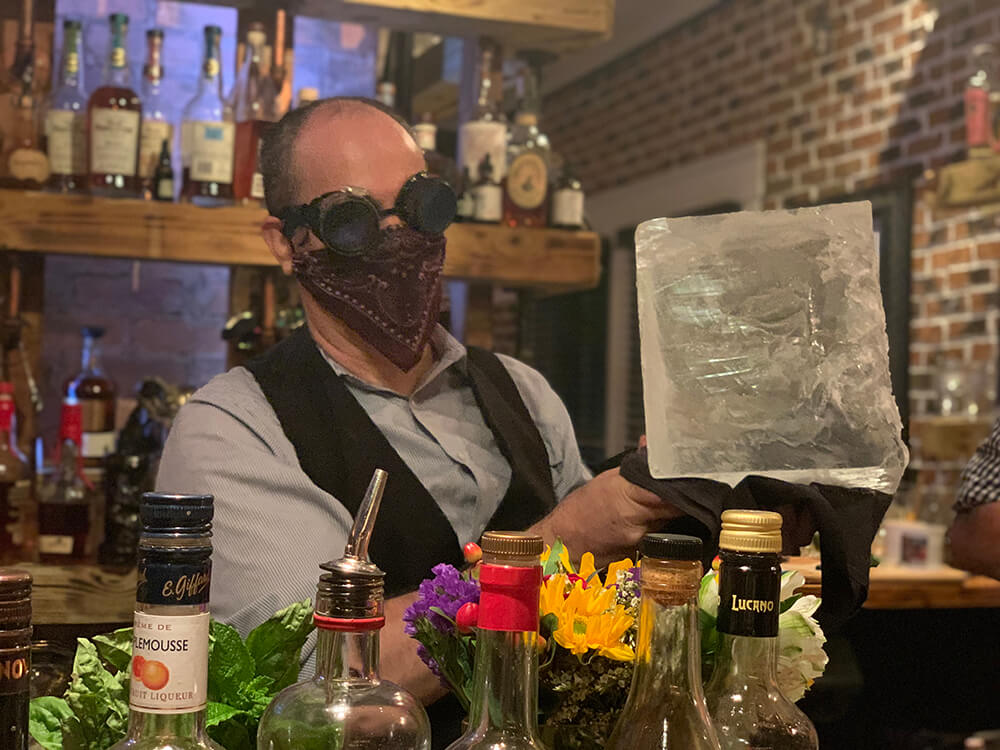 "Just make me something random," I sheepishly replied. "Just take a look at me, and make whatever you're inspired to make."
"Any preference for flavors? Do you know what spirits you want?" 
"Nope. Just go for it. I'm not picky."
I didn't think that my night could get any better after such a fantastic meal, but well, leave it to Jade to shatter expectations. He's not just a bartender—oh, no. He's an artist. And while I'm a writer, and I could certainly tell you how talented and wonderful Jade is, I'll let his work speak for itself.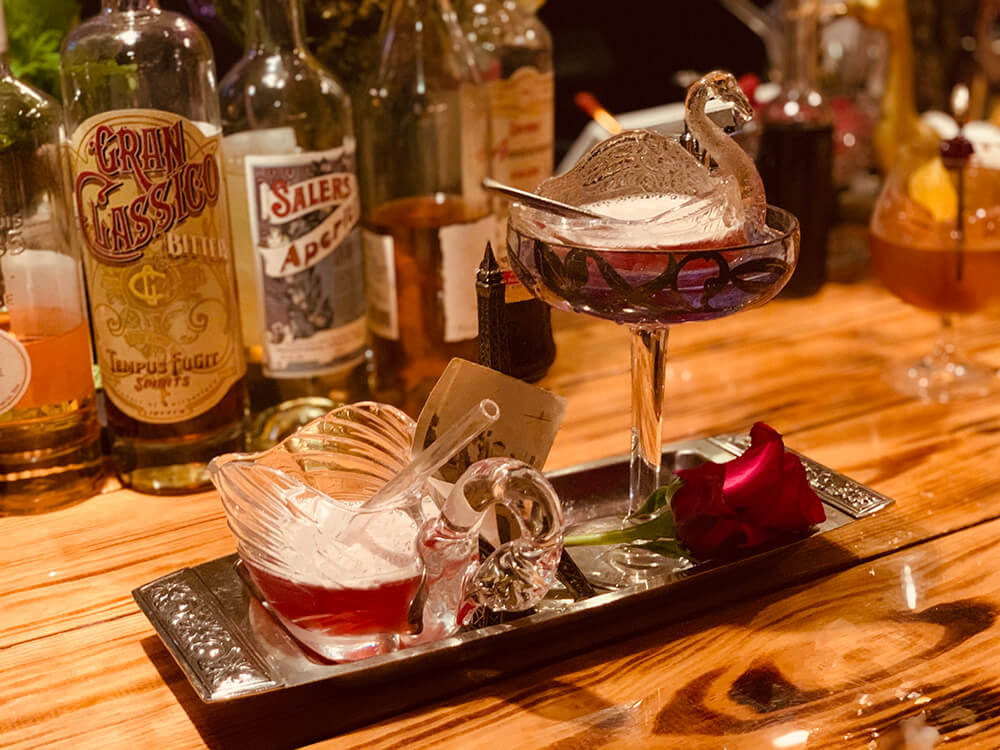 I still don't know what was in this drink, and I didn't bother to ask because 1. It was damn good, and 2. I was busy fighting tears of joy. To be served such a beautiful drink for no occasion, to be given a rose on an ordinary Wednesday, to feel like a special lady for little reason other than indecisiveness, was a moment of pure bliss that will remain in my heart for as long as I'm alive. Needless to say, I went home that night with a slice of pecan pie and plenty of material for sweet dreams.
I can say without a doubt that Barrel & Fork has earned a place on my list of favorites and that The House has not seen the last of the BoLKN crew. My culinary experience there was one of the best I've had in quite a long while. The homey and decadent gourmet, the caring and attentive team, and a couple of cocktails made for a truly transcendent evening. That feeling of indulging in the whimsical, of transcending the era, of life without holding back, is the simple joy of dining at Barrel & Fork.
20517 N. Main Street
Cornelius, NC 28031
Get to know the owners of Barrel & Fork in Episode 30 of the podcast.