This is going to be a really special Mother's Day. 2020 was a tough year for so many, but perhaps no one faced more challenges day after day than Mom. Balancing kids, work, community, and self care is challenging enough – but in 2020, finding any sense of harmony was next to impossible. 
This is the year to go the extra mile when procuring thoughtful gifts for Mom. Here on the podcast, we've had the pleasure of interviewing the owners of some of Lake Norman's most exceptional boutiques. These businesses are purveyors of the loveliest gifts and delicacies, and they are your source for everything you'll need to make Mother's Day 2021 one to remember. These businesses may be local, but their talents and offerings are world-class. 
Here are our 7 favorite places to shop for Mother's Day around Lake Norman: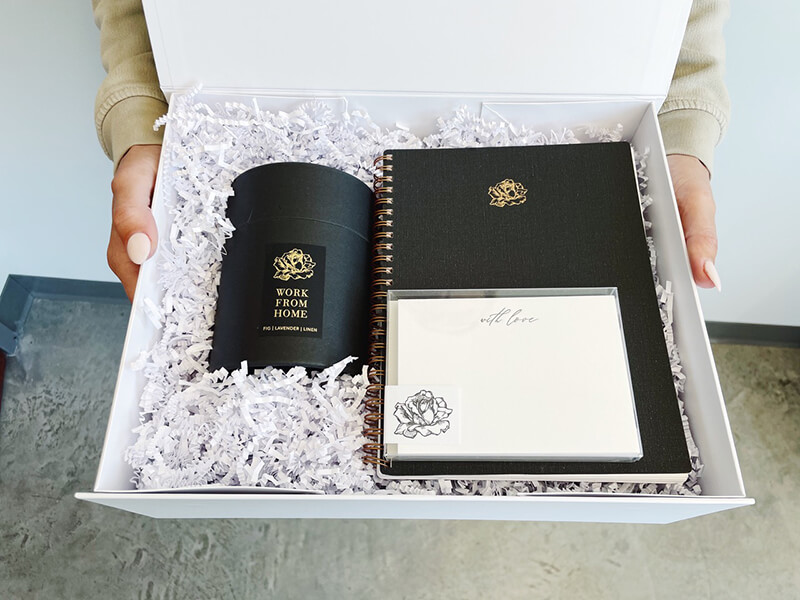 Elisabeth Rose is a boutique luxury lifestyle brand with roots right in the heart of Davidson. The brand was born from founder Elisabeth Connelly's love for handwritten correspondence along with her deeply rooted desire to create art and beauty in everyday life.
Shop online at their website where you'll find an artful selection of candles that will brighten mom's day. The "Work From Home" candle is our favorite – it features notes of fig, lavender, and linen, and is meant to make any space just a little more peaceful. Speaking of working from home, Elisabeth Rose offers simply the most beautiful desk accessories and stationary that mom will surely find inspirational. Notepads, notebooks, writing tools, weekly planners, and cards – all beautifully designed and elegant.
Believe me, a gift from Elisabeth Rose will be cherished, and is a must-shop for Mother's Day. You can thank me later.
Elisabeth Rose was featured in episode 37 of the podcast. Have a listen!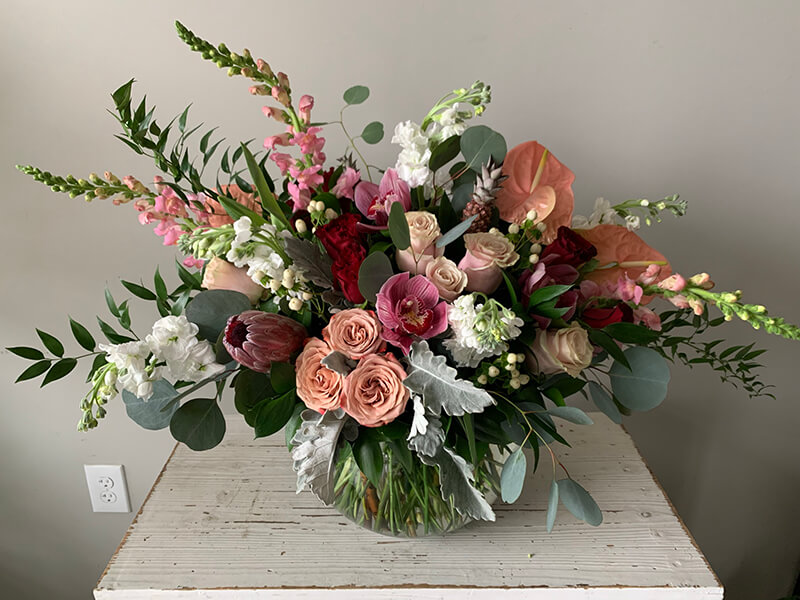 Now, for our favorite Lake Norman florist — Blumengärten! Founder Denise Uhlhorn and lead designer Emily Frank are the go-to team for creating a memorable floral arrangement for mom. Blumengärten is your source for any and all floral arrangements. From a simple bouquet, to an extravagant wedding, they can make any occasion as special as those celebrating it. Choose from their vast selection of fresh-cut flowers, blooming plants or explain your vision to them and they'll turn it into a reality that will be complimented by everyone who sees it. Don't settle for ordinary flowers when you can have an extraordinary arrangement designed for your unique style and occasion. Don't delay, though. The time to place your Mother's Day order is a couple weeks in advance!
Blumengärten was featured in episode 7 of the podcast. Have a listen!
(704) 892-7960
10308 Bailey Rd #412
Cornelius, NC 28031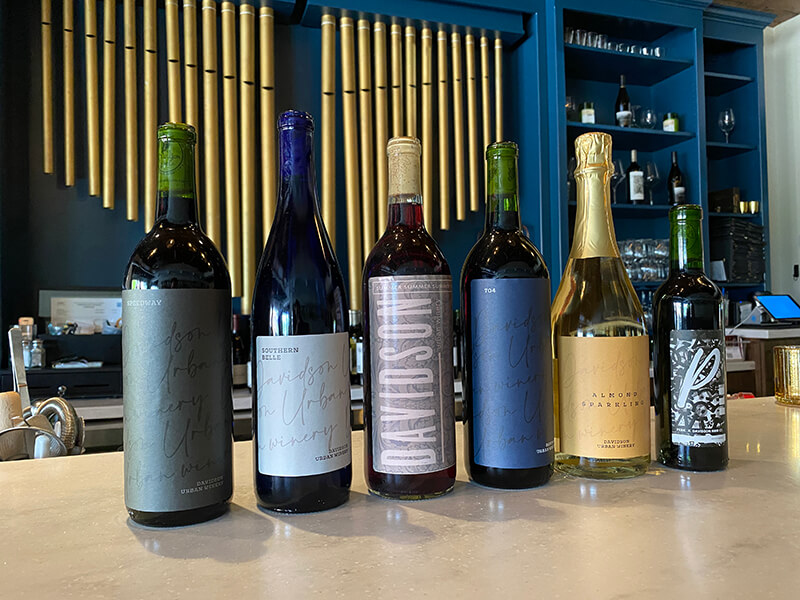 Next stop: Vino! Founder Lindsey Williams started Davidson Wine Co. out of a desire to bring affordable and locally made wine options to the Lake Norman area. They make many of the typical wines, including Merlots, Cabs and Chardonnays. Davidson Wine also makes some more scarce wines such as Viognier, Petit Verdot and Ports. They source grapes globally which allows them to make over 30 different kinds of wine using grapes from the best grape growing regions in the world.
When it comes giving mom the gift of fine wine, you'll have a few options with Davidson Wine Co. You can purchase bottles directly, and have them shipped to your door or pick them up curbside. You can also purchase gift cards, or consider buying mom a membership to their wine club! Make your gift really unique by having Davidson Wine Co. create a custom label for mom. How cool is that?
Davidson Wine Co. was featured in episode 14 of the podcast. Have a listen!
(704) 997-5332
121 Depot Street
Davidson, NC 28036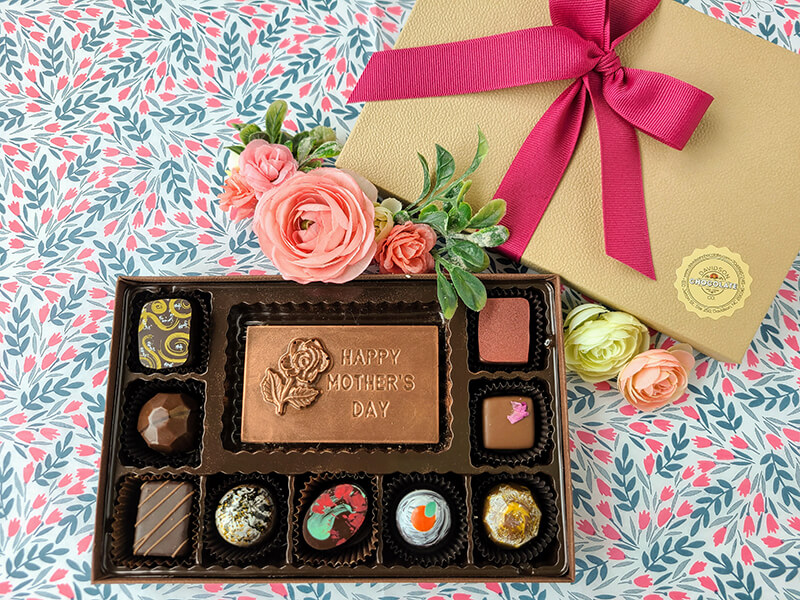 While you're in Davidson, be sure to add the sweetest gift of them all to your list. Davidson Chocolate Co. sells the most amazing chocolate confections and truffles that you'll find in the area. Every piece of chocolate is handmade in small batches right in their Davidson kitchen. Owner Ana Vogel leads the team at Davidson Chocolate Co., and combines her culinary background with her spirit of innovation to create chocolate treats that are simply heavenly.
Shop on their website for truffles, boxed collections, confections, artisan bars, and hot chocolate bombs. Or, shop in-store for all of these delicacies plus chocolate covered strawberries and chocolate covered wine bottles! If mom loves chocolate, look no further than Davidson Chocolate Co.!
Davidson Chocolate Co. was featured in episode 21 of the podcast. Have a listen!
(704) 896-7245
610 Jetton St #150
Davidson, NC 28036
Juelerye – Fine Gifts & Art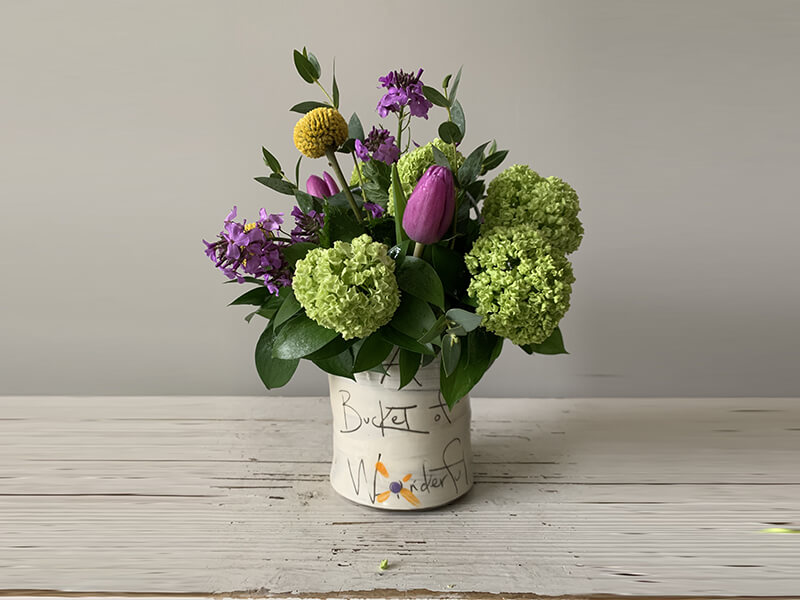 Located at the Shoppes at Home Heart & Soul in downtown Cornelius, Juelerye is a lovely boutique gift shop that features curated collections of handcrafted artisan jewelry, art, and memorable gifts. Founder Jacqueline Bassett founded Juelerye in 2015 as a way of combining her love of one of a kind artist made treasures and the dream to open a small, independently owned business.
Juelerye offerings include exquisite handmade craft jewelry, exotic leather goods, hand inscribed pottery, and glass blown creations. Art & decor selections include beautiful creations by well known artists such as Houston Llew, Sid Dickens, Kinzig Design, and Byers McCurry Studio.
Shop online, or visit the shop in person to select a memorable gift for mom that she will surely treasure. Gift cards are also available, and a recommended addition to go along with your gift selection.
Juelerye was featured in episode 17 of the podcast, and as of this writing has the most downloads for the podcast! Have a listen!
20901 Catawba Ave.
Cornelius, NC 28031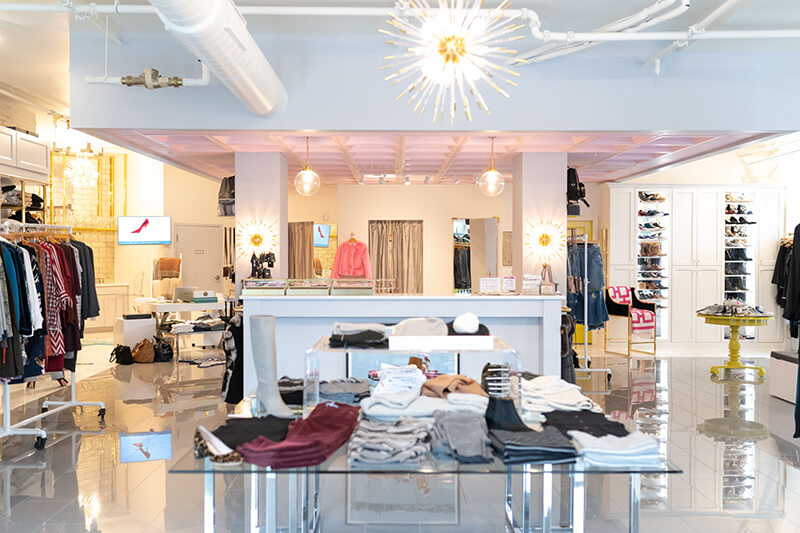 MINE by sandy is Davidson, North Carolina's premier women's boutique where you can find everything from dresses to jeans to handbags and shoes. When you shop with MINE by sandy your personalized experience will leave you feeling like family.
Founded by Sandy Bowers, MINE by sandy is an extension of Sandy's passion for fashion and inspired by experiences in her previous career that prompted the need for a specific wardrobe. It was these experiences that led her to open the colorful and welcoming fashion haven and spurred the philosophy, "make MINE yours."
The shop boasts the latest trends from some of the most iconic brands in fashion. If you shop online, have a look at their blog where Sandy shares fashion insights and walks guests through the latest fashion trends and new arrivals.
The MINE by sandy podcast feature is coming soon!
(704) 896-7779
605A Jetton Street
Davidson, NC 28036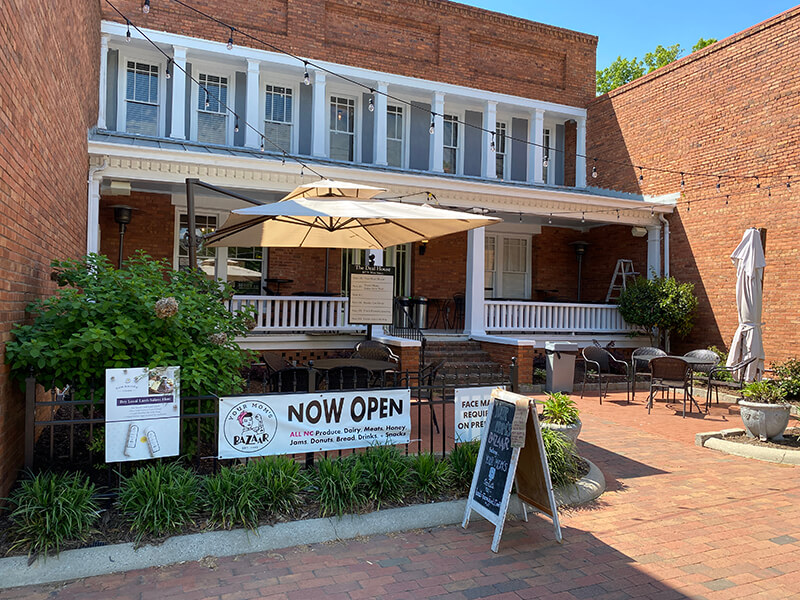 Your Mom's Bazaar is a specialty grocery boutique that supports local farms and food producers. Owner Courtney Buckley opened the location during the 2020 pandemic, and brings her successes in the specialty food industry (Your Mom's Donuts) to downtown Davidson.
The store features local groceries, pantry staples, and crafts. In addition, Your Mom's Donuts and scratch-made bread are available.
From their website:
"OUR 'WHY'
Along the same vein as our sister concept, Your Mom's Donuts, community drives everything here.  We believe the people are what make every town unique and we want to highlight all of the greatness our area has to offer.  Think of us less as a place you have to go to get your weekly necessities and more of a beautiful space that also assists you in filling your pantry & fridge while supporting local farms, neighbors, and friends!
We can't wait to get to know you and see you soon at your neighborhood grocery store!
– Courney Buckley, Founder
Get to know Courtney in Episode 32 of the podcast. Have a listen!
107 N Main St
Davidson, NC 2803
There you have it: Our 2021 Lake Norman Mother's Day Gift Guide! Shopping at any one of these small businesses will ensure a memorable Mother's Day for mom this year. I think we covered all the bases for you. Now, go out there, shop local, and make this the best Mother's Day ever!