Fast fashion is convenient…that is, until that cheap clothing you got starts to fall apart at the seams. In a world that's flooded with mass-produced, low-quality apparel, it can be hard to find clothing that will do your wardrobe some genuine good. That's where boutiques come in: these small, independently-owned shops are the perfect place to find designer brands, limited-release pieces, and high-quality designs that stand the test of time. Not to mention, it's a great way to support small business owners in your area! Without further ado, here are 10 of the Best Women's Fashion Boutiques in Lake Norman.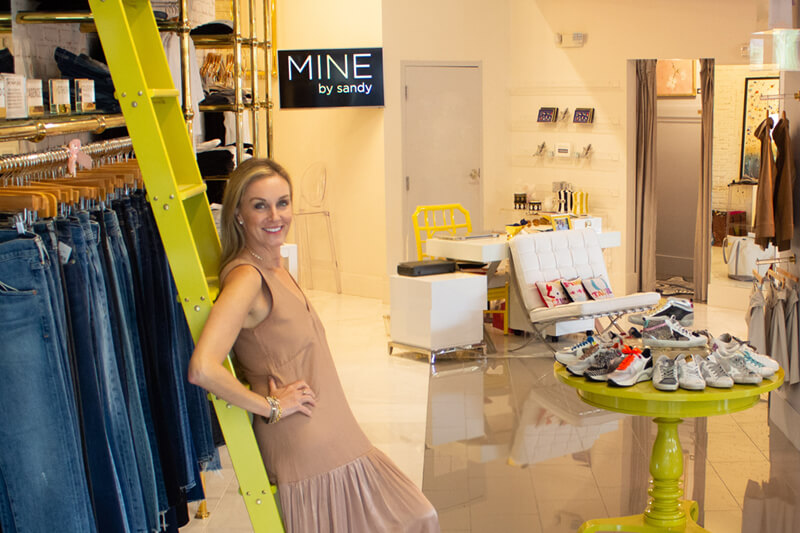 Situated in the heart of Davidson, MINE by sandy is a luxury boutique offering a wide variety of items from women's clothing and shoes to handbags, jewelry, and other accessories. Every item on display is hand-picked by Sandy Bowers, who is driven by her passion for fashion as an artistic medium. Selections include only the finest pieces by the industry's most iconic names—joy joy, trina turk, frame jeans, and many more—to bring both polish and comfort to your wardrobe. 
The space at MINE by sandy is both mod and cozy with its playful blueprint, mini bar lounge, and Sandy's own workspace gracing the center of the boutique. Beyond just the aesthetics, the staff at MINE are dedicated to "making MINE yours" by offering shoppers an involved experience that's tailored to their own personal flair.  
Whether you decide to visit the bigger store on Jetton Street or her smaller sister on Main Street, Sandy and her team's creative approach to fashion will leave you inspired and in-tune with your unique style. 
Meet the founder of MINE by sandy, Sandy Bowers, in Episode 58 of the podcast!
Bigger Shop
Hours: Monday-Friday:
10am-6pm. Saturday: 10am-5pm. Closed Sundays.
Address: 605A Jetton St,
Davidson, NC 28036
Phone: (704) 896-7779
Smaller Shop
Hours: Tuesday-Saturday
10am-4pm. Closed Sunday and Monday. 
Address: 106 S Main St,
Davidson, NC 28036
Phone: (704) 896-1684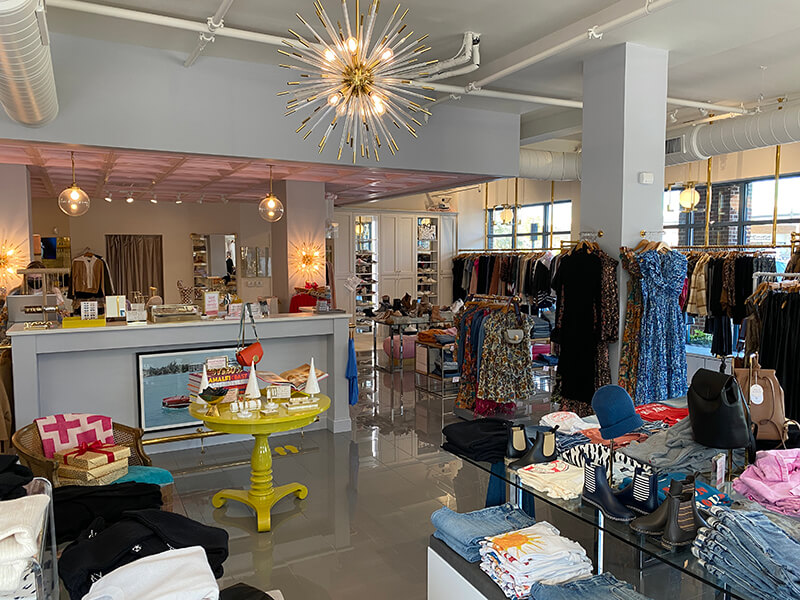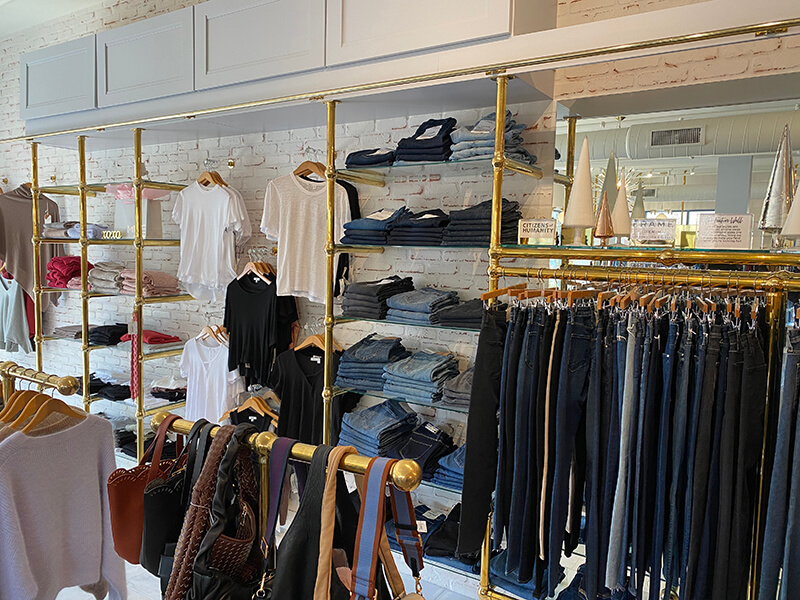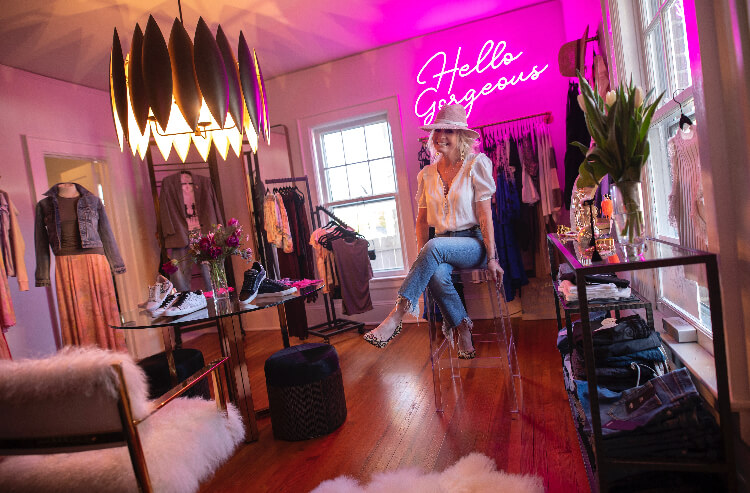 After over 20 years of keeping the Lake Norman area luxe and trendy, Luna's Lifestyle and its owner, Christine Rinkert, are gearing up to bring shoppers on a journey. 2020 was a turbulent time for small businesses around the globe, but those entrepreneurs that looked past the struggle would gain priceless wisdom and bounce back stronger than ever. Relocating from Turnberry to Historic Cornelius in January of 2021, Luna's at the Lake became Luna's Lifestyle, a more holistic take on Christine's original vision.
Just as it always has, the selection at Luna's will feature art, jewelry, and luxury apparel from top designers, making it a great destination for lace-lovers and silk-seekers. Shoppers can also call in for special services including closet edits, personal styling appointments, wardrobe consultations, and private shopping appointments.
For the fashion fanatics out there, Luna's also hosts themed events that offer special, one-of-a-kind deals and connect shoppers with their favorite creators. Recent months have seen lingerie and cocktails after dark, collaboration collections, jewelry showcases, and DIY skincare workshops, but it doesn't stop there.
Customers can look forward to the launch of Luna's Link, an online store featuring the curated styles you've come to know and love from the brick-and-mortar location!
And psst, ladies—high-end lingerie, sleepwear, and boudoir photography are now available at Christine's newly-opened intimate apparel shop, Luna's After Dark.
Meet the owner of Luna's Lifestyle, Christine Rinkert, in Episode 77 of the podcast!
Hours: Monday-Friday:10am-5pm. Saturday: 11am-5pm. Closed Sundays.
Address: 20901 Catawba Avenue Cornelius, NC 28031
Phone: (704) 677-2335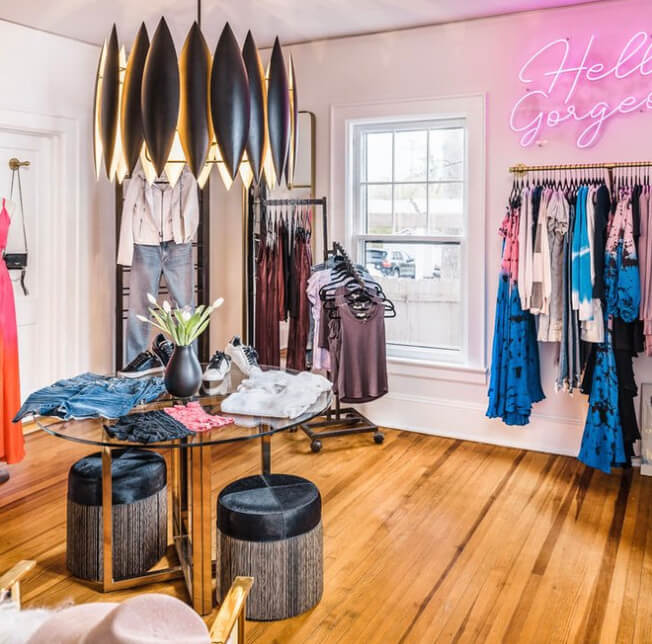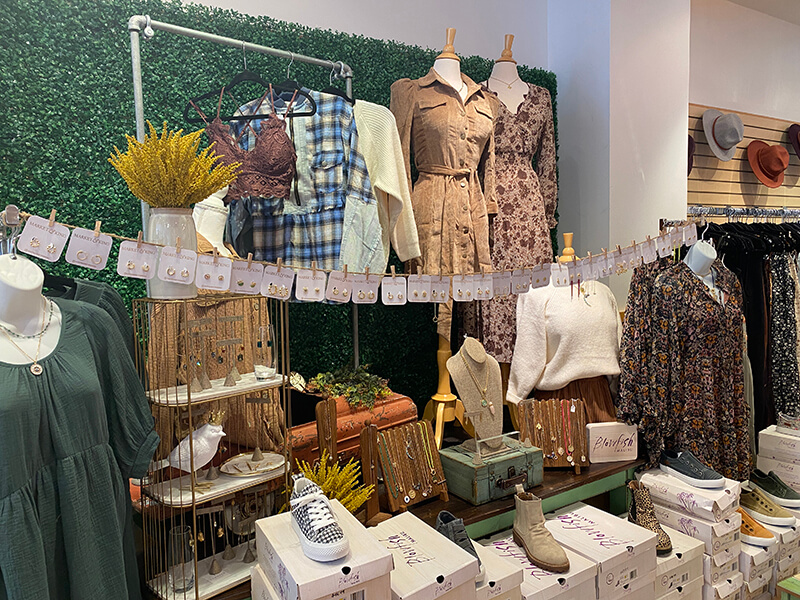 Yet another lovely women-owned small business, Nina's Boutique is a fun and fashionable women's clothing vendor run by Elizabeth Lavan. Elizabeth has over 20 years of retail experience and a passion for finding high-quality apparel at affordable prices. That's why, in addition to hosting pop-up shops and special events across seven different states, Elizabeth decided to open up a brick-and-mortar location in Birkdale Village.
Geared toward a slightly younger audience, Nina's carries cute but proper styles that are perfect for the young professional ladies of the Lake Norman area. Among the selection at Nina's are casual button-ups and knits, beautiful skirts and modish pants, as well as bags, bralettes, shoes, jackets, and other accessories.
Every item is hand-picked to mix and match for work, school, or weekends out with the girls. No matter where you're headed, Nina's has the essentials to keep you looking voguish and lively. 
Hours: Sunday-Tuesday:10am-6pm. Wednesday-Saturday: 10am-8pm.
Address: 16916 Birkdale Commons Pkwy, Huntersville, NC 28078
Email: ninasboutiquelkn@gmail.com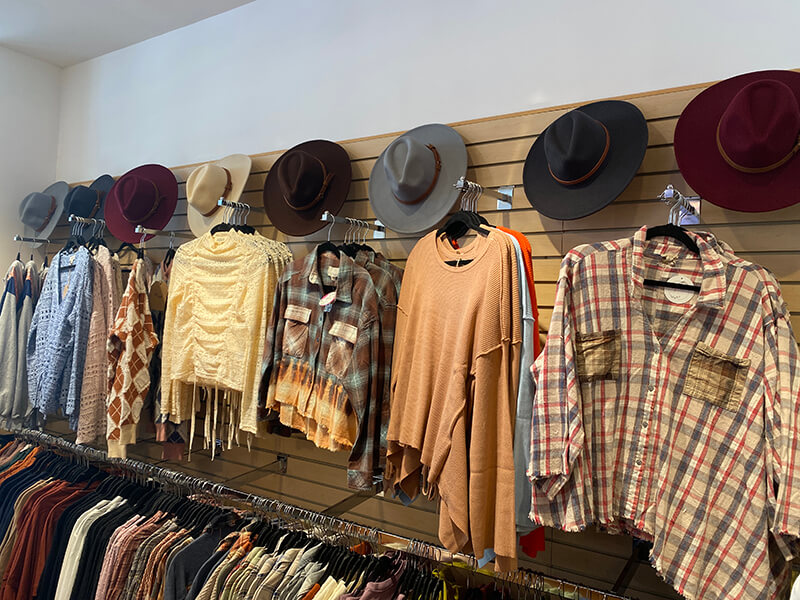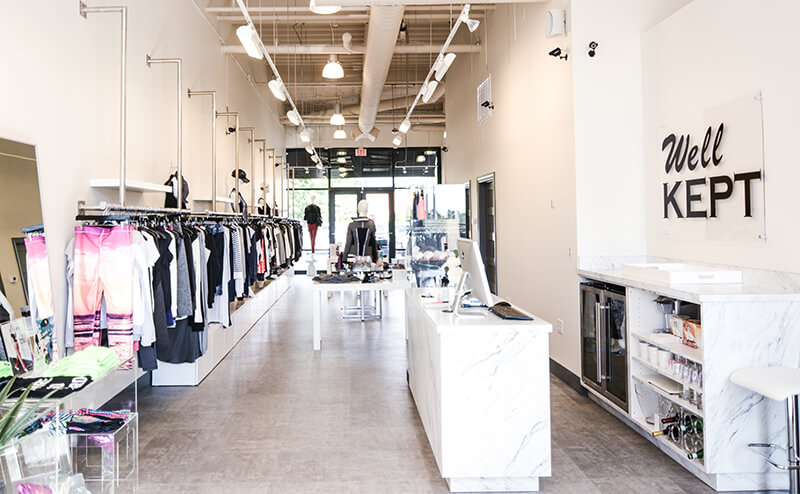 Who said there's no room for fashion in fitness? Lake Norman's first luxury activewear boutique, Well Kept, has curated a collection of practical yet glamorous fitness apparel to support your active lifestyle. With a comprehensive selection of leggings, sports bras, cardigans and pullovers, shoes, jackets, bags, water bottles, and other workout accessories (whew!), you can take care of your closet like you do your body. 
The apparel at Well Kept looks great and functions even better; each piece on display is hand-picked to ensure that you get only the highest-quality pieces from the hottest names in athleisure. Heart-pounding cardio? No sweat. Flexibility training? Ain't no squeeze. Intense conditioning? Easy-peasy. With plenty of chic prints, moisture-wicking fabrics, and durable designs to choose from, you can keep slayin' in the gym and on the streets. 
In addition to its exceptional product quality, Well Kept is also renowned for the quality of its staff, who are dedicated to making your shopping experience a breeze. Save that sweat for your workout sesh, girl! 
Hours: Monday-Friday:10am-6pm. Saturday: 10am-5pm. Closed Sundays.
Address: 624 Jetton Street, Suite 135, Davidson, NC
Phone: (704) 787-2759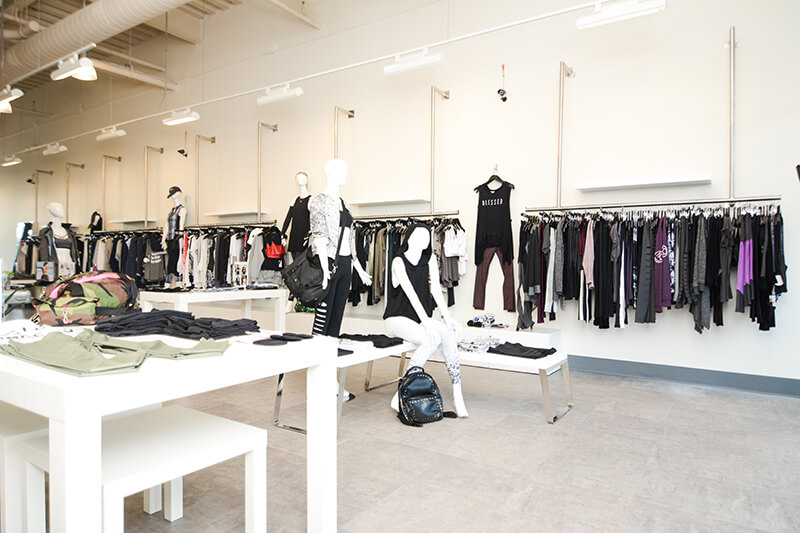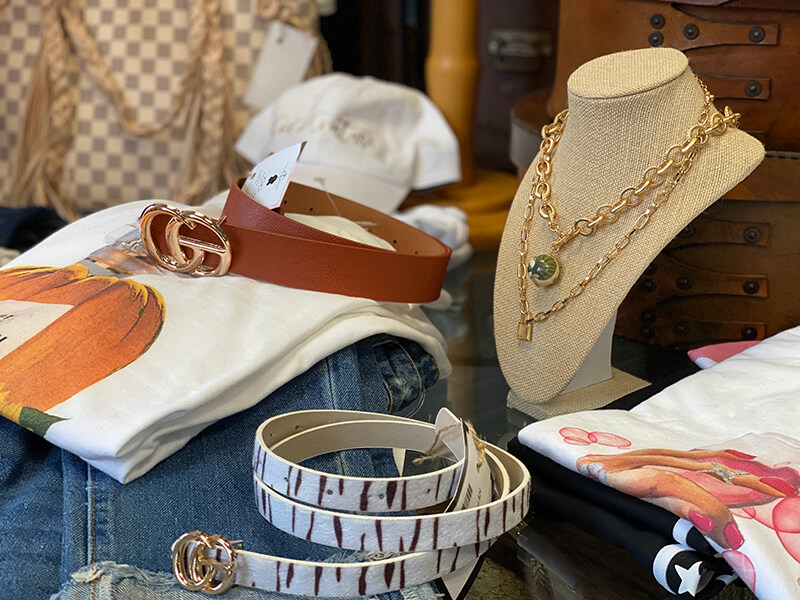 At the heart of any good southern-owned business is a set of beliefs that binds the natives of this region together and governs the way we do business. I'm not talking about barbecue, but rather the next best thing: hospitality. North Carolina Native Candace Khashman knows this better than anybody, which is why she launched her very own women's clothing boutique, CoCo Couture. 
Nestled in the intersection of sophisticated and shabby-chic, CoCo offers a style that's creative and contemporary, infused with a bit of Candace's own classic southern charm. Bold hues and eye-catching prints are a staple amongst the selection of clothing at CoCo, while its bags, shoes, and jewelry make for fantastic statement pieces that can bring a bit of flair to any ensemble. 
Since its grand opening in 2016, the upscale apparels dealer has evolved into a service-centric lifestyle pillar in the Lake Norman area. Aside from serving as a satellite retailer of designer brands like Joseph Ribkoff and French Kande, CoCo is also a piece in Candace's philanthropic puzzle. Eternally grateful for this place she calls home, Candace is invested in repaying the community's kindness by supporting local arts, education, and charitable causes. She and her team at CoCo are dedicated to beauty, inside and out.
Hours: Monday-Saturday:10am-5pm. Closed Sundays.
Address: 19818 North Cove Rd Ste B Cornelius, NC 28031
Phone: (704) 896-8044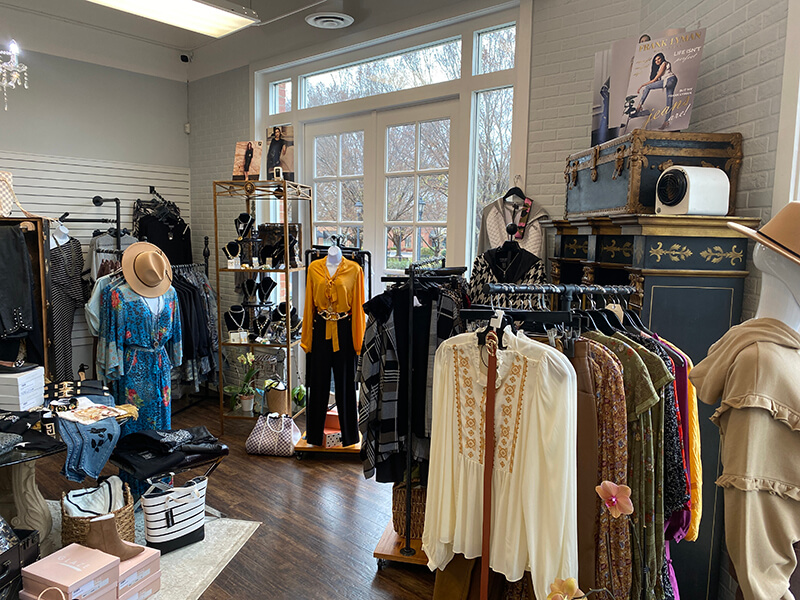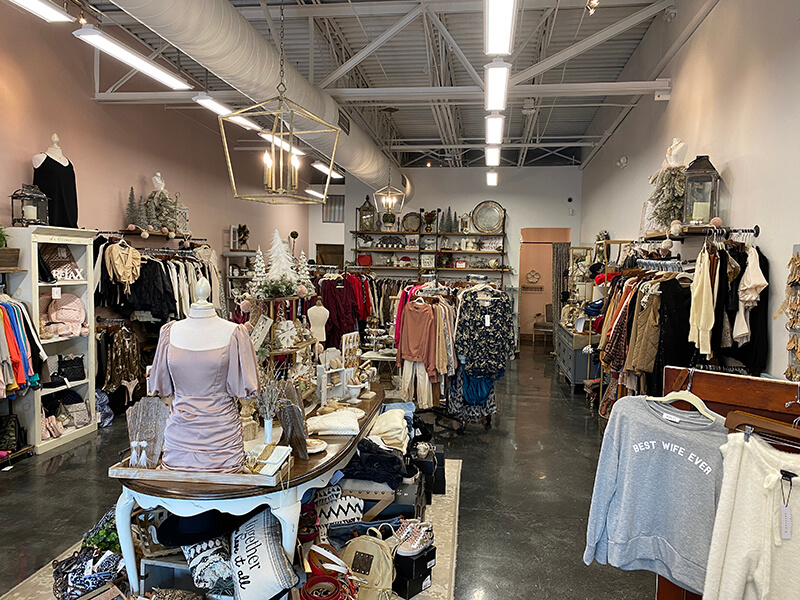 Ladies, we're all guilty when it comes to sacrificing comfort for fashion, but no longer—say goodbye to blistered heels, underwire scars, and suffocating waistbands at Cozy Boutique in Mooresville. Specially curated for everyday wear, the cute and quaint styles at Cozy live up to the store's name, with a focus on feel-good fabrics, relaxed fits, and versatile design.
Lesley Crabb, owner and founder, draws inspiration from her parenting journey. As a mother of three daughters, Lesley understands the importance of being a good role-model and exemplifying independence and ownership. Beyond just her business management skills, Lesley could teach us all a lesson or two about our own unique bodies. In a world that's increasingly focused on physical standards, it's more important than ever to live in a fashion that makes you feel good.
Soft sweaters, darling dresses, and breezy blouses headline the selection at Cozy, as do perfectly-tailored bottoms, comfortable footwear, accessories, and rustic home goods. Whether you're headed out or staying in, Lesley and her team at Cozy Boutique are ready to help you find the perfect outfit to turn "unwind time" into all the time.
Hours: Wednesday-Friday:10am-6pm. Monday, Tuesday, Saturday: 10am-5pm. Closed Sundays.
Address: 1098 Brawley School Road Suite 110 Mooresville, NC 28117
Phone: (704) 662-0023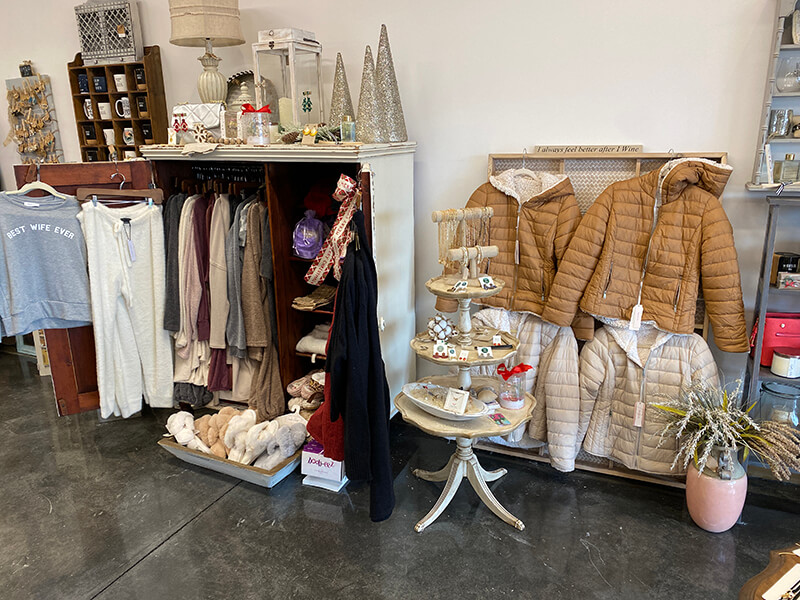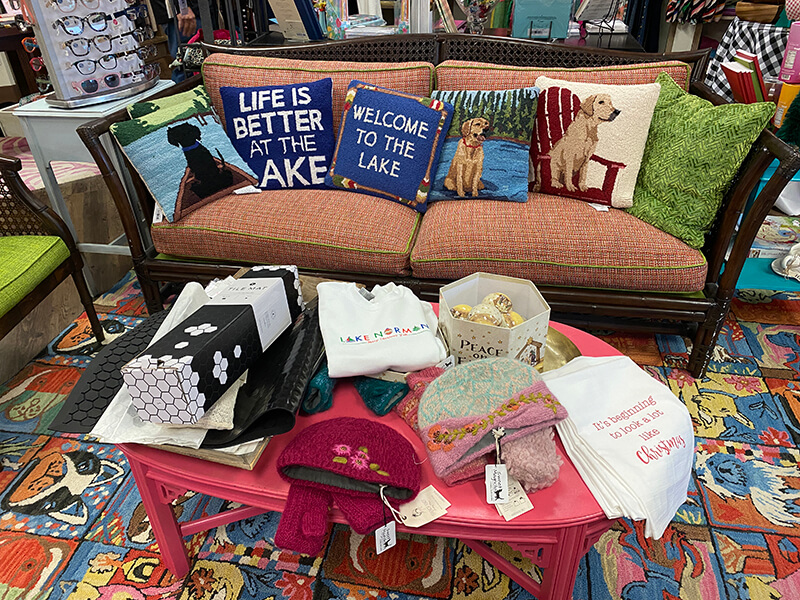 Though it's more widely known as a lifestyle and gift shop, Sweet Magnolia Boutique in Cornelius is an expert dealer of southern chic clothing and accessories. Sisters Tracy and Sissy Parks left their family automotive business behind to put their keen eyes to use in 2015, bringing trendy home decor, dazzling gifts, and locally-sourced art to the Lake Norman area in addition to their selection of fashion items. 
You'll find that the offerings at Sweet Magnolia are eclectic; with pieces by local creatives, one-of-a-kind finds, and sought-after collections from designers you know and love, you can curate a closet that's as unique as you. From handmade jewelry and stylish scarves, to dazzling apparel, to shoes, hats, and bags galore, this boutique is the place to find a stand-out piece for your collection. 
Hours: Monday-Friday:10am-6pm. Saturday: 10am-4pm. Closed Sundays.
Address: 8301 Magnolia Estates Dr Ste 6 Cornelius, NC 28031
Phone: (704) 896-6008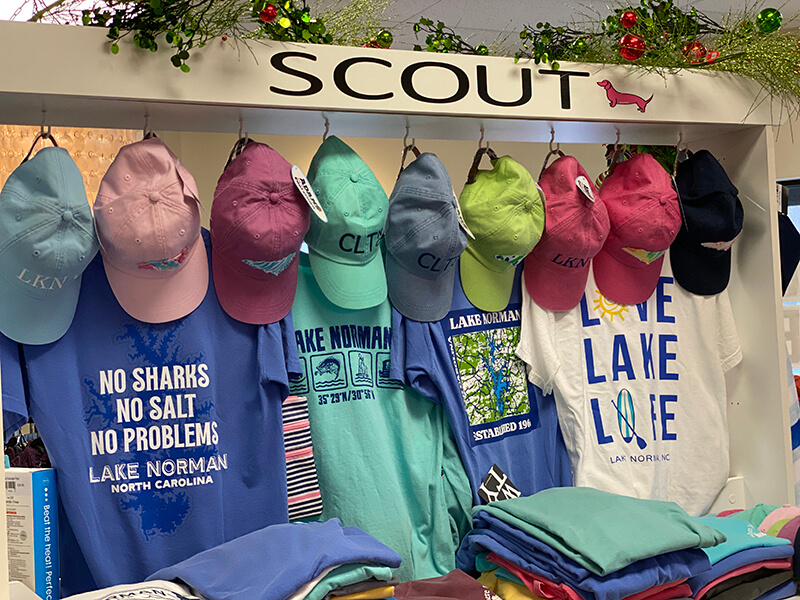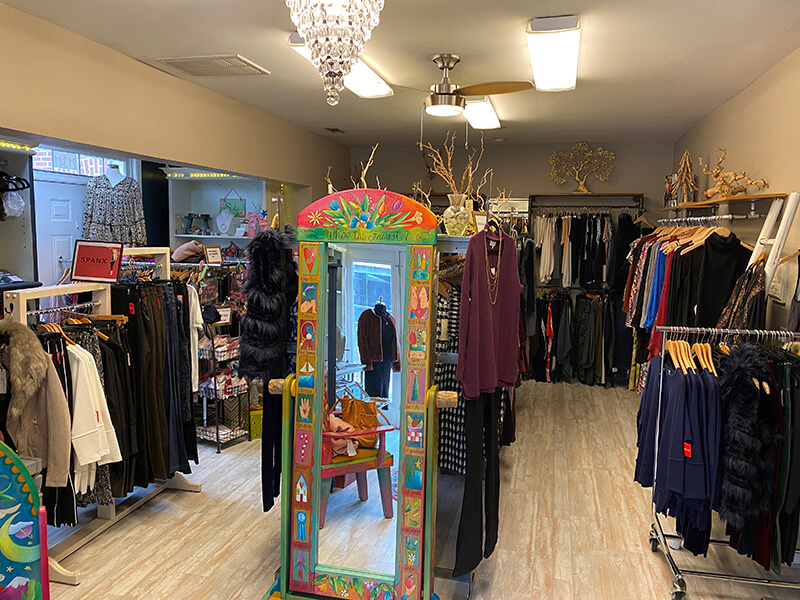 Designer fashion can come with a price tag that puts you in a tough spot. We all know the feeling of falling in love with a piece, only to walk away heartbroken after checking the little tag that was oh so conveniently hidden from view. If you're shopping on a budget, looking to save a little extra this month, or simply aren't a big spender, Avalily's Boutique has got you covered. 
As the only discount designer boutique in the area, Avalily's is the perfect destination to find premium brands at prices that won't break the bank. Owner Ava is passionate about connecting style-savvy customers with great overstock deals and limited pieces, as well as helping novice shoppers find their shine. From designers like Heather Hawkins and ALEXIS to Spanx and Z SUPPLY, Ava is committed to making sought-after styles more accessible to the lovely ladies of the Lake Norman area.
Hours: Thursday-Saturday: 11am-5pm. Closed Sunday-Wednesday. 
Address: 21341 Catawba Ave Cornelius, NC 28031
Phone: (704) 987-0037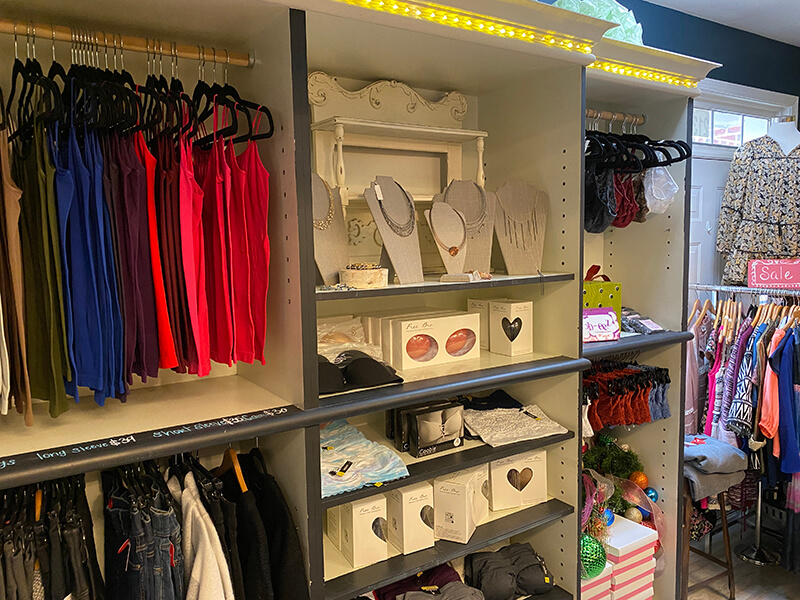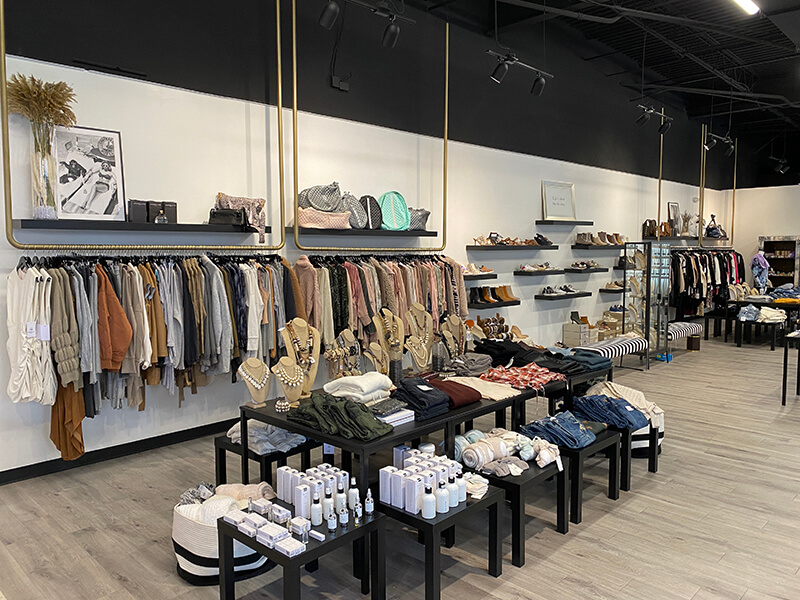 Effortless fashion is all the rage these days, and with good reason: who doesn't want to embrace their natural beauty? Remedy Boutique in Cornelius is ahead of the trend, stocking quality closet staples that won't wear you since March of 2020.
Art deco meets minimalism in this bright and open venue, which is expertly designed to showcase its wide selection of apparel, bags, and shoes, as well as an impressive array of accessories. Mix-and-match your own unique styles, or check out Remedy's lookbooks for polished 'fits you won't have to think twice about. Find the perfect pair of elevated everyday wedges, a chic handbag to give your office ensemble a facelift, or pick up some Johnny Fly frames to highlight your best features. Remedy has everything you need to achieve that organically beautiful feel.
Hours:  Monday-Friday:11am-6pm. Saturday: 11am-5pm. Closed Sundays.
Address: 19911 N Cove Rd Suite B Cornelius, NC 28031
Phone: (980) 689-2317
Remedy – Effortless Fashion Boutique Facebook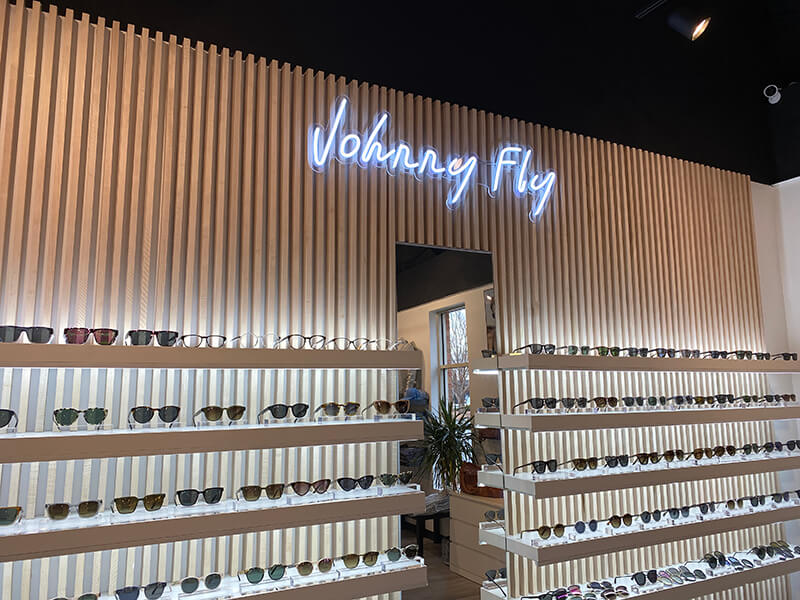 It all started with a simple vision: to create a place where love and fashion come together to make customers feel beautiful inside and out. That's what led Sherry Pollex to open Lavendar Boutique in 2008. With selections from all of the latest and greatest designer brands, including MOTHER, Spell, bella Dahl, and more, Lavender has something in store for everyone no matter their age, shape, size, or style.
In addition to its exclusive designs, Lavendar stocks chic and casual fashions by NY vendors for that fresh SoHo look. Along with sleek knits and sexy prints, you'll find that Lavendar is also home to the largest assortment of designer denim in the area.
Whether you're shopping for an upcoming girls' night out, that big meeting with the boss, or simply want to spritz up your wardrobe, the knowledgeable staff at Lavendar will be waiting, glass of wine in hand, to get you feeling runway ready.
Hours: Monday-Friday:10am-5pm. Closed Sundays.
Address: 21310 Catawba Avenue Cornelius, NC 28031
Phone: (704) 718-6533
Lavendar Boutique Online Store
When your closet is calling for a makeover, do yourself a favor and consider shopping local. Not only will you be supporting your neighborhood economy, but you may well wind up with the find of a lifetime. Forever21 Who?! 
Stay safe and stylish out there. 
Cheers, LKN!
This article is sponsored by: