Episode 074
Buttermilk Sky Pie Shop
Meet Birkdale Co-Owner Gabby Sillyman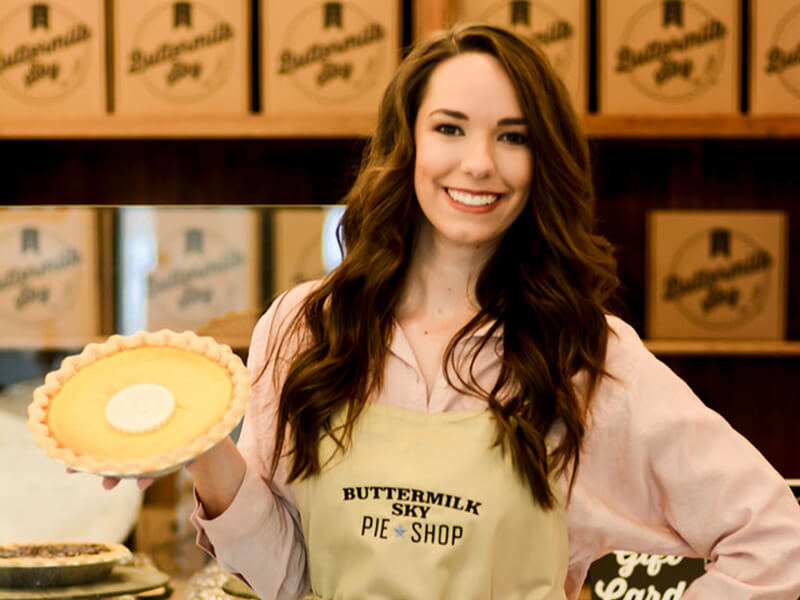 Show Notes:
In this episode, I sit down with Gabby Sillyman. She is the co-owner along with her sister, Savannah, of the Buttermilk Sky Pie Shop in Birkdale Village. We've been buying pies there since their opening in early Spring of this year for many of our special occasions with family and friends. I've been really looking forward to connecting with Gabby and featuring Buttermilk Sky Pie Shop on the podcast.
Gabby shares the story of how she and her family first discovered the Buttermilk Sky brand back in her hometown of Johnson City, Tennessee. It was love at first sight. The idea of opening her own pie shop with her sister Savannah led Gabby and her family to Charlotte, and a whole string of events transpired that would bring their families together in this amazing small business. 
As per usual, we discuss everything there is to know about the Buttermilk Sky Pie Shop experience, as well as recognizing other really special small businesses in the area. Unfortunately, just before we close our conversation, we did lose internet connection and had to start a new Zoom meeting to finish the episode. All good, though, as I think Gabby's advice for aspiring small business owners and franchisees does come through in the end. 
It's a very sweet episode 74 of Lake Norman's #1 small business podcast. Thanks for listening in, enjoy getting to know Gabby Sillyman, co-owner of Buttermilk Sky Pie Shop in Birkdale Village.
Buttermilk Sky Pie Shop – Birkdale Village
16836 Birkdale Commons Pkwy
Unit 64
Huntersville, NC  28078
Non-profit organizations recognized in this episode:
Book recommendation:
Profit First
by Mike Michalowicz