Sponsored by FilterTime!
Sign up and use code LOCAL for 20% off your first order!
Get a new restaurant review delivered every Friday morning –
Sign up for our Lake Norman Email Newsletter!
Port City Club is a waterfront restaurant located in Cornelius, North Carolina. It is a popular destination for locals and visitors looking to enjoy a meal while taking in the beautiful view of Lake Norman.
They have recently rebranded as Port City Club by David Burke after the announcement that celebrity chef, David Burke, has taken over the operations of the restaurant.
The menu offers a variety of seafood, steak, and pasta dishes, along with a few vegetarian options.
Port City Club has been one of my favorite restaurants for the last four years so today I'm going to share with you my experience.
Parking and Entering Port City Club
Port City Club has a large easy-access parking lot, so parking has never been difficult.
As you walk in, you are greeted by a large bar to the left of the restaurant with many tables surrounding it. It's a great space to grab a quick bite or drink. However, the best spot to sit is out on their covered patio. Here you can take in the views of Lake Norman with a nice breeze.
The Food at Port City Club
Firecracker Calamari
The Firecracker Calamari was lightly breaded and came layered with shishito and cherry peppers with a tomato dipping sauce. The "Firecracker" name comes from the addition of the peppers, but it was your standard fried calamari.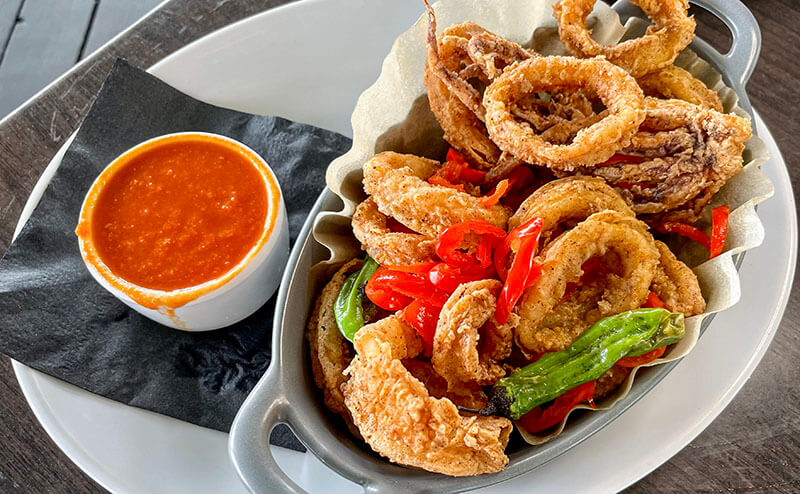 Crab Cake Fitters
The Crab Cake Fitters were a good-sized portion for an appetizer. Four mini crab cakes on chipotle aioli and topped with avocado. The chipotle aioli paired well with the light taste of the crab cakes, next time I'm asking for more on the side.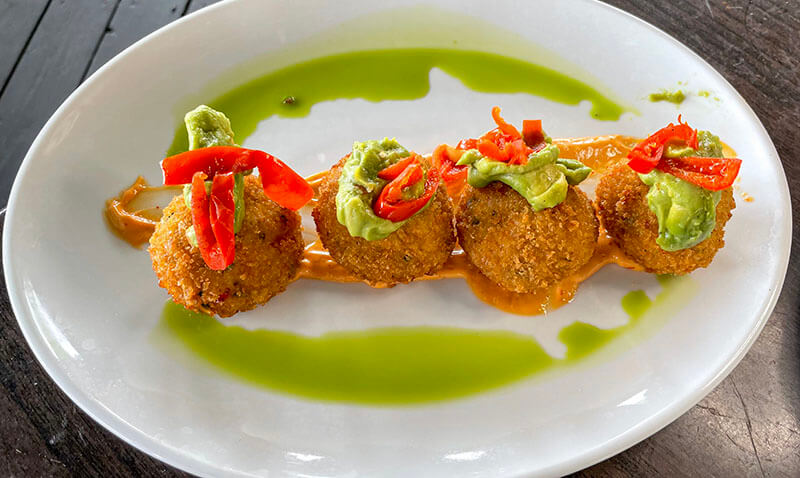 Lobster and Shrimp Roll
The Lobster and Shrimp Roll was light and filling and came with more shrimp than lobster. It was served with a side of potato chips. If you're looking for a cold sandwich on a hot day, this is a must-order.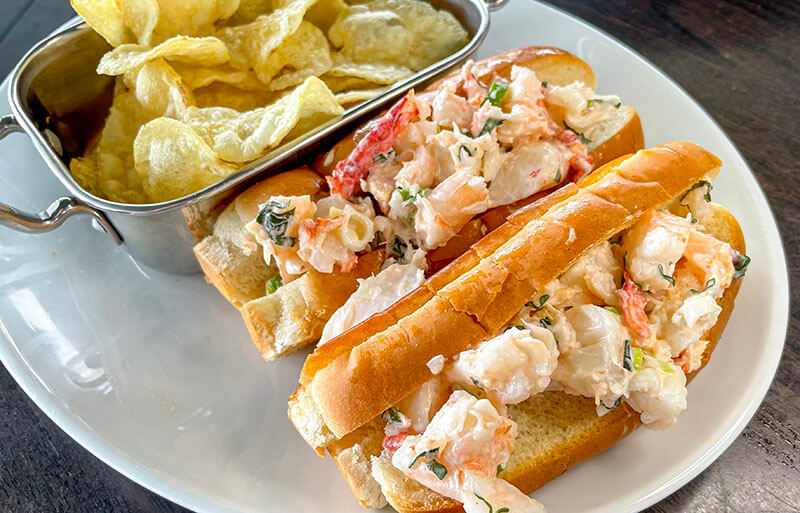 Hanger Steak Frites
The Hanger Steak Frites came drizzled in a tasty chimichurri sauce with a large portion of fries. We ordered it medium-well, but it came out cooked more well-done. However, it was still a very tender piece of steak.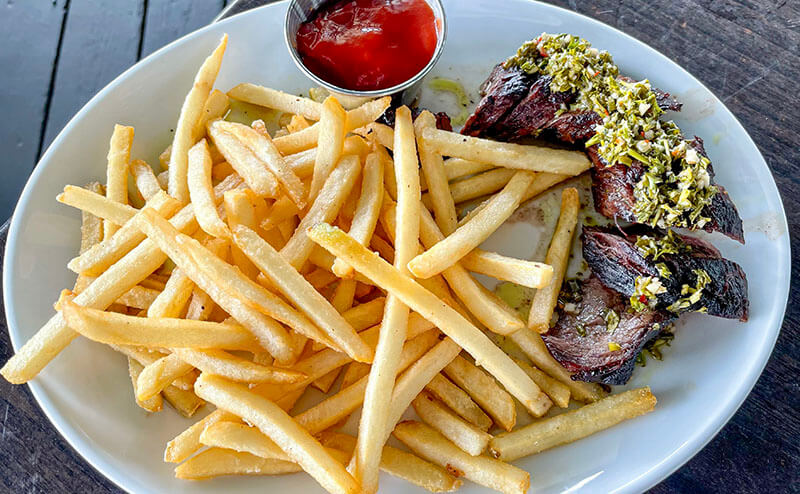 The Drinks at Port City Club
We tried the Lavender Crush and Strawberry Daquiri cocktails. The Lavender Crush had a very light taste of lavender which really allowed you to taste the gin.
The Strawberry Daiquiri is great for those who enjoy a sweet drink. It comes in a martini-style glass, not frozen like we were expecting.
If cocktails aren't your thing, they also have a large selection of beer and wine.
Port City Club – Final Thoughts
The location is perfect for waterfront dining and has a dock available to pull up your boat. The outdoor seating area overlooks Lake Norman, offering a beautiful view while you dine.
The food is prepared well and presented nicely, but some might think it does not stand out from other restaurants in the area. However, if you're looking for a waterfront dining experience and don't mind paying a premium for your experience, it's worth a visit to Port City Club.
Address: 18665 Harborside Dr, Cornelius, NC 28031
Let's feature your business on
The Best of LKN
!
Contact Us