Director of The Jay Hurt Hub for Innovation and Entrepreneurship at Davidson College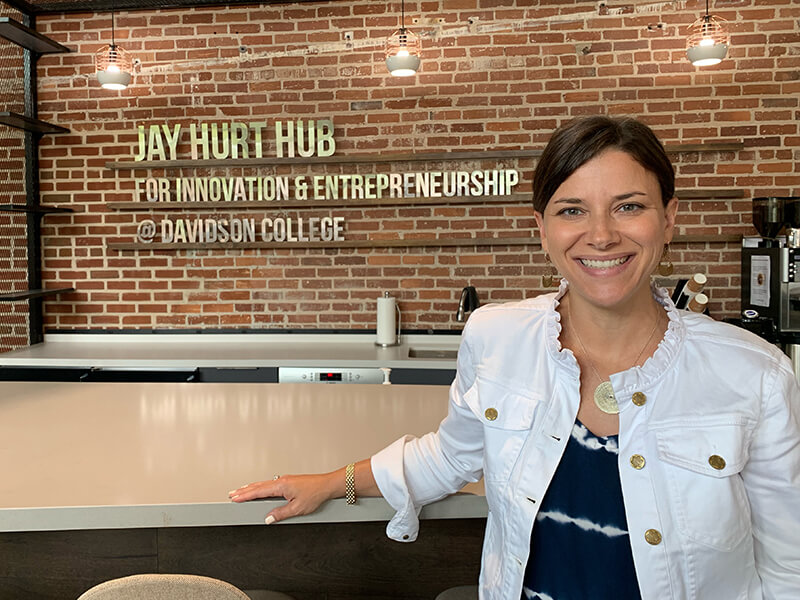 Show Notes:
In this episode, we're featuring The Jay Hurt Hub for Innovation and Entrepreneurship at Davidson College. The Director of the Jay Hurt Hub, Liz Brigham, joins me to share her background and the story of how she made the move with her family back to Davidson to lead the Hurt Hub in building an inclusive community of entrepreneurs and innovators.
It's an innovative and entrepreneurial episode 67 of The Best of LKN podcast. Thanks for joining us, enjoy getting to know Liz Brigham, Director of The Jay Hurt Hub for Innovation and Entrepreneurship at Davidson College.
The Jay Hurt Hub for Innovation and Entrepreneurship at Davidson College
210 Delburg Street
Davidson, NC 28036
Transcript:
Narrator
Welcome to The Best of LKN, a podcast featuring the best small businesses and the most influential professionals around Lake Norman, North Carolina. Each week, we spotlight those businesses and individuals that are making a positive impact here in the Lake Norman area. Thanks for joining us, enjoy the show.
Jeff
Hi, friends. Welcome back to The Best of LKN podcast. This week, we sent out our first special promotion from a local small business in our email newsletter, the Barcelona Burger and Beer Garden invited our audience out for a free burger and soft drink at their location in Mooresville this week. I encourage you to take advantage of that offer and enjoy the burger that was ranked number one in North Carolina by MSN. The owner of the Barcelona, Michal Bay, was a guest here on the podcast back in Episode 62. That was another great conversation that I hope you'll enjoy. If you haven't already signed up for our email newsletter, don't worry, we have another great promotion going out next week from another local restaurant cafe. You can sign up for our email newsletter by going to our homepage at www.thebestoflkn.com. Scroll to the bottom, to the signup form, and enter your first name and preferred email address. It's that easy. And don't worry, we'll never share your email address with anyone else and we'll never spam your inbox. Okay, now let's talk about this episode. In this episode, we're featuring The Jay Hurt Hub for Innovation and Entrepreneurship at Davidson College. The director of The Jay Hurt Hub, Liz Brigham, joins me to share her background and the story of how she made the move with her family back to Davidson to lead The Hurt Hub in building an inclusive community of entrepreneurs and innovators. It's an innovative and entrepreneurial Episode 67 of The Best of LKN podcast. Thanks for joining us, enjoy getting to know Liz Brigham, Director of The Jay Hurt Hub for Innovation and Entrepreneurship at Davidson College.
Jeff
Joining me today is Liz Brigham. Liz currently serves as the Director of The Jay Hurt Hub for Innovation and Entrepreneurship at Davidson College. She leads a team committed to facilitating access and exposure to innovation and entrepreneurship for all. Prior to taking this role in October 2020, she was the head of product, Morningstar Direct and Reporting Solution software for Morningstar, Inc. in Chicago. Liz also led product management and marketing teams at enterprise technology start-ups in Chicago and public companies such as Jive Software and Walt Disney Parks and Resorts. Liz is a self-proclaimed Davidson College groupie and has served on the Board of Visitors, Alumni Association Board, and has led multiple alumni chapters across the country. Liz holds a BA in English from Davidson College and an MBA in corporate strategy and marketing from the Ross School of Business at the University of Michigan, both degrees earned with honors and distinction. Liz, welcome to the podcast.
Liz
Thanks so much for having me, Jeff.
Jeff
I've been really excited and looking forward to this conversation. Not my first time at The Hurt Hub. And I've utilized your meeting spaces in the past for interviews, I always enjoy coming here. I love the facility, big fan of the work that's going on here that we're gonna learn more about that. I did leave out in the introduction that you're a musician as well with a dream of starting a family band with your husband and young sons.
Liz
That's right.
Jeff
What genre?
Liz
Yeah, really, really cuts across the gamut. So, I grew up playing classical piano and then I got a guitar, an acoustic guitar for Mother's Day a few years ago and so have just, I'm really obsessed with blues guitar. And so that's something that I've been trying to learn, slide guitar, it's rather difficult but have been excited to learn both in Chicago and I'm actively looking for a teacher here.
Jeff
Awesome, I'm a bit of a blues fan myself, a big Robert Cray fan. I've seen him live a few times he and his band and of course Stevie Ray Vaughan. Yeah, Texas-style blues. Yeah, that's really cool.
Liz
Well, when I was a student here at Davidson, I ran concert committee all four years and one of my favorite shows that we booked was Derek Trucks. And so, we booked Derek Trucks, which is now Tedeschi Trucks Band, and they sell out the Chicago Theater multiple nights in a row, but we booked them in our 900 Room, which is a very small room in our College Union, and it was booked to capacity. And so, someone like Derek Trucks who is the nephew of Butch Trucks of the Allman Brothers, just a guitar prodigy, started playing with Clapton when he was 12 years old. And to have that talent. They were actually the first band to play in the Duke Performance Hall as well. So, they're near and dear to my heart.
Jeff
Well, I really just scratched the surface of what really seems to be an exceptional career leading up to coming back to Davidson and joining The Jay Hurt Hub. Where are you from? In my research, I couldn't find where you were born and raised. Where are you from, originally?
Liz
Yeah, I grew up in St. Louis, Missouri. So, fifth generation, huge St. Louis Cardinals fan. So, if there's any baseball fans out there. But yeah, lived in St. Louis until I came to Davidson and then really have been a bit of a vagabond all over the country. So, moved back to Chicago after Davidson for about three years, worked for a company called McMaster-Carr, which was industrial supply distribution, they had a wonderful Management Development Program. That's really where I cut my teeth on understanding customer service. I lead a team in a call center, both in English and Spanish, and I was about 23 years old. And that was the baptism by fire of thinking about operations and marketing, and really how to engage deeply with customers. And then from there, did my MBA at the University of Michigan, as you mentioned in the opening, I always say that I was there from '07 to '09, and while graduating in '09 was a little tricky, which we can talk about, what was great was that the iPhone had just been released, and Apple came to campus in the spring of 2008, just before they were releasing the software development kit for the App Store, if you can believe it. So, this was, I'm dating myself a little bit. But effectively, they said, hey, we want y'all to participate in this case competition to develop the first prototypes and business plans for apps in the App Store. So, I was fortunate to work on a team of some of my best friends to this day, a couple who served in the military, one was a Navy Seal, one woman was a wonderful marketing executive, and another gentleman who had been in management consulting, and myself. The thing that we all had in common was that we either studied or worked abroad, in a variety of capacities, really loved to travel. And so that was a first foray into saying, hey, we can build an app that was a travel book in your pocket. At the time the iPod had come out to, you know, 1000 songs in your pocket, we were like, oh, 1000 places in your pocket. So anyway, to fast forward a little bit, that was my introduction into how technology can be applied to real world problems and things that bring joy in people's lives. So that was my introduction. But we can continue if you have more questions about the career trajectory too.
Jeff
Would you consider yourself an early adopter?
Liz
Yeah.
Jeff
The early adopters, that Simon Sinek talks about a lot.
Liz
Yeah, yeah. I mean, '07, I mean, I wasn't, at the time I was in grad school, I didn't quite have the funds to afford an iPhone. Nonetheless, because we won that case competition, we all got free iPods. And it was another generation of iPod, it didn't have the spin wheel on it, but it looked basically like an iPhone. So, that was a wonderful gift and an opportunity to really kind of play around with technology.
Jeff
And where podcast got its name, right.
Liz
Yes, exactly.
Jeff
You literally downloaded and transferred the file to your iPod, right? And took it with you.
Liz
That's right, yeah. So, that was my introduction attack. And then that summer of 2008, I went to work for Disney.com as an intern, and they had never had an intern before in the ad sales department, but I really was focused on saying, if I know where the money is coming from, I can really dig into the strategy. So, worked with that sales team, and then eventually had the opportunity to go back to Disney Parks and Resorts online, which was, in effect, and it's changed names several times now, but that was what it was called at the time. I started off in the project management office, and then eventually got to work on, I led DisneyParks.com, I ran a couple of their annual campaign website development projects, and then eventually had an opportunity to go over to Disneyland Paris and help them overhaul all of their digital experiences across 12 regions in EMEA. So that was a deep dive into how do you build experiences for a wide range of audiences.
Jeff
Yeah, no doubt and a huge platform and obviously, a huge company. When you joined, when you took on the role with the Paris team, did you actually travel to Paris?
Liz
I did, yes. So, at the time, my husband was in grad school in LA, and we didn't have any children. So, I got on a plane every two weeks, LA to Charles de Gaulle, direct flight. And I was a solo team. I had no budget; I had no team. I didn't speak the language. But I was given the opportunity to really sort of embed myself in their tech team there. So, trying to understand, how do you account for things like, you know, credit card rules in Germany being different from England, being different from France, and what does that look like? Disneyland Paris is also a licensee of the Disney brand. So really had to understand what is that arm's length arrangement and agreement, where I was seen as an external consultant, and really had to fight for the business in a sense, right? It wasn't just a default, hey, we're going to pay Parks and Resorts online to do this work for us. It was it was me going in and really building that business case for eventually an $18 million investment in Parks and Resorts online to come in and completely overhaul those both digital as well as mobile experiences there. So, it was wonderful. I had an apartment in central Paris. I was commuting on the RER train, for anybody who's spent some time in Paris. It was, it was quite magical, I suppose.
Jeff
No pun intended.
Liz
No pun intended, yes, but it was great.
Jeff
So, you were developing, not only working with the team developing the technology, but you were developing the relationship and you were selling?
Liz
That's right.
Jeff
You had to pitch to sell, right?
Liz
That's right. Yeah. So, I was pitching to the head of Disneyland Paris, SVPs of real estate, finance, so many different folks in the room. That was, it was challenging, but I had some really good support from mentors and leaders in the organization.
Jeff
I have no doubt that was an amazing experience. Speaking of experiences, what led you back to Davidson, and have some of your experiences caused you to come back and how do these experiences strengthen your role here at The Hurt Hub?
Liz
Yeah. So, I always said that I never left. You mentioned those self-proclaimed Davidson groupies, you know, I generally was participating, either leading alumni chapters, for example, when we lived in Portland, Oregon, and I was working for Jive Software, there was a very small but mighty group of Davidson alums there. I actually got to work with Bryant Barr, who now heads up Steph Curry's venture capital arm, and I think it's called Penny Jar. So anyway, I got to meet Steph a couple times, which is always very cool.
Jeff
Oh, my wife's jealous, she's a huge Steph Curry fan.
Liz
All right, thank you, appreciate that. He's a wonderful, wonderful human and doing many great things in the world. And so, after, you know, left Jive and moved to Chicago, I started working for a tech startup, then I was also serving on the Alumni Association Board at that time, really trying to dig into what the college was doing around innovation, how it was connecting with alums and students in different ways. So, as you can see, little seeds are being planted. Then I moved over to Morningstar Financial Services and was running their product marketing division for their software business unit, which is about a $400 million global entity. And while I was doing that, I was mentoring lots of students, I had started serving as a TechStars mentor and really trying to understand like, how do you build out a community of entrepreneurs and innovators? From an educational standpoint, what do you need to support them? From a funding standpoint, what do you need to support them? All at the same time running a software business, you know, inside a very large public company. And honestly, when COVID hit, we all went back home. That was March 13th I think 2020, in Oak Park, Illinois, where we were, just outside of Chicago. And then two months later, Black Lives Matter Movement, and all those pieces. My husband and I really sat down and said, where do we want to be? What value are we driving in the world? How can we really drive the most impact? My husband works for Salesforce. So, we're, that couple of, you know, lots of sales and marketing tech folks in the house. Really great dinner conversations, I'm sure. We have two young boys, seven and almost six years old, and really think about, again, like how do we take all the experiences that we've built and put it, drive it towards a more outsize impact in our community? And, you know, Chicago winters and other things, there's just a lot of lifestyle questions that I think a lot of people underwent during this past year and a half or so, I saw a tweet from Julie Goff, who was Davidson class of '05 and was my predecessor here as the director. And she said she was leaving, and she's starting a new consulting company called bloom., which is in Charlotte, so shout out to Julie. And it was just that spark that I needed to say, wow we've been thinking about all these things, we've been planting these seeds, we've been super involved in the college, this is an opportunity to come back and run an organization at a place where we're deeply committed to the values in the statement of purpose of the college and to the community, where we've already given back so much of our time and effort. And frankly, I was already working with students in that capacity, you know, in a volunteer capacity, so all the things just sort of coalesced around, the universe is telling you to go.
Jeff
Yeah.
Liz
And so, coming back into this role in October, obviously moving across the country with our children, in the middle of COVID. It was a challenge, not going to say it wasn't a challenge, but immediately, the energy just shifted. And we knew, this is the place that we wanted to be where we can plant roots and really build a community over time.
Jeff
Yeah, moving back during the pandemic, that's a huge step and quite a process. There are a lot of challenges just in that, that we could talk about. But that's probably another conversation.
Liz
Sure.
Jeff
But my first experience here at The Jay Hurt Hub for Innovation and Entrepreneurship was last summer, shortly after I started the Lake Norman podcast, I needed a quiet space to conduct a remote interview, obviously, at the time. So, that was my introduction here, I reserved a meeting room. And I'm just a big fan of coworking spaces anyway. But what I love about, especially The Hurt Hub, is the emphasis on collaboration and teamwork and growth and mentorship. We talk a lot about the value of mentorship on this podcast in particular, share with the listeners some of the, I mean, there are so many topics about The Hurt Hub that I want to talk about, but can you share with the listeners some of the initiatives, some of the services, and opportunities that The Hurt Hub provides?
Liz
Yeah, absolutely. So, our vision here, as you mentioned at the top, is to facilitate access and exposure to innovation and entrepreneurship for all. And we are really specific about that 'all' piece. Our values are these: that we believe that innovation is born out of freedom, integrity, and inclusion. And we said freedom to take risks, freedom to fail, and to succeed. Integrity is our expectation that comes with sort of our roots around the Honor Code and other things at Davidson. And inclusion is the foundation of everything that we do. And so really, we do, we exercise that vision in five main ways. We talked about coworking, so I'll start there. Many people might not know, but we're actually a nonprofit organization. And this mission to exist and at the confluence of campus and community really manifests in coworking. So, that means we've got, you know, 17 different offices here. Unfortunately, we're on a waitlist, or maybe fortunately we're on a waitlist, right now there's a lot of demand, we are really actively looking for individuals who are committed to that collaboration with each other, with students, with faculty members, with our broader community. And so, there is an application process for those offices. Then we also offer flex desk and dedicated desk spaces. And it's interesting, we see, I think some tailwinds coming out of COVID, or this sort of new phase of COVID, where a lot of professionals are going to be in this hybrid environment. And so, they're looking for some place, you know, maybe if they work in Charlotte, but they're going to be home, or they're mandated to be at home two to three days a week, they can't sit their dining room table anymore. And so, we've seen a lot, just in the past month or so, a lot of increased demand for, hey, I need a quiet place to take a call, or I need something that looks like a professional background. When I do my Zoom calls, I can't worry about the dog barking and etc., and so on, right? And so, we've seen that demand come back. So, those are some of the aspects of coworking. You also mentioned mentorship and collaboration. So, we work in collaboration with LaunchLKN, which is another nonprofit organization here in the Lake Norman area, focused on economic development. We partnered with them over three years ago to build out this mentorship program. And what that is, is again, it has an application to it. But anybody can apply, whether anyone from the community, coworker, Davidson students, faculty members, etc. And generally, those who apply already have kind of the seed of an idea, or perhaps they're kind of in growth stage, we've seen kind of a panoply of different types of ventures and individuals come. But what we're really focused on there is matching the individual with good mentors. So, regardless of the outcome of that venture, we want to make sure that we're really trying to nurture that relationship one-on-one with those individuals, so that's important. The next aspect is educational programming. And here we've just hired a new educational programming manager, Amy Gaskin, she comes to us from Grand Rapids, Michigan. And with that, you know, COVID sort of gave us this gift in the fall insofar as we couldn't host a lot of in-person events. So, we had the time to interview, at this point, it's been well over 200 individuals, both on a 30-minute one-on-one kind of qualitative research front, but also doing some surveys across the board of all those in our community to say, what do you really need to feel supported? How can we meet you where you are? And Amy is in the process of developing out more of a cohesive strategy from, if you already have an idea, great and you need it sort of kick started? Well, let's put you in the Lean Startup Methodology class, and then maybe there's some things we can offer over time. But if you're coming to us and saying, I don't even know what entrepreneurship is, you know, thinking about, are there sort of snackable you know, 30-minute workshops, hour-long workshops here and there that we can get people just started thinking about that entrepreneurial mindset. And then continue on a path, we really don't want these sort of, what I'll say, random acts of programming, all well-intentioned, but we want to give people those pads and meet them where they are.
Liz
Then I'll talk a little bit about our experiential learning program. And the last two pieces are primarily for Davidson students. But with our Gig-Hub, which has been a wonderful program, there is an opportunity to intentionally match small business owners in the community. And frankly, we've had some alums from all over the world participate with students in gigs. So, 30- to 40-hour projects, they can be marketing, social media posts, website copywriting, and doing just general research. And students are then employed, so they get paid. So, it's an opportunity for them to get real-world experience, translate what they're kind of learning in the classroom into things that they can put on their resume in a way that fits in with their very rigorous schedule. And then small businesses have the opportunity, especially those who are already here, to work with Davidson, students get really top-tier talent for a pretty affordable price, and effectively build more capacity into their organization. So that Gig-Hub program has really been a flagship for us. And then lastly, is access to capital. And so, we have three different ways. We've got the Try it Fund, which is up to $1,000 micro grant for students to go test and prototype their ideas, we have the Avinger Impact Fund, which is more of a competition for students to get up to $10,000 of a grant. And then lastly, our Davidson Venture Fund, which is both for students and for young alums who have graduated in the last five years to compete in our annual pitch competition for up to a $25,000 equity grant. And that's another way for coworkers to get involved. We've had coworkers serve as mentors in that program as well. So again, like I said, it's been a wonderful way to blend that sort of campus and community into some of our flagship programs.
Jeff
Yeah, I was interested in knowing or finding out where you source your mentors and how so many Davidson alum, who are entrepreneurs or business owners or executives, I'm sure, throughout the country in the world, and also local businesses and coworkers, that's really cool. The workshops, the programming, the educational programming sounds really interesting to me, because I've, and honestly, I wish I had had access to something like that about 11 years ago when I started my first business. But what are some examples of some other workshops and classes that you offer in the educational program?
Liz
Sure, yeah. So, historically, we've done a raising capital class with our venture capital and resident, Chris Langford. So, he comes to us through that partnership with LaunchLKN as well. So, going through the basics of, how do you think about approaching venture capital? What do you need to have in place from your venture from a legal standpoint? How would you put a pitch together? You know, how do you think about equities and cap tables and all of those other aspects. We've also done programming around marketing as well. So that is, you know, if you're just getting started with understanding the world of marketing, and in my personal experience, and those that I've coached, a lot of people have that perception of marketing equals advertising, you know, tell me where to spend my money on Facebook, or what kind of ad to put on Twitter, or what have you. So much more, which, again, we could go into a whole long podcast just about that. But really thinking about, I always say empathy is currency. Who's your audience? How do you conduct proper market research? How do you understand your competitive landscape? How do you position yourself with those differentiators? And then what product or service are you going to offer, at what price etc. So, really trying to help, like I said, meet those individuals where they are on the surface, trying to put out programming for a 19-year-old Davidson student can seem very different than a 45-year-old, who's, you know, been out in Corporate America for a while and is just kind of really trying to think about turning this side hustle into a veritable venture and company. But we've managed to find a wonderful intersection there. So, I'm excited, I will let Amy speak for herself too, once she gets her strategy up and running, but I'm excited about the potential there. And we've also, you know, Davidson, as a college has been working with online platforms as well like edX for the last nine years. So, we're trying to think about how do we elegantly blend, maybe some more asynchronous online type of learning with in-person learning experiences as well. So, if people don't have, you know, 6:30 on a Wednesday night to come in for a class, we can still serve their needs in a different way.
Jeff
Are the educational programs available to the public?
Liz
Yes, yeah, they are. So generally, you know, we try to keep everything as free or close to a nominal cost as possible, we're actively looking for corporate sponsors too so if there's anybody listening who really wants to invest in building up local talent, I'm all for those conversations. I would be remiss if I didn't say that.
Jeff
Absolutely.
Liz
But we, as I mentioned, we're really focused on equity. And I don't want to have to ever turn somebody away because they can't afford that ticket price. I want to be able to give them a scholarship and welcome them into this community, because we all win when everybody has a seat at the table.
Jeff
Absolutely. Yeah, that's well said. Marketing is a conversation, definitely, we could take a deep dive and spend hours actually, that's actually what began my podcasting journey four or five years ago, plugging into Apple Podcasts, the search terms, small business marketing, and just listening to experts over the years, just inspired me to start producing my own podcasts but, that's also a longer story and for another episode. The educational programming really interests me and it actually, to be honest with you, is probably something I'll participate in as soon as possible.
Liz
Fantastic.
Jeff
For listeners that are just starting out, maybe considering starting their own business or jumping into entrepreneurship, do you have a programming that's as basic as, how to develop a business plan, or how to write a business plan?
Liz
Yeah, so I would say our Lean Startup Methodology class is both applicable for those who are trying to just start their business as well as those who might be in, you know, corporate settings, who are running product lines or thinking about new product development. That class has been running now for a couple years. And it's run by a woman named Rebecca Weeks Watson, who has over I think, at this point, nearly 25 years of experience in small businesses, startups, both here in the Charlotte region, but also on the west coast. She runs her own business as well, media business, so that we will be kicking off again, this fall, I don't have the exact dates, but we can get that into your notes.
Jeff
Yeah.
Liz
But in September, so we'll be kicking that off. And one piece that we're excited about this fall is something new we're trying, kind of relaunching everything Hurt Hub, it's called Innovation Week. And so, from September 10th through September 16th, which is that Thursday following, so that first weekend, that Friday to Sunday, we've actually been selected by Techstars, as a Techstars Startup Weekend group or location. And we're really excited about that. So, that is a wonderful way for these individuals that you just mentioned, they don't have to have an idea, you know, out of the gate. And that's really, you know, purposefully going through in a very concise timeframe over that, you know, call it 60 hours of the weekend, we'll feed you, it'll be comfortable. But the opportunity to work with those across our entire community and learn the Techstars framework. And for those who are not familiar with Techstars. It's one of the largest incubators and accelerator programs in the US, and then globally they host these Techstars startup weekends as well. So, giving you the framework to think through business planning, thinking about doing market research with customers, understanding the problem statements and how to position yourself. And that by the end of that weekend, the team that you've been placed with, again, kind of randomly on that weekend, you get to pitch your new idea. And so, we've actually had a couple, I think we haven't run this because of COVID, you know, for a couple of years, but the last time we had individuals actually launch companies directly from that weekend. So, we're really excited about that. And then the rest of Innovation Week we'll have programming across, mostly in the evenings on that Monday evening, Tuesday evening. All day Wednesday, we'll have a series of workshops, almost like a mini conference all around things like improvisation and innovation, design thinking, etc. that will be totally open to the public. And then that Thursday evening, from about four to eight or so in the afternoon. We're partnering with the Town of Davidson for what I'm calling this sort of community block party. So, food trucks, bands, you know, if you're into cornhole or playing any of those sort of other lawn games, it'll all be there. And we're hoping to have exhibits from local entrepreneurs as well, just kind of more of an exhibit hall open house so people can really get a sense for who we are and what we're about.
Jeff
That sounds awesome. I'll be putting that on my calendar and definitely sharing in the show notes, any links and information for listeners to follow up on, that sounds like a really amazing opportunity and having Techstars involved, really just being able to share that kind of expertise with those in the community that might be interested. That sounds like a really, really cool opportunity.
Liz
Great. Yes, we're excited about it.
Jeff
What are some other future plans for The Hurt Hub?
Liz
Yeah, so a couple things that we're looking at. And the first example of this happened last week is, we see The Hurt Hub as a place for community gathering and sort of corporate events. And so last week, we had a company called Torqata here, over 50 people came in, in our events space, for their annual corporate retreat. And so what we're seeing, again, a lot of, how can we facilitate the meeting of the minds, especially after nearly two years of either not seeing your colleagues or not even meeting your colleagues for the first time, and the sort of raucous atmosphere and just the energy was so pervasive here, and so we're really looking to expand into more of these types of corporate events, whether it's, hey, we've got budgeting and planning going on, and we need a space for that, or we want to do something fun and just kinda get off campus and do something different, we see a real opportunity to expand upon corporate events, and we're looking at other things physically in the space too to build out our patio, for example, to be a little bit more all-weather useful, you know, and another place where people can come and interact with their colleagues or even find founders, for example.
Jeff
I love that concept. I'm a big fan, I'm looking forward to, you know, sharing more, both on our platform, as well as our social media outlets as that continues to come together. But yeah, I love the concept and I look forward to seeing that grow. Any other events that you can think of coming up?
Liz
Sure. I mean, there are a couple things. One, that we've restarted our Hub Club lunches, and so those happen the third Wednesday of every month, those are open to the public, and you know, mostly for our members, but are those you know, who are prospective members and want to come check out what we're all about. Those are kind of a combination of, we'll have a guest speaker come, and then in the past, we've done food trucks or other type of, you know, catering from local restaurants. So, and then a type of networking, community, opportunities. Again, third Wednesday of every month from roughly, you know, noon to 2pm. The other thing that I'm really excited about is, you all may have heard or if you didn't, you know, we recently announced that we're bringing an innovator in-residence to Davidson. So, this is actually a Davidson alum, Mbye Njie, who was a classmate of mine. He's the CEO and Founder of a company called Legal Equalizer, that really focuses on driving more accountability and safety in any interactions with law enforcement. And he's partnered specifically with police departments all over the country. He just came out of the Techstars Accelerator in Atlanta. But he will be here and available as a resource as he's building his company. So, kind of a play on an entrepreneur-in-residence. He's actively building his business here while employing Davidson students, serving as a guest speaker and providing office hours as well for any, you know, budding entrepreneurs or startups to say he's been doing this for seven years, he's gone through multiple accelerators, he's been raising money in a variety of different ways. So, we're really excited to welcome him back to Davidson. And it's a $75,000 grant for one year for him to be physically here and serving the community.
Jeff
That sounds like an amazing concept and initiative, the company that he's started, and is building couldn't be more relevant, you know, for 2020 and 2021, so, very cool. You mentioned earlier, I'm gonna circle back real quick and digress for just a second, how some companies haven't even met their new hires in person. And I had a really highly-successful, long standing digital advertising and marketing agency in Charlotte on the Charlotte podcast recently, the senior vice president shared that, as they were reopening the office, they were meeting for the first time new hires that they had hired a year ago that they had never met in person, and it is just such a weird concept to me, but it's happened so much over the last year.
Liz
That's right. Yeah. And so hopefully we can be this place of gathering you know, and support individuals with whatever they might need in bringing them together.
Jeff
I think everyone is really sort of, not to sound corny, but kind of craving that connection, that in-person connection, and gathering and so yeah, very cool. I love that. I want to cover this topic because The Jay Hurt Hub is a nonprofit.
Liz
That's right.
Jeff
Couldn't happen without corporate partners and sponsors. We can't go through all the generous donors that you've had, individuals, you know, Davidson alumni, but can we touch real quick on some corporate partners that have been really helpful over the last year?
Liz
Yeah. So, Barings in particular, they've been one of our flagship partners with us. They've been very generous not just to The Hurt Hub, but also to partners across campus. We have been working with Dualboot, who's a local software business. And of course, our anchor tenants who are here both Quoin Software and Everblue. They've been partners of ours for a very long time, nearly since our inception. And then other partners in the area like Ingersoll Rand and Trane, Lowe's, MSC Industrial, so some really great local partners, but certainly we're always looking for others to jump on board, and support what we're building here as a community, we're really focused on how do we generate stronger talent and a pipeline for a lot of those companies? How do we give back from a sustainability perspective? How do we facilitate building innovation in ways that maybe they didn't think possible by whether it's bringing in Davidson faculty or the coworkers that we have here who just have immense backgrounds to share with the community? So excited about that and thank you for your support and letting us talk about it.
Jeff
Yeah, absolutely. Shout out to the corporate partners, and many thanks to them. You host a, I don't know if it's a podcast or a video blog, where you interview, you've interviewed Davidson alums and students called Hub and Spoke?
Liz
Yeah, we like to call it a storytelling platform. Because we'd started off with Zoom, and just doing kind of a one-hour almost webinar, but kind of fireside chat type of format. I'm actually, in that process of we've been able to employ multiple students in the full production of that, which has been great. So, it's a little bit meta right of, you know, producing something for students, but it's also by students. And then we've been interviewing Davidson alumni across the entire spectrum of entrepreneurship and innovation. So, from someone like Caroline Lewis, who's the managing partner at Rogue Women's Fund, for example, in Portland, Oregon, to George Ramsay and Dean Williams, who run Bold Music in Charlotte and other areas in North Carolina. And then other sort of leaders like Mike Guggenheimer who's the president and CEO of Blumenthal Holdings in Charlotte. So really kind of running the gamut of ages, stages, backgrounds, all in service of illustrating for anybody who's listening, that they can see themselves in those entrepreneurs and in that path, and it's a veritable path for them moving forward.
Jeff
Well, I've listened to a couple of the episodes and Mike Guggenheimer's episode, in particular, I wanted to thank him, he was able to verbalize something that I haven't been able to, during my conversations with guests, we talk a lot about the value of partnership and the value of teamwork and Mike had kind of summed it up as, you know, teamwork, you're able to achieve a result that is greater than the sum of the parts, you know, and that's really kind of what I've been trying to say. So, thanks to him, it's probably, and I don't have an MBA, so they may teach that in business school, I'm not sure, but I just love the powerful insights that I can just glean from listening to experts and people who have done, who have kind of managed these companies and also, I love to listen to entrepreneurs who have done the thing that I want to do. So, I think there's a lot of power in that. Speaking of podcasts, do you have any reading recommendations or podcasts for listeners?
Liz
I do, and this could go on for a long time. I'm a big podcast listener. The one that I think I've been most consistently listening to is Harry Stebbings, The Twenty Minute VC. So, he, if you don't know his story, it's quite remarkable. At 19 he dropped out of college, he's based in London, his mother was diagnosed with MS, and she actually couldn't afford to cover the cost of her treatments. So, he decided with, I believe, only a couple thousand dollars in his pocket, to start this podcast to help her pay for her medical care. And fast forward now he's done 3000 plus episodes. He started his own venture capital fund. He has interviewed everybody from, you know, the cofounders of LinkedIn to Slack to Stripe, I mean, just, you know, household names, that kind of marquee names at this point, and really on his own kind of grit and ingenuity and so I really respect his origin story as well as the format of that. I've been a Brene Brown fan for a long time too, which is, I guess maybe kind of a cliche at this point, but that's there. And as you talked about in my bio and alluded to, I'm a huge music fan. So, I, and I'm kind of a nerd about some of the music history out there. So, if for any musicians or music-interested folk, Slate's podcast Hit Parade is really fun, as well as Sound Opinions from NPR. So, I truly believe that new business generation entrepreneurship and innovation does not exist without the humanities. Without art, without music, without some, without theater, there's so much theater involved in pitching and all that. And so that intersection of the humanities in sort of business worlds is certainly where I come from. So, I'm a little bit of biased there. But I think they're inextricably linked. And so that those are some of the things. From a book perspective, The Hard Thing About Hard Things by Ben Horowitz is really, I think just changes your mind about, to your point, teamwork, hiring, how to sort of check your ego at the door and realize, are you really solving a problem for a large audience or are you just obsessed with the shiny piece of tech that you built? Right, and that's wonderful, but that's a hobby, that's not a business. Great. So, I think that's a book that's really changed. And you know, there are so many other books that have influenced me in my life. I was an English major, of course, right, literature, that's like who I am. But How the Word is Passed, I would be remiss if I didn't mention that. That's Clint Smith, who's a Davidson alum, class of 2010. It's his book on the history of slavery across the country. And really, I just finished reading that over the Fourth of July holiday, since Davidson, I don't think I've been moved to rethink how I look at things, since that book, so it was, it's just really phenomenal. I can't say more about it.
Jeff
Yeah, that sounds amazing. I'll definitely, that's one that I'll check out for sure. And I'll obviously have the titles and the authors in the show notes for the listeners to follow up on. You had mentioned the value of the arts and humanities and education even in business, and engineering and sciences. One of the most, I think, the most watched TED Talk on YouTube, the speaker, and I can't recall his name. It is an amazing keynote that he gives, he's English, he's funny. But he's also, the topic is on why art needs to be taught in school. You know, and so I'll find that link and throw it in the show notes really awesome. But that's what came to mind when you mentioned that, and I couldn't agree more there. Harry Stebbings, 20-Minute VC. I've read an article about him; I need to listen to his podcast. Regretfully, I haven't yet. I do listen to a lot of Guy Raz.
Liz
I was gonna say, now that you say that The How I Built This podcast, as well as his book that came out, I actually got that for a Christmas present for my whole team this past year.
Jeff
I just recently learned of that; I didn't even know there was a book.
Liz
Yeah. So, if you've listened to many of the episodes, a lot of the stories are similar, but I think just reading it in that sort of longer-form type of way brings it to life in a new way. So that's, yeah, anything he does. My kids are obsessed with Wow in the World, which is his kids podcast.
Jeff
Oh, wow.
Liz
So that's another, for any parents listening in, he and his co-host break down scientific articles into a way that kids can understand it, like grade school kids, and illuminate some wow in the world. And so, we've really enjoyed that as a family as well.
Jeff
I love NPR. Hit Parade, Sound Opinions, also an NPR production?
Liz
Yes, yes.
Jeff
And Brene Brown. Brene comes up a lot in my conversations with entrepreneurs. Very inspiring, obviously a thought leader. All excellent suggestions, really appreciate that. This has been a great conversation.
Liz
I really enjoyed it.
Jeff
I'm so happy that I'm finally able to like talk about, kind of dive deep into The Jay Hurt Hub at Davidson College and feature the work that this place is doing in the community and for entrepreneurs and for students, so thank you very much. How can listeners learn more about The Jay Hurt Hub at Davidson College?
Liz
Yes, so a couple of ways. The first place is our website, so it is hurthub.davidson.edu, we've actually just relaunched the website in April and it's kind of a work in progress right now. And then follow us on social media. So, Instagram, Twitter, Facebook, we've just recently launched our LinkedIn page as well. That's where you'll find links to upcoming events. Actually, on our website as well, you can subscribe to our newsletter, which is just in the footer of that homepage. So, if you scroll all the way down to the bottom, just give us your email address, first name, last name, and that's a biweekly newsletter that comes out so you can stay apprised of everything going on. A couple sort of closing comments that I want to make too is that this place is meant to be for everyone. And we do that in every sense of the word. We want people to feel like they belong here. And then they can come and enjoy their time, get educated, meet founders, meet friends, anything that happens here in this physical space, I am a huge, huge, huge proponent to feedback. If you see an opportunity for improvement, if you have new ideas, we can put my email address in the show notes if you'd like to, and really give it back to us because the more co-creation we have in this space with the community, the better it's going to be for everybody. And I like to say that we all have fun doing the impossible, which is a Walt Disney quotation. Once you work at Disney, the Disney really doesn't come out to you. And so that's what we like to say, we have fun doing the impossible here and we really hope to welcome the community here to do that with us.
Jeff
I love that. I love that mission. Liz Brigham, the Director of The Jay Hurt Hub for Innovation and Entrepreneurship at Davidson College. Liz, thanks so much for joining the podcast. This has been great.
Liz
Sure, thank you. It's been a pleasure.
Jeff
Thanks again to Liz for joining the podcast, and many thanks to the team at The Hurt Hub and their corporate partners for their efforts to facilitate access and exposure to innovation and entrepreneurship for everyone. Listeners, you can learn more about The Jay Hurt Hub for Innovation and Entrepreneurship at Davidson College at www.hurthub.davidson.edu. You can also follow them on Facebook, Instagram, Twitter, and LinkedIn. Also be sure to sign up for their email newsletter to stay up to date on upcoming events at The Hurt Hub. I'll have these links and more in the show notes for this episode. As always, you can find the complete show notes and transcripts to our podcast episodes at the home for Lake Norman's number one small business podcast, www.thebestoflkn.com. Sign up for our email newsletter while you're there and receive special offers from some of the best small businesses in the Lake Norman area nearly every week. That will do it for Episode 67. We are cruising right along with the podcast. Thanks for following along on our journey and thanks for supporting the small businesses we feature here at The Best of LKN. I'll have another episode for you right around the corner, so stay tuned for that. Until then, cheers Lake Norman. Bye for now.
Narrator
We hope you've enjoyed this episode of The Best of LKN. For more information about this podcast, show notes, video episodes, and links to our featured businesses, please visit www.thebestoflkn.com. We publish episodes weekly, so be sure to subscribe and stay up to date. Until next time, cheers Lake Norman.