Episode 034
Boomerang Water Company
Sustainable Bottled Water Startup Launches in Davidson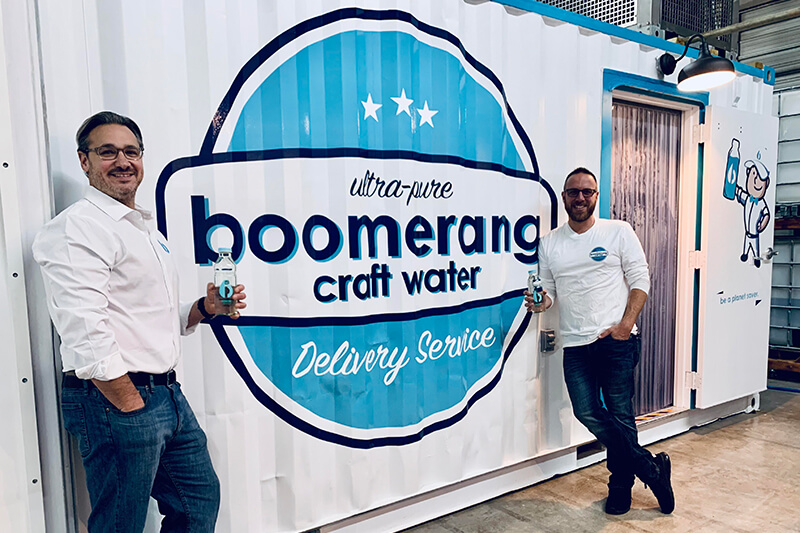 Show Notes:
50-billion plastic water bottles are thrown away each year in the U.S. alone. Only a small percentage of those are actually recycled. The rest end up in landfills, waterways, and oceans. Boomerang Water Company has developed an entire new concept for purifying drinking water at the source, and then distributing the water in a sustainable way that eliminates the need for single-use plastic bottles.
In this episode, I have a conversation with Boomerang Water founders Jason Dibble and Jerrod Freund. They share the inspiration behind their startup in Davidson, North Carolina, and explain the technology that will help save the planet from the billions of plastic water bottles that are being dumped into our oceans and landfills.
From the Boomerang Water website:
"When you drink boomerang water, you are doing your part to help minimize plastic waste, clean up our oceans, and drastically reduce your carbon footprint.
Boomerang Water goes above and beyond just recycling. Our process re-circulates glass bottles. It's simple, clean and makes a huge impact…truly a circular ecosystem.
Water is our most important resource on earth and the most important thing you put into your body every day.
With a boomerang water subscription, you can stop worrying about what's in your water. Our advanced ultra-filtration and bottling system ensures you are only putting the freshest, most pure water into your body!"
https://getboomerangwater.com/
LKN businesses sign up for your FREE 16-pack of Boomerang water! Follow this link >> https://promo.getboomerangwater.com/business/
FB: https://www.facebook.com/getboomerangwater
IG: https://www.instagram.com/getboomerangwater/
Local Lake Norman businesses mentioned in this episode:
SpeedPro Imaging  https://www.speedpro.com/charlotte-north/
Follow The Best of LKN Podcast on Facebook and Instagram:
FB: https://www.facebook.com/thebestoflkn
IG: https://www.instagram.com/the_best_of_lkn/
Sign up for our weekly email newsletter at www.thebestoflkn.com
Many Thanks to our sponsor for this episode:
HempLily – Your CBD Oil Source
Use discount code "LKN15" for 15% off your purchase!
20124 W Catawba Ave, Suite C, Cornelius, NC
(Next to Waffle House)