Episode 027
Ed Watkins Marine
Meet Owner and NASCAR Team Member Ed Watkins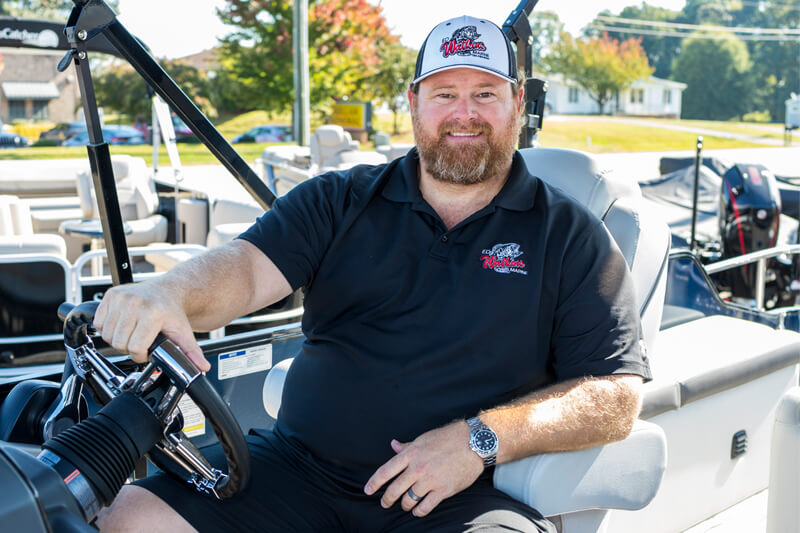 Show Notes:
In this episode, I sit down with Ed Watkins to talk about his 24-year career as a NASCAR  pit crew team member and his highly successful boat dealership on Lake Norman. Ed shares the story of how he began his long career in NASCAR, and the championship-winning principles that he has been able to bring to his own business – Ed Watkins Marine in Denver, NC. This episode will make you want to buy a boat – enjoy!
From The Ed Watkins Marine website:
"Ed Watkins is a former offensive lineman for ECU and has been an active NASCAR pit crew member for 23 years with a championship under his belt. With his history in these competitive fields he most definitely has the mentality of a winner. In 2017 he decided it was time to take on a new challenge and realize his dream of becoming a business owner.
With his passion for boating, owning a boat dealership made perfect sense. Ed knows that professionalism, craftsmanship, and quality of service in the showroom and in the shop play an important role in the experience that boat owners have when they take their boats out on the water.
Ed and his team have sold and serviced boats for people from many different states and love nothing more than seeing satisfied customers enjoying their investments."
https://www.edwatkinsmarine.com/
FB: https://www.facebook.com/edwatkinsmarine/
IG:  https://www.instagram.com/ed_watkins_marine_/
Location:
Ed Watkins Marine
3333 NC-16 Business
Denver, NC 28037
Local businesses mentioned in this episode:
Captain Gus
https://fishingwithgus.com/
Denver Smokehouse
https://thedenversmokehouse.com/
Sports Page Denver
https://sportspagedenvernc.com/
TriMaxx Graphics
https://www.trimaxxgfx.com/
Books recommended:
Game Plan For Life: Your Personal Playbook For Success, Joe Gibbs
https://amzn.to/2SPclZO
Racing To Win, Joe Gibbs
https://amzn.to/33SjUoY
Fourth and One: Living and Learning the True Meaning of Success, Joe Gibbs
https://amzn.to/33Retq2
(We may receive a monetary commission if you buy something or take an action after clicking one of these links. The Best of LKN is a participant in the Amazon Services LLC Associates Program, an affiliate advertising program designed to provide a means for sites to earn advertising fees by advertising and linking to Amazon.com.)