Several Lake Norman craft breweries and taprooms are eagerly anticipating St. Patrick's Day 2021. The closures of 2020 forced many of us to celebrate the Irish holiday at home last year, making this one of the most anticipated events of early 2021. While several local establishments will be sitting this one out, there are still a few great places to enjoy green beer, Irish music, and general shenanigans around Lake Norman this year. 
This is by no means a comprehensive list. These are just a few of our favorite local Lake Norman spots to celebrate the Luck 'o' the Irish. Actually, these local breweries and taprooms are great places to celebrate just about anything! 
So, if you're ready to raise a pint in the Lake Norman area this St. Patrick's Day, here are the places we think you should be showing off your best Paddy's Day shuffle:
Royal Bliss Brewing Company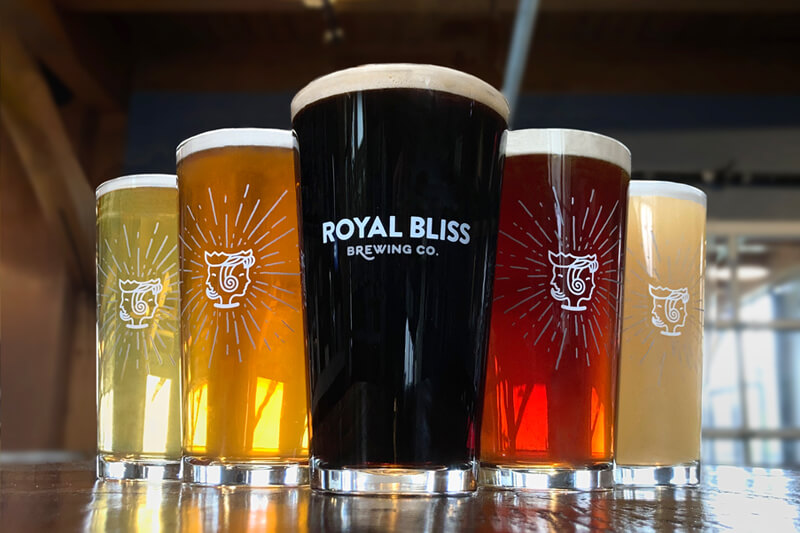 https://www.royalblissbrewing.com/
7532 Royal Bliss Court
Denver, NC 28037
"Refined, yet approachable" aptly describes the vibe at Royal Bliss. They offer a range of exquisite craft beer selections created by their highly skilled brewmaster, Chris Wertman. In addition to the delicious beer (like the just-tapped As You Wish Farmhouse saison – oh yeah), you'll find a curated wine selection, and delicious food prepared by Chef Bobby Lamby of Carolina Smash Truck fame. All of this in a beautiful space with tons of indoor and outdoor seating. 
Here's what Royal Bliss has planned:
"We're actually having two St. Patrick's celebrations (March 13 & 17) and we're calling them "St. Paddy's Daze". Here's the Facebook event page that has the info about it. In a nutshell, we'll have food specials, live music, and general shenanigans. We're selling a shirt that comes with a drink token good for either day. This will be our first St. Patrick's Day as last year was our first year in business (we opened a week after the stay-at-home order) so we look forward to learning through the experience."
— Gianni Masciopinto, Director of Brand & Things at Royal Bliss Brewing Co.
The owners of Royal Bliss Brewing Co., Larry and Ginger Griffin, were guests on the podcast last September. Listen to their episode here.
Lost Worlds Brewing Company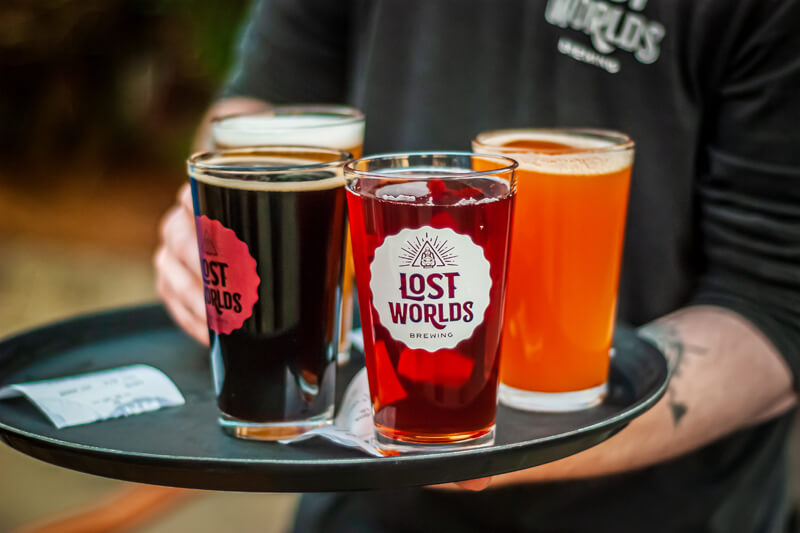 https://www.lostworldsbeer.com/
19700-D One Norman Blvd.
Cornelius, NC  28031
Lost Worlds isn't just a creator of exceptional craft beer, they're an amazing brand that has joined the ranks of North Carolina's best brewers. Since their opening in March 2020, Lost Worlds has adapted to the fast changing economic climate and found ways to serve their guests with a unique experience and a range of expertly brewed beer. 
"Our brewery was founded to create a basecamp for like-minded adventure-seekers to craft their next adventure while enjoying quality beer brewed in their community. Simply put, we brew beer that we're proud to pour and that'll satisfy your thirst for adventure."
— Lost Worlds Brewing Co.
Plans for St, Patrick's Day 2021 at the brewery include  releasing a new beer – Ardmore Irish Ale. The brewery opens at 3pm with the tapping of the beer shortly thereafter. Maggie Mae's Food Truck will be onsite from 4 to 9pm and their LostAsana Yoga class will run from 6:30 to 7:30pm. 
About the Ardmore Irish Ale:
The Story
On the south coast of Ireland lies the sleepy seaside resort of Ardmore. In 1111, Ardmore was founded by Saint Declan, one of the Munster saints reported to bring Christianity to Ireland before Saint Patrick. Ardmore's essence is of a quaint old town – picturesque to the extent authors including Nora Roberts have used it as the backdrop for their novels.
Ardmore Irish Ale is a beer that satisfies your cravings for a respite from the turmoil around you. You deserve a quiet moment – with only whispers in the background as you soak in your day's accomplishments.  
The Discovery
Ardmore Irish Ale evolved from a style of the Irish Ale – a slightly less popular cousin of the Irish Porters and Stouts. However, the Irish Red Ale has an even older history than Porter or Stout being cited in literature as early as the 8th century. In the early years, hops were not native to Ireland. Irish beers were lightly "spiced" with indigenous herbs and called Gruits. When hops finally arrived, Irish brewers started using them, giving a slight Earthy character to round out the sweeter, toffee, and roast malts. Ardmore Irish Ale has a slight amber hue. It is a medium bodied beer with sweetness and a slight earthy hop note. Relax… enjoy!
The founder of Lost Worlds, Dave Hamme, was also a guest on the podcast. Listen to the episode here.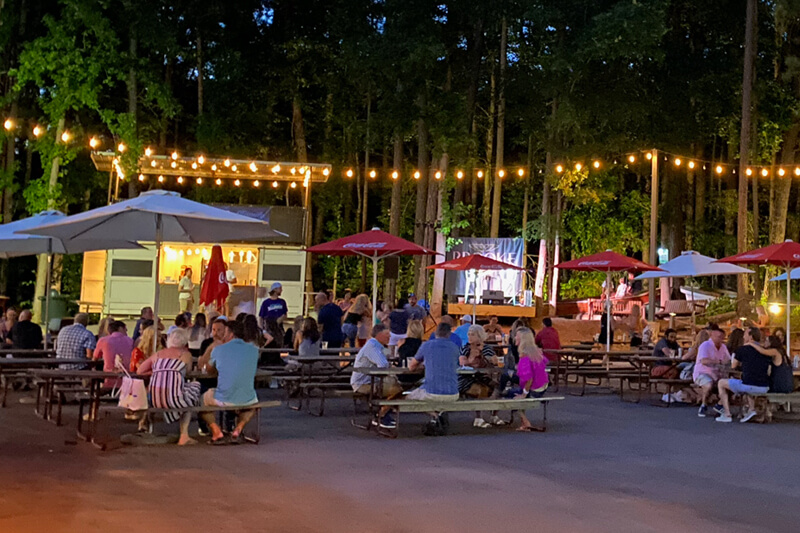 18418 Statesville Road
Cornelius, NC  28031
Located in Cornelius, NC BoatYard is the place to be for all things live music!
You'll find everything from national acts to local bands performing live on stage.
You'll even notice the outdoor stage sits on an old boat levy, which couldn't be more fitting for Lake Norman.
The BoatYard menu features some of the best pub fare you'll find in the area, including smoked wings,  smash burgers, tacos, and an unbelievable selection of grilled hot dogs. The bar features an assortment of the best local craft brewers, wine selections, and – of the places on our list – it's the only place to get your Irish Car Bombs this St. Patty's Day.
St. Patrick's Day events at BoatYard: BOATYARD'S SHAM"ROCK" WEEK
Saturday, March 13th
Open at Noon to a Green Day ?
Live Music Outside
Falcon Heart 4-7
20 Ride 730-1030
Guinness
Car Bombs
Irish Food Specials
Wednesday, March 17th – St Patricks Day
Open at Noon to the main Green Day!!!
Live Music Outside
Belfast Beggars 1230-33
Falcon Heart 4-7
Ghosts of Bannockburn 730-1030
Guinness
Car Bombs
Irish Food Specials
King Canary Brewing Company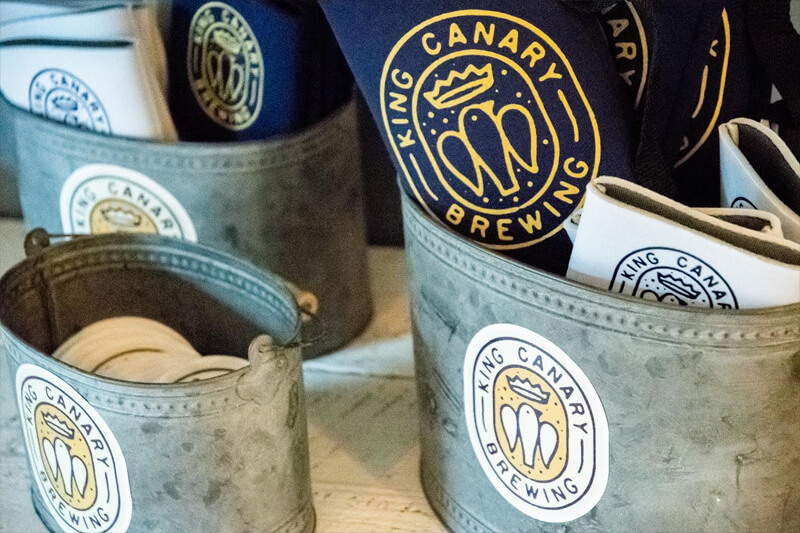 https://www.kingcanarybrewing.com/
562 Williamson Rd.
Mooresville, NC  28117
King Canary Brewing Co. was born out of a passion for community, family, quality, and most importantly – beer! They take tremendous pride in using the best ingredients to make the best, most inspired beer possible. They brew a wide range of styles, including IPA's, fruited sours, dessert-inspired stouts, and everything in between. As with all of the places on our list, King Canary offers outdoor seating. Pups are also welcome on the patio!
Here's what King Canary has planned for St. Patrick's Day:
On March 17th, the brewery will be open from 4 to 10pm. They'll be playing Irish/St. Paddy's themed trivia from 7 to 9pm. Little Taste of Chicago food truck will be onsite serving up Irish fare, including corned beef and cabbage plates, beer brats, and corned beef and cabbage sliders. And of course there will be green beer, too!
The Saturdays before and after (March 13th and 20th) they'll be open noon to 10pm and serving green beer. Carolina Smash Truck will be onsite from 2 to 9pm and serving reuben sandwiches along with a beer cheese surprise!
Stop by King Canary Brewing Company in Mooresville and enjoy this wonderful local craft brewery. You will love it!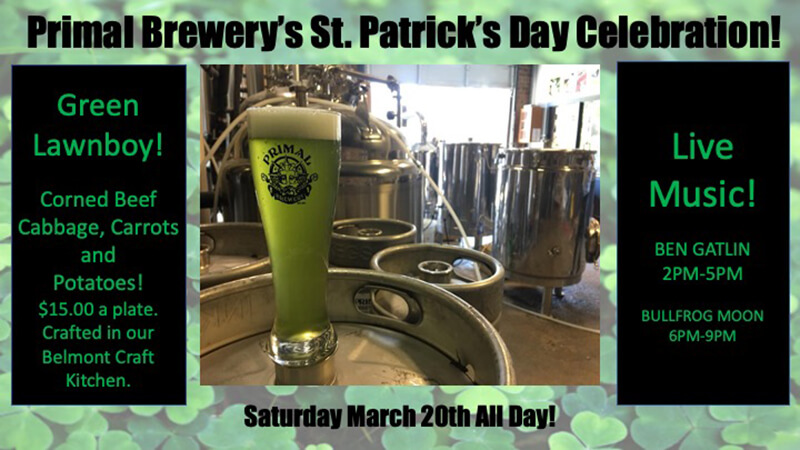 16432 Old Statesville Road
Huntersville, NC  28078
Founded in 2013, Primal Brewery is one of the area's oldest craft breweries. Located on Old Statesville Road just North of downtown Huntersville, Primal offers a unique venue and experience for their guests. The taphouse is an exceptionally comfortable place, featuring low ceilings, warm finishes, and most notably – no TV's. The open air beer garden is German-inspired and features firepits, outdoor games, and party lights that glow softly in the evening. Plenty of space to relax and enjoy.
Here's what Primal Brewery has planned this year:
Primal will be hosting their St. Patrick's celebration on Saturday, March 20th. Big City Bites food truck will be on site and live music will begin at 2pm. Opening Act is Ben Gaitlin followed by Bullfrog Moon. Primal will also be serving up some plated food items from their own Belmont kitchen, including a corned beef and cabbage plate served with veggies and potatoes prepared by their very own Tim "The Brew Chef" Schafer. They'll also be serving green beer for those that don't want to miss out on that fun part of St. Paddy's Day.
There you have it – our five favorite places to celebrate St. Patrick's Day this year. Not a bad choice in the lot. Whatever you do, or wherever you decide to celebrate, have a happy and safe time. 
Cheers, Lake Norman!