While craft beer breweries proliferate throughout the Charlotte and Lake Norman areas, wine lovers may wonder, "What about us?" Well, we've done the leg work and compiled the definitive list of the best wine bars around the Lake Norman area to enjoy a glass (or bottle) of vino. 
Here are our 10 favorite wine bars in the Lake Norman area!
Overview: The Hidden Bin is a wine shop and bar at Langtree Lake Norman. Inside you'll find a curated selection of domestic and imported wines. Seating is available at the bar, high-top tables, outside on the patio, or in the breezeway.
Vibe:  This is an excellent place for the knowledgeable wine connoisseur or novice alike. Graddie Lane, aka "The Wine Whisperer," is the General Manager and someone who truly loves to share in the experience of great wine. Graddie is a wealth of knowledge and can put anyone on a bottle of wine they are sure to love.
Wine: The Hidden Bin is definitely one of the best places in the Lake Norman area for wine shopping. They feature a diverse and curated selection of fine wines from around the globe. There's something here for any budget, and Graddie relishes the opportunity to assist you in selecting your new favorite bottle. 
Pairings: Conveniently situated right next door to The Hidden Bin is Table 31, an exceptional restaurant by the same owners. Guests at The Hidden Bin are invited to order small bites or entrees from the Table 31 menu which the staff will be happy to bring directly to your table. 
Address: 130 Landings Dr Ste 102, Mooresville, NC 28117
Phone: (980) 444-9206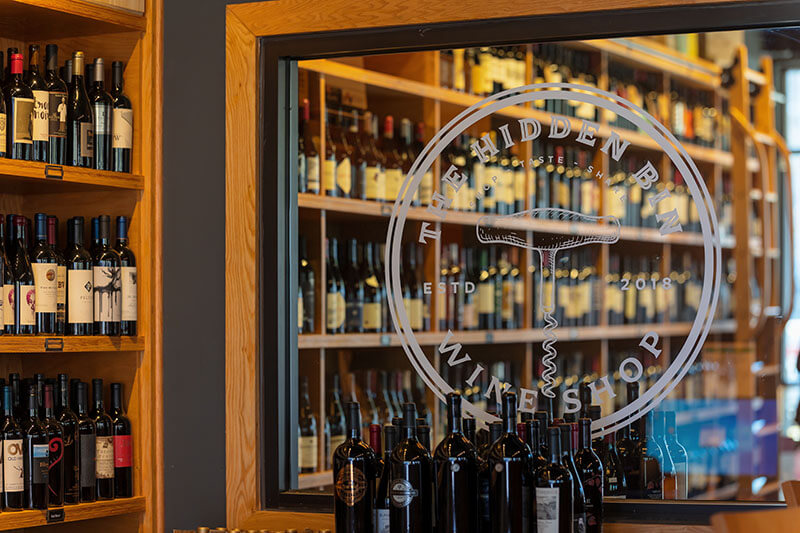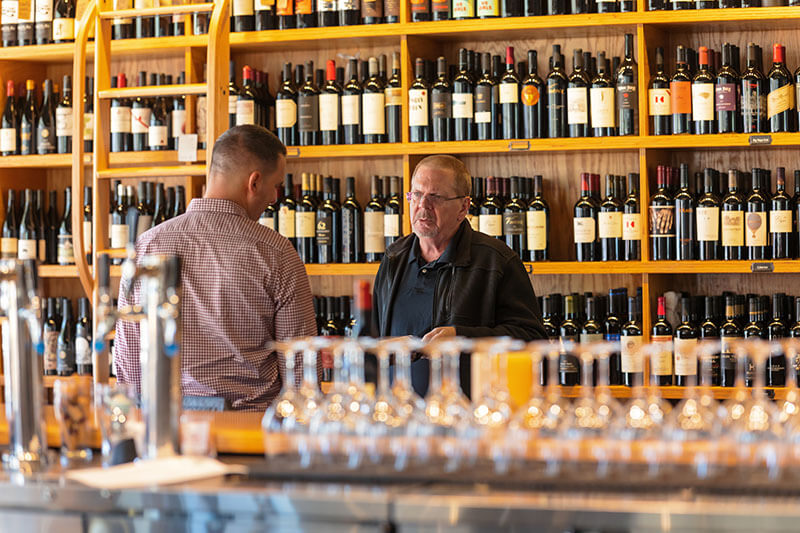 Overview: Side Bar Bottle Co. is a wine bar, taproom, and bottle shop located in the heart of downtown Davidson. Founded in the Spring of 2022 by a longtime local resident and the founder of Side Bar Trailer Co., Brittni Hagerman, Side Bar Bottle Co. has quickly become one of the area's favorite spots.
Vibe: It's hard to describe how lovely the space is here at Side Bar Bottle Co. Brittni did an amazing job of transforming this 100-year-old space into one of Lake Norman's coziest wine bars. The exposed brick walls have been lovingly repainted, but still retain the stories of yesteryear. Have a seat at the beautiful, hand-crafted bar or by one of the windows overlooking Main Street Davidson.
Wine: Brittni has curated one of the best selections of local and regional wines in the Lake Norman area. Side Bar specializes in offering wines that you simply won't find in box stores. In addition to sourcing wines from smaller, family-owned vineyards, Brittni focuses a lot on wine by women winemakers.
Pairings: Side Bar Bottle Co. is located right above Mandolino's Artisan Pizza, so great food to pair with your wine is never far away. Side Bar also stocks charcuterie and grazing boxes for guests to enjoy. 
Address: 208 S Main St, Davidson, NC 28036
Phone: (980) 689-2718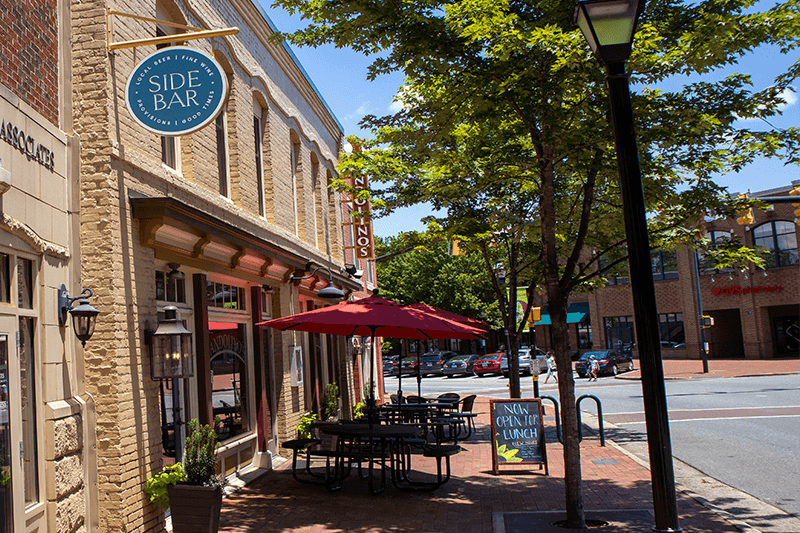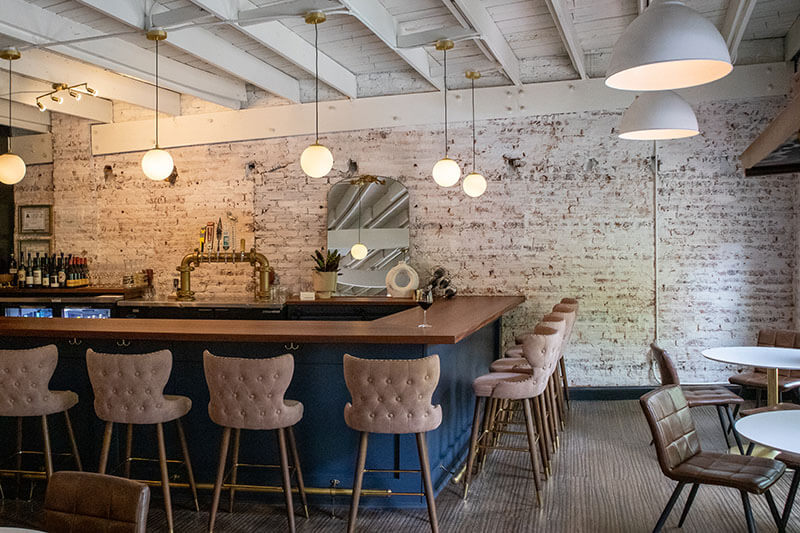 Overview: Davidson Wine Co. is Lake Norman's only urban winery, and was founded by local resident Lindsey Williams. As an urban winery, the company makes its own wine but doesn't grow the grapes. Thus, Lindsey is able to source grapes from a variety of vineyards around the world and craft her wine locally. 
Vibe: Davidson Wine Co. is located in historic downtown Davidson, NC, just around the corner from the highly acclaimed Kindred restaurant. The space was an organ making shop in its previous life, and the bar is adorned with the huge pipes of an antique organ. Overall, you'll find an atmosphere of comfortable sophistication.
Wine: The wine menu is seasonal and subject to change. As of this writing, the menu featured selections such as Pinot Blanc, Riesling, Pink Moscato, Pinot Grigio, and a Green Apple Riesling – all crafted locally by Davidson Wine Co. The menu also features wine selection from other wineries in California, the Pacific Northwest, and Spain.
Pairings: The menu at Davidson Wine Co. also features a fine selection of food pairings for your enjoyment. Choose from cheese & charcuterie boards, salads, small plates, flatbread, and sweet treats like assorted local truffles. Guests who prefer beer to wine will find a rotating selection of local craft brews to enjoy.
Address: 121 Depot St, Davidson, NC 28036
Phone: (704) 997-5332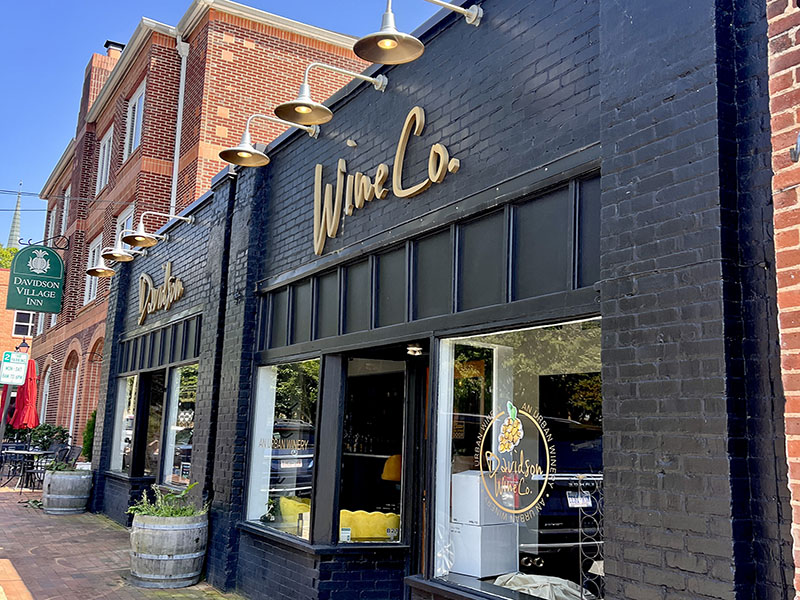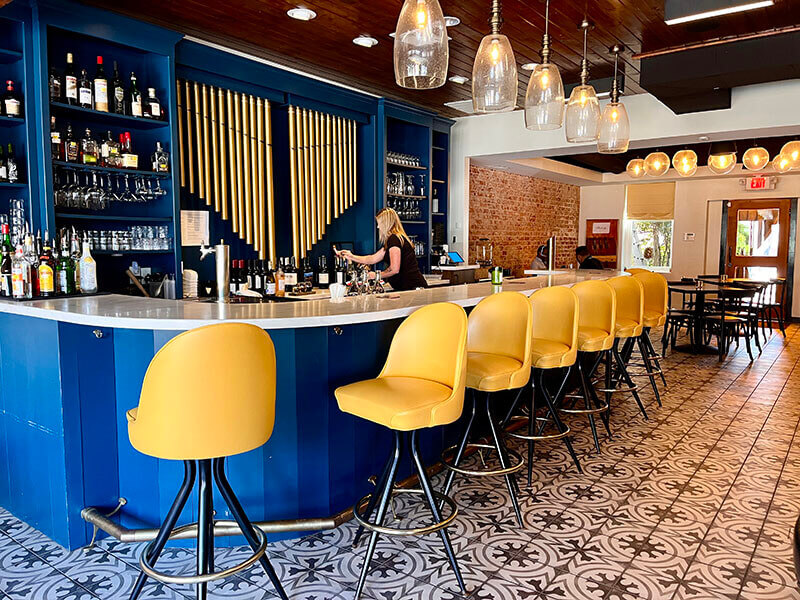 4. Lake Norman Cottage Wine Bar
Overview: Established in 2010, this homey market-lounge hybrid offers guests a uniquely comfortable atmosphere, coupled with hospitality and charm.
Vibe: True to its name, The Cottage is just that—a home whose rooms are furnished with a collection of individually-sourced pieces; plush couches, worn mahogany tables, and endearing knick-knacks give each room its own down-home character. Placed against the scenic backdrop of the Lake Norman harbor, this venue offers the warmth of a living room and the splendor of a destination villa all in one. 
Wine: The Cottage has a wide variety of wine, all of which are hand-picked by the proprietor. Whether you lean toward whites, reds, or bubblies, you'll be able to enjoy a selection of wines sourced from all over the world. Particulars are subject to change, but rest assured that your glass will not go empty. 
Pairings: While the menu does have a few staples such as charcuterie and other small bites, you'll find set meals on Fridays, Saturdays, or other event days when tastings are being held. Typical offerings include pasta, salad, and protein/vegetable entrees.
Address: 200 N Harbor Pl, Davidson, NC 28036
Phone: (704) 237-3629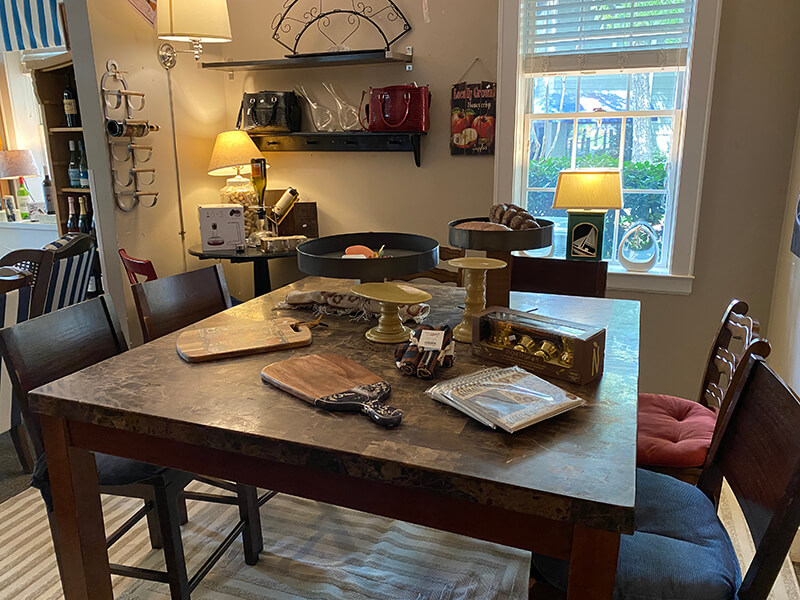 Overview: The Cabin is a cozy lakeside pub just a short walk away from The Cottage.  This little nook has amassed somewhat of a cult following due to its intimate atmosphere and entertainment. 
Vibe: The Cabin's interior is about what you would expect given its name. Cushy mix-n'-match seating, nature-inspired decor, and plenty of wooden fixtures that'll have you snug as a bug in a rug (I'm pretty sure I even saw some Lincoln Logs on the shelf)! To enhance the nostalgia factor, The Cabin also hosts live performances from local musicians—if you're lucky, you might be able to catch some of your favorite tunes. 
Wine: Albeit small, The Cabin's wine selection is superb, featuring only a handful of the highest-quality beverages. You can expect to find essential varieties such as Riesling, Sauvignon Blanc, Cabernet, and Pinot Noir, among others. 
Pairings: The Cabin does not typically serve food, but special arrangements may be made in advance for large gatherings and private events.
Address: 400 N Harbor Pl Dr A, Davidson, NC 28036
Phone: (704) 765-9154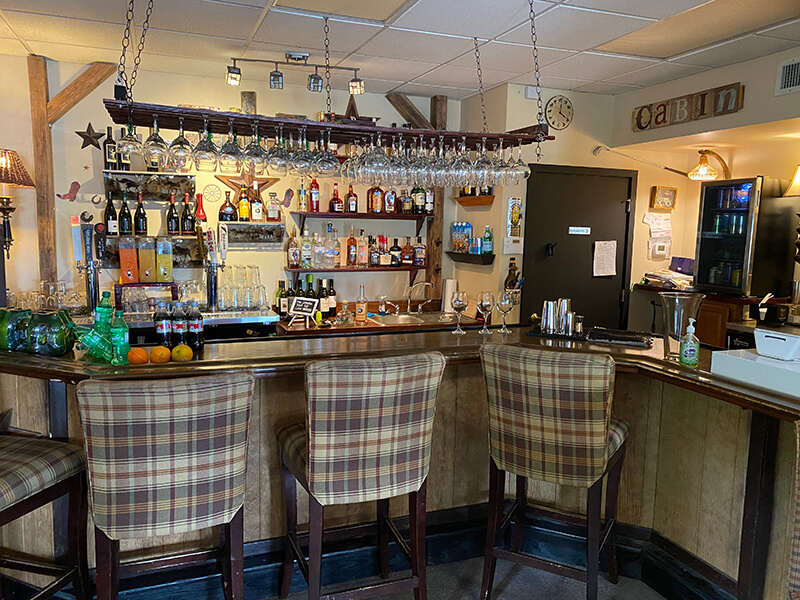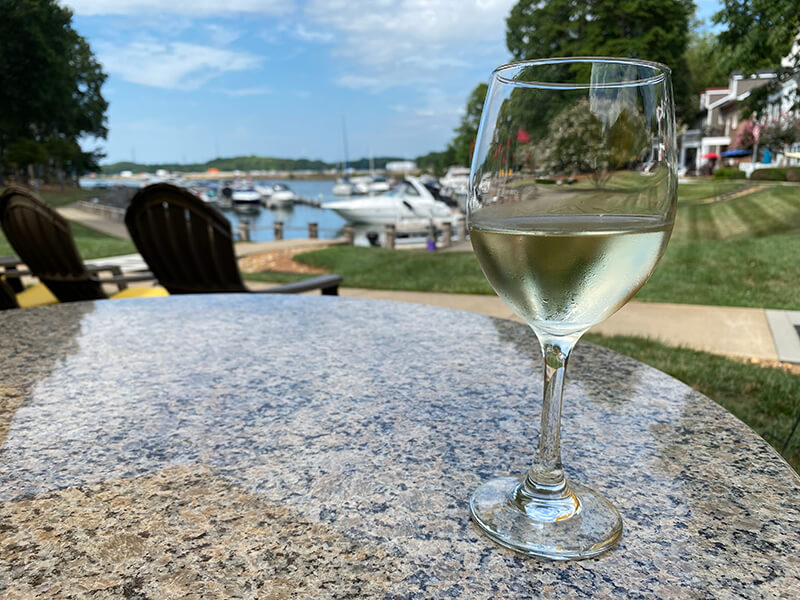 Overview: The Cork and Cask in Cornelius is the quintessential neighborhood joint that pairs boutique wines with an extensive menu of unique bar-forward food offerings. Bring an appetite!
Vibe: When it comes to vibe, The Cork and Cask says it best: "Our look and feel is a mixture of pop culture shrine, rock 'n' roll vibe, neighborhood hang, and your parents' basement from the '70s." That about sums it up. One visit and you'll understand. Belly up to the bar, take a high-top table, or sink into one of their comfy sofas. There are a few tables outside, too.
Wine: The Cork and Cask prides itself on a carefully curated wine list. You're bound to see some unfamiliar selections, and the staff is more than happy to help you pick one that suits your palate. 
Pairings: The food menu really sets The Cork and Cask apart from the other bars on this list. It's actually less of a menu, and more of a "culinary journey!" The Chef-driven menu includes cheese & charcuterie boards, flatbread pizzas, creative & gooey sandwiches, bar snacks, and some really amazing tacos. It's a delicious experience, unique to the Lake Norman area.
Address: 9624 Bailey Rd Ste F, Cornelius, NC 28031
Phone: (704) 765-5490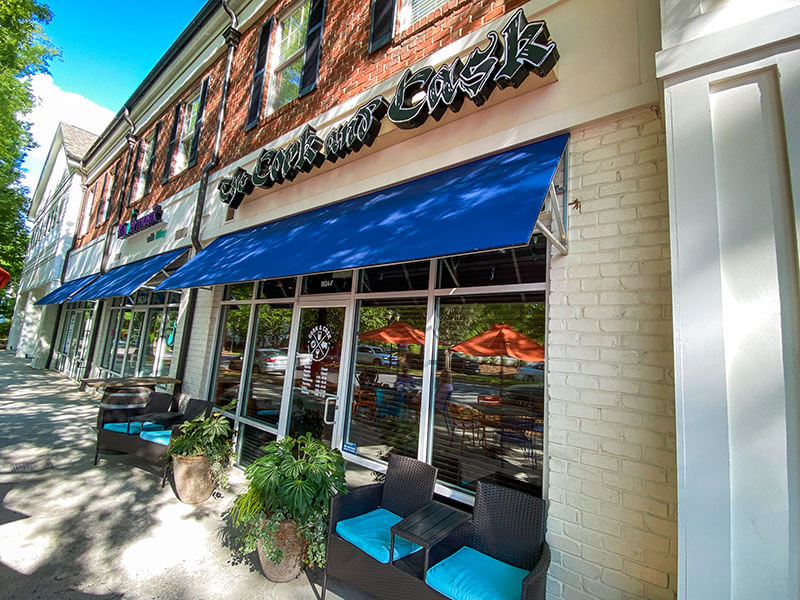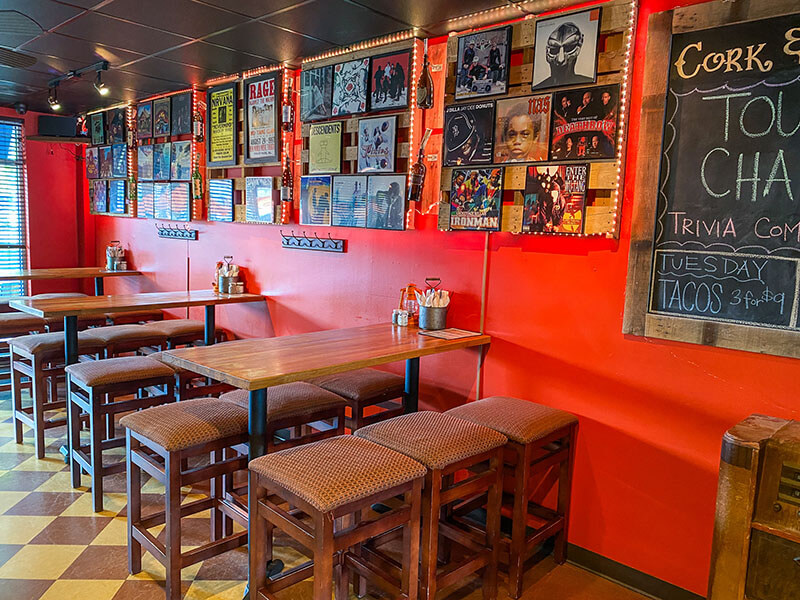 Overview: BIN 110 is an upscale night spot located in Cornelius. More of a cocktail lounge, really, but with an extensive wine list featuring more than 100 labels. Watch for BIN 110's appearance on a few more of our lists in the future.
Vibe: Did we mention BIN 110 is quite the cocktail lounge? Over 250 bottles of fine whiskey adorn the walls behind the bar. Indeed, one-third of the menu consists of craft cocktail choices along with the best whiskey selection on the Lake. The BIN is touted as Lake Norman's premier night spot, so you'll find all the appropriate ambiance here. They also present live music weekly, and regularly book the area's best talent – including the guy that sang at my wedding! Don't ask… I'm sworn to secrecy. 
Wine: BIN 110 may be best known as a premier whiskey bar, but don't worry – when it comes to wine, they have it where it counts. With over 100 wines on the list, you're sure to find one (or three) that suits you. As per usual, you'll find whites, reds, and bubbly wine on the menu. You'll also find menu areas labelled "interesting reds" and "interesting whites." Something for the adventurous.
Pairings: The food menu consists of the typical cheese board, flatbreads, and dips. I'm partial to the Chex Mix and Almonds. Let's face it, you're not going to BIN 110 for a meal. You're going to drink and get your groove on. Plan accordingly.
Address: 19712 One Norman Blvd Suite 110, Cornelius, NC 28031
Phone: (980) 689-5081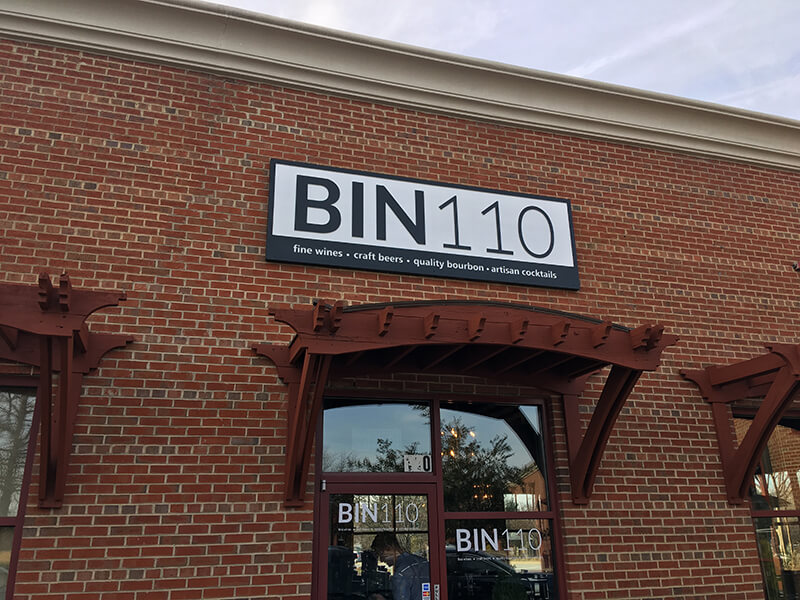 Overview: Another popular Davidson hangout, Hop & Vine bills itself as "a place of congregation, a home for friends and strangers." Hop & Vine is located at "The Circles" of Davidson in the Linden Apartments building.
Vibe: A neighborhood bar through and through, Hop & Vine is a casual spot that offers a curated selection of wines and local craft beer selections on tap.
Wine: The team at Hop & Vine goes to great lengths to source great wines from both nationally recognized vineyards and local wineries alike. Here you'll find a selection to please nearly every palate at prices that won't break the bank.
Pairings: Light bites and snacks are available at the bar. Keep an eye on their food truck schedule for heftier fare. The area's best food trucks make a stop at Hop & Vine every week.
Address: 605 Jetton St suite c, Davidson, NC 28036
Phone: (704) 207-4037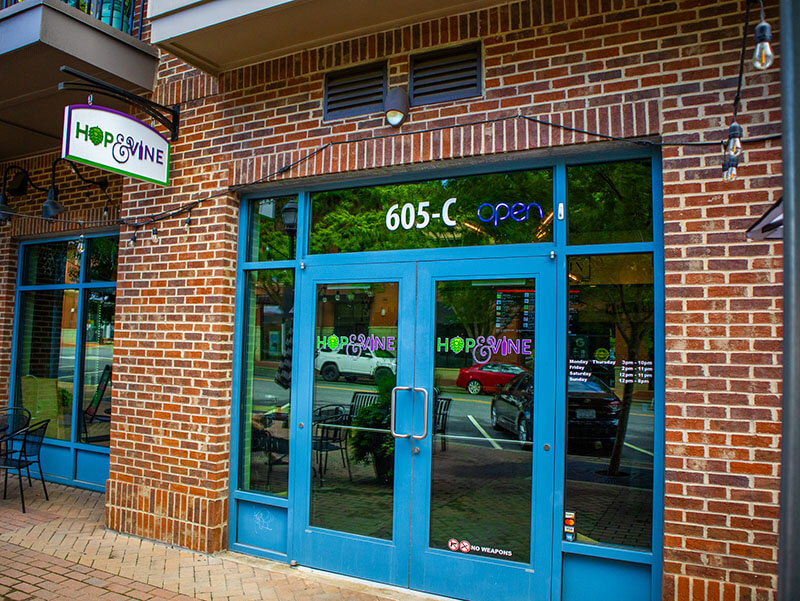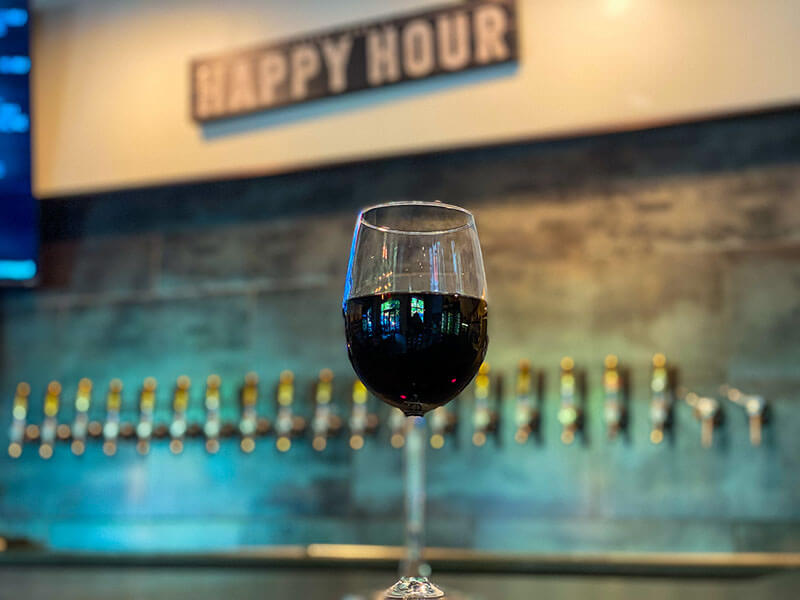 9. 202 North Main Fine Wines, Spirits & Music Room

Overview: 202 North Main Fine Wine Bar and Music Room is located in Historic Downtown Mooresville. The space is in a historic Victorian building, and restored by owner Michael Parker.
Vibe: Inside 202 North Main, you'll find the distressed wood floors and exposed brick walls of the building that dates back to the early 1900's. Lovingly restored, the space exudes warm and cozy vibes, and is the perfect venue for small intimate gatherings and live music. There are two areas here: 1.) a wine shop featuring fine wines, spirits, and craft beers, and 2.) a specially designed acoustical main music room where you'll find live performances on Friday and Saturday nights.
Wine: 202 North Main sells wine by the bottle or the glass, and has something for every wine drinker. Wine tasting events are held here frequently, so be sure to check the calendar of events on their website to stay up to date. In addition to fine wines, 202 North Main also offers craft cocktails, premium bourbons, scotch of the single malt variety, as well as locally brewed craft beer.
Pairings: Wine bars aren't generally known for their food menus, and 202 North Main is no exception. Here you'll find Boar's Head meat and cheese trays and crackers… and that's about it. A place to visit after dinner, for sure.
202 North Main Fine Wines, Spirits & Music Room
Address: 202 N Main St, Mooresville, NC 28115
Phone: (704) 663-5445
10. Foxcroft Wine Co. – COMING SOON to Birkdale Village
Coming soon to Birkdale Village! Foxcroft Wine Co. is a full-service restaurant and purveyor of fine wines from around the globe – available by bottle or glass. Stay tuned for updates on this very exciting addition to Birkdale Village!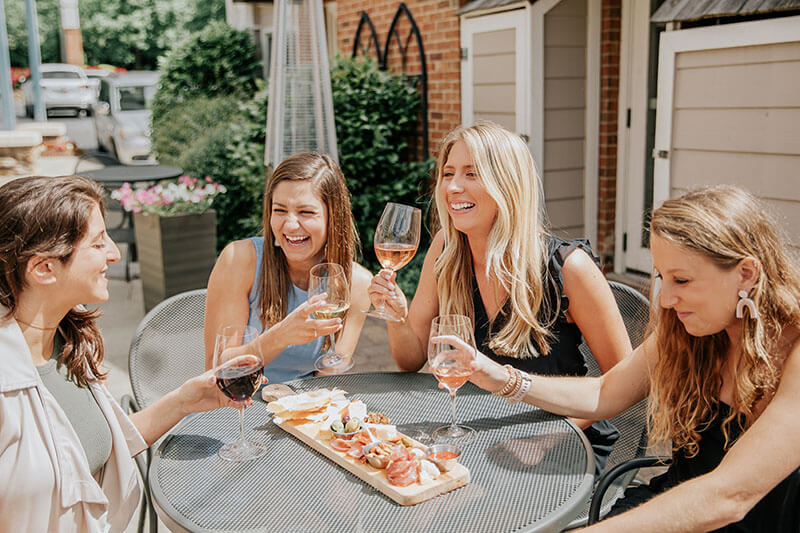 There you have it – our picks for the 10 best wine bars in the Lake Norman area! There's something on this list for just about everyone that loves wine. Cheers, Lake Norman!
Get more articles like this delivered right to your inbox every Friday morning…
sign up for our FREE Email Newsletter!