Episode 004
Waterbean Coffee
Lake Norman's Coffee Shop and Bean Above The Rest!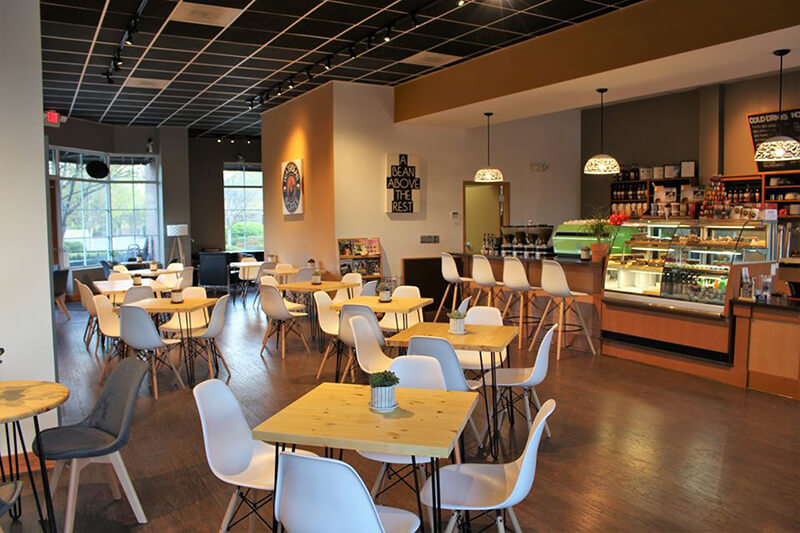 Show Notes:
In this episode, I interview Beatriz Aguirre, the Managing Director at Waterbean Coffee Cornelius and Huntersville! 
Waterbean Coffee Company is a Lake Norman icon, and the anchor for two prominent shopping centers in both Huntersville and Cornelius. 
Beatriz and I discuss quite a bit in such a short interview, including:
A brief history of Waterbean Coffee.
A few things that set Waterbean apart from other coffee shops, such as…
Roasting their own coffee
Triple-filtering water used in brewing
using non-GMO syrups
and more!
We talk about the menu (here's a hint: there's much more than just regular coffee!):
4 different espresso roasts!
A variety of coffee brewing styles at the brew bar, including Siphon brewing – very cool, check it out!
Smoothies and Sandwiches
Wine and Beer
Waterbean Coffee is also home to one of the best small meeting rooms in the area, available to the public at an incredibly generous rate… just purchase $25 worth of coffee or snacks per hour. With capacity of around 18 guests, that should be easy!
Of course, I bring up Cars and Coffee Lake Norman! Waterbean Coffee Cornelius is home to Cars and Coffee style meetups for car enthusiasts. Held the 2nd Saturday of every month. This car meet has something for almost everyone, from classic cars to modern exotics!
Beatriz also shares with us how Waterbean Coffee is operating during the current COVID-19 pandemic. In addition to remaining open on a limited scale by serving take-out orders, Waterbean Coffee has also started an initiative called Fuel For The Frontlines.
To support our community during the COVID-19 crisis, Fuel For The Frontlines is a way for you to donate coffee and baked goods to the healthcare personnel, grocery staff and first responders who are working on the front lines locally around Charlotte and Lake Norman Area. Please, listeners consider making a donation. Here's the link:
https://www.waterbean.coffee/fuel-for-the-frontlines-1
Many thanks to Beatriz and Waterbean Coffee for participating in the podcast! Below are some relevant links. Enjoy the episode!
Cornelius location:
19420 Jetton Road Suite 105
Cornelius, NC 28031
Huntersville location:
9705 Sam Furr Road Suite A
Huntersville, NC 28078