Presented in partnership with:
Clean Eatz Cafe is the restaurant of choice for Lake Norman residents who are looking for convenient healthy food at fast-food pricing. With two options in the LKN area (Cornelius and Mooresville), Clean Eatz is the answer to moderately priced meals, packed with feel-good fuel. 
The owner of the local Lake Norman area Clean Eatz Cafes, Sarah Conrad, first learned about Clean Eatz as a customer. Along with her husband, she became a weekly subscriber to the meal plan service. After realizing it was actually a franchised concept (and locally founded in Wilmington, NC), the wheels started turning. It's now been about three years since the first local storefront opened in Cornelius.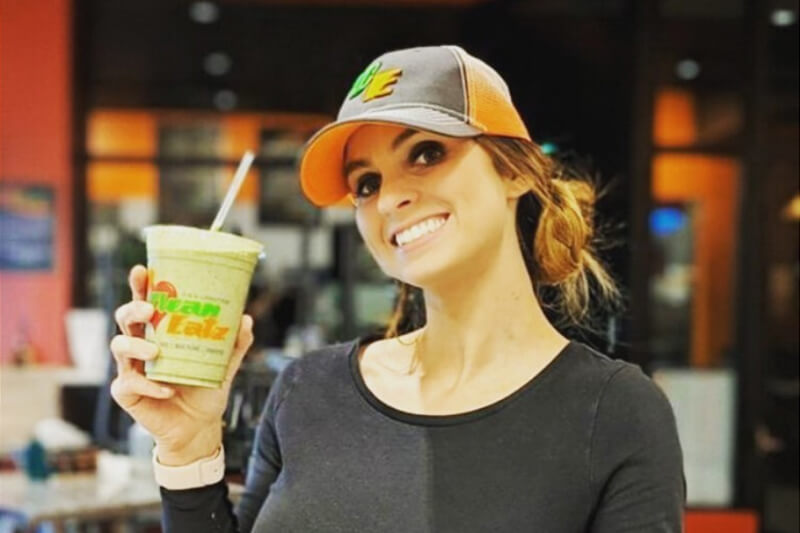 The biggest draw to Clean Eatz Cafe are their weekly meal plans. Meal plans vary in pricing from about $6.50/meal to $8 per meal, depending on the quantity (plans range from 5 meals to 21 meals). Whether you're looking for a full week's worth of meals or a few pre-made dinners on busy weeknights, there is an option to accommodate.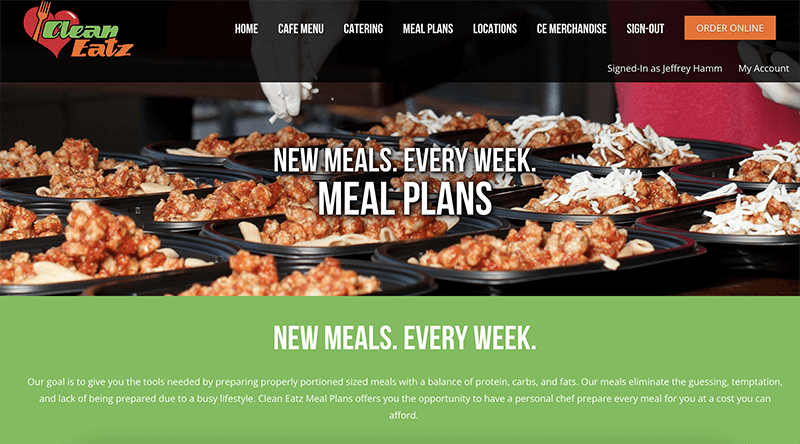 Each meal is made with a properly portioned serving, including a balance of carbs, protein, and fat. The meal plan menu rotates weekly, keeping things new and interesting. These meals are made each week based on the menu and never frozen, giving customers fresh tasty, ingredients.  Those interested in this option can pre-order their meals directly on the website anytime from Thursday through Sunday, for a Sunday or Monday pick-up in-store.
Low carb and extra protein options are easily selectable during checkout. Example meals include Cheesy Jalapeno Chicken, Meatball Lasagna, and Unwrapped Eggroll among others. One breakfast selection is typically available as well as more traditional lunch/dinner meals. All meals can be heated either in the microwave, in the oven, or on the stovetop, depending on preference. Heating instructions are included and available on the Clean Eatz website.
Grab-and-go in-store options are expansive, offering an additional 60-70 meals including a plethora of choices for anyone with allergies or dietary restrictions. Popular meals are kept stocked so customers always have access to their favorites. Vegetarian customers can choose from a variety of vegetarian and vegan meals, along with a number of flavorful pescatarian dishes. Lettuce wraps, brown rice, quinoa, and sweet potatoes can all be used to substitute wheat products when necessary.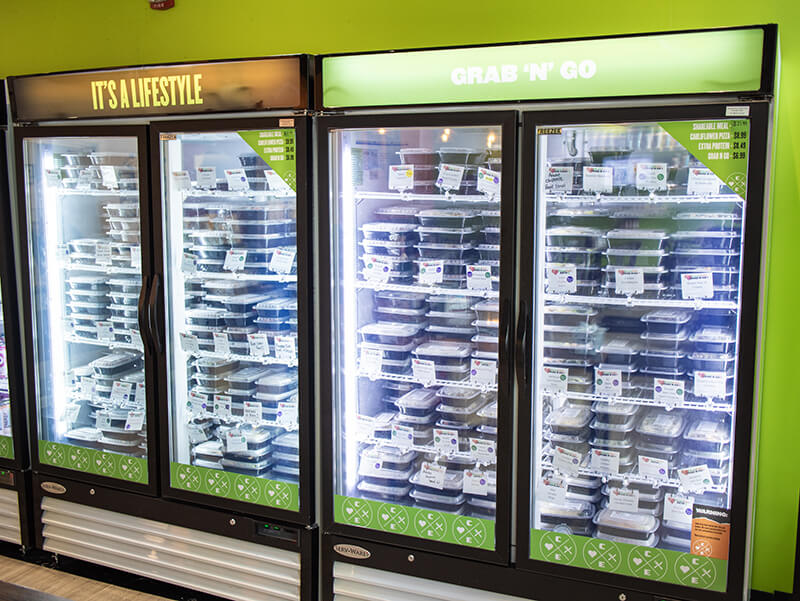 Anyone who wants to eat fresh within the restaurant can also do so. Each Clean Eatz location offers a variety of snacks (like "Good for You" Nachos and Buffalo Cauliflower) salads (Chopped, Black and Bleu Chicken, and Southwest Chick), bowls and burgers (made with all the fixings to your liking, wraps, flatbreads, smoothies, and sides.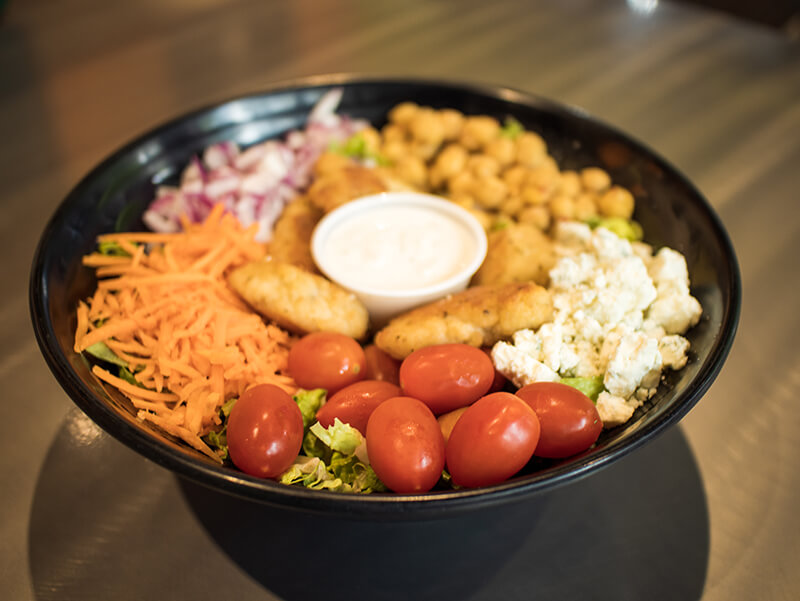 Sweets, Snacks, and Pizza!
Customers can also snag sweet treats, frozen pizza, overnight oats mix, and more, to be enjoyed both at home and on the go. Everything here is made and served on the spot, similar to a quick serve restaurants experience. The goal is to be competitive with fast food pricing, offering the same convenience and affordability but with nutritious options.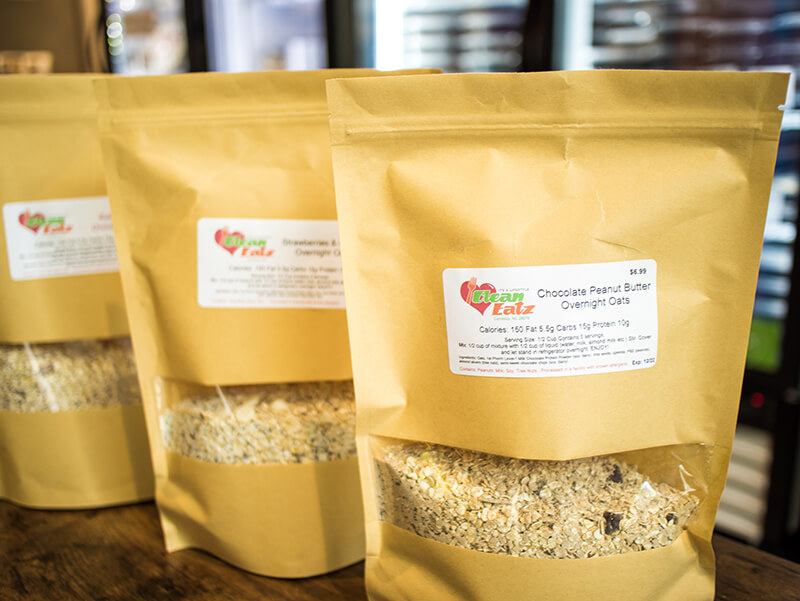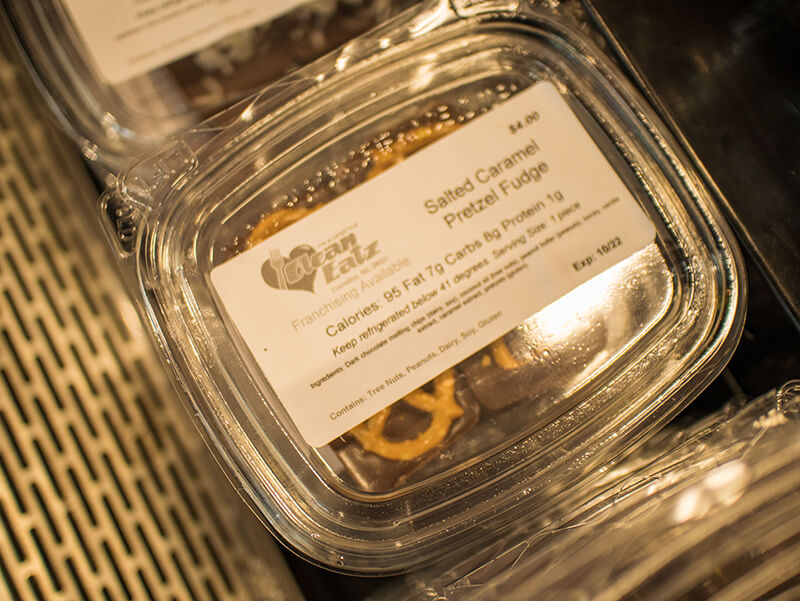 Clean Eatz offers catering for groups as large as 500 as well as private meal prep events. Community fitness businesses and healthcare businesses are the restaurant's biggest clientele for these types of events. Guests can meal prep and become educated on the importance of a well-balanced (but delicious!) diet.  Burn Bootcamp is one of the restaurant's partners, located just across the parking lot from the Cornelius location. All members are offered a permanent Clean Eatz discount.
For a healthy lifestyle, make Clean Eatz Cafe your go-to source for clean eating!
Clean Eatz Cafe Locations:
Cornelius
17111 Kenton Dr. 
Unit 101B
Cornelius, NC 28031
(704) 997-8618
Mooresville
137 Center Square Dr. 
Unit 6B
Mooresville, NC 28117
(980) 444-6091
Want more food? Check out our barbeque or waterfront dining articles next!
Sign up for our Free Email Newsletter to have the latest Lake Norman restaurant reviews sent directly to your inbox every Friday!
Are you a small business owner in the Lake Norman or Charlotte area? Consider advertising with us!
Cheers, Lake Norman!