Meet Executive Director Lara Ingram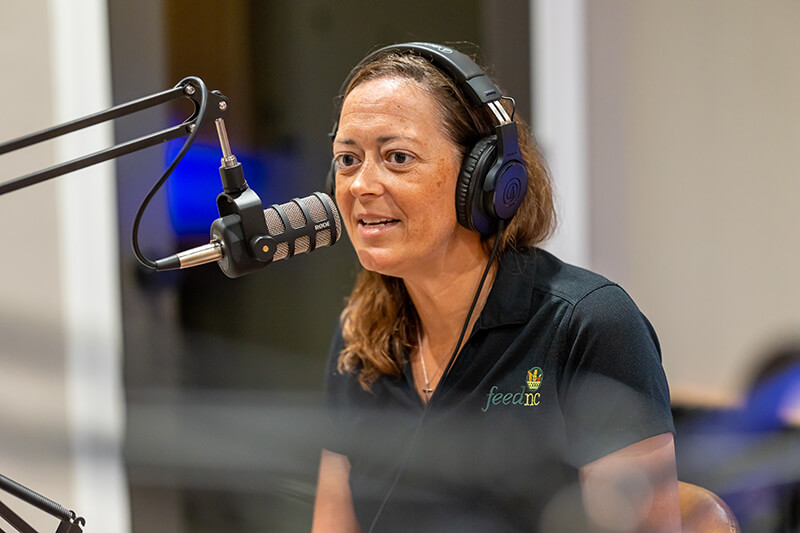 Show Notes:
In this episode, I sit down with Lara Ingram. She is the Executive Director at FeedNC – a local area nonprofit organization that is helping feed those in need through our local communities. In addition to providing hot meals, FeedNC has developed several initiatives to help those in need, including:
Culinary Job Training Programs
Community Cooking Demonstrations
A Grocery Store
Mobile Pantries
Catering
And More!
Lara shares the story of FeedNC and the exciting news for the future of the organization. Listeners, I'm so glad you're joining us for this very special episode. Enjoy getting to know Lara Ingram and FeedNC.
FeedNC
275 S. Broad Street 
Mooresville, NC 28115
(704) 660-9010
Transcript:
Narrator
Welcome to The Best of LKN, a podcast featuring the best small businesses and the most influential professionals around Lake Norman, North Carolina. Each week, we spotlight those businesses and individuals that are making a positive impact here in the Lake Norman area. Thanks for joining us. Enjoy the show.
Jeff
Hey, everyone, welcome back to The Best of LKN podcast. This is Lake Norman's number one small business podcast where we work each and every day to elevate the Lake Norman small business community and introduce you to the best and brightest small business owners, entrepreneurs, freelancers, and leaders of local nonprofit organizations. I want to first give a shout out to our sponsors who make the work we do here at The Best of LKN possible. I encourage you to get to know these exceptional local small businesses by going to our homepage at the best of lkn.com. There you'll find a list of all of our platform sponsors, with links to follow to learn more about their businesses. We'll also have links to our sponsors in the show notes for this episode. I'd like to recognize two of our sponsors in this episode, SoundVision in Mooresville and LKN Images by Kathleen Martin. The team at SoundVision was kind enough to allow me to record this episode in their custom podcast studio at their showroom in Mooresville. SoundVision is the Lake Norman area's number one source for high-quality audio, video, security, and automation systems for your home or office building. I also want to say a special thanks to LKN Images by Kathleen Martin for stopping by the SoundVision showroom to shoot a few candid photos for us. Kathleen is a super talented photographer, and we're so happy to have her as one of our supporters. Again, you can find links to these local businesses in the show notes for this episode or on the homepage of our website. In this episode, I sit down with Lara Ingram. She is the Executive Director at FeedNC, a local area nonprofit organization that is helping feed those in need throughout our local communities. In addition to providing hot meals, FeedNC has developed several initiatives to help those in need including culinary job training programs, community cooking demonstrations, a grocery store, mobile pantries, catering, and more. Lara shares the story of FeedNC and the exciting news for the future of the organization. Listeners, I'm so glad you're joining us for this very special episode. Enjoy getting to know Lara Ingram and FeedNC.
Jeff
Joining me is the Executive Director at FeedNC, Lara Ingram. Lara, welcome to the podcast.
Lara
Thank you so much for having me.
Jeff
Yeah, great to have you. Great to finally meet you in person. FeedNC has been mentioned and recognized several times on the podcast. So, I've been really looking forward to featuring FeedNC on the podcast. We do love to feature local, really conscientious nonprofits and FeedNC is certainly one that we hold in a really high regard. So welcome.
Lara
Thank you so much. I'm always glad to talk about what we do. I love FeedNC, love our community.
Jeff
Lara, before we get into the details about FeedNC and the work that you and the team are doing there, share a little bit of your background, a little bio on you. Where you're from, previous careers, and how did you connect with FeedNC?
Lara
Sure. I'm from Kentucky, Northern Kentucky originally. Pretty close to Cincinnati, actually. And we moved to the Charlotte area about eight years ago, following a job move for my husband. And we then took some time to get to know the community and I spent some time, I had younger children at that time, and did some part-time work and was looking for the right fit. I'm a social worker by trade. So, I've always done this type of work in nonprofits with social services. When we left Kentucky, I worked for a farm for developmental disabilities, adults with developmental disabilities. And we worked the farm, and I loved that role very much. And so, I was looking for something that was a similar kind of great fit in the community. And that's not always easy to find, an organization that you would put your heart and soul into. And so, that's how I landed at what was the Mooresville Soup Kitchen at that time. I came out, found out that they were looking for a leader. And when I went there and went through the front door, I was greeted by a volunteer and just could feel love in the building from the moment that I walked through the front door. So, I love to give 110% to what I do and wanted a place that felt like it was open to the community. And that's how I felt when I walked through the front door.
Jeff
How many years ago was that?
Lara
I have been there now right around seven years. In the organization.
Jeff
Okay. And when did Mooresville soup kitchen become FeedNC?
Lara
Strangely enough, it took us a couple of years, we had worked through that change prior to COVID. And then strangely enough, it was the January of 2020, right before COVID, that we had changed the name. And although we thought it was right, we had reached out to the community to make sure that we had collaboration around the name change, it had a lot of history. And so, we wanted to make sure that we were honest and transparent with that change. And I was a little bit concerned that it was going to take us a while to make that transition to something that had been around for 30-some years in this community. And then we changed the name in January and COVID hit. And so, in some ways, COVID was very helpful for the name change for this organization, because we were so much more transparent to the people in the community during that time. So, I think for that reason, the name change really was embraced more quickly than I had imagined originally.
Jeff
Speaking of COVID. And we're going to circle back for a little bit more, a few more details about what it was like for the organization during the pandemic. But two things I want to bring up before we move on. First of all, we're recording in-person, thankfully. I'm not able to record all of our episodes in person because of scheduling conflicts, and so forth. And obviously, the last couple years we've done a lot of remote work. But we are recording today at SoundVision in Mooresville. And their lovely podcast studio, and I just want to give them a big shout out. And thanks for allowing me to use this space. What do you think of this space?
Lara
It's beautiful. As I said, I would move in if they allowed people to rent the space. It's lovely. And SoundVision has been a great partner with us as well, they are going to be a part of our new building. And not just as a provider of AV but as really great community partners. They're excited about FeedNC and the new project as well.
Jeff
They're really excited. Yeah. And you didn't have to give them a shout out. But I appreciate that. Yeah. And I know they do, too. Also joining us is Kathleen Martin with LKN Images. And she's shooting some photos of us right now, some candidates. So big thanks to her and Ed at LKN Images for their support and for joining us today to shoot some photos. This is great. And you know, Kathleen?
Lara
Absolutely, they too have been wonderful. In COVID they started the Front Steps Project, which was not only just a remarkable use of their talent during that time, and I think brought the community together by getting people out of their houses and onto their porches, with all of the puppies and the kitty cats. And it was just a really wonderful project, and then benefited FeedNC financially in ways that I can really never thank them enough. They put hours and hours and hours into that project. And it was extremely helpful to the organization.
Jeff
It's a really cool project and Kathleen and Ed, of course, were on the podcast a few months back, may have even been last year. I don't recall offhand. But they gave FeedNC obviously a big shout out in that episode and one of the many guests that has recognized FeedNC. So, again, small world, and I'm so glad that we're finally able to connect. Share a little bit for the listeners who may not be really familiar with FeedNC. What is the mission at FeedNC? What are the services that your organization provides and who do you benefit?
Lara
So, our mission is really to, like the acronym, to feed, educate, and connect folks in our community. We serve all of Iredell County and significant parts of North Mecklenburg County and Rowan County and Cabarrus County as well. So, it's sort of a large circle around Lake Norman, is basically what we like to say. We want to help people in need and if there's not a resource similar to us close to them, we try to be that resource and open our arms to people. We have several services over the years. FeedNC, when it was a soup kitchen, primarily provided hot meals, breakfast and lunch, and did that for many, many years. And we still do that. At this time, breakfast and lunch Monday through Friday are provided to-go. The needs in our community have grown so tremendously over the last few years that we don't have room to do everything we do in our current space. So, unfortunately, we don't have a dining room right this moment, but we still serve the breakfast and the lunch to-go five days a week. We have a very large, free grocery, that's available to all families in our service area. They do have to do a simple application that's just based on their income in their household. And our income guidelines are also very generous. Our goal is to serve people who are struggling. And that isn't just homeless people in our community. As we all know, with the cost of everything skyrocketing at this point, including food, we want to serve people who are helping themselves and that is the working poor. The majority of the people that we serve have one job or two jobs, and they still can't make ends meet. So, our grocery service is really intended to support families, especially who have lots of little people at home to feed. And they need that healthy food to go to the grocery store. And they're allowed to shop once a week in our grocery, and most of them are able to take home between $100 and $150 worth of healthy food when they come and shop with us. We also have our workforce development program that we're very proud of, that's new in the last few years. So, folks spend 12 weeks with us, with our chef in the kitchen, learning to have food service skills at a higher level. And then we help them to gain employment after they graduate from that program. So, as we all know, restaurants in our area need help right now. That's been a rough time for them to. So, we're so excited about partnering with a lot of different restaurants and being able to help them to hire qualified folks in our community. And that's been successful. And then we also do connections. So, we take food out to shut-ins who are not able to get to us. We help people to locate resources in our community, such as healthcare, childcare, all the things that they're looking for that most of those things exist out there, but it's hard for a family to navigate all of the different systems that they have to navigate. So, we just try to help them to be a connection to the things that we know exist. We don't do all of those things. We know what we're focused on and what we're very capable of providing. And then we try to make connections to those other things.
Jeff
How many families has FeedNC been able to serve? Can you share any stats with me, like for this year or last year?
Lara
Sure. So, we're easily serving between seven and eight thousand unique individuals per year. And we often have several hundred families come through the grocery in a given week. And that's about a third of those people are children. And a third of those folks are over the age of 65. We also serve many veterans in our community, that's something that we feel very strongly about that we need to support those folks. And they too, are really struggling. And some of them are hungry and don't have the resources that they need as well. And then we are currently very proud of the fact that we have over 90% job placement and job retention rates from the Workforce Development Program. Obviously, you know, we want to be a help to folks in a crisis, and if you're worried about your family eating tomorrow, that's a crisis. And so, we try to help solve that. But ultimately, as we all know, there has to be a long-term solution. We don't want to have to keep sort of living in crisis. That's not a way that anybody wants to live. So, the Workforce Development Program is something that helps them to make a difference in their lives. And we focus very much on helping folks to get livable wages when they graduate from that program so that they're able to afford housing in our community and all of the other costs that a family has.
Jeff
You mentioned a little bit about what the facility, what FeedNC currently is not able to offer as far as like facilities go. And FeedNC has some really exciting news for 2022 that I really have been looking forward to sharing. And that's a new facility. Tell me about that.
Lara
Absolutely. Yeah, we are so excited. There's a lot of things that we can't do in the current space, just because we've outgrown this space over the years. And our parking is not ideal. So, we're a little bit hard to access at this point for the people that we serve as well as volunteers and donors. So, we have searched for several years for the right spot for the future home of FeedNC. And we knew that we needed a fair amount of land, which isn't particularly easy to find right in downtown. So, we landed on 21, almost at the corner of Route 21 and Oates. And it's an eight-and-a-half-acre property, which we're very excited about. So excited to have gardens and be able to grow a lot of our own food. And then have parking space and the other facilities that we need. So, we started that journey, broke ground earlier this year, and it is supposed to be finished in the first quarter of 2023. And the pad's been poured, and the steel is starting to go up this week. So, it's been really exciting to watch it. And we're just so thrilled that we'll be able to do more for the community and serve all the people that are in need. And heaven forbid something horrible happens, like COVID in the future, we just didn't have the ability to turn on a dime and meet that need, and we were serving people outside, you know, giving food outside in the drive-thru and things like that. So, we will be better equipped for the future to meet the needs.
Jeff
I'm really excited for you. The outdoor gardens, being able to grow some of your own food, that's really interesting to me, too. And it sounds like there will also be opportunity for community engagement and educational opportunities too for the community. Will something like that be planned as well?
Lara
Absolutely, yes. We've had so many great suggestions of things that we can do in this space that I feel like, you know, we might be open 24-hours a day at some point, just with all the great ideas. But the garden is about, it's almost an acre. It's a large garden. And we want to be growing fresh vegetables and herbs and things that we can put into our meals for breakfast and lunch service. And then also that we can give out in the grocery. And we've had some wonderful collaboration that the Dale Jr. Foundation was a big part of making the garden happen. They are naming the garden after their late mother, and they called her Mimi. And so, it will be called Mimi's Garden. And they were very generous donors to name that garden. But then they also just really love gardening. So, they're going to help us as well. Several garden clubs, a lot of the local garden clubs are super excited to help teach us and the rest of the community. So, we'll be teaching the people that we serve how they can make a little garden in their backyard, possibly, to be able to obviously lower the cost. I mean that's some of the most expensive food that we all shop for in the grocery is vegetables. And so, we want to make sure that we're getting those healthy things to the families to contribute to their long-term health.
Jeff
Yeah, it makes total sense. And that's a really great addition to the FeedNC capability with the new complex, the new facility to be able to have that almost an acre of gardening space. That's really cool. Yeah, I'm sure you've had no shortage of fans who have been giving you advice on or sharing their ideas for the potential for that work.
Lara
Yeah, well, and it's endless. I mean, that's what's so exciting about it. And this space, also will just allow us to do so many things. You know, we've got big ideas. People have made suggestions of having yoga outside on the space, and then having community movie nights where we can sort of have a drive-in movie for the community. So, there's a lot of wonderful things about just having this space to bring the community together. And the dining space in the new facility seats right around 250 people, so it's a large space. That will be where we serve breakfast and lunch in a community restaurant format. So, nothing about this new space is a soup kitchen. It's intended to be a community restaurant. There will not be prices on the menu. But if our supporters want to come and make a small gift for their lunch, they can. But this is going to feel like a restaurant. You're going to order off a menu. It's going to be cooked to order and it's going to have a nice breakfast and lunch menu. And our goal is that we named our campaign, Building a Bigger Table, and the goal really is to build a bigger table. And that we want our entire community to come together in this space. So, we want our community leaders, as well as the folks who are really struggling, to be having breakfast in the same space, and hope that it kind of leads to some conversation and everybody feeling like they're a part of the community.
Jeff
That's gonna be amazing. I love that. What are some other opportunities that the new facility will bring, will offer for FeedNC and the community? What are some other things that we can look forward to?
Lara
We're definitely going to have the grocery set up as it is, but the grocery size triples in size. So, right now one of the challenges is that we don't have a waiting room. I mean, our people currently wait outside to be able to shop in the grocery, which is challenging when it's 90 some degrees outside. So, this will be a very dignified, respectful space where people can come in and have a glass of tea while they're waiting to shop in the grocery. It'll be a nice, large grocery that will have fresh protein, fruits, vegetables, canned goods, dry goods, where they can shop. We're going to have a neat little area for kids so that they can kind of hang out and read some stories with volunteers, while their parents are shopping. Anybody who's ever shopped with a small child knows that that's not easy to do. So, we're trying to do things to just help them. You know, not add one more thing to worry about to somebody's life. So, the grocery will still be a huge focus in what we do. The grocery is something that our community has said to us is a need. They want to be able to cook for their families. They want to be able to decide the menus. They have a lot of cultural heritage, and they want to cook what their family wants to eat. So, they were more so seeking groceries, as opposed to a hot meal for the one person who's able to be there. Obviously, children are in school during the day, so they can't come and have breakfast and lunch. Other than that, there are two kitchens in the new space, which is going to be really exciting. One is the main kitchen that will serve as the restaurant, the free community restaurant. And then the other one is a teaching kitchen. So, that teaching kitchen is going to be set up with workstations so that our culinary students will be able to learn appropriately. So, the kitchens are really important. They are kind of innovative kitchens. And we want our graduates of the culinary program to be able to learn exactly like they would be working in a restaurant kitchen. And our setup right now is not exactly like that. We sort of cook mass amounts of food and then serve them on a line right now. So, when they graduate, they don't get exactly the right experience from a restaurant. So, that will happen in the new space. And then like I said, there will be a rental, we'll be able to rent this new dining room space. So, if somebody wants to have a company holiday party or a birthday, that will help the organization to be able to fund itself, which is exciting. We're excited about earned income opportunities. And we did some research in the community as far as event space, and there is a need for event space of this size. Plus, you're going to have a kitchen right there, which is so exciting. So, if you want to have a birthday party for a teenager, you know, part of that birthday party can be to help them to cook in the kitchen. They can prepare something with their friends together. So, it's gonna be a nice combination. And then we're also planning on offering cooking classes and demos for the community. So, some of those may be sort of a pay-to-come kind of situation, so that you may be purchasing tickets in order to come and maybe do like a seafood evening where you'll learn to prepare those items with the chef. So, we just really wanted to think about bring in in every potential person in the community into this building. Having some reason why they would want to be a part of FeedNC.
Jeff
Really broadening the scope of the impact that FeedNC can have on the community and who can get involved too and ways of getting involved. That's really cool. I love the teaching kitchen and the opportunity for cooking classes and demos and ways to just engage the community. Very, very cool. I'm excited about that.
Lara
Yeah, we're excited too. It's a little bit different for a nonprofit. You know, nonprofits have changed over the years. They're not exactly what they used to be, and we want to be able to self-sustain. And so, earned income is a good opportunity for a nonprofit to be able to not have to rely solely on donations, which currently we do rely very heavily on our community. And our community always steps up to the plate for that. And then we rely on grants, we write grants regularly. But the idea that we would be giving back is very exciting too, you know, we feel like we have a lot to offer, we have some amazing expertise in the form of volunteers and staff. And we have something to offer. And you know, a lot of when we were originally talking about the new space, and talking about cooking classes, several of our board members said, sign me up for cooking classes. Just because I can possibly afford to purchase a ticket doesn't mean that I'm a chef. So, I think there's people who would like to have these opportunities. And we're excited again, that a cooking class could possibly have someone in it who is able to afford to pay for that ticket. And then they might also pay it forward to somebody in our community who can't afford to pay for the ticket, and then they could end up in the same space and get to know each other. And that's what we find over and over in our building is that volunteers, folks that we serve, staff, community members, we end up in the same building. And then magic happens, and people get to know each other, and they find things in common that they never imagined that they would have in common. And then friendships happen. And that's really how, in my opinion, how the community really changes is by getting to know each other and relationships.
Jeff
Yeah, I couldn't agree more. Yeah, that was really well said. And I totally agree with that. I think that the opportunities for the community to connect in that way is just, it's going to be amazing. It's exciting to think about. Lara, share a little bit about the challenges for the nonprofit during the COVID-19 pandemic. And I realize we could spend a lot of time talking about that subject, but just a broad over overview of just a few of the challenges that the organization faced. Fundraising is one challenge that comes to mind that a lot of nonprofits have shared that traditional fundraising activations were changed abruptly, because we just couldn't do it the way we had done it in the past for the last two years. But what are some challenges that FeedNC faced during the pandemic?
Lara
Sure. So, it's always easier to look back once you're sort of through the worst of it. I do try to take a positive approach to the whole thing and what we've learned from the experience, because we are better because of it. You know, the day that the world shut down, my staff and I talked, it was on a Friday, obviously, we all remember, and I knew, I have children in our schools locally, and I could see the writing on the wall that this was coming. And so, we had talked about it the day before and what happens if the schools close? And my team kind of thought, well, that's impossible. It's just never gonna happen, you know. And so, from the day that the world shut down, we never did. And it was, there was a lot of fear there. We never closed one day, literally the entire time. Sort of reacting as first responders, basically. And we debated it. We talked a lot about how we should react, you know, and wanting to keep our team safe, just like everybody else did, and wanting to be responsible. And at the end of the day, I have 16 board members on our board and an amazing, amazing group of staff and volunteers. And everybody said, we're in, you know, we're going to keep showing up. Because never has our community ever needed us more than they do now. And if we don't show up in this moment, then are we completely necessary in this community if we can just go home and shut our doors and not feed people at the worst time they've ever lived through in their lives? So, we showed up every day, and we tried to figure out how to innovate, just like every other business did. And we served people through a drive-thru for several months, safely, wearing masks, and doing everything that we needed to do to try to be safe. And then as quickly as we could, we did get back into the building as quickly as we could, because we knew that people deserved a choice. And when you just put food in a box for somebody and stick it in their trunk, it's better than nothing. But it's not necessarily things that they are going to be able to eat. They may be allergic to some of those things. So, there's reasons that we wanted people to be able to choose their own food. And we did that as quickly as we could. And as I said earlier, unfortunately, the demand for the grocery services grew exponentially throughout COVID. And so, it basically is our entire building. At this point, we no longer have a dining room. But that's okay. Because we've been able to continue to meet that need. So, I'd say, the barriers initially, there was a lot of fear. Many of our volunteers are older folks, and they were at the highest risk. And we have between 50 and 75 volunteers every day in our building. And then a small team of paid staff. And I had paid staff who were high risk and we're very nervous about coming in with a lot of people. And then we lost almost every volunteer we had overnight because they were a high-risk category. So, we had to evolve. And, again, I've never seen a reaction, I mean, if anyone in this community ever doubts how exceptional the people are in this community, FeedNC was an example of that. Because people just stepped up, you know? Some of our volunteers had to stay home and that was the right choice for them. We had teenagers, so many amazing teenagers, and they weren't in school because the schools were closed. But they wanted to help. And they had flexibility with their school schedules, and so there they were giving back, and they knew they were stronger physically, and we're capable of helping. And then we also had a lot of folks that had more flexibility with their jobs. So, they were now working from home, and they were able to volunteer in the middle of the day when they weren't before COVID. So, we just kept asking, we kept telling the community what we needed, we kept telling the community that we were open, and we weren't going to shut down. And people showed up. And we had to keep training and making sure that we were following safety protocols. So, that was the first hurdle. And we did get through that very effectively. And then absolutely, everything we did was different all of a sudden, just like every other business in the world. I mean, nonprofits are nonprofits, but they're basically run effectively like a business. And so, we had to evolve just like every other business did. Our model was to have an event once a year, an in-person large event. And we had to skip that for two years straight. We did just have our new event about a month ago, in-person for the first time. And it was wonderful to be back in-person. And we had 300 people show up. And we had some time to make that better, over the course of two years. We were already fundraising online prior to COVID. So, I think nonprofits fared differently in COVID based on maybe how innovative they were and how prepared they were for that situation. And I'd say we were trying to be innovative before and we did have online giving capacity. And so, overnight something that was used, probably 25% of the time on our website, was now being used 99% of the time. So, it was there ready, which was great. We had to make it a little bit better. But people were giving online and so we just had to be ready for that moment. And then ready to collaborate with folks like Kathleen, who said, how can I help? And we just partnered every way we possibly could to do that. So, financially, again, we were one of the lucky ones, in my opinion, as far as nonprofits go. The arts really struggled. Nonprofits that couldn't do what they did normally, I think we're hit the hardest by COVID. And again, I try to see the positive. We were able to keep doing what we did and do it better. We had more demands on us. But we also had so many people in that community who for the first time, knew who we were and what we did and cared about what we did. And prior to COVID, there were a fair amount of people who never imagined needing that service, or anybody they loved needing that service. And I think it changed people's mindset in many ways.
Jeff
Definitely a change of perspective in 2020 and 2021. For sure. Yeah, well, I appreciate you sharing some details about navigating the pandemic. And you're right, nonprofits faced a lot of the same challenges that businesses faced during the pandemic. So, share, you just had this big in-person, what was it a gala or a banquet?
Lara
Yes, yes. And we called it, our event used to be called LobsterFest before COVID. And as we talked about, we all learned so many things in COVID. And one of the things that we discovered was that it was hard to have an event called LobsterFest and it felt a little bit like you know, we were eating lobster and the people that we serve weren't able to eat anything. And so, we really didn't want to focus on that. So, we changed the name of the event to Gather at the Table. And it was held out at Langtree this year. And it was a beautiful, beautiful night of 300 people coming together to celebrate what will be the future of FeedNC, and the services that we're going to provide in the new space. So, we have already pretty much concluded the capital campaign at this point that happened all throughout COVID. And so, what we focused on that night was, we're going to have a building and we are going to need to be able to perform these services in the building to help our community. And it was a great night, we had music, we had auctions, live auctions, a lot of people bid on some beautiful trips that they're going to get to take over the next couple years. So, it was just a great opportunity to sort of come together, sit across from each other, eat together for the first time in a long time. And these were people who had been supporting us selflessly, without many of them ever even being able to come into the building over the last three years. So, we just kind of felt like it was a moment of celebration.
Jeff
For sure. Yeah, was it The Venues at Langtree?
Lara
Yes.
Jeff
Yeah, great property. We've had the co-owner, Chris Boukedes, on the podcast, as well. And we've featured that property in one of our blog articles, we featured that property as well. And I visited it in-person and recorded with Chris in-person, it's a really great location. Yeah, and I bet that was just a really rewarding experience to be able to gather everyone together and celebrate and look forward to this new facility for FeedNC coming soon.
Lara
It was. And to dream, you know, dream about the future. I mean, Chris is a very good example, incredibly supportive of FeedNC and willing to hire our graduates, also willing to help teach. So, he himself and then his staff, are willing to come in and kind of do guest lessons for potential chefs. And so, it's just, it's amazing, this community is amazing. And the people that step up and are willing and just so invested in the success of FeedNC and the success of our neighbors being able to make their lives better.
Jeff
I love that. Thank you for sharing that. What are some, any other events coming up this year?
Lara
Not at this time, we try not to over-event ourselves. Because really what is most important to us is the day-to-day work that we do. So, we try not to divert too much attention to events. But we have a volunteer event, we do an appreciation event for our volunteers. And we're going to have that this summer in a park and grill out with all of them and have their families. But we don't have any large events at this time.
Jeff
Well, I'm glad you brought up volunteers. That's something I definitely want to share with listeners. What are some areas that you always have a consistent need for volunteers? And how can the community connect with you and reach out and begin volunteering with FeedNC?
Lara
Absolutely, we always, always have a need. And there's different things you can be in the kitchen and be a part of a cook team. But some people don't love to cook. And so, they're a little bit intimidated by that. We have a lot of volunteer opportunities in the building that have nothing to do with cooking, you don't have to be in the kitchen. Lifting is a big part of what we do. So, that's probably our greatest need all the time is that we have so many amazing, retired gentleman who it is very challenging for them to lift 50 and 60 pounds over and over and over again. They do it quite well actually. But we're always looking for people who can help unload trucks. Right now, our warehouse is pretty small, and we don't really have any warehouse equipment, so everything is by hand. Just kind of picking up one piece and pulling it off of a truck and putting it somewhere else. And then we also need sorting help, people who help us sort all the food that comes in and kind of organize it in the grocery. And then we have a lot of other areas where we need assistance for the people that we serve. So, like helping them get their grocery cart to their car and helping them load their car. There's a great deal of assistance that you can play with the people that we serve and be able to interact with those folks as well. And Monday through Friday, anytime between 7am and about 4pm, we always have opportunities. We can also take small groups, if businesses kind of want their team to come as a group, and the best place to start is on our website, it's feednc.org. And there's a volunteer tab. And there's a real simple volunteer application, whether it's just you or it's your child who wants to come or if you're a group leader, there's different online forms for each type of volunteer. And then once you fill out that form, very simply, our volunteer coordinator will reach out and call you and talk to you about what you're interested in. And then from there, we do have SignUpGeniuses that are very simple. So, once you're an approved volunteer, you'll kind of have access to all the SignUpGeniuses. And if you wake up one day and don't have much going on, and you want to come in an hour later, you're able to sign up. So, we try to make it very simple. And the volunteer shifts can be as little as two hours. So, you do not have to give all day. We know people are busy. And we really just are thankful for whatever time that people can give.
Jeff
So, start on the website feednc.org. And can a small business also connect to bring their team out for like a volunteer day?
Lara
Absolutely. Absolutely.
Jeff
And anything from an hour to all day?
Lara
Yes. And we can work with you, as far as if you want to be in the kitchen, you know, we can work with you. We really love having businesses out. And then there's all kinds of other things too, if it's hard for people to get into our building during the week, we do understand that. If you have a full-time job, it can be a challenge. We do offer some things on the weekends, special kind of events. But there's many things that a group can do outside of the walls as well. So, like having a bin. Honest-1 Automotive is one of the places in Mooresville that has a bin for food all the time. So, they keep a bin in their lobby and when their customers come in, they'll drop canned goods in there. And that's a way that they can help but they don't have to be in the building. We also have a lot of groups of little children, so like Girl Scouts. In our current space, it will get better in the new space, but in our current space, there's not a great spot for a little group of girls to not get run over. But they can come together, and they can do a toiletry drive, where they can like put toiletries into little Ziploc bags, and then deliver them to us. And they know that they're being helpful, and they can do a tour when they get there. But they can do most of the work outside on a Saturday or whatever is good for them.
Jeff
That's good to know that there's opportunities too for the community to help and serve outside of the walls of FeedNC kind of remotely. Is there a list or a way that FeedNC can help anyone who wants to have a bin in their business, so that they know the types of foods and canned items that are in most demand?
Lara
Absolutely, yes. There's a whole section on our website that kind of says, how can I partner with FeedNC. And there's a lot of different options. And then we have a greatest needs list that's on there all the time too, that are the types of things that we could use. And all of our staff emails are also on the website. And anyone is always welcome to call me. And Bonnie Battalia is our Development Director. And she would be happy to brainstorm. We have some ideas on our website, but a lot of times people come to us with better ideas than we even ever dreamed of. So, we will just brainstorm with you. Sit down and talk with you and if you have an idea, we'll be creative. That's one of the things I love about FeedNC, there's not a lot of hoops. This is not a large organization or a government organization that you have to jump through many, many hoops. We just get to have an idea. And we get to try it out. And we do that every day with partners in the community.
Jeff
Not a lot of bureaucracy to break through. Pretty easy to connect.
Lara
Yes, yeah. It's just fun to be able to try something. I mean, it doesn't always work, you know, we do it wrong. And then we shift and try to make it better. But it's one of the things I love too, is that you just can have good people coming together and brainstorming and then we try it. And sometimes it works. And it changes people's lives just by doing something really simple.
Jeff
I love that. And as a small business owner, I can relate to the concept of numerous ideas and trying certain things and not everything works. It was Jeff Bezos that says all the time that for every success he had a thousand failures. And nonprofits are no different. And we try and we have all these ideas, and we try and we see what works and see what doesn't. You know, a big part of my conversations with my guests on this podcast is when I give the guests an opportunity to give shout outs to other local small businesses. For nonprofits, that can be a little bit of a challenge because you have so many wonderful supporters. And we want to recognize them all. And we can't in this context, but are there, you mentioned the Dale Jr. Foundation, are there maybe a couple other organizations that you would like to recognize during this conversation?
Lara
Sure. That is hard, I will say, because it's so many. And so many great people. Whether they're giving financially or they're giving of their time and talents. But I will certainly do my best to name a couple. We have some great partners that committed to the culinary program early on. And it's a little bit scary to be a second-chance employer, because you may end up with somebody who has possibly made choices that you wouldn't agree with. And the job market is different now. But when we started this program, the job market was really good. So, there were restaurant owners who said, I believe in second chances, and I'm willing to interview and talk to people who may not look perfect on paper and give them a second chance. And so, those have been important to us along the way. Five Guys, the Five Guys franchise, the owners own the Mooresville and Cornelius and many others in the community. But they definitely reached out and said that they were willing to hire and also came in and trained. They have sort of a leadership training program at Five Guys. And they came in and did some of that leadership training with our graduates. And were willing to hire, and that's a lot to ask of an employer. And then also, Paul Kreins at our local bowling alley. They actually have a very nice restaurant in the bowling alley, which I know not every bowling alley does, but ours is great. And Victory Lanes has hired several of our graduates. And he's just been a wonderful advocate for us as well.
Jeff
I put you on the spot there.
Lara
That's okay. I think I mean, those two are important. There's so many others, honestly, so many businesses.
Jeff
There are so many that we want to recognize. You have so many wonderful supporters for sure. And I love that we kind of highlighted the partners that have come in to participate in this the Second Chance program, I think that's really, it's beautiful. I love that. Is there a place on your website where the community can see, maybe a list of your supporters?
Lara
Yes, absolutely, yeah, there's a spot on the website where we list out our partners. And we also have our food rescue partners on our website. So, those are folks who bring us food, whether it's from the Davidson College Garden or restaurants who bring us prepared food. So, we try to keep an up-to-date list of food rescue partners too, including Second Harvest, which is a huge partner to us and helps us with the vast majority of the food that we're able to prepare. So, those Second Harvest, secondary partners, every grocery store you can imagine, every big box you can imagine that works through Second Harvest, we appreciate them very, very much. And that food is being rescued and coming to people in need, as opposed to ending up in a dumpster, which none of us want that obviously.
Jeff
Yeah. I appreciate that. I'll have relevant links in the show notes, of course, as well. And before we close, and I didn't prepare you for this. But is there a message that you'd like to share with the community and with our listeners?
Lara
Sure. Really is just a thank you. Always thank you because what is able to be accomplished in this community on a daily basis, because of the individual families, always is shocking to me in the most uplifting, possible way. We identified in COVID that we were in need of a larger space and started this capital campaign. Many people said to me, well, the big businesses will help out. And we've certainly had businesses come in. The reality is that this community single handedly, almost all based on families who live in this community, created a successful campaign to be able to raise the money for the future home of FeedNC. And when I tell people that the majority of close to $7 million came from families who live in your neighborhood, it's shocking to people. And so, my message is really just thank you for caring. Caring about your neighbors, caring about people who you've never met, caring about people who may live on the other side of town, and you may not have interaction with, I'm just always befuddled by how thoughtful the people in this community are. And when we come together, we create action and change. And we're all going to get to see the results of that and how it makes families more stable in this community.
Jeff
That's really well said. And cheers to the individuals, the families, and who have supported FeedNC in addition to the corporate partners, of course. Yeah, really, really well said, I know you've done live radio before. Have you done a podcast before?
Lara
Never. Nope. This is it.
Jeff
Well, you're a natural. You've done extremely well, so much better than my early podcast episodes. Lara, this has been so wonderful to have you on the podcast and to feature FeedNC. And I want to remind listeners, of course, to go to feednc.org to learn more, to connect, to give, and to volunteer. But I just want to thank you so much for joining the podcast. Lara Ingram, the Executive Director at FeedNC. Lara, thank you.
Lara
Thank you so much for having me. I enjoyed it.
Jeff
Big thanks to Lara for joining the podcast and sharing the story of FeedNC. Friends, you can learn more about FeedNC at www.feednc.org. I'll have that link in the show notes along with the links to some of the local small businesses we mentioned during our conversation. As always, you can find the complete show notes for this episode and all of our episodes at the home for Lake Norman's number one small business podcast, www.thebestoflkn.com. While you're there, be sure to sign up for our free email newsletter. We'll send links to our latest podcast episodes, YouTube videos, and written articles on our website every Friday direct to your inbox. Signing up is easy, you can find the form on our homepage at thebestoflkn.com. And it's a really great way to show some support for the work we're doing here at The Best of LKN. If you're looking for some amazing local small businesses to shop or work with, I recommend you begin by having a look at our sponsors. These local small businesses have been so supportive of the Lake Norman small business community and our efforts here at the podcast, and they are worthy of your support in return. Links to our sponsors can be found on our homepage at thebestoflkn.com or in the show notes for this episode. Friends, that's going to do it for now. I hope you enjoyed getting to know FeedNC and I encourage you to reach out to them soon for volunteer opportunities or consider making a donation. We do love featuring local nonprofits on the podcast, and I have another one for you right around the corner. So, until next week, cheers Lake Norman. Bye for now.
Narrator
We hope you've enjoyed this episode of The Best of LKN. For more information about this podcast, show notes, video episodes, and links to our featured businesses, please visit www.thebestoflkn.com. We publish episodes weekly, so be sure to subscribe and stay up to date. Until next time, cheers Lake Norman.