Episode 113
Carolina Cruising Charters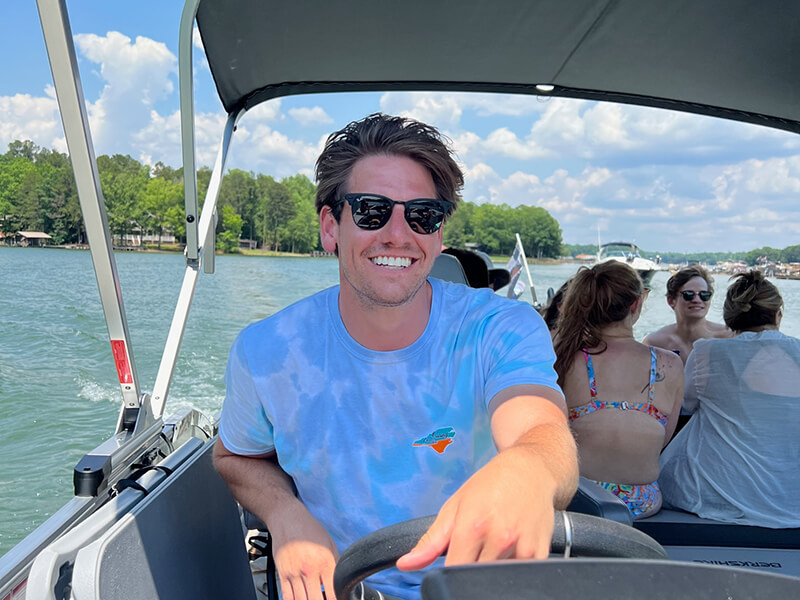 Show Notes:
In this episode, I sit down with the owner of Carolina cruising Charters, Captain Matt. Carolina Cruising Charters is an all-inclusive boat charter service serving Lake Norman. Carolina Cruising Charters takes the stress and worry out of boating on the lake. Gone are the days of renting a boat and drawing straws to see who's going to drive it, or flipping a coin to see who's going to pay the fuel bill at the end of the day.
Carolina Cruising Charters is the choice for boaters who want to relax and enjoy their time on the lake and leave the work to a licensed captain.
Listen in as Captain Matt shares the story behind Carolina Cruising Charters.
Transcript:
Narrator
Welcome to The Best of LKN, a podcast featuring the best small businesses and the most influential professionals around Lake Norman, North Carolina. Each week, we spotlight those businesses and individuals that are making a positive impact here in the Lake Norman area. Thanks for joining us, enjoy the show.
Jeff
Welcome back to The Best of LKN. This is Lake Norman's is number one small business podcast where we work each and every day to elevate the Lake Norman small business community and introduce you to the best and brightest small business owners, entrepreneurs, freelancers, and leaders of local nonprofit organizations. I want to first give a shout out to our sponsors who make the work we do here at The Best of LKN possible. I encourage you to get to know these exceptional local small businesses by going to our homepage at thebestoflkn.com. There you'll find a list of all of our platform sponsors with links to follow to learn more about their businesses. We'll also have links to our sponsors in the show notes for this episode. While you're on our homepage, go ahead and sign up for our free weekly email newsletter. It's packed with links to all of our latest podcast episodes, blog articles, and newest YouTube videos. We're also including upcoming events that we think might interest you. So, hop on over to thebestoflkn.com after you listen to this episode, and sign up. We launched our YouTube channel just a few weeks ago, and we'd love for you to hop over to YouTube and subscribe to The Best of LKN. We're publishing a new video each week, featuring our favorite local Lake Norman area businesses, places to go, and things to do. In this podcast episode, I sit down with the owner of Carolina Cruising Charters, Captain Matt Garmin. Carolina Cruising Charters is an all-inclusive boat charter service serving Lake Norman. Carolina Cruising Charters takes the stress and worry out of boating on the lake. Gone are the days of running a boat and drawing straws to see who's going to drive it or flipping a coin to see who's going to pay the fuel bill at the end of the day. Carolina Cruising Charters is the choice for boaters who want to relax and enjoy their time on the lake and leave the work to a licensed captain. Listen in as Captain Matt shares the story behind Carolina Cruising Charters.
Jeff
Matt, welcome to the podcast.
Matt
Thanks for having me, Jeff. I appreciate it.
Jeff
Yeah, I've been looking forward to talking to you. I'm a huge boating fan. You know, I love Lake Norman. It's about time we got a boat captain on the podcast. So, this is gonna be a lot of fun. Your business is called Carolina Cruising Charters.
Matt
That is correct.
Jeff
And it's a really cool concept. We talked a little bit offline, leading up to this conversation, about some details about that business. But, Matt, before we get into all the details about Carolina Cruising Charters, share with the listeners a little bit of your background, your hometown, education, prior careers, current careers.
Matt
Certainly. So, like many others here, I'm actually a transplant I'm from New Jersey. And that's where I got a lot of my boating experience from with my uncle. He was a captain. He's now a tugboat captain in New Jersey and so grew up fishing with him essentially my whole life. My whole family was avid outdoorsmen. And so, I have about 900 or so days on the water, fishing with him. And then when I was looking at schools and came across High Point University, so I ended up graduating from there in 2016. I started with a background in commercial real estate for about six and a half years. And ever since graduating, I bounced around from High Point to Winston Salem to Greensboro to Jamestown, all different areas. And I would commute back and forth to Lake Norman. And after doing so for a while I realized I need to finally move to this place. This is getting really exhausting. And I love it here. But going back and forth just isn't working out. And so, I ended up moving here in February of 2021, full time. And at the time I was working in real estate, and I realize that as someone who commuted back and forth and didn't have a boat, my own boat here at the time, there was definitely a need for a charter service that people could contact and rent and go out on a boat in a safe environment, that they don't have to worry about whether you drink or not. There's still a lot of other considerations that people don't always think about from commercial insurance, from the inspections, from the captain himself. You know, are they drug tested? Are they trained in first aid and CPR? Are they experienced? So, there's a whole different world of things that most normal people never really consider, and myself included, but the more I got out and the more I personally rented boats and saw what was happening, I realized that there seemed to be a need and that's where Carolina Cruising Charters was born. And so, I started that journey right at the end of last summer, in 2021, making Carolina Cruising Charters official. And so, went through obtaining my captain's license and then upgrading that to a Masters captain's license, starting the companies etc., and then hitting the ground running ever since.
Jeff
Yeah, you found a need, right? You're solving a problem. Some of the best businesses in the world were created to solve a problem and renting a boat can be a hassle. There's a lot of liability in that. Owning a boat, we all know what a hassle that can be. So yeah, I mean, it makes perfect sense to have someone who's qualified and insured and has a new boat, really nice boat, to do all the hard work, and you can get out there and kind of enjoy it. So, you did a lot of fishing in New Jersey. That's like, that's serious fishing up there. Was it like tuna, billfish, that kind of stuff?
Matt
Yeah, we would run out to the Gulf Stream. It's no quick trip. You know, it's leave when it's dark. Get back when it's dark. Long days. But yeah, we'd catch tuna up there. My uncle also, he would take trips to North Carolina when I was in college, and then I would go meet him out at the coast, and we'd go fishing here. Which that trip out to the fishing grounds was a little bit shorter, but still some really long days compared to living on the lake when you just leave the dock, and you can cover the whole lake in an hour.
Jeff
Yeah, my wife and I were just out at Cape Hatteras, about a month ago. It was our first trip to the Outer Banks and just fell in love with the Outer Banks, but I did a little exploring around Oregon Inlet, and some of those sport fishing boats are amazing in that Marina. And yeah, the Gulf Stream is just like, it's just right there. You know, you don't have to go far.
Matt
Yeah, my favorite part about the lake though, is that there's no salt and there's no current, so it makes everything a little bit easier.
Jeff
Yeah, I mean, it doesn't take much to get seasick off of the eastern shore for sure, in the Gulfstream.
Matt
Exactly.
Jeff
So, you started your company at the end of last summer. Share a little bit about the services that you provide your clients, your guests on your boat, and tell us about the boat.
Matt
Sure. So, our goal is to be considered Lake Norman's premier boat charter service. So, we don't rent our boats without a captain, but our boats are also brand new, top-of-the-line Berkshire Tritoons. So, all of them have at least 250 horsepower engines. This might sound like not a big deal, but once you get a rental boat that maxes out about 10 miles an hour, like many of the rentals, and realize just how big the lake is, then it can be quite a different experience than passengers realize. And so, this allows us also the ability to have watersports. So, we're insured to have waterskiing, tubing, wakeboarding if desired, add-ons to our services. But our main goal is to make it so the customer can really tailor the experience to exactly what they and their party wants. So, we allow up to 10 passengers and we provide really everything. We include fuel, we include the insurance, we include everything in our pricing. So that way, when you book, you're not surprised with some big pop-up gas bill at the end of the day, some sort of huge cleaning fees, some sort of pop-up fees, or anything else that you weren't expecting, and we can really tailor the experiences. We have two-hour, four-hour, six-hour, and eight-hour charters. So, we can tailor it to exactly what customers want, we'll do anything. We just did a bachelor party over the weekend, so that's obviously a very different clientele than, for example, we do real estate tours. We've got one coming up this week where someone just moved to the area and they're looking to figure out all the fun places by water. And so, really, we don't have necessarily a niche, we just want to connect with our customers and make sure that that day on the water is worry-free for them and they don't have to worry about anything other than book the charter and we'll pick you up and make it a great day.
Jeff
Yeah, just one-stop shop. And I like that, no hidden fees. I just bought concert tickets recently. And it's been two years since I bought concert tickets, and I forgot about all the little fees that you don't think about when you see the price of that ticket, you know? Then you go to checkout, it's a different story. You had a bachelor party last weekend?
Matt
We did, we had a bachelor party over this following week. And that was a really great experience. And one of the things that I think separates us is our ability to adapt. So, they actually ended up extending their charter. We didn't have one after theirs, so we were able to just extend their charter on the spot. And then, at the time they booked they didn't think they wanted to do water sports but once they got on the boat, they wanted to go tubing. So, added that on and had a fun day tubing and I think they had a great time.
Jeff
I follow you on Instagram, Carolina Cruising Charters, and really awesome content by the way, like you do a great job with your social media. And I noticed there was something about, recently I noticed something about, like, Twilight cruises or like, I don't want to call it a dinner cruise, but something along those lines like a sunset cruise?
Matt
That's correct. So, we've recently added that option in because our boat has a really unique layout. It's actually the first model designed by Berkshire; it's called an entertainment pontoon. And what's really unique about it is in the back, there's a layout that is essentially a picnic table that fits approximately six to eight adults, depending on sizes. And it has, it's a U shape. And then that same picnic table folds down into a king size lounge bed area afterwards. So, I think it creates a really unique experience where if people want to come, they want to have dinner on the boat, want to have drinks, want to have charcuterie boards, or snacks and drinks or whatever really they see fit, they could come do that. And they can have plenty of room to eat. We also have a secondary table in the front. And so, we've added that option, especially in weeknights, for date nights, for just sunset cruises, evening getaways, maybe for those that aren't quite really looking to spend a whole day on the lake, but would love to get out for sunset and, you know, have a different setting for maybe a date night or really whatever. Whatever they feel is best.
Jeff
Yeah, the idea of that really appeals to me, I'm definitely a wine and cheese boater. And so yeah, I could get into that sunset dinner or happy hour cruise, you know, that would be a lot of fun. You mentioned the real estate tours too, that makes a lot of sense. That's something that I hadn't thought about. But I bet there's probably some demand for that service too.
Matt
There is. So, luckily because of my background in real estate, I know some of the realtors in the area. And we've connected and I've got a great relationship with a lot of them. And when their clients come, I actually have one booking this week that they are closing on their house tomorrow, actually. And so, once they close on it, they want me to come. They have their own boat but they're going to hop on board with me and let me show them around and show them the little nuances that a lot of times people don't think about. The shoals and there's a lot of areas that may not have all the markings they should, that it just kind of takes local knowledge of operating the lake to be aware of. And so, that's really what they're looking for before they take their boat out somewhere that they're not familiar.
Jeff
That's a really cool idea too, being able to show a newcomer to Lake Norman who has boating experience and has their own boat anyway, but they really need to familiarize themselves with the lake. And, as you said, see the nuances of certain areas of the lake. And there's a lot of coves on Lake Norman, like it's, there's a lot to explore, you could kind of be that cheat sheet for them, you know, so they can get out there and start enjoying it quicker.
Matt
Exactly. And that's the goal. The way I look at it is I want to have top of the line equipment, and as well even more so, top of the line service so everyone leaves happy. And you know, one person's experience on the boat may make them extremely happy. And it may be throwing an anchor and sitting there all day not doing anything. So, another person's experienced can be driving back and forth all day. And so, it's really just a matter of what they feel is best for them.
Jeff
Yeah, I love that. I love that emphasis on customer service and that experience. We talk a lot about the importance of brands providing an experience. It just seems to be more and more important. And that emphasis on customer service like that, it's just so critical to nail that customer experience and that service.
Matt
That's actually one of the things that I'm working on right now is hopefully by this coming weekend, I'm changing my booking platform on my website to hopefully streamline it and make it a little bit easier for customers. I can tell there was some difficulty with it, and I like to put myself in customer's shoes. And I saw that it just wasn't working how I envision it in my head. So, rather than battling with it, I'm just gonna change and hopefully make it better.
Jeff
Yeah, yeah, I love it. Yeah, and trust me, I know all about trial and error when it comes to digital platforms. And so, yeah, I get how that goes, believe me. Something else that came to mind was on the topic of that evening or dinner type charter, do you have guests who actually do some restaurant or bar hopping on the boat? Like there's a lot of, we've written an article in fact on our website that highlights five spots in particular, waterfront dining on Lake Norman, and it seems to me like that would be really cool to just kind of hop from one to another.
Matt
It is and we do do some of that. It just kind of depends. I think a lot, at least from what I've seen, is a lot of people kind of want to maximize their time on the boat rather than us drive them, drop them off, and then realize that they're paying the boat to essentially sit there while they eat. And so, I would say that from our experience, there has been a few people that I've, you know, asked to go to the restaurant, but what they do is they call the order in to-go and then we'll just pull up, they'll get it and then they'll eat it on the boat. Because I think that people are very cognizant of the fact that if they go in and eat, then it doesn't make the most sense from the customer's perspective. But that being said, I think a lot of people also will book in their charters and eat somewhere on the lake beforehand. You know, if there's a 1pm charter, for example, I think three or four of them have all eaten at a waterfront restaurant and then wanted to get picked up from there shortly after.
Jeff
So you can, that's a cool concept, too. So, you can pretty much pick up a guest anywhere on the lake.
Matt
Yeah, and that's the really nice part about our services. For example, the bachelor party we had, they had an Airbnb, so I went and picked them up from there. Really trying to tailor it to the customer and where they're at so we can come to them.
Jeff
How's the season going so far? This is your first spring/summer for Carolina Cruising Charters. How's the season starting out?
Matt
It's starting out really well. I'm excited. And I think that once we get this new booking platform, it will make it so much easier for customers to see when is available, that it'll streamline a lot of our bookings. And a lot of the confusion that I think unfortunately, customers are facing right now. And that's my main goal with the entire platform of my website, is to make it easy for customers. All the information is on our website, carolinacruisingcharters.com. And any questions that you may have, our phone number's there, you can call or text us at any point. But we really want to make it so that while we're always available, there's hopefully not a lot of questions that still are out there remaining.
Jeff
Yeah, yeah, that's cool. And that's, I mean, in the beginning, you're still within the first year of your business. And there's always gonna be some tweaks, you know, some processes that have to be dialed in, so that's totally understandable.
Matt
Yeah, there definitely is. And there's always requests that surprised me because I haven't thought about them or ever thought somebody would ask, but I'll spare you the details of some of the requests we've gotten, you can use your imagination for that. But yeah, there's really interesting customer requests we get sometimes that are just not feasible as much as we want to try to accommodate really every request. And sometimes there's things that are physically impossible, like they want us to go pick up somebody that isn't waterfront, and the boat can't leave the water. So, not really sure how that could be possible.
Jeff
Oh, yeah, I can imagine. We'll have to talk offline. You have to share some stories with me after we stop recording.
Matt
Yeah, it's pretty funny what people have asked that I'd never, I would personally never ask somebody to do that. But I guess people aren't scared, I guess, I don't know.
Jeff
That's funny. Well, that's part of being a charter service, right? Where you can custom tailor the way you deliver your service, to a certain point, you know, I mean, to a certain extent, but I'm sure you do get a lot of requests to customize the experience for sure.
Matt
We do. And we generally try our best to accommodate all of that. I mean, we have kind of our typical standard times for bookings that really are focused on the customer because they make the most sense, you know. If you do a booking, right in the middle of the day, say like 11am, you kind of get this weird wall, and then you end up backing up to the lunch hour, and then customers get hungry. And so, we try to really look at what makes the most sense from the customer's point of view is, alright, well, if you do a 1pm, say to 5pm charter, then you can eat lunch beforehand and get off the water before you have to eat again. Likewise, if you do a 6pm, you can eat before and things like that. So, it really, from our experience on the water, it makes the most sense. Meanwhile, you know, we actually just, we've got a charter coming up that is at 11am on Saturday, because in the end we didn't have an 8am or 9am booking, and so, if we're able to accommodate for a customer, we certainly always will.
Jeff
What is the average length of time for your bookings, for your charters?
Matt
So far, most of our charters are four hours. That's been the most typical. We do have a two hour and then a four-hour lined up, and six hours currently not an option on our website, but it will be very soon with the new booking platform. The new booking platform, the biggest benefit of it is, it'll have a start time and the customer will be able to adjust the length of the charter, rather than how it currently is, is the customer has to decide on the length of the charter first, and then go into the booking platform. And so, it just flips things around a little bit easier. That way, if you have a certain day in mind, say with Memorial Day coming up, a customer can go and say okay, what's available for Memorial Day? They can already see what's booked very easily on a visual calendar scale. And then they can also say, okay, well I see that 9am is open, how long do I want to go for? Do I want to go from 9 to 12? Well, I guess that would be a three hour, but it's, you know, I guess it would be more like 8am to noon is actually surprisingly one of our most popular charters, which I would have never expected when I started this. But I think a lot of people are seeing that the lake is getting busier and busier. And the traffic is so much lower in the mornings that people are just taking a different stance that isn't what I expected.
Jeff
Yeah, that makes sense to me that a lot of customers would want to get out there early, when the lake is less busy. What's the lake like in the evenings like after five or six?
Matt
That's my favorite time actually to be on the lake. But I think until people experience it, they don't truly understand it because you have the sunset, especially now the waters in the upper 70s. It's getting really comfortable. And the boat traffic dies down so much because of people heading in for dinner that I think if you were to eat dinner first, bring it on the boat, whatever it may be, it creates such a different environment from a relaxation standpoint, that you can really enjoy the beauty of what's going on without all the traffic and noises and everything else that's happening during the day.
Jeff
Yeah, I think I would enjoy an evening charter. I think that would be my choice. Well, I got to ask, and I don't know if you are comfortable sharing or not, but I have to ask the million-dollar question, and hopefully it's not a million dollars, but what does it costs to charter with Carolina Cruising Charters?
Matt
So, our charters start at $450 right now, which is all-inclusive, again, of the boat, which is our brand new boat, a captain, I'm a US Certified Master Coast Guard Captain, it includes commercial insurance, includes a cooler, we just recently added karaoke, includes floats, and really we try to include everything we can for your experience. So, when a customer goes on to book, we have booking questions, that's how we know, okay, this is a bachelor party coming up, or a bachelorette, or this is a tour. We've got, you know, wine tumblers with lids on them and different things that way, from the customer's standpoint, you know, a lot of people don't think about the fact that well, I've got a drink or wine on the boat, and I don't have a lid, it's probably gonna spill on me, all over, and not quite be the experience. So, we tried to think about a lot of those things in the charters. So, that's for an all-inclusive two-hour charter up to 10 passengers, and then it just goes up from there depending on length of charter. And then for all of our charters we have add-on options for watersports also, so waterskiing, tubing, and wakeboarding.
Jeff
Okay, yeah, and that, I mean, honestly, that sounds pretty reasonable to me, because you're not only getting a really nice boat, new equipment with actually an engine with power that you can actually do things with. And you can get around and see a lot more of the lake in a shorter period of time than you could with a rental. But you're also getting a highly experienced captain, and you're enjoying the boat and not having any of the worries of operating or certainly the worries of owning one.
Matt
Exactly. By the time that you equate for all the costs of ownership or membership or whatever else, we've tried to price it really competitively. And we did all-inclusive pricing, which may be good and may be bad transparently, for the fact that I think sometimes people go to rent boats, not really ones with captains, but to go to rent boats and they'll see a much lower price tag, and they'll jump on that, but then their experience certainly won't be the same at the end because they have a fuel bill they weren't expecting and then they've got a cleanup fee they weren't expecting and these are all things that I've personally dealt with and friends and others that I've heard stories from. Or I've heard stories where they've rented a captain, and this is, you know, not a certified captain, and it's just been quite a different experience than what they're expecting. And so, our biggest thing is no surprises and create the experience tailored to that group.
Jeff
Well, it's a really cool business. I'm a little jealous. I think that would be a lot of fun to operate a charter business on the lake, that's really, really cool. Matt, something I like to ask my guests during our conversations is, if you could give a shout out to other local businesses in the area. And I know we'd love to like give shout outs to a hundred of our favorite local businesses in the area, but I like to narrow it down to just three or four. If there are a couple that you could give shout outs to and recognize that have either been great partners for you during this endeavor or just local businesses that you love.
Matt
Certainly, so I have to start with Carolina Watersports & Marine, they are my preferred dealer and those guys over there, Jake, Robert, Tanner, Nate, Dave in service, etc. Their entire team is awesome. I think that's one of the most important reasons that I can be successful is we partner together and when something breaks or something happens to the boat, they come and fix it for me as soon as they can. I mean, they've went as far as to the fact that when I ordered a new boat last year, it actually is still not in. The boat that I got is another one that they had arrive and they knew my situation and so they went out of their way to get me this boat in the meantime while we're still waiting on the other one, and so that's kind of their level of customer service and that's why I try to align with them. Also, would love to shout out Stay Lake Norman, I just became a partner with them. They have a ton of top-of-the-line rental homes, Airbnb style, short-term rentals around the lake and so they're a new partner of ours that we're really excited to partner with Caleb they're at Stay Lake Norman is great. And they actually do have a fleet of rental pontoon boats that ironically Carolina Watersports & Marine maintains for them. But they have pretty strict guidelines as to customer's experience with boating, in order to be able to rent those boats. And so, I've partnered with them for customers that maybe don't have that experience or are just looking for a captain to come and not have to worry about driving the boat, or where to go, especially for those that might be staying from out of town that really aren't familiar with the lake or how to operate a boat. And so, we've started that new partnership here. And then I would say of course another one will be this podcast right here. So, certainly appreciate the opportunity to connect with you, Jeff, and learn more about you and this Lake Norman area.
Jeff
I appreciate that. Yeah, I appreciate that. That was, we didn't talk about that before. I didn't bribe you to give me a shout out. I just want to be clear about that. But I really appreciate that. Carolina Watersports & Marine, I need to connect with some of these local marinas, so maybe you can help me connect with someone there at that company. I would love to feature a marina or a watersports dealer on the podcast sometime, so that would be really cool. Stay Lake Norman, I'm actually in the process of developing a written blog article highlighting the Airbnb availability like the top Airbnbs around Lake Norman. And so, talking to Caleb would be really cool. I'd love to connect with them and learn a little bit about their business as well. And I think that would be a really cool podcast episode too. So, those are really good shout outs. I appreciate it.
Matt
I agree. And I'm happy to work that out and make any introductions I can.
Jeff
I appreciate it. Yeah, I rely greatly on my guests to help me connect with other great businesses around Lake Norman, so I really appreciate that. You and I also have a mutual friend, Laura Tompkins, who was a guest on this podcast, and she is the principal at Laurel Belle Photography and Branding. And I see that, I think you've collaborated a little bit with her, haven't you?
Matt
She built my website for me.
Jeff
Okay. All right. There you go.
Matt
So, I'm very similar. I want to try to support the local businesses that I can. And so, when I was looking for someone to help me design a website, I kind of know where my expertise is, and it doesn't lie in website design. And so, I found her and I think she did a great job. And so, really happy with her work and just excited to support another local small business.
Jeff
Yeah, yeah. She has a great business. And I'm a huge fan of small boutique businesses, too. So yeah, I'm glad that you connected with her. She's really talented. I know nothing about web design and graphic design. So, I'm very fortunate that my business partner does all the high-tech, back-end stuff and leaves me to do the front of the house stuff, so to speak. So, it's been a good collaboration. But yeah, I'm right there with you when it comes to web design. Cool. Well, I love those shout outs. Thank you again for that. What is your booking window look like typically? Should listeners who are interested in chartering with you, how far out should they start looking?
Matt
I would say, don't wait. We're booking up really quick. And we're always trying to be flexible. I think that's one of the other things is we're one of the only charter operators, that at least I'm aware of, that can operate in the evening hours. So, we're fully insured and approved to operate once the sun goes down. Now, we're not going to obviously do a midnight charter or something like that, within reason, but we've got options for say, 6 to 10pm charter, which sounds late on the surface, but in the summer, it doesn't really get dark till 9:30. And so, we have options anywhere from eight in the morning, all day, until ending at 10 at night. And so, right now, for example, Memorial Day weekend, I know Saturday and Sunday are both booked 1 to 5pm. But those mornings and evenings, there is still availability. And so, we've gotten a lot of inquiries about them. And at any point, someone could book that same day you're looking for, so my advice is, just don't wait, because once it's booked, it's booked.
Jeff
Yeah, absolutely. There's only so much of Carolina Cruising Charters to go around. So, you know, get on the schedule early. We're recording this a couple of weeks before Memorial Day weekend, this episode will be released after Memorial Day weekend. But those bookings on Memorial Day weekend, so prime times, in my opinion, morning and evening, are still available. I wish I was going to get this out before, maybe we'll have to coordinate something on social media to kind of ring the bell for Carolina Cruising Charters and get those mornings and evenings booked that weekend because those will be beautiful times to get out on the boat.
Matt
That'd be great. And I totally agree. And it's the same thing for Fourth of July. Fourth of July's already, it is not fully booked, but there's already bookings for Fourth of July. So, I think holidays are the first days that come to mind for people thinking to book. There are further bookings out in July and even August at this point. But there's certainly availability and we're looking to fill it.
Jeff
Excellent. Matt, how can listeners contact you? What's the best way to learn more about Carolina Cruising Charters and get in touch with you and book a charter?
Matt
The best way is to go onto our website, it's www.carolinacruisingcharters.com. And that's where a lot of our information lies and hopefully it can answer a lot of questions. But we're always available either by email, which is info@carolinacruisingcharters.com, or by phone at 704-850-5727. And any questions people have, they can also reach out via Instagram, DMs, Facebook DMs. How ever the customer sees fit, our charters will answer that accordingly.
Jeff
Great. I'll have those links, of course, and the phone number in the show notes for the episode. And yeah, that's awesome. I look forward to connecting with you and booking a charter. I'll have to see what I've got in the piggy bank and see if I can divert some funds to a charter with Matt. That would be a lot of fun. Matt Garmin, the owner of Carolina Cruising Charters on Lake Norman. Matt, thank you so much, man, for joining the podcast. I really appreciate it.
Matt
Thank you, Jeff. I appreciate your time.
Jeff
Big thanks to Captain Matt for joining the podcast and sharing the story behind Carolina Cruising Charters. You can learn more at carolinacruisingcharters.com and follow them on Instagram and TikTok. I'll have the link to Carolina Cruising Charters as well as the links to the other local small businesses Matt and I mentioned during our conversation in the show notes for this episode. As always, you can find the complete show notes with clickable links at the home for Lake Norman's number one small business podcast, www.thebestoflkn.com. Don't forget to sign up for our weekly email newsletter. It's totally free and a great way to stay up to date on all of our latest podcast episodes, written articles, and YouTube videos. You can find the signup form on our homepage and in the show notes for this episode. We have more sponsorship announcements on the way for our platform. Very excited to share those updates with you. In the meantime, that's going to do it for this episode. Thanks so much for joining The Best of LKN podcast and for supporting the small businesses throughout the Lake Norman area. We'll be back next week with another episode, same time, same place. So, until then, cheers Lake Norman. Bye for now.
Narrator
We hope you've enjoyed this episode of The Best of LKN. For more information about this podcast, show notes, video episodes, and links to our featured businesses, please visit www.thebestoflkn.com. We publish episodes weekly, so be sure to subscribe and stay up to date. Until next time, cheers Lake Norman.