Episode 035
eeZ Fusion & Sushi Birkdale Village
A Conversation with Owner Alan Springate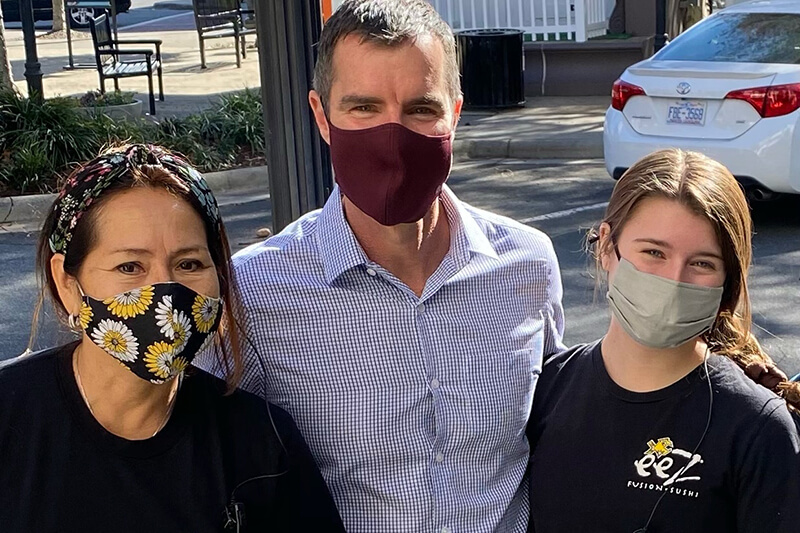 Show Notes:
In this episode, I have a conversation with Alan Springate. Alan is the owner of one of my favorite area restaurants, eeZ Fusion & Sushi located in Birkdale Village. Alan and I talk about his background in the restaurant business, and the winding road he took toward the concept we know now as eeZ Fusion & Sushi. The conversation reminds me of something James Clear wrote in his book, Atomic Habits: In business, and in life, it is unlikely that your actual path will match the journey you had in mind when you set out.  Enjoy!
From the  eeZ Fusion & Sushi website:
"Get ready for a modern and fresh take on the food you love. Located in the heart of Birkdale Village for well over a decade, eeZ Fusion & Sushi has long been heralded as the spot for the freshest, most creative and innovative sushi for miles around.
With just a touch of classic Asian culture, eeZ is the perfect spot for gathering with friends, a family outing or a special date night. Portions are hearty, flavors are bold and eeZ will leave you looking forward to your next visit.
Master Sushi Chef Rifali Almunir's creations include beautifully presented sashimi, nigiri, basic rolls and unique dishes that feature antibiotic free, all natural meats and sustainably fresh caught seafood delights that are hand-cut daily. Every dish on our menu is fully customizable at the guest's request.
Whether you're looking or a noodle bowl for the kids, fresh grilled fish, or a night of never-ending sushi, there really is something for everyone at eeZ. Our staff is well trained on food allergies and will bend over backwards to make sure your needs are met!"
IG: https://www.instagram.com/eezfusion/
FB: https://www.facebook.com/eeZFusionandSushi/
Businesses recognized in this episode:
AlphaGraphics Cornelius
https://www.alphagraphics.com/centers/cornelius-north-carolina-us565.html
Freeman's Screenprinting
https://www.freemanscreenprinters.com/
T1 Visions
https://www.t1visions.com/
Books recommended in this episode:
Keep It Simple: Unclutter Your Mind to Uncomplicate Your Life
By Joe Calloway      Buy it here >> https://amzn.to/37OjUqC
Setting the Table: The Transforming Power of Hospitality in Business
By Danny Meyer     Buy it here >> https://amzn.to/33WwJhA
We may receive a monetary commission if you buy something or take an action after clicking one of these links. The Best of LKN is a participant in the Amazon Services LLC Associates Program, an affiliate advertising program designed to provide a means for sites to earn advertising fees by advertising and linking to Amazon.com.