We all know that exercise is important, but let's face it: working out just to work out isn't healthy. Without the proper mindset, fitness can be a stressful and even damaging cherry on top of an already exhausting cake. In this day and age, we're all busy bees. Commitments pile up, work runs late, and life tends to throw us curve balls when our hands are already full. It's not hard to understand why we think of fitness as just another item on our to-do lists, but the truth is that real fitness is much more than a chore—it's a lifestyle. 
This is the philosophy behind CrossFit, a workout program founded upon the unity between movement, nutrition, and community. Designed for people of all skill levels, CrossFit welcomes members from anywhere along their fitness journey! Whether you're taking your first step or your millionth, it's an excellent way to support sustainable healthy habits. The internationally recognized program has a number of affiliated institutions across the world, including right here in Lake Norman. Without further ado, here are 5 of our favorites.
Why you'll love it: 
Alongside the standard CrossFit programming, C2 helps you design a routine to work with your schedule and offers personalized coaching tailored to your individual fitness goals. With over 200 members, you'll be backed by a fierce and friendly community to help you stay motivated. C2 is world-class furnished with state-of-the-art equipment and even houses a "kid room" where your little ones can enjoy themselves during your workout. Move onward and upward with a plan as unique as you. 
Get to know the owners of CrossFit Cornelius in Episode 1 and Episode 23 of the podcast!
Hours & Location: 
Open 6:00 AM to 7:30 PM
Reduced Saturday hours
Closed Sundays
19721 Smith Circle, Cornelius, NC 28031
Contact: 
Email: info@crossfitcornelius.com
Phone: 704-408-1583
Website: crossfitcornelius.com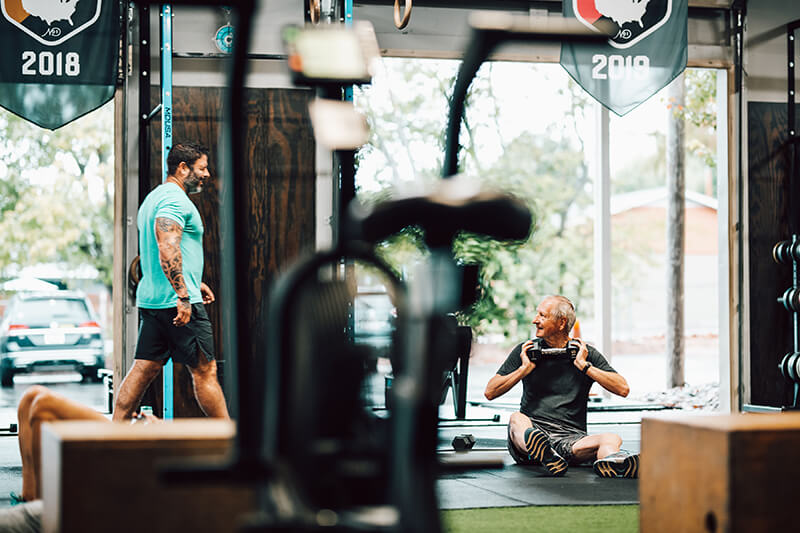 Why you'll love it: 
CrossFit 77 has a wide range of programming led by certified trainers, including group classes, individual coaching, and elite performance training. All new members will be taken through Foundations, where they'll be educated about proper form and technique to ensure that future workouts can be completed safely and comfortably. Seasoned veterans can fine-tune agility, mobility, and strength under knowledgeable guidance. Whether you're looking to nail down the basics or train for your next competitive event, CrossFit 77 has got you covered. 
Hours & Location: 
Open 5:00 AM – 7:30 PM
Reduced Thursday & Friday hours
Closed Sundays
159 Raceway Dr Mooresville, NC 28117
Contact: 
Email: bryce@crossfit77.com
Phone: 704-918-5438
Website: crossfit77.com
Why you'll love it: 
CrossFit Davidson operates with a heavy focus on creating sustainable lifestyle habits. In addition to group fitness and personal training, this establishment provides superb nutrition coaching. Instead of restricting, you'll learn about how to grocery shop effectively, make healthier choices when eating out, and still enjoy your favorite treats and activities. The dedicated coaches at CrossFit Davidson are ready to help you transform into a happier, healthier, feel-good you. 
Hours & Location: 
5:30 AM – 7:30 PM
Reduced Saturday hours
Closed Sundays
305 Depot Street, Davidson, NC 28036
Contact: 
Phone: 704-891-2348
Website: crossfitdavidson.com
Why you'll love it: 
More than just a functional fitness gym, CrossFit 926 prides itself on its amazing community. Members are encouraged to hold each other accountable, push each other to the limit, and forge unbreakable bonds. 926 offers beginners' instruction, personal training, nutritional coaching, and hour-long standard classes. For those with tighter schedules, Spark classes fit a high-intensity full body conditioning workout into a quick 45-minutes session. If you're looking for a fitness family, this is the place for you. 
Hours & Location: 
5:00 AM – 7:30 PM
Reduced Saturday hours
Closed Sundays
11235 Sam Furr Road, Huntersville, NC 28078
Contact:
Email:  jacob@crossfit926.com
Phone: 336-951-7369
Website: crossfit926.com
Why you'll love it: 
CrossFit Huntersville combines the best of both worlds by simultaneously pushing you to your limits and promoting holistic wellness. Awaken your inner badass whilst taking special care of your body by practicing functional fitness, nutrition, and proper rest. Along with group fitness classes and personal training, CrossFit Huntersville is staffed with certified nutrition coaches and licensed massage therapists to help you feel your best all the time. 
Hours & Location: 
6:00 AM – 8:00 AM, 4:30 PM – 7:30 PM.
Reduced Saturday hours
Closed Sundays
9705 Rosewood Meadow Ln, Huntersville, NC 28078
Contact:
Email: crossfithuntersville@gmail.com
Phone: 704-208-1881
Website: crossfithuntersville.com
Get ready to fortify wellness in the gym and in life with the support of your local community.