Dressler's is a fantastic restaurant that offers an exceptional dining experience. The menu is nothing short of amazing!
With a wide variety of dishes that are all expertly prepared and beautifully presented, you're sure to find something you'll love.
Whether you're in the mood for steak, seafood pasta, or something else entirely, Dressler's has it all.
They currently have two locations: Birkdale Village and The Metropolitan near Uptown.
Enjoy this review of Dressler's Restaurant in Birkdale Village!
Parking in Birkdale Village is easy during the week but if you are visiting on the weekend, their street parking and garages fill up quickly. They now offer a valet service that you might want to utilize. The cost to valet your car is $12.
From the moment you walk into Dressler's, you'll be greeted with warm hospitality and a welcoming atmosphere. The restaurant has a chic and modern décor, with dim lighting and comfortable seating that creates an intimate ambiance.
We started off with the Smoked Salmon appetizer and overall, I was very impressed. The dish consisted of four slices of perfectly smoked and tender salmon served with pickled red onion, capers, crème fraiche, and three slices of country bread.
The salmon itself had a delicate smoky flavor that was not overpowering, allowing the natural sweetness of the fish to shine through. The pickled red onion, capers, and crème fraiche made the perfect pairing.
The only downside to the dish was that there weren't enough crostini provided to fully enjoy each piece of salmon. However, I would still recommend this appetizer to anyone looking for a flavorful and well-executed dish.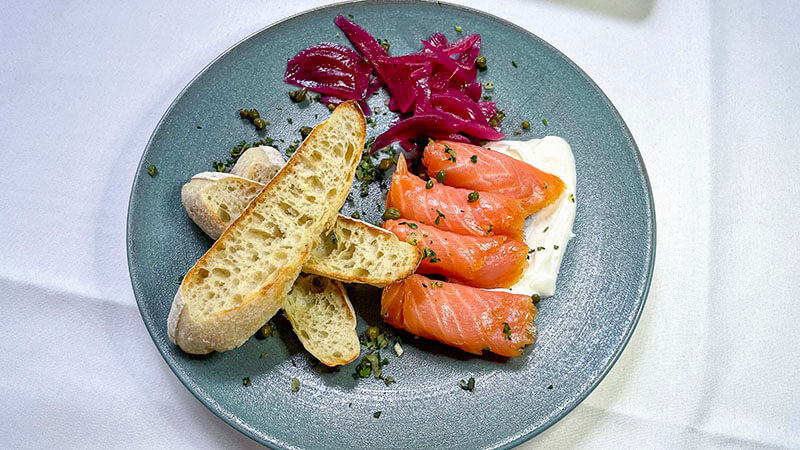 We also tried the Spiced Beef Medallions appetizer with homemade steak sauce, and I have to say it was a truly outstanding dish. The presentation alone was impressive, with six perfectly cooked beef medallions arranged on a plate over drizzled rich, savory steak sauce that was clearly made in-house.
But it was the flavor of the dish that really stole the show. The beef medallions were spiced to perfection. Each bite was juicy and tender, with just the right amount of char on the outside to give it a satisfying crunch.
I recommend this appetizer to anyone looking for a truly exceptional dish.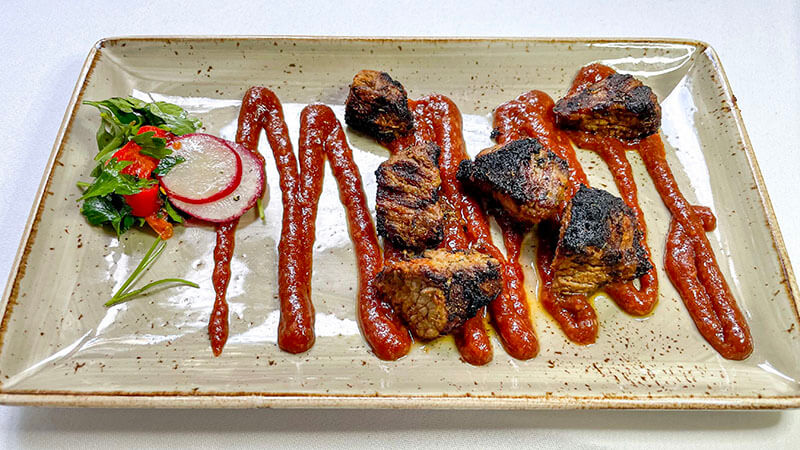 French Onion Soup & Classic Caesar Salad
We tried the French Onion Soup and Classic Caesar salad. I've had the soup before and absolutely loved it so had to get it again.
The French Onion Soup had a rich and savory broth that was well-seasoned and comforting. The onions were perfectly caramelized which added a touch of sweetness to the soup. However, the cheese on top was a bit too hard to fully enjoy. It didn't give that "cheese pull" as expected with French Onion Soup. Nonetheless, the soup was still delicious and warming, perfect for a cold day.
The Classic Caesar, on the other hand, was a more straightforward dish. It was your standard Caesar salad with romaine lettuce, croutons, and a creamy dressing that was well-balanced and not too overpowering.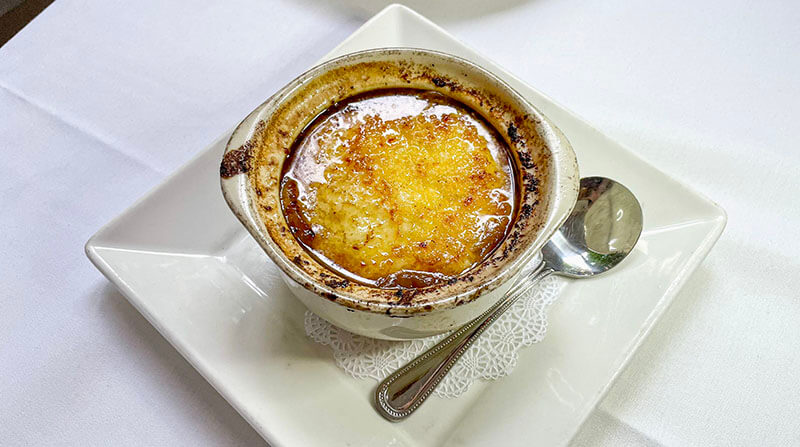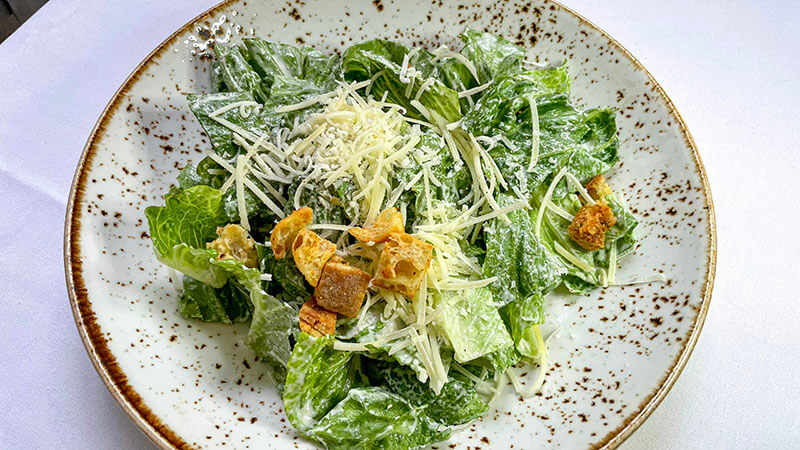 If you're looking for a dish that's sure to impress, the Maryland Lump Crab Cakes are an excellent choice. The dish consists of two generously sized crab cakes made with high-quality lump crab meat, seasoned with just the right amount of herbs and spices to bring out the natural flavors of the seafood.
The dish is served over roasted red pepper aioli, which is the perfect complement to crab cakes. It also comes with a side of crispy fingerling potatoes. I really do enjoy it when a restaurant includes sides with its entrees as opposed to purchasing all sides separately making the meal that much more expensive.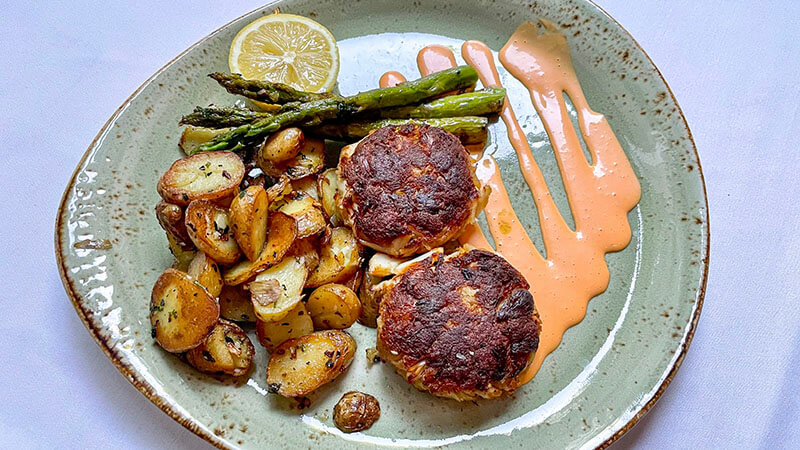 We tried the 16oz NY Strip and while the steak was a little overcooked, we still enjoyed it. The steak was cooked to a "well" temperature when we ordered it to be cooked medium, but the quality of the meat still shone through.
The steak had a rich, beefy flavor and was still tender and juicy, which made it easy to eat and enjoy. It was served with a side of fingerling potatoes that were cooked to perfection and came with a side of Au Poivre sauce that really complemented the flavors of the steak.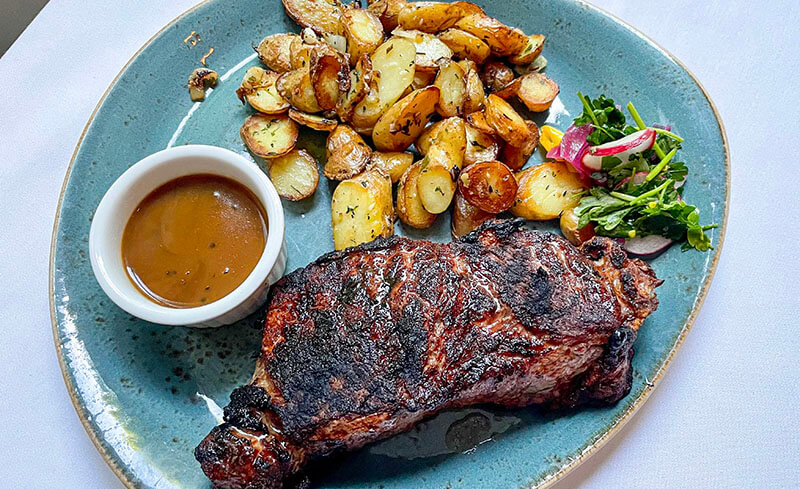 In addition to the incredible food, Dressler's also offers an extensive wine list and a knowledgeable staff that can help you choose the perfect wine to compliment your meal.
We also tried two delicious cocktails, the Birkdale Breeze, and the Cosmo Martini. I would highly recommend both drinks to anyone looking for a delicious and well-crafted cocktail.
Both drinks were sweet, but not too sweet, and had a great balance of flavors that would appeal to a wide range of tastes.
If you're looking for a delicious and refreshing cocktail, these drinks would be a great choice.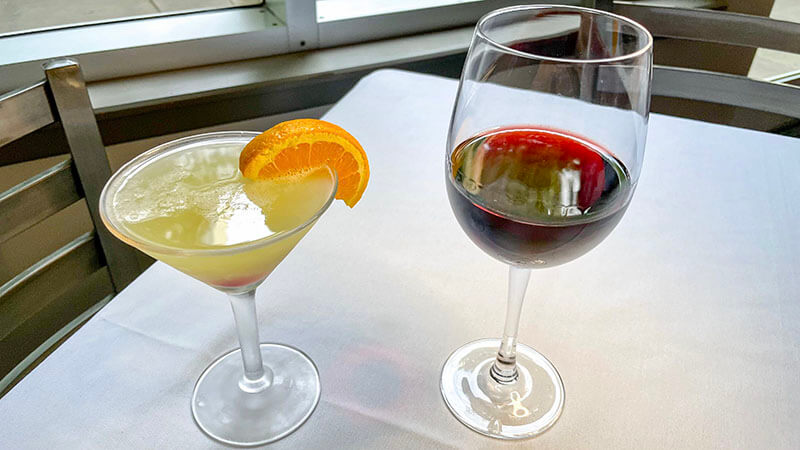 Final thoughts on Dressler's – Birkdale Village
Overall, I highly recommend Dressler's Restaurant in Birkdale Village. The food, atmosphere, and service are all top-notch, making for a truly unforgettable dining experience.
Whether you're celebrating a special occasion or just looking for a great meal, Dressler's is the perfect destination.