During an outing on the boat with my wife on July 5th, I had the chance to try Apps & Taps in Mooresville for the first time.
There's nothing quite like spending a sunny day boating on Lake Norman and stopping by one of the waterfront restaurants for lunch or dinner. Pulling your boat up to a restaurant is always a fun experience.
Usually, we pack a picnic lunch, but on this occasion, we decided to eat out.
Visiting Apps & Taps on Lake Norman by boat!
Apps & Taps is located at the North end of Lake Norman, just past the 150 bridge and right around the corner from the Pinnacle Access Area boat ramp.
Apps & Taps is right on the water, and they have several boat slips for visitors arriving by boat. Boat parking is free, but I do recommend tipping the dock hand.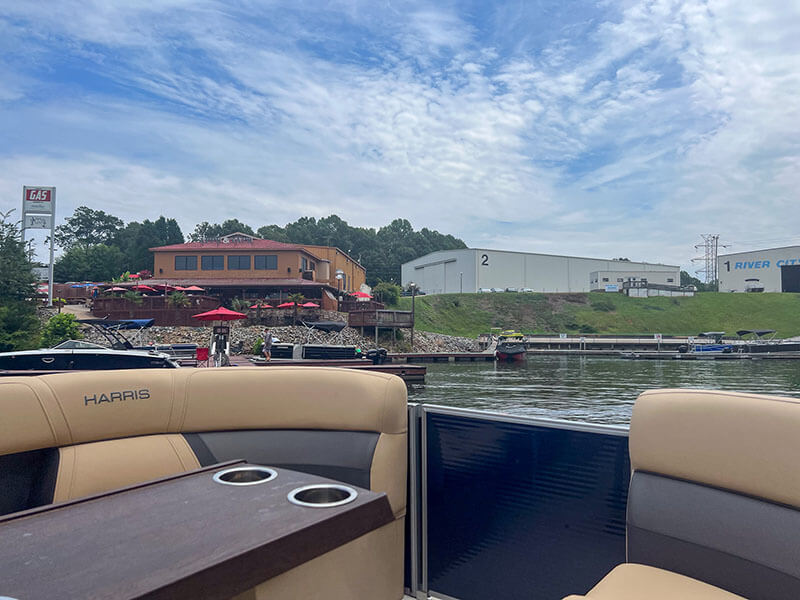 Getting to Apps & Taps by Boat (Lake Norman style)
We were visiting on July 5th, and the lake was pretty busy. Not as busy as the 4th, of course, but still quite a bit of traffic out there.
We arrived at Apps & Taps right at noon and grabbed the one remaining empty slip at the dock. There was a dock hand ready to assist, but I managed to slide the Harris pontoon into the slip like a pro without any help.
There's no current around the docks here, and the socks are sheltered from the wind so that really helps make docking easy.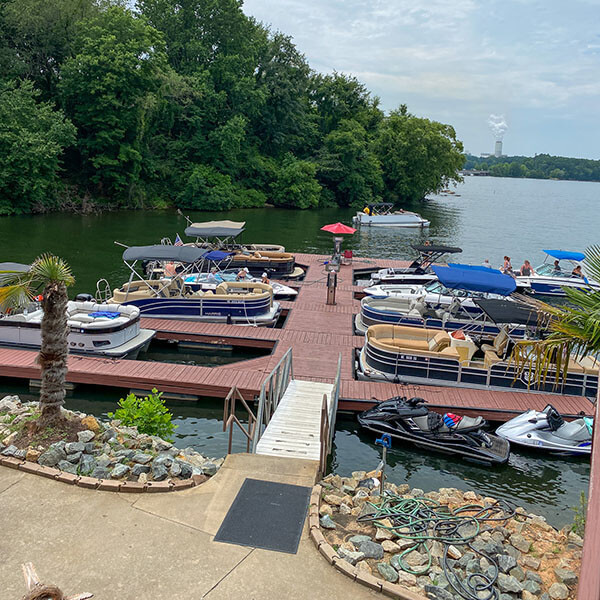 We were greeted by a friendly hostess, and we opted for a table outside overlooking the water. The vibe here is super casual, board shorts and flip-flops are the norm.
The Food at Apps & Taps (Lake Norman)
We started with an order of fried calamari. It's served with marinara on the side. It was good, and those peppers added quite a kick.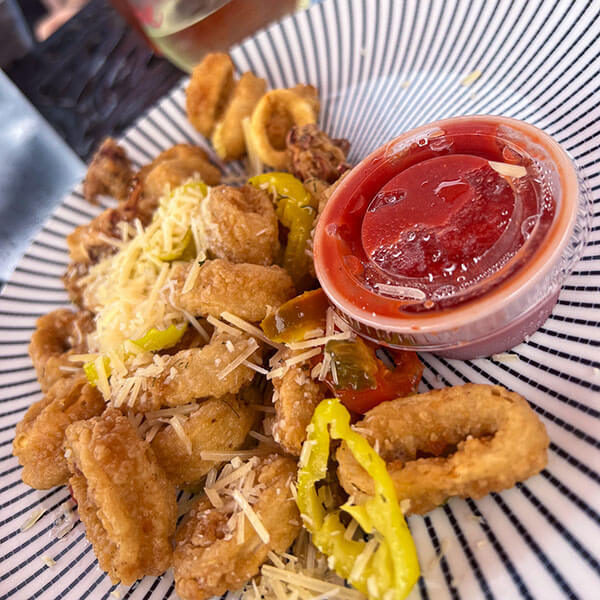 The Mahi Mahi Sandwich sounded too good to resist. We ordered it grilled, and it's served with lettuce, tomato, and tartar sauce on a potato bun.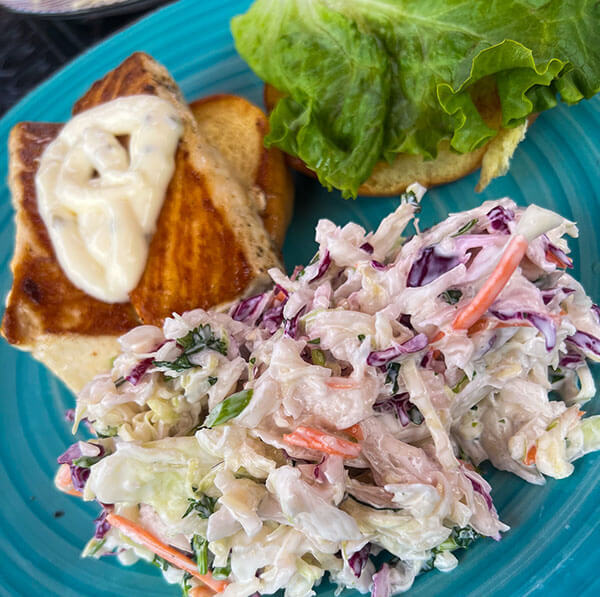 While fans of Apps & Taps rave about the Philly Cheesesteak, I decided to go with the Yacht Club Sandwich.
Ham, turkey, and bacon piled high with American cheese, lettuce, and tomato. I chose crispy fries for the side.
It was good, but next time I'm definitely trying the Philly!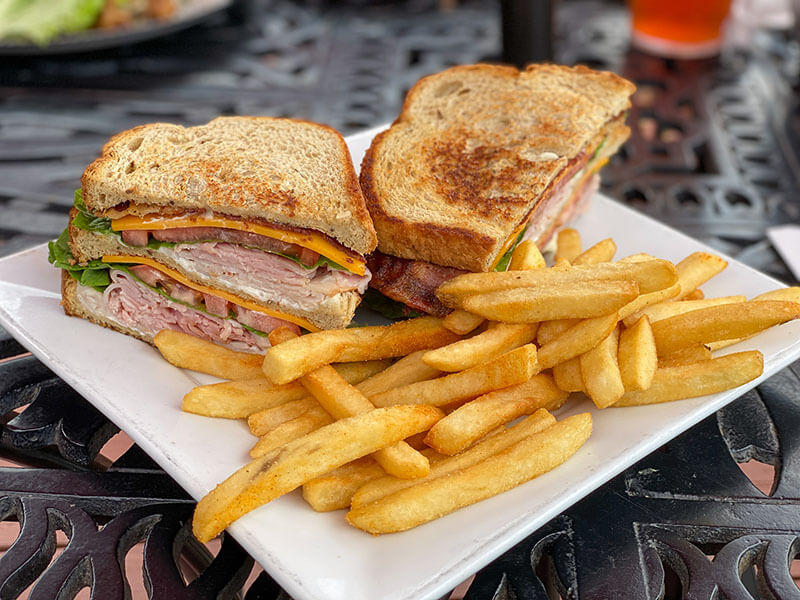 Apps & Taps is proud of its pub fare, and these are the other menu items you might want to check out: 
Hickory Smoked Chicken Wings
Scratch-Made Pizza
Tacos and Sandwiches
Since I was driving the boat, I skipped the beer on this visit. However, I hear they have the coldest beer on the lake.
Live Music at Apps & Taps Lake Norman
Apps & Taps is one of the hottest music venues on Lake Norman. They regularly feature talented cover bands that pay tribute to legends such as Queen, Foreigner, Prince, and others.
Artists perform on the "Pontoon Stage" – a custom built venue complete with state-of-the-art lighting and sound.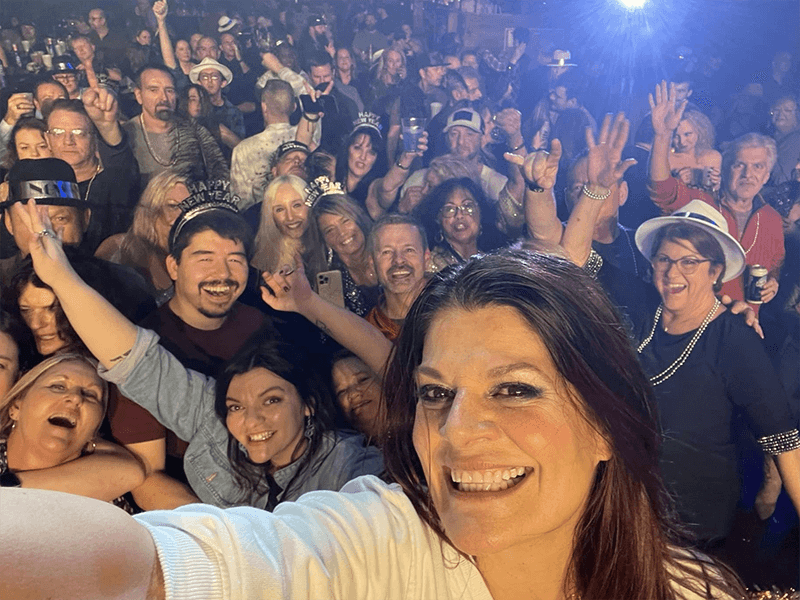 A fun place to visit by boat, Apps & Taps doesn't charge for dockage. Fuel is available while you're here, and a dock hand will be happy to assist.
One thing I must mention is the condition of the restrooms here. They are atrocious. Luckily, I visited the restroom after eating my meal. Otherwise, I think my appetite would have been ruined.
Apps & Taps: you really need to do something about your restrooms.
Apps & Taps is a fun place to visit while boating on Lake Norman. The food was good, and the service was excellent. Cheers to the friendly staff here, they did a great job. 
Apps & Taps
Address: 155 Pinnacle Ln, Mooresville, NC 28117
Phone: (704) 677-7648
Hours: 12 – 9 PM, Monday – Wednesday; 12 – 11 PM, Thursday; 12 PM – 12 AM, Friday – Saturday; 12 – 8 PM, Sunday.