Adventure awaits at Overflow – Lake Norman.
A chill "Choose Your Own Adventure" spot off I-77 at LangTree in Mooresville: Overflow has Lake Norman's only pour-your-own beer, wine, and coffee.  Just like the popular 1980s novels, you get to decide how you experience Overflow. Relax on the rooftop lounge overlooking picturesque Lake Norman.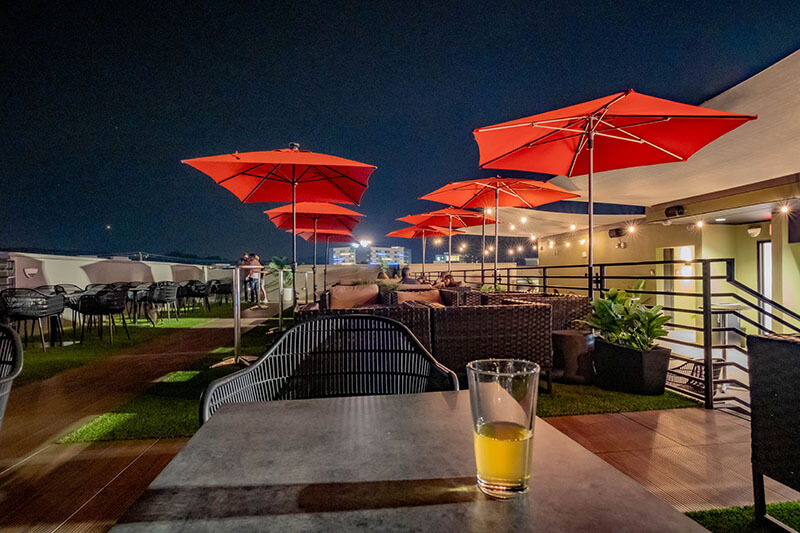 Hang out on the main level for live music on the Overflow stage; gather in one of the beautifully curated seating vignettes to play Table Topics; or settle in for the big game to size up (ahem) the Panthers' new quarterback, Bryce Young.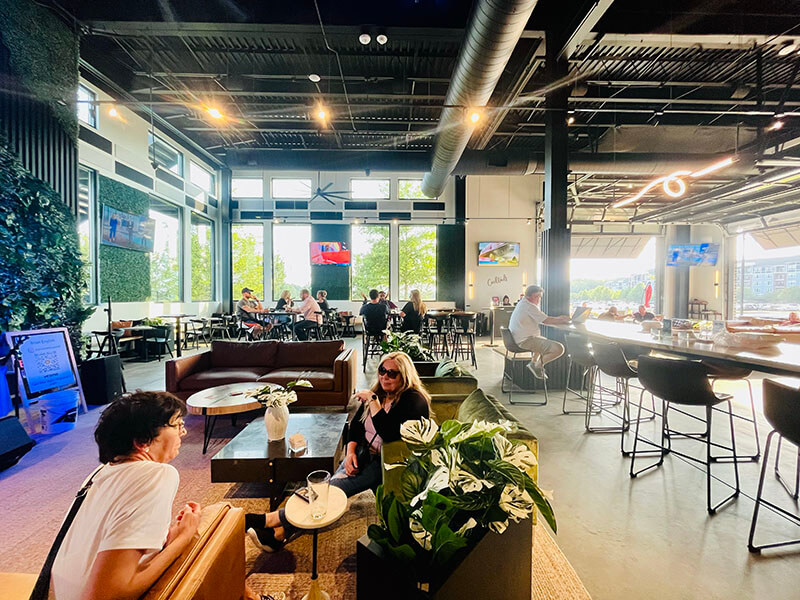 Upon arrival, simply park in the designated parking lot.  Check in at the concierge desk with your ID and a credit card on file to receive your RFID "pour card".  The magic here is that you only pay for what you pour.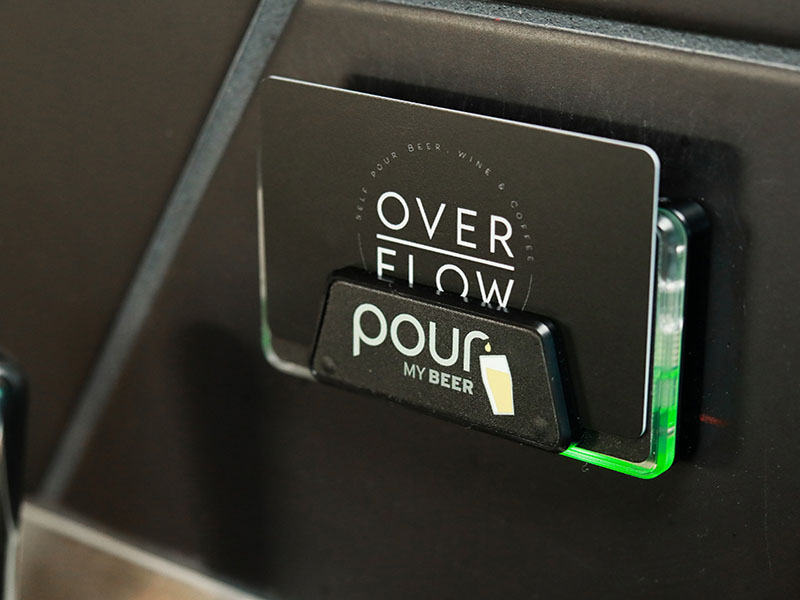 You will be able to pour up to 32oz of beer or 16oz of wine before having to check in with a team member to renew the card.
This built-in safety feature mitigates over-serving and the dangers that follow.  I personally think the safeguard is brilliant.
Using the card system is simple and fun, and a team member will show you the ropes on your initial visit.
Choose Your Own Adventure Chapter 1: What to Drink?
A frothy, cold beer?  A fruit-forward local seltzer? Perhaps a chilled Italian Prosecco.  Trouble deciding?
Overflow staffs beer ninjas to guide you on your quest.  They are Cicerone certified: that's beer nerd speak for having a Ph.D. in all things beer.  According to FoodandWine.com, "Cicerone is to beer what sommelier is to wine."
So simply ask for an "Ambassador" to receive the personalized experience that suits your mood.
One tap that caught my eye on my most recent visit was the Ginger Yuzu Mule.  An exotic take on a traditional mule, this hard kombucha from Ventura, CA boasts sweet notes of Japanese yuzu layered with aromatic golden turmeric. 
It goes for $0.60 per oz. and since you only pay for what you pour, and I heard the Prosecco calling, I had a 2 oz. mini mule and it was delightfully refreshing.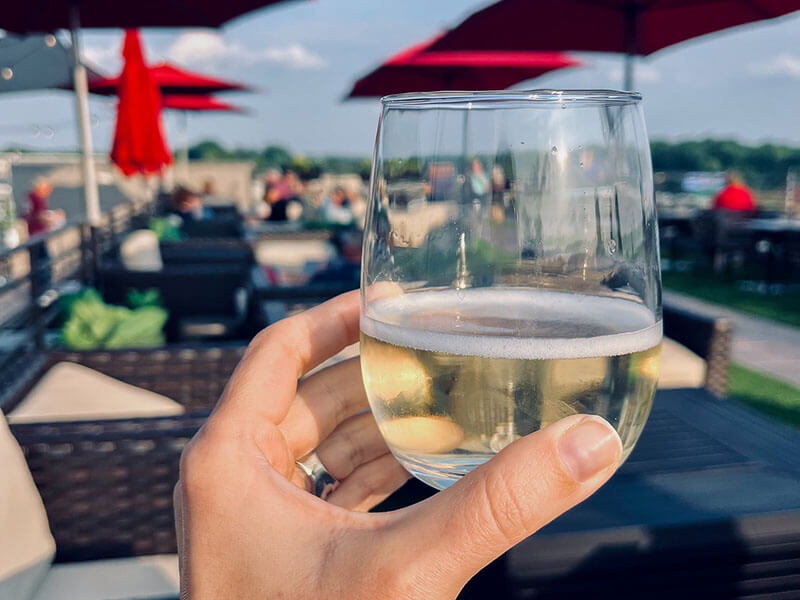 Lake Norman's Beer Headquarters
Overflow offers local taps and even some NC mountain favorites you crave: Lost Province Brewing Company's Cowboy Coffee Blonde from Boone; Sycamore Brewing's Mountain Candy IPA and the ubiquitous Juicy Jay from Legion Brewing Company both brewed here in the Queen City; Dreamhuntress New England IPA from Asheville's Burial Beer Co. and so many more. 
Want to dive deeper into the taps at Overflow?  Download the Untappd App to receive notifications about the rotating taps and events on their venue page.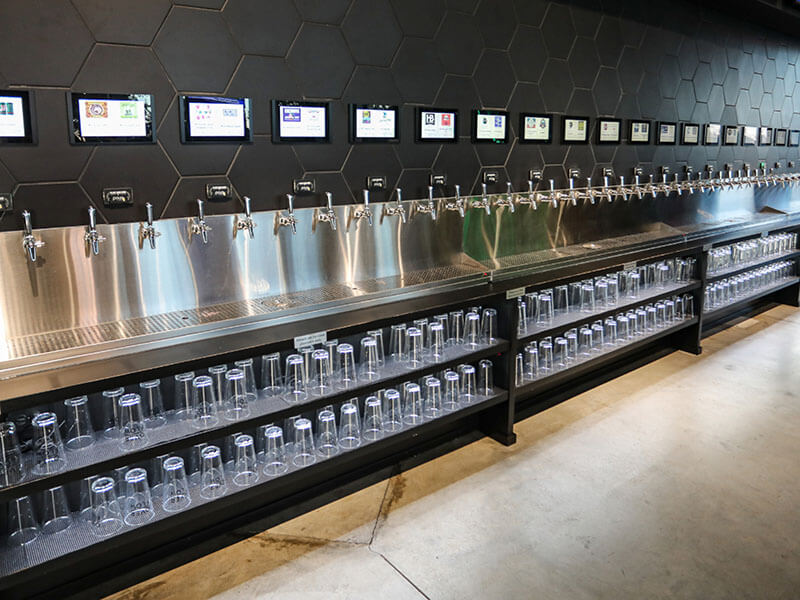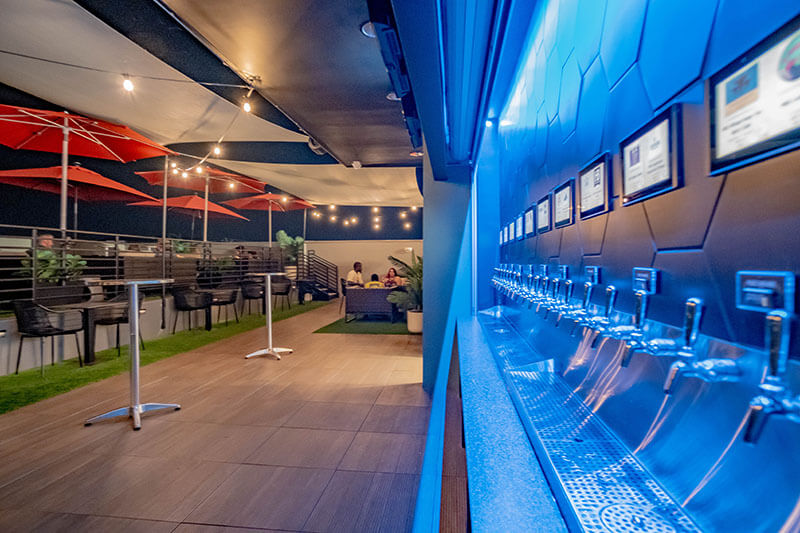 If you're lucky enough to visit on a Thursday – Sunday evening, you can sip a cocktail as there are bartenders available to shake up something special. 
The craft cocktail menu changes monthly to keep things exciting.  I opted for a classic dirty martini and it was exactly what the doctor ordered…especially enjoying it from the cushy cognac leather sofa facing the lake. 
When the weather is prime, all the windows and glass garage door-style walls open to allow the cool breezes from the lake to flow through the expansive main floor.  It's glorious.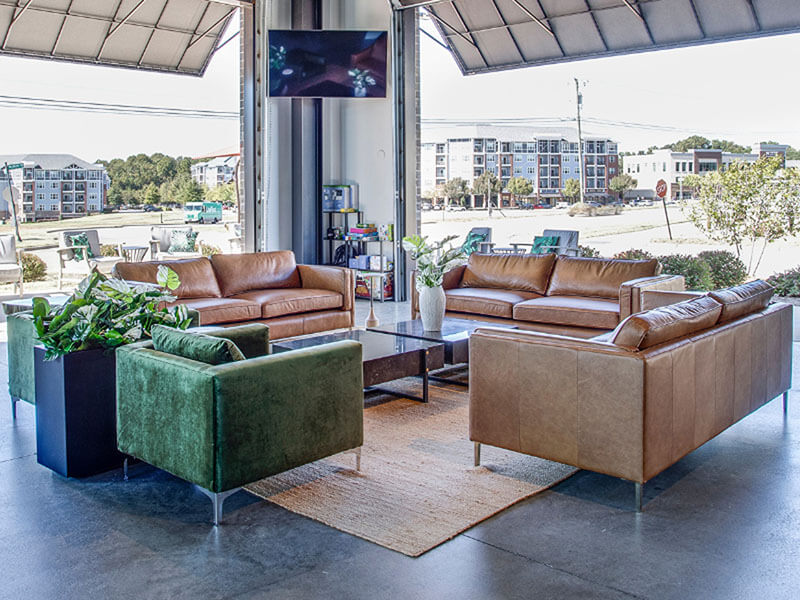 Choose Your Own Adventure Chapter 2:  Where to hang out?
Rooftop lounge, trendy main level, or casual outdoor patio? There are different taps on the rooftop than on the main level. So perhaps start on the rooftop and eventually make your way down for live music while tasting some new libations.
Overflow is the perfect spot to mingle with different drinks, songs, and people all night long.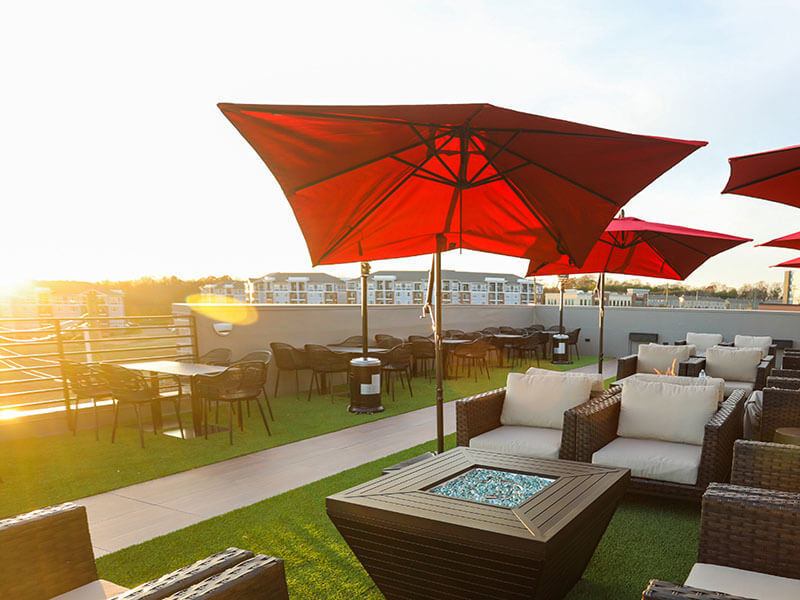 Choose Your Own Adventure Chapter 3:  What to eat?
Rotating food trucks are often parked outside for when you inevitably become peckish.  Give Overflow a follow on Instagram or other socials to see what's cooking. 
You also have the option to bring your own food from restaurants or home.  I picked up Nasim's Kebab which is within walking distance from Overflow.  The hummus is divine. 
The nearby LangTree Lake Norman retail village has lots of options too, including Novanta Pizzeria and Hello Me Vietnamese Kitchen to name a couple.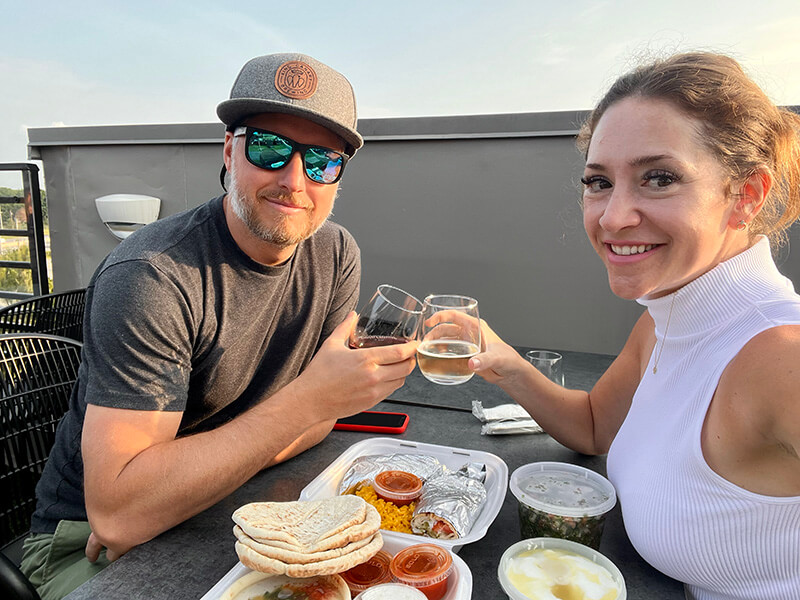 Choose Your Own Adventure Chapter 4:  Who is coming with me?
Overflow makes the perfect choice for a party venue as they take table reservations for up to 30 people.  Simply fill out the reservations request form on their site for fees and availability. 
Children over 16 are welcome for regular operating hours, except for Friday and Saturday evenings after 9 pm. Only ages 21+ are permitted during those times. Pets are also welcome on the ground floor patio, as long as they have exquisite manners.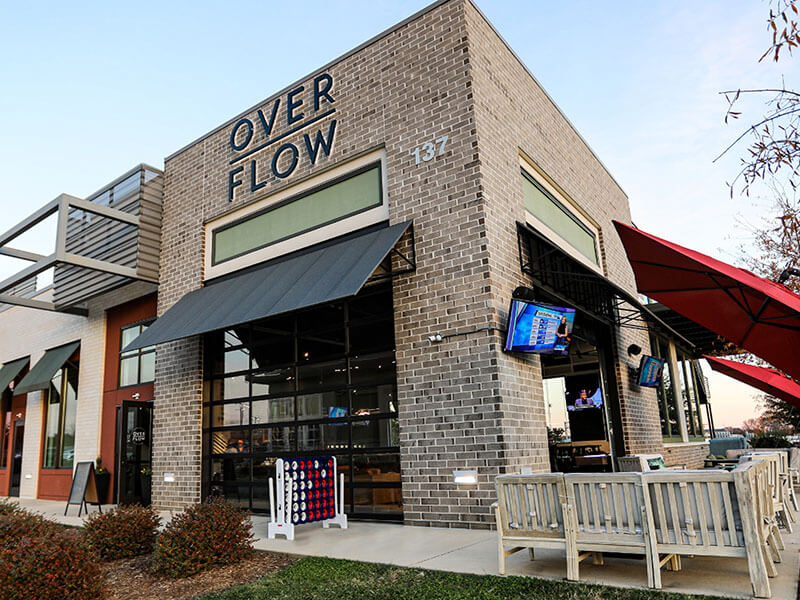 Final thoughts on Overflow – Lake Norman.
The warning at the start of every "Choose Your Own Adventure" is also a promise: "You are responsible because you make the choice…think carefully before you make a move!" 
Like endings in the iconic 1980s novels, our decisions at Overflow are never final because the taps rotate, the cocktails change, and the food trucks alternate.  You can always come back and choose a different adventure.  The only thing left you have to decide is whether you're going this weekend or next. 
Cheers to making Lake Norman's best "pour decisions"!
About the author: Jordan Eicher is a resident of Davidson and a travel and food blogger that is well-known for her excellent restaurant reviews. A member of Yelp Elite Charlotte, Jordan can be found at the hottest local restaurants and traveling the world with her family.