Sometimes, a simple dinner out isn't enough. Certain occasions call for a little bit of fanfare. Be it great drinks, generous portions, or a lively atmosphere, Noboru Japanese Steakhouse & Sushi Bar in Cornelius is waiting to host a memory you won't soon forget.
Noboru Japanese Steakhouse & Sushi Bar – The Inspiration
Located on Chartwell Road in Cornelius, Noboru is a teppanyaki restaurant serving up authentic Japanese hibachi, sushi, small plates, and more.
Owner Martin Tanaka has over 25 years of experience in the Charlotte-metropolitan restaurant scene, having served the Highland Creek community for many years with his namesake Tanaka's Sushi Bar. Martin's own Japanese background and formal training as a sushi chef have led him to Lake Norman, where he hopes to elevate the area by providing an authentic teppanyaki dining experience.
Teppanyaki (lit. metal-plate grill), is a style of Japanese cuisine wherein fresh ingredients such as produce, meat, seafood, noodles, and rice are fried on an iron griddle. Usually, this style of cooking is performed live in front of diners by highly-trained, theatrical chefs.
The showmanship is just as much a part of the dinner as the food itself, which is why teppanyaki and similarly-touted hibachi establishments have become popular venues for celebration here in the US.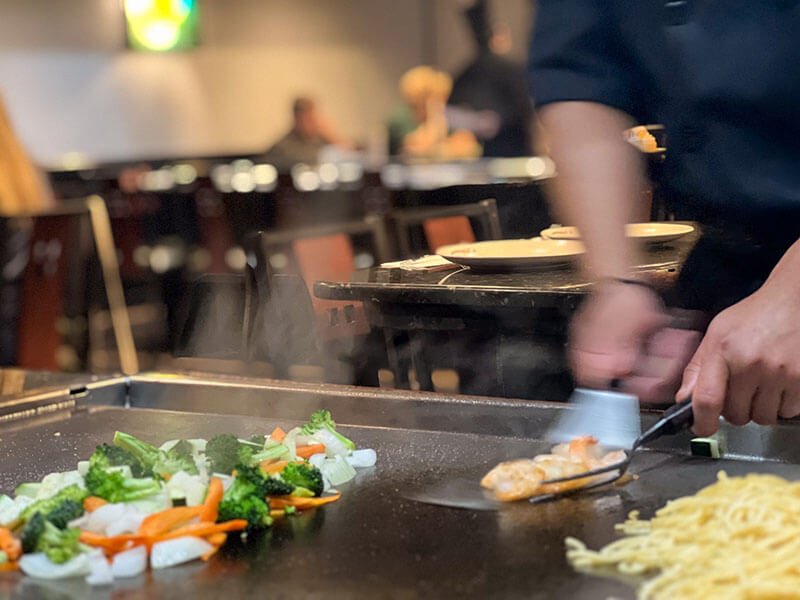 Noboru is no exception to the rule – the buoyant atmosphere struck us as soon as we walked through the door, where we were warmly greeted by Martin Tanaka himself. We made pleasant conversation as he led us to our table, a half-moon-shaped counter centered by a teppan grill. Martin's enthusiasm was palpable, and his excitement, genuine. We could feel the passion in his voice as he spoke of his other epicurean ventures, which culminated in him opening Noboru.
Meaning "to ascend or rise," we learned Noboru was named after both Martin's ambitions as an entrepreneur, as well as his former sushi sensei. Having lived in Japan myself, I loved hearing about the owner's background, and found that it made the experience that much more personal and enjoyable.
After taking a moment to drool over the menu, we decided on our hibachi entrees and put in three appetizers.
The age-tofu arrived first. Each little cube of tofu was breaded and fried to golden perfection, with a crispy outer shell and a center that melted in our mouths. The ponzu dipping sauce was the perfect pairing for the little morsels, adding a kick of citrus to each bite.  
Then came the complementary hibachi side dishes of clear soup and carrot-ginger salad. Though they may look underwhelming, the soup packed an unbelievable depth of flavor, while the salad dressing acted as a refresher in between bites. This is something that I have always loved about Japanese cuisine – each of many small dishes works in tandem to create a diverse, but harmonious meal.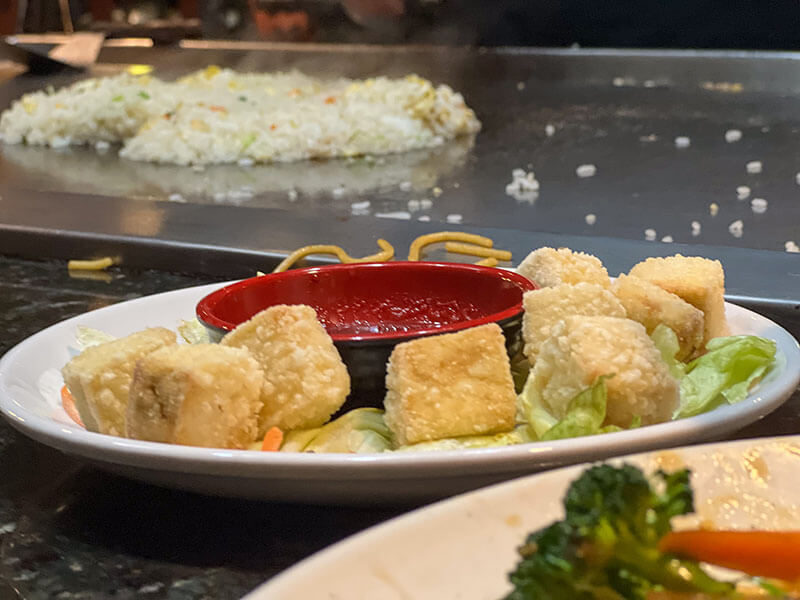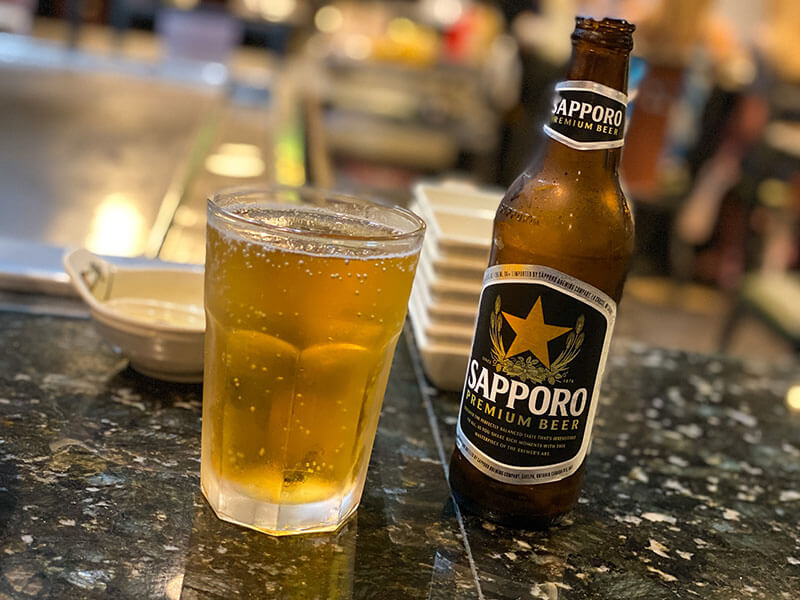 Along with our second appetizer, beef tataki, came our chef for the night. He wasted no time in starting the show for us, firing up the grill and twirling his dual spatulas before we could even get a bit in.
We watched in awe, snacking on the succulent pieces of lightly-seared beef, as our chef began to paint the teppan grill with a variety of oils and sauces.
From addressing our scallops as "marshmallows" to asking me if I thought I could catch a whole raw egg in my mouth, our chef's sense of humor showed through in every move he made.
It was so hard to take our eyes off the performance that we almost didn't realize our yakitori appetizer had arrived. The little chicken skewers were impeccably seasoned and grilled to juicy perfection, complemented by charred green onion and a sweet teriyaki sauce.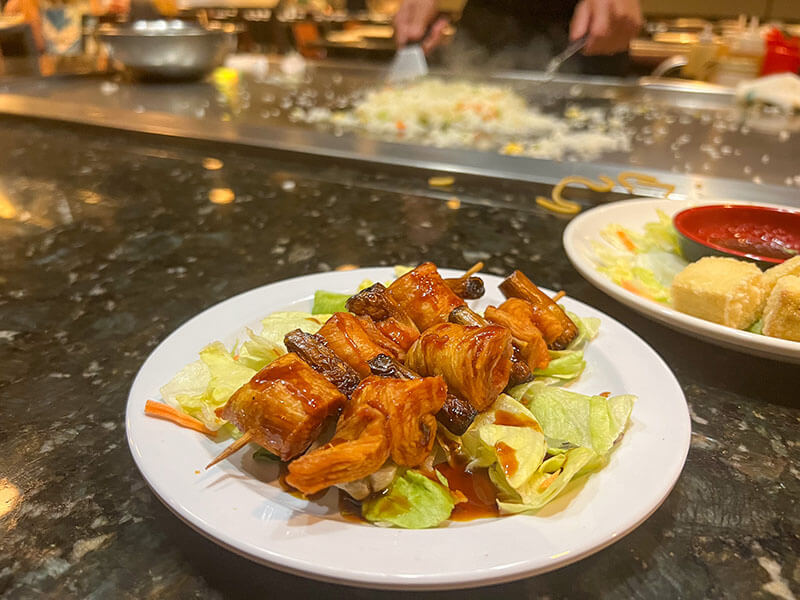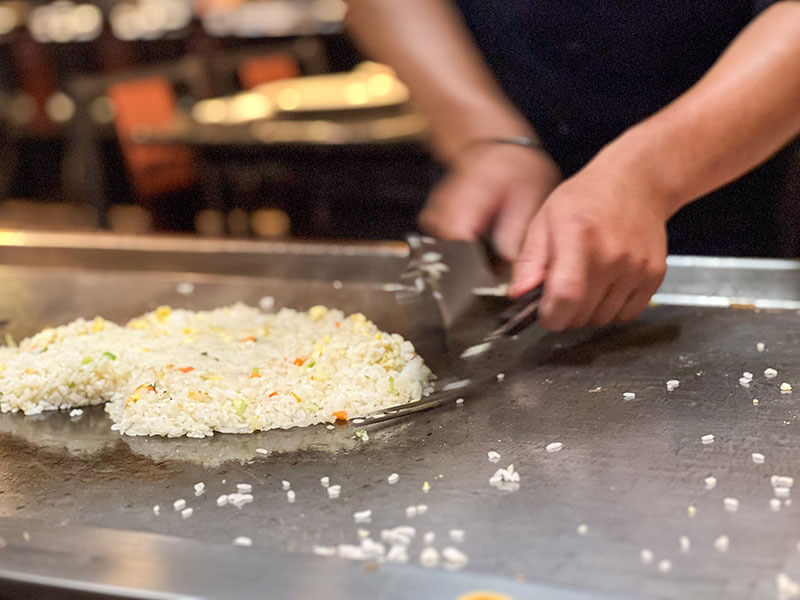 As a cornucopia of fresh vegetables, noodles, and rice were tossed onto the grill, we began to realize that we had been a bit overzealous with our appetizers, but we would truck on. That is the duty of a food blogger, after all.
Through the ceiling-high flames, twirling spatulas, and flying shrimp, it wasn't long before the chef was piling our plates high with the main course. As we dug in, he began to clean the grill, setting it ablaze and firing up torches for an aftershow.
My scallops were incredibly tender, and the soy-glazed vegetables tickled my palate with a simple, but homey umami flavor. It paired well with the pyro show – you'd be hard pressed to convince me that food doesn't taste better in front of an open flame.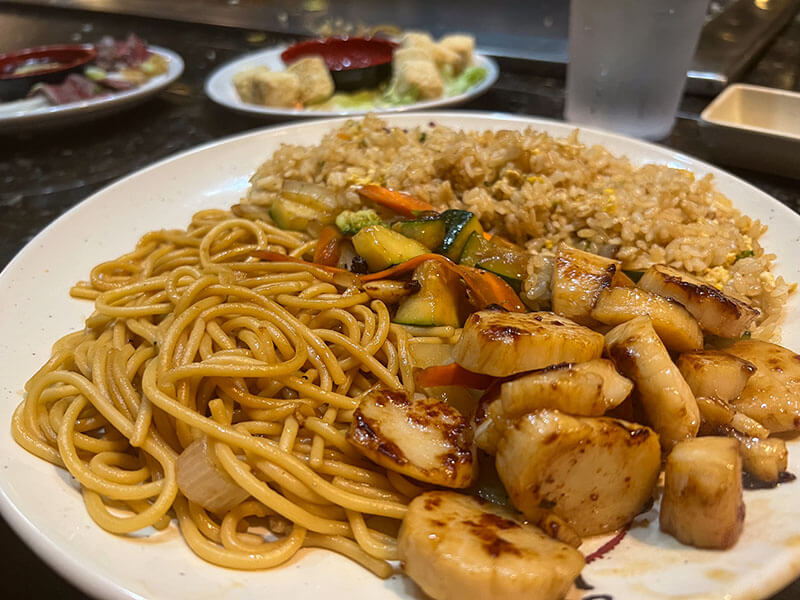 Final Thoughts on Noboru Japanese Steakhouse & Sushi Bar
After all was said and done, our chef thanked us for the lovely evening and departed, leaving us with full stomachs, full hearts, and a dozen full takeout boxes. (Spoiler alert: they didn't last very long.)
The food was incredible and the portions were heaping, but the real star at Noboru is its entertaining atmosphere. Owner Martin Tanaka is a gem in the Charlotte-Metropoliton restaurant scene, and his chef put on a stellar performance.
Whether or not you've got a reason to celebrate, we here at The Best of LKN  highly recommend treating yourself to a night at Noboru.