Welcome to our review of New York Butcher Shoppe & Wine Bar in Cornelius, NC.
Subscribe to Lake Norman's #1 Email Newsletter for more articles like this every week.
Click Here for a FREE subscription!
Special thanks to Schwinn CPA PLLC – Advisory + Taxes + Accounting for Small Businesses.
New York Butcher Shoppe & Wine Bar – Cheers, Cornelius!
Specialty cuts and wine bar style plates in a neighborhood bodega atmosphere right in the heart of downtown Cornelius at New York Butcher Shoppe & Wine Bar. Sound too yummy to be true? I am pretty sure they're working overtime to make us fall in love.
New York Butcher Shoppe & Wine Bar has 26 locations across 6 states. Locally, there are two others including the Dilworth neighborhood in Charlotte and Indianland, S.C. A little birdie recently told me that expansions are opening soon in Fort Mill and Belmont.
No doubt their game is strong: first, an elegant butcher shop with drool-worthy cuts. Shop and have your meat expertly cooked and served with your favorite sides on the spot.
Secondly, it's a casual neighborhood wine bar with gourmet plates and excellent service.
It's giving us something new to explore in Cornelius and as Homer Simpson famously quipped, "Good drink, good meat, good God let's eat."
Upon arrival, simply park at the designated parking lot of TOWNIE Center and stroll inside. Immediately, you will recognize this shop as a home cook's paradise.
Professional butchers are standing by eager to help you select your protein, your way. Porterhouse, stuffed flank steaks, beef briskets, all-natural chicken breasts, handmade burger patties, bacon-wrapped lamb tenderloin and so much more.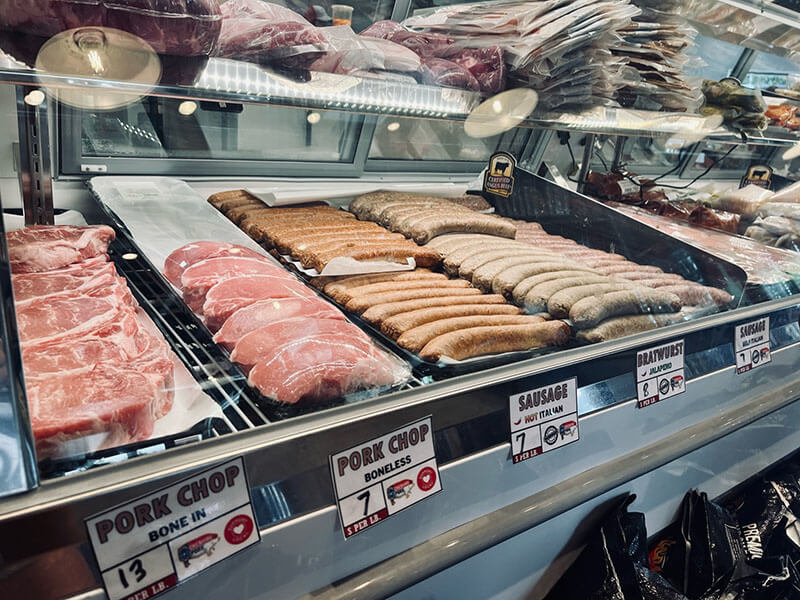 One can peruse the open-stock pantry-style shelves for everything from fresh seasonal vegetables to carefully curated wines to imported Italian sundries like the white truffle butter I took home, melted and drizzled on a perfectly proportioned ravioli (also made by the NY Butcher Shoppe).
 Surprisingly, the prices of these rare and unique food items were better than or comparable to the local grocery stores. The restraint on markup gained them big points in my book.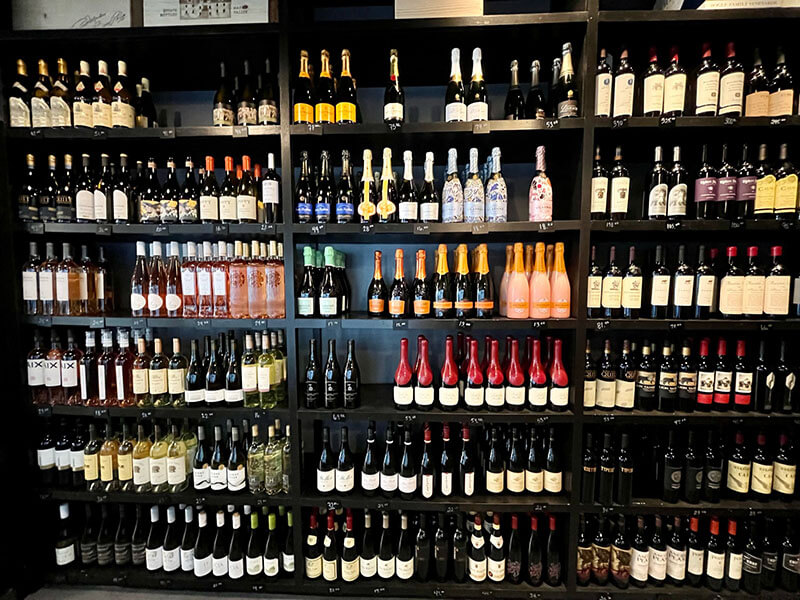 I was surprised at the range of options for prepared dishes. A family sized pan of Meatloaf or Chicken Parmesan, Vodka Penne, and a Caesar salad with garlic bread. A bottle of DOCG Chianti Classico waits on a shelf nearby to complete la cena.
The side dishes prepped to grab and go will give you pause as you think, "I want to try them all!" Potatoes at least five ways? Talk dirty to me. Goat cheese mashed, roasted red, au gratin, bacon topped, and twice baked. Mac & cheese, roasted Brussels sprouts, and broccoli salad.
I couldn't list them all without causing you to salivate so I'll stop here; but suffice it to say, you'll find something you love… and then maybe something more.
Subscribe for the weekly specials.
I knew this place was special when my mother-in-love told me that she subscribed to the weekly meal deal. She is a great cook, so the food had to be worthy of her table. Each meal deal is a premium butcher entree plus sides chosen by the team at NY Butcher Shoppe for just $21.99.
They are great about posting the meal deal's drool worthy content to their Facebook page. Simply follow them on Facebook or use your email to sign up on their website for the specials. Hosting family or friends for a cookout?
 One yelp reviewer boasted, "I don't think I'll food prep for a party anywhere else!"
 Just stop in and select the perfect menu for your Traeger that's fired up at home and you've taken the stress of hosting down by more than a few notches.
As a wine bar, the atmosphere is like eating at the counter in a specialty market. The no-frills interior reminds me of the quick, casual eateries in NYC where you tuck in for a relaxed meal behind the storage of olive oil tins and bags of 00 flour knowing that whatever the kitchen is putting out will be delicious.
 A few twinkle lights draw you outside to the courtyard where more seating and ambiance await. The service is always friendly and during your visit, you'll be walked through the customizable options on how and what you'd like to eat. I love how flexible this place can be for your time frame, mood, and needs.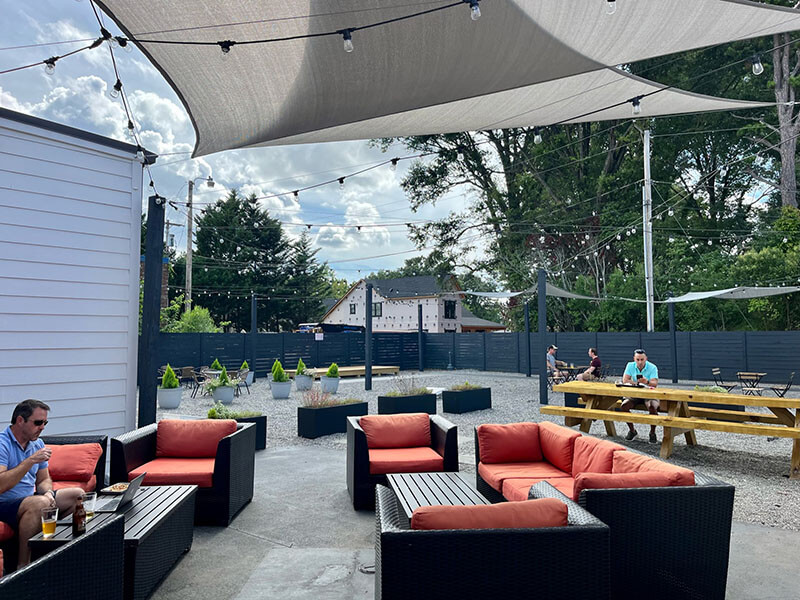 On my first visit, I ordered the Smoked Salmon Cobb salad ($16) which was loaded with proteins and fresh greens. I shared it with my partner and, along with the fabulous meatball special ($6 but worth $12), it was more than enough food. 
Patrons around us were eagerly enjoying steak sandwiches, seared scallops, house-made sausage with onions and peppers, truffle fries, Gouda mac & cheese, braised pork belly, beef sliders, and salmon filets.
How do we know? This place lends itself to chatting with your neighbors as the high-top table we sat around was community-style (though there are other limited four-tops and seats at the bar for more intimate dining). 
I have a feeling that once you find your favorites here, you will become a regular, but it could take time because the options are numerous.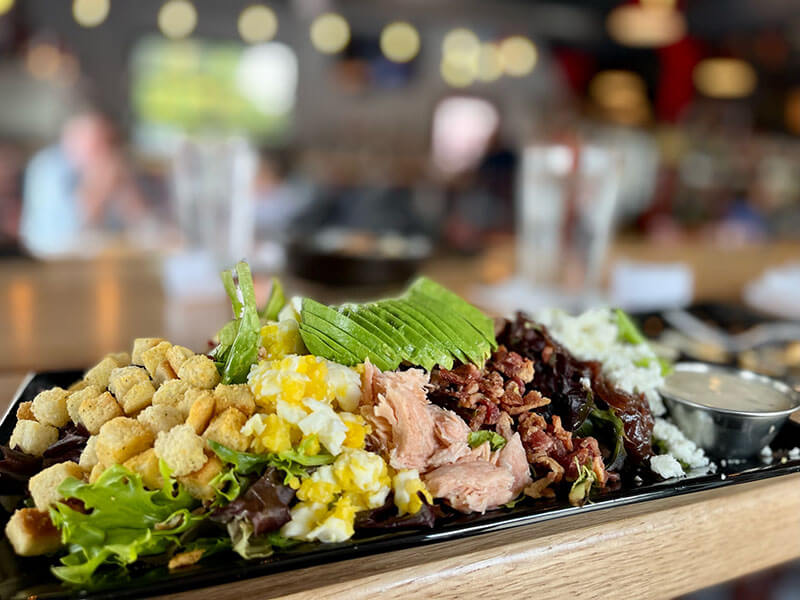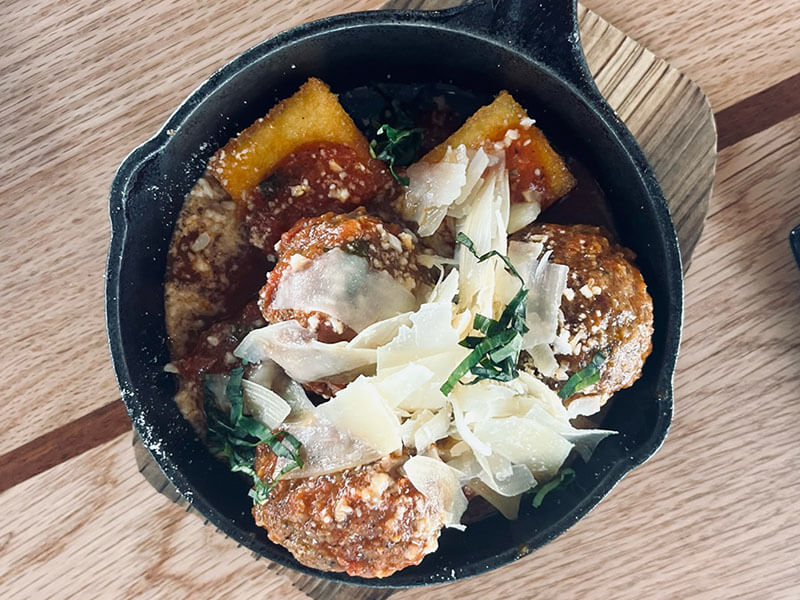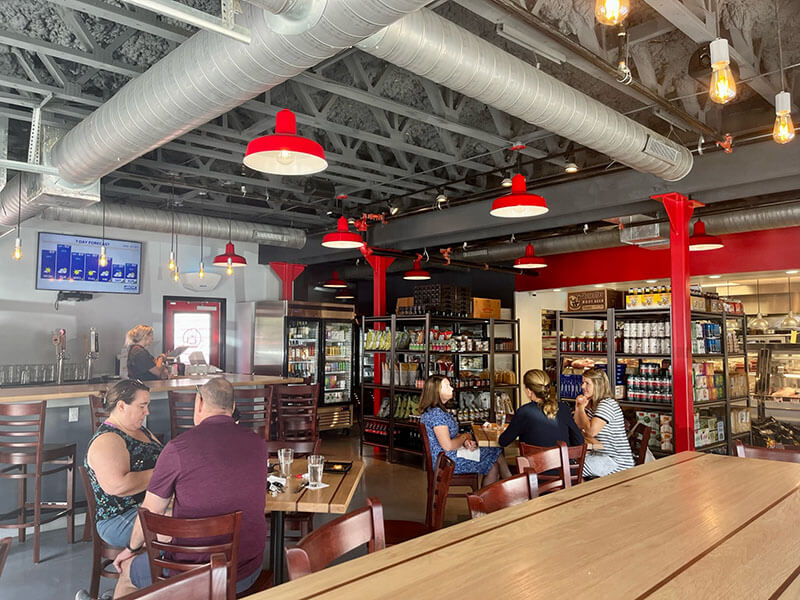 Tucked between two other new spots, Rico's Açaí and the yet-to-open Vana, in the TOWNIE shopping center, New York Butcher Shoppe & Wine Bar is definitely giving upscale casual with options galore.
Dine in and select your cut of meat while servers recommend sides and a wine pairing. "Swipe right" on the weekly meal deal after a long day of work and impress your family with a gourmet steakhouse dinner for less than $25.
Savor a local IPA or glass of Sauvignon Blanc and make some friends bellied up to the bar. Meatball Mondays: need I say more?
Cornelius: Lake Norman's foodie epicenter.
Cornelius is evolving into quite a little foodie hot spot in LKN. If you haven't tried these neighbors of NY Butcher Shoppe, they are all delicious in their own right and within a couple minutes' walk: Thigs Cocktail Bar, Osito's Tacos & Tortas, Barrel & Fork, and the legendary Carolina Cones for true Cornelius nostalgia housing the best ice cream desserts around.
Until next time, New York.
New York Butcher Shoppe & Wine Bar, we're delighted to have you here in LKN. Make yourself at home with your high-quality meats, fresh pasta, savory prepared foods, and gourmet sundries.
Steak flights to make us love you? Genius.
Put your feet up on our coffee table and stay awhile. You're a delicious addition to the charming town of Cornelius.
New York Butcher Shoppe & Wine Bar
Address: 20823 N Main St Ste C, Cornelius, NC 28031
Phone: (980) 981-1008
Hours: Monday-Thursday, 10 – 8 PM; Friday-Saturday, 10 – 9 PM; Sunday, 12 – 6 PM.
About the author: Jordan Eicher is a resident of Davidson, NC, and a travel and food blogger who is well-known for her excellent restaurant reviews. A member of Yelp Elite Charlotte, Jordan can be found at the hottest local restaurants and traveling the world with her family.