Small business owners are well aware of the importance of sharing their marketing content and messages on social media. When it comes to visual media, Instagram is the platform of choice. Instagram has roughly 1-billion users worldwide, with more than 150-million in the U.S. alone. With over 1-billion engagements daily, making your account stand out can be a real challenge.
Small business owners know that Instagram gives you the ability to establish a unique brand, connect with your community, and create a free visual portfolio. Potential clients and customers can get to know your brand, see what type of work you specialize in, view your products, and stay informed of upcoming events.
Real estate agents know well the value of visual marketing when it comes to generating new leads, and connecting with buyers, sellers, and other real estate agents. I've noticed some of the most consistently impactful Instagram accounts based around the Lake Norman community are the work of a few of the area's most successful real estate agents. These professionals are creating some amazing visual content that is engaging, informative, and educational.
Knowing that there's a lot more to growing a popular Instagram account than simply posting cool photos, I reached out to a few of the Lake Norman real estate agents with the biggest followings on Instagram and asked them to share some tips that could help small business owners improve their presence on the platform.
Here's what they had to say…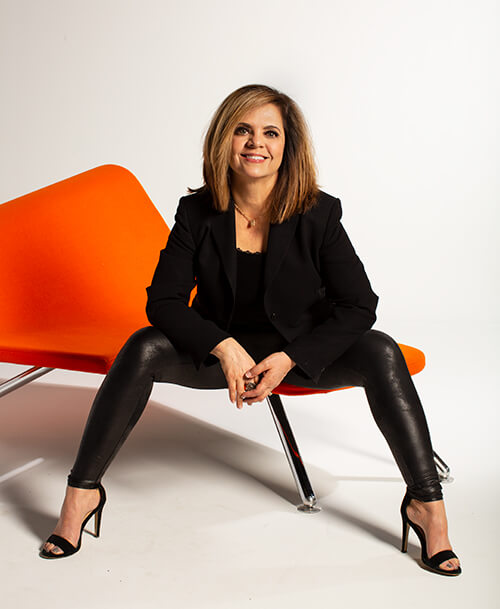 Photographer: Council Bradshaw Photography @racegun
Studio: White Orange Productions @whiteorangeproductions
Wardrobe: Cozy Boutique @cozyboutique
Meet Lake Norman's Most Followed Realtor on Instagram!
Here's my top four (4) tips that helped me build a strong and loyal Instagram following!
1.) Be Yourself: The hardest challenge for those new to Instagram is they want to emulate "someone else". Be authentic and allow YOUR unique personality to shine through. Your profile should reflect who you are and what you love. I personally chose to allow users to connect with me on a more personal level by sharing "behind the scenes" moments of my life and my profession. I'm real with them and in turn they permit me the honor of being someone they deem "worth following".
2.) Provide Captivating Photos & Content: The old saying that a picture is worth a thousand words couldn't be truer in the world of social media. Give thought to what you post and say and provide the absolute best visuals you can to fully illustrate your post.
3.) Use Your Hashtags! Instagram allows up to 30 hashtags to be used so…use them!  A hashtag is simply a metadata tag or label to make it easier to find information. Hashtags help social media users to be introduced and explore content they are interested in while allowing you to engage with your desired target audience. Invest time in using hashtags that will help expand your reach!
4.) Give Proper Credit: Always acknowledge other people's ideas/photos or contributions if they aren't your own. Giving credit shows respect and attribution which helps prevent unlicensed usage. The courteous act of crediting resources is proper social etiquette but it also allows Vendors to know about YOUR existence. Providing owed credit is also beneficial as it could produce future collaborations to further grow your following! Don't ever underestimate the power of sharing cool people with your people!
Get to know Tracy Pray Bradshaw in episode 80 of the podcast!
2022 UPDATE: Tracy Pray Bradshaw is now with Ivester Jackson Distinctive Properties.
Becca Mangini
Keller Williams LKN
Becca joined The Best of LKN podcast way back in Episode 3. Here she provides a checklist of great ideas to help you with your Instagram game. I do love checklists!
Becca writes:
1.) Be genuine. Don't be afraid to pull back the curtain. Be a little goofy, do "behind the scenes" be transparent about your struggles, show your face every now and then- not just your products!
2.) Tell stories. People relate so well to stories because they can see themselves in the shoes of someone else when you paint the picture. Think of a time you had a very satisfied client, think of a challenge your product or service helped someone overcome, think of something silly or funny that happened on the job and then share it!
3.) Interact with people. DM people, leave comments, react to stories. A "like" barely registers- you really have to get in there and engage with your following!
4.) Use the Instagram features. Especially when something new comes out!! The instagram algorithm will reward you when you use their cool gadgets like polls, questions, reels, etc!
Cristina writes:
I've been an active user of Instagram for about 11 years now! I've been a Real Estate Broker for almost the same amount of time. With social media, as a REALTOR, it's definitely important to showcase properties I have for sale, properties that I've sold, and also properties that hit the market as our market is insanely hot right now. However, as I've gotten older, I've realized that almost all my friends/followers don't necessarily want to see real estate all the time. Nowadays, I post a majority of my day-to-day activities including my travels, my 5 dogs, and my newborn Ryder. I think it's important to tell a story through your Instagram and not make it necessarily all business, all the time. By showing things I enjoy doing and being authentic, my followers and friends enjoy my content and get mixed in stories and posts about my real estate as well. It's a win-win!
When starting a new business or even growing an existing business, it's important to engage with the right type of clientele. Follow those who you think would follow you. Engage with those in the community who you think may enjoy your new endeavor or new storefront or restaurant. Like, comment, and share. ALWAYS. Be authentic. Part of the fun with Instagram is learning all the different features that it has and utilizing them in your business practices. By following and engaging with those who are authentic and genuinely like your brand, you'll grow exponentially without even trying.
Lauren writes:
Instagram has allowed me to grow my reach in a way local marketing never could. I have been blessed to connect with amazing real estate agents and clients all over the world. I have done this by showing up..daily!! I show up as my authentic self and it allows me to connect with my ideal client. I never want someone to meet me in person and be surprised that I am different than I seemed online. I utilize hashtags and genuinely engage with others on IG. I cringe when I hear people outsourcing this piece of their business. It's so obvious to me when it's someone else and let's be honest, that's lame. I have new buyers and sellers reach out to me weekly because they ran across my page. I'm convinced it's because I show the who behind the for sale sign. Show up, be consistent, be you!
Lauren writes:
Quick Tips:
Consistency – If you start a weekly post, don't stop!
Be Yourself – Share who you are with your social media followers.
"Content is King, but context is God" – Gary V.
A little planning goes a long way with social media. I've always loved celebrating random holidays and giving someone a reason to smile. Working with a local photographer on fun shots around Lake Norman to celebrate the different holidays has really helped me grow my social media reach and increase engagement. The holiday posts help breakup my business focused posts with something fun and relatable. Social media has been a vital tool for my business. Not only has social media helped me to reconnect with friends, it's given me plenty of opportunities to meet new clients, learn from other REALTORS® in the area and network with professionals supporting and collaborating in the real estate industry.
Heather writes:
My advice for small businesses would be similar to what one of my clients shared and encouraged me to follow as I began to brand myself, she runs a popular blog Champagne in the Rain. She said to highlight and share real properties and not to be repetitive with the same photograph. To be real and authentic through my photographs and posts. If you aren't comfortable being silly in front of the camera or a huge personality don't be one, be you. Share business posts and then some personal items to highlight me as a person.
I didn't know where to start in the beginning but slowly began to create new content. I would love to gain the courage to add small videos, which may come in the future but she told me not to overthink anything, stay true to myself and let my social presence develop organically, let people see what I care about and what is important to me as a realtor and a person.
Nicole writes:
I like to truly engage with my followers on Instagram. I always comment or like if something really catches my attention. When you show support to those that follow you, they often will support your content as well. I only post professional photos of my listings – making my profile always look professional. My goal this year is to add more lifestyle photos of myself, my community, and lifestyle videos. To help with hashtags, I have been using an app called hashtag generator. You input your main hashtag and it will populate others you can easily copy and paste to your post. I change a few of the populated hashtags to personalize them for the specific post, but it is a quick way to add multiple hashtags at one time. I have had great success sharing my listings on Instagram. It is a great way to instantly share information globally. I sold a home to a buyer in California by a simple post that led to a virtual showing.
Vanessa writes:
Providing insight into who you are and what you are about is just as important as clearly defining your businesses offerings on social media. Know your audience; put yourself in their shoes and tailor your content to include things that would be of interest to them. I have found that those who are most successful on social media mix up their content with personal posts – family, hobbies, lifestyle, community – and then sprinkle in business posts. Authenticity resonates with people. Don't ever underestimate the power of your personality; people want to get to know the person behind the business. So start by building rapport which will help to expand your brand, garner support and grow your following.
Jessica writes:
In my opinion, social media can be a powerful business tool, when used correctly. The good news is, in today's digital world, your followers want to see who you really are, not the posed persona. Make sure you let your personality shine through and be your genuine self! Look for businesses that might have a similar customer and see if they want to partner with you as a way to gain followers. Also, engage and interact with your followers but be careful to not allow it overtake your day as it can easily become addicting!
Wow! I love the feedback from these Lake Norman real estate superstars! All great advice. Now, let me see if I can summarize:
Top 7 Takeaways
1.) Be authentic — show them your personality, the person or people behind the business. Don't be afraid to share your struggles. Be real, and your followers will love you for it!
2.) Tell stories — every audience loves a good story. Sharing stories can make your brand more relatable and help it stand out from the crowd.
3.) Engage more — interact with your followers and other businesses that you love. Like and share their content.
4.) Utilize IG features — Instagram provides free tools to help you reach your audience. Learn how to optimize hashtags, stories, and reels in order to play nicely with the IG algorithm.
5.) Find partners — Connect with other brands that are not in direct competition with you, but serves a similar audience. Find collaboration opportunities, share content, and enjoy the referrals!
6.) Be consistent — Show up everyday. Post, share, and engage consistently to keep your brand in front of your audience.
7.) Be patient — Focus on growing your audience organically with thoughtful content that adds value to their news feed.
There you have it my friends! There's a lot to unpack, but start with one of these steps and master it. Then, move on to the next, and the next, and so on. Instagram won't be the platform of choice forever, but for now it's dominating the social space for small businesses. Apply these principles to your Instagram marketing efforts, and get your brand in front of new eyes everyday. The best time to start growing your Instagram account was 10-years ago, but the second best time is right now!
Many thanks to the amazing Lake Norman Realtors that took the time out of their extremely busy work schedules to contribute to this article. Readers, be sure to follow them on Instagram!