Nestled in the town of Cornelius, 131 MAIN stands as a Lake Norman culinary oasis.
With its impeccable service, inviting atmosphere, and scrumptious dishes, this local gem has firmly established itself as a go-to destination for those seeking an exceptional dining experience in the Lake Norman area.
What truly sets 131 MAIN apart is its commitment to using locally sourced, high-quality ingredients.
By partnering with regional farmers and suppliers, 131 MAIN ensures that each dish is infused with the freshest flavors of the surrounding area.
Our review of 131 MAIN – Lake Norman
You can expect a stress-free parking experience at 131 MAIN. They offer a dedicated parking lot exclusively for its patrons, located near the restaurant entrance.
From the moment you walk through its doors, 131 MAIN exudes an air of understated elegance. Soft lighting casts a warm glow over each dining area making you feel as if no one else is in the restaurant.
Starting with the Cast Iron Corn Bread was the best choice. The cornbread, baked to perfection in a cast iron skillet, had a golden crispy crust and pillow-soft interior.
The addition of the green chiles gave each bite a very subtle kick of heat which was balanced by the jack and cheddar cheeses.
It was served with a side of honey to complement the savory taste of the cornbread. This is a must-order.
For seafood lovers and those seeking a flavorful appetizer, the in-house Smoked Salmon with aioli and toast points is a must.
The balance of the smokiness from the salmon, creaminess from the aioli, and crunch from the toast points create the perfect combination that will leave you craving more – trust me.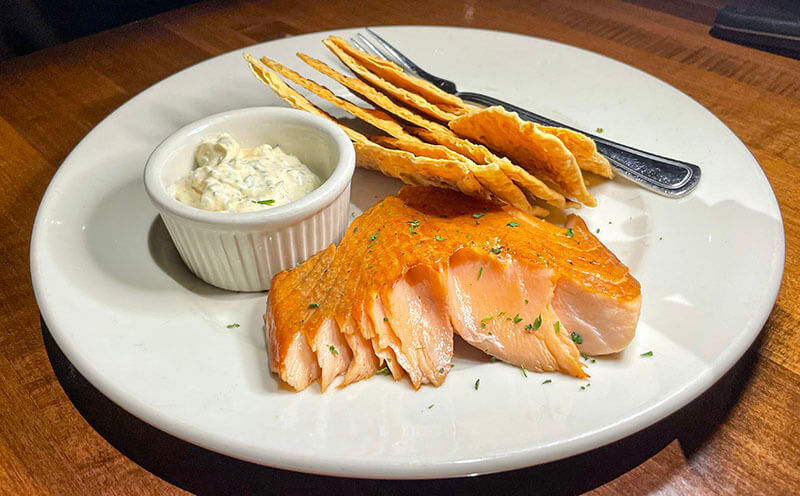 Maryland Style Crab Cakes
The Maryland Style Crab Cakes exceeded our expectations. With two jumbo lump crab cakes served alongside whole-grain mustard sauce, this dish was a true delight.
Opting for asparagus instead of fries was a good choice, as it added a refreshing touch to the meal.
What stood out the most about these crab cakes was the generous amount of crab meat. Every bite was crab with minimal filler.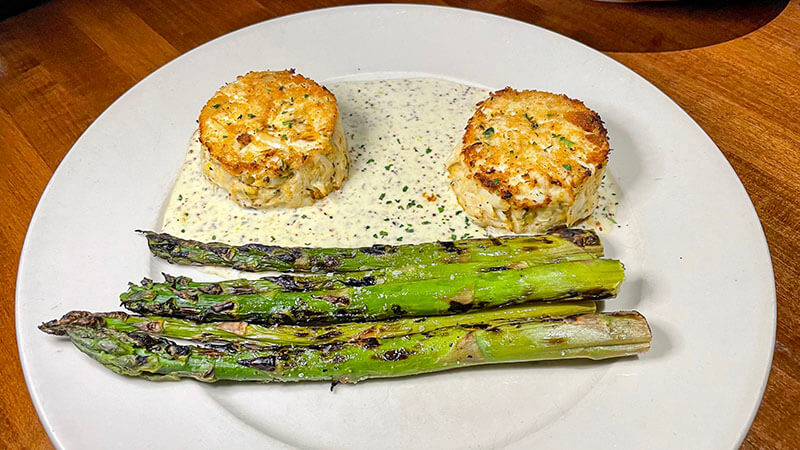 The slow-roasted herb-rubbed chicken was an outstanding dish. While the chicken itself was exceptional, it was the combination of the delicious demi-glace and the smashed potatoes that truly stole the spotlight.
It should be noted that the chicken comes in the form of a quarter chicken rather than a chicken breast for those of you who may not want to work for your chicken.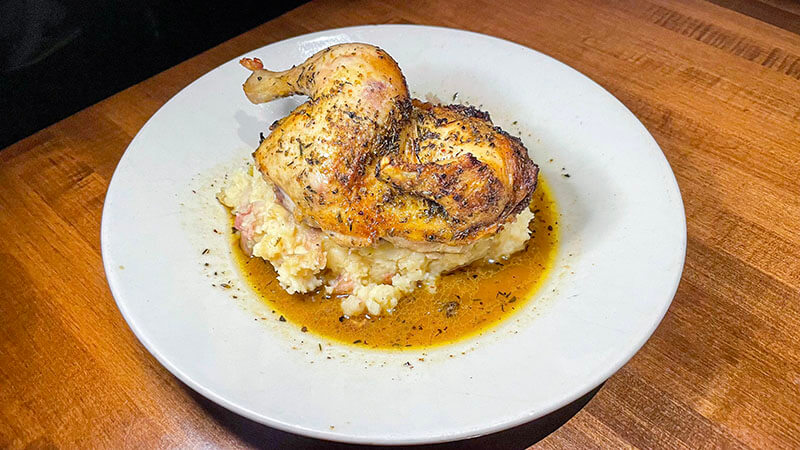 The Reference Point "Re Entrant" Pinot Noir wine offered was an exquisite combination of the fragrance of the ripe berries, subtle earthiness, and delicate floral notes that captivate your senses.
If you like red wine, this is a must-try.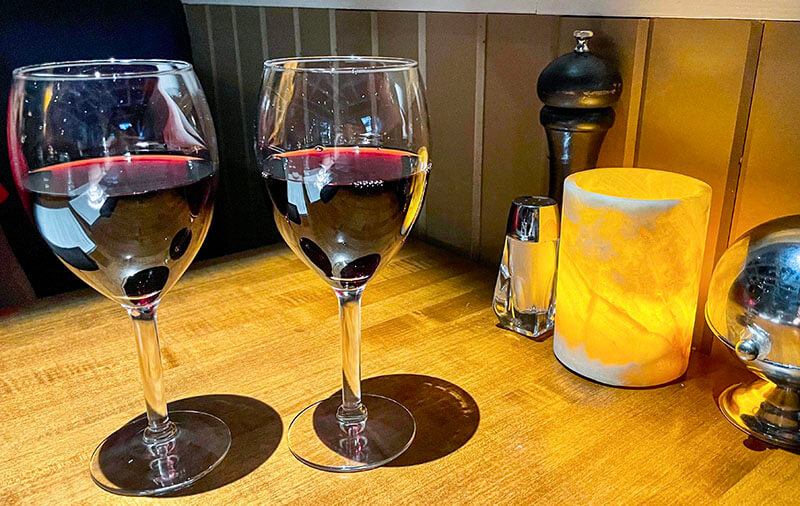 Of course, no review of 131 MAIN would be complete without mentioning the exceptional service provided by the staff.
The knowledgeable and attentive waitstaff goes above and beyond to create a seamless dining experience, providing recommendations and ensuring that you enjoy each dish you order.
Our server skillfully guided us away from a dish that wouldn't have suited our taste preferences.
So, whether you're seeking an intimate dinner for two, a celebration with friends, or simply a delightful meal near the lake, 131 MAIN in Cornelius, North Carolina, is a Lake Norman dining destination that effortlessly ticks all the boxes.
Address: 17830 Statesville Rd, Cornelius, NC 28031
Phone: (704) 896-0131