Main Photo Credit: Jon Beyerle, On Camber Creative @on_camber_creative
Are you looking for the best Lake Norman bike shops? Here at The Best of LKN, we love cycling. Mountain, road, recumbent, cruising, tandem, you name it! Well, maybe not recumbent, or tandem. My wife and I always laugh when we see a couple on a tandem bike – let's just say it wouldn't work for us. 
But, mountain biking? Oh, yeah! Road cycling? Show me the nearest grand fondo. Cruising? Sure, I'll be coffee-shop-hopping off the local greenways.
There's no shortage of beautiful places around Lake Norman to go for a ride. We'll publish another article in the future with our picks for the best trails, greenways, and group rides around Lake Norman. For now, let's review our favorite places in the Lake Norman area to go for bicycle sales, service, and advice…
Here are the 5 best Lake Norman bike shops for 2023: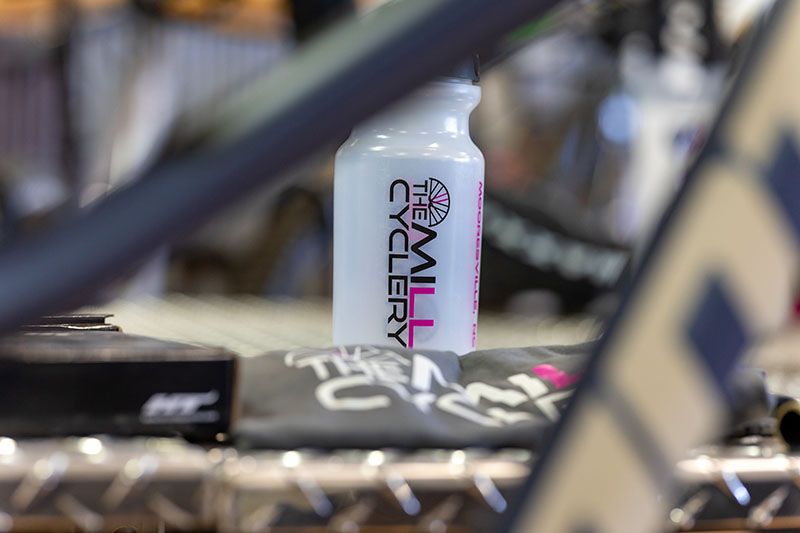 The Mill Cyclery is the newest of the Lake Norman bike shops and also happens to be my favorite. Owners Lou and Laura Gregori opened The Mill Cyclery in March of 2022 with a mission to help change lives and bring value to the community.
Lou brings decades of experience in bicycle sales and repair. A seasoned bicycle mechanic and avid rider, Lou has worked in the bicycle industry both full-time and part-time throughout his career.
Laura is also fully involved in running the business, customer service, the back office, marketing, and accounting. All the things. This is a true family business and team effort.
The Mill Cyclery organizes weekly rides at parks in the Mooresville and Lake Norman areas. In case you weren't aware, we are extremely lucky to have some really amazing riding parks around Lake Norman. Just another reason to move here.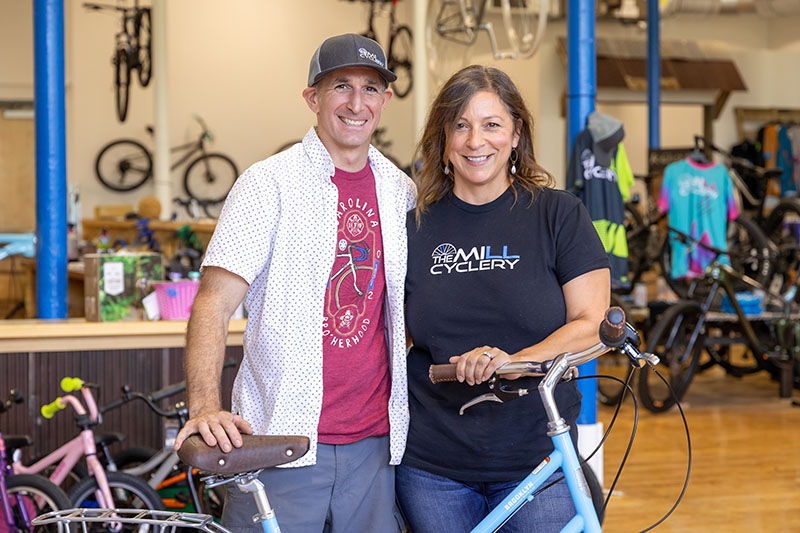 Locally-owned bike shops are known for the way they take care of their customers both before and after their purchase. The Mill Cyclery is no exception. Lou and Laura prioritize superior customer service and this is reflected in their excellent online reviews.
The team at The Mill Cyclery are also thoughtful stewards of the sport of cycling and their community. They're not just selling and servicing bicycles, they're forming lifelong friendships and helping to improve lives. 
Here are a few highlights you can expect at The Mill Cyclery:
Quality + Value

: The best bicycle brands in the world at competitive prices.

Friendly Staff:

This team is crazy about cycling and loves serving their customers.

Convenience:

Shop online or in person and enjoy free local pickup!
If you're looking for a partner in cycling, I recommend beginning with The Mill Cyclery. Lou and Laura are in business for all the right reasons, and that's just one of many reasons why this is my first bicycle shop of choice.
You can get to know Lou and Laura and learn all about the inspiration behind their beautiful bike shop in episode 120 of The Best of LKN podcast!
The Mill Cyclery
Address: 500 S Main St Suite 104, Mooresville, NC 28115
Phone: (704) 412-2077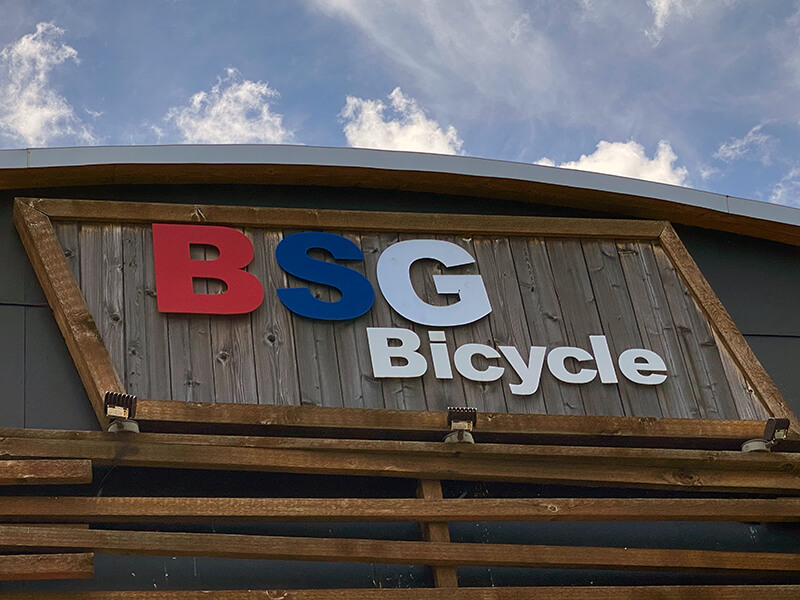 Blood, Sweat, Gears (or "BSG") might be one of the most illustrious Lake Norman bike shops. Owner Keith Isenberg opened BSG after over 10-years of mountain bike racing, time-trialing, and wrenching on bicycles. He also competed on tandem bikes. Yep, that's a thing, apparently.
BSG carries top end brands like Giant, Bianchi, and Orbea. Giant and Orbea offer both mountain and road models, while Bianchi is primarily a manufacturer of exquisite high-performance road bikes. You'll also find smaller brands at the shop, and the team will be happy to help you with a special order. 
Legit bike shops are run by folks who ride, and BSG is no exception. They are the official launching point for the Lincoln County Cyclists' group rides. Meeting on Tuesday evenings and Saturday mornings, LCC rides include three groups – A, B, and C – that will accommodate riders from novice, out of shape middle-aged cyclists (like me), to type-A hammers that are too cool for yellow jerseys. (Pro tip: don't wear a yellow jersey.) 
One ride you won't want to miss is the annual Robin's Ride for Hope. This event gathers 150 cyclists together each year to honor Keith's Mom and co-owner of BSG, Robin Isenberg. This is a very special event that raises money for the Foundation for Women's Cancer. Local businesses should also note the sponsorship opportunities, and give this event consideration.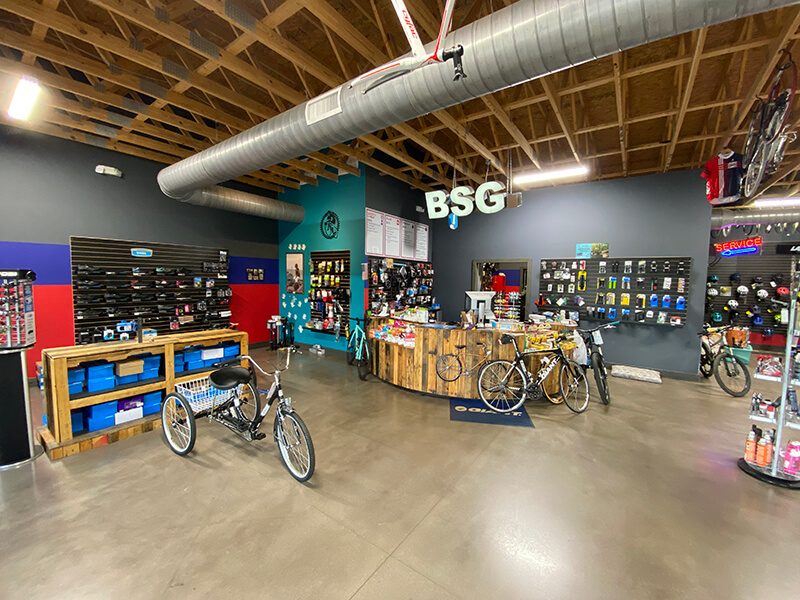 A common thread among Lake Norman bike shops is how they stand behind their products, and BSG is committed to supporting you throughout your cycling journey. They include the following services with the purchase of any new bicycle:
Lifetime adjustments and inspections

Free Premium Tune-Up and Inspection after 6-months

Free bicycle fit (your body will thank you for this)

10% off any accessory you purchase with the bike
BSG is located in Stanley, NC, just off route 73. Where's Stanley? I call it Denver, NC. Just jump on 73 in Huntersville and head West for a few miles. 
BSG has also been recognized by the National Bicycle Dealers Association as one of "America's Best Bike Shops." Plus, their name, "Blood, Sweat, Gears" is one of the coolest names for a bike shop. Ever.
Blood, Sweat, Gears
Address: 108 Killian Farm Rd, Stanley, NC 28164
Phone: (704) 822-8803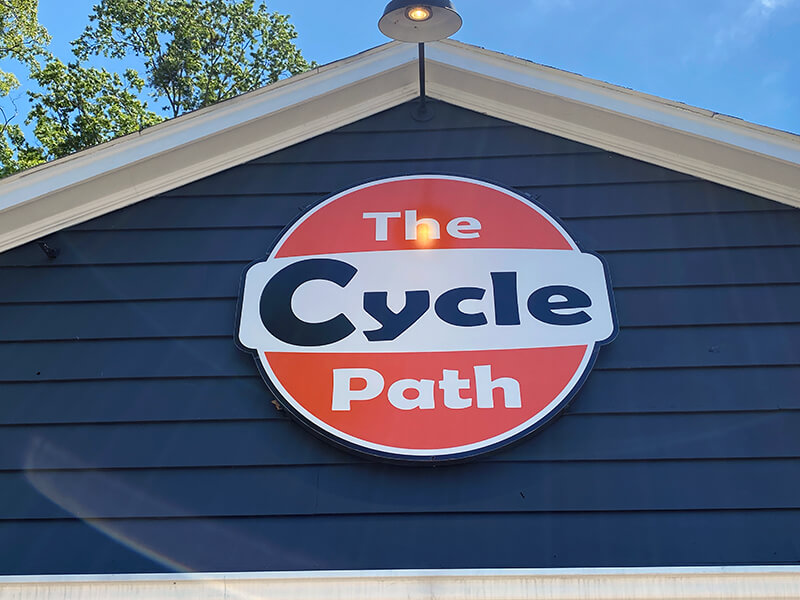 If you've ever traveled on North Main Street in Cornelius, you've more than likely noticed a lot of random mountain bike wheeling going on around Daniel San's Sushi Restaurant. No, Daniel San's isn't the mountain bike version of Iron Thunder Saloon. What you're seeing is the team at The Cycle Path bike shop next door testing new, or recently repaired bikes. Or, possibly customers test riding their next new bike. Either way, keep an eye out when pulling into the parking lot at Daniel San's to grab a Little Red Corvette Roll.
The Cycle Path is one of the oldest Laake Norman bike shops, founded in 2006 by Mark Sullivan, who did what we all wish we could do – he ditched the 9-to-5 and pursued his dream of owning and operating a bicycle shop. Over the years since Mark has worked closely with the Town of Davidson to build and maintain the treasured bike trails at Fisher Farm Park. Mark also serves on the board of the Tarheel Trailblazers, and has helped them become one the most robust cycling clubs in the Southeast.
When it comes to the selection of bikes, The Cycle Path has just about every category covered: road, mountain, BMX, commuter – you name it. As for brands, for most of the categories you can choose from Specialized, or… Specialized. Not much variety in brands, but that's ok. Specialized is a premium high-performance bicycle manufacturer that's been in the game for a long time. Besides, it's more important to select the best bike shop to support you on your cycling journey, rather than focusing on the bike brand.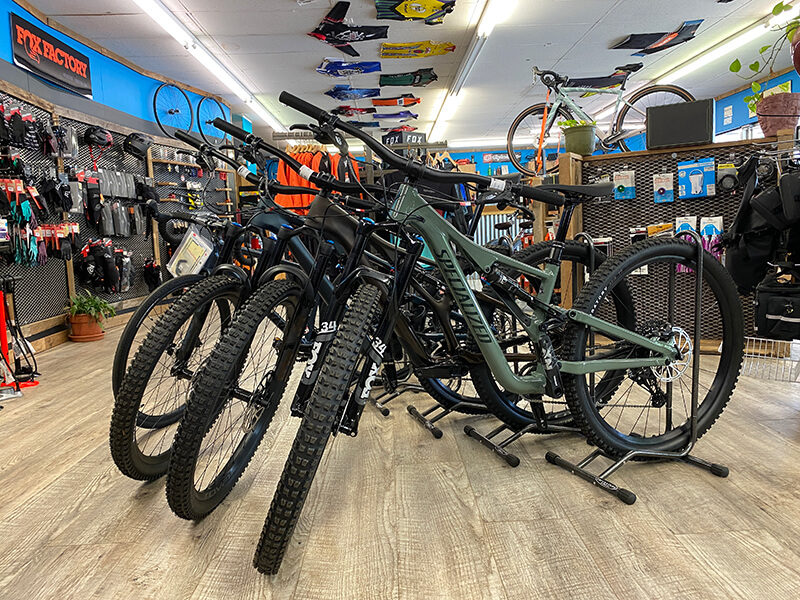 Speaking of support, you'll find the team ready, willing, and able to perform any needed maintenance or repairs on your machine. Check out their tune-up packages to keep your bike operating at peak performance. They even offer a Wash & Lube service for less than 50-bucks. Bicycle detailing! How cool is that?
How about advocacy? The team says, " We share a passion for cycling, and that passion thrives through local cycling advocacy." With over 30 years of trail building experience, including such local gems as Lake Norman State Park, North Mecklenburg Park, and Fisher Farm Park, The Cycle Path team has had a hand in providing area cyclists with some world class trail riding opportunities.
The Cycle Path promises to provide a pleasant and efficient shopping experience for their customers, and their love for bicycling shows in everything that they do.
The Cycle Path
Address: 20900 N Main St, Cornelius, NC 28031
Phone: (704) 896-3331
Spirited Cyclist Bike Shop – Davidson & Huntersville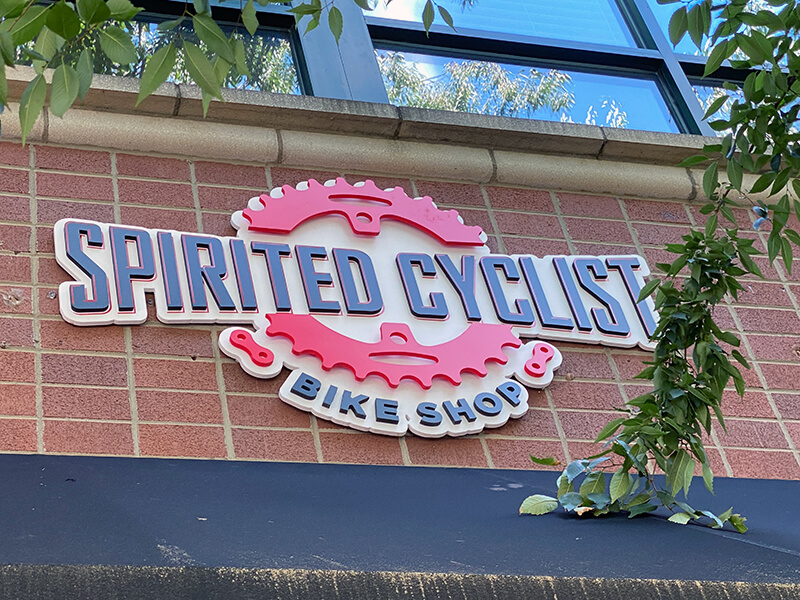 Spirited Cyclist is part of a small chain of locally owned Lake Norman bike shops. They have two locations here in the Lake Norman area, Huntersville and Davidson. Other shops in the chain include the renowned Uptown Cycles in Charlotte, and First Flight Bicycles in Statesville. 
Ownership is a bit of a mystery. According to the Spirited Cyclist website, the goal for the company is for employees to take over ownership. It is the company's belief that employee ownership is the best path for the community and the growth of the sport. Well, tough to argue with that.
In both shops, you'll find bikes by premier manufacturers such as Cannondale, Specialized, Santa Cruz, and Diamondback. Models in every category are available, such as road, mountain, hybrid, fitness, and commuter. Of course, e-bikes are also available just in case you're not keen on always being the motor for your bike.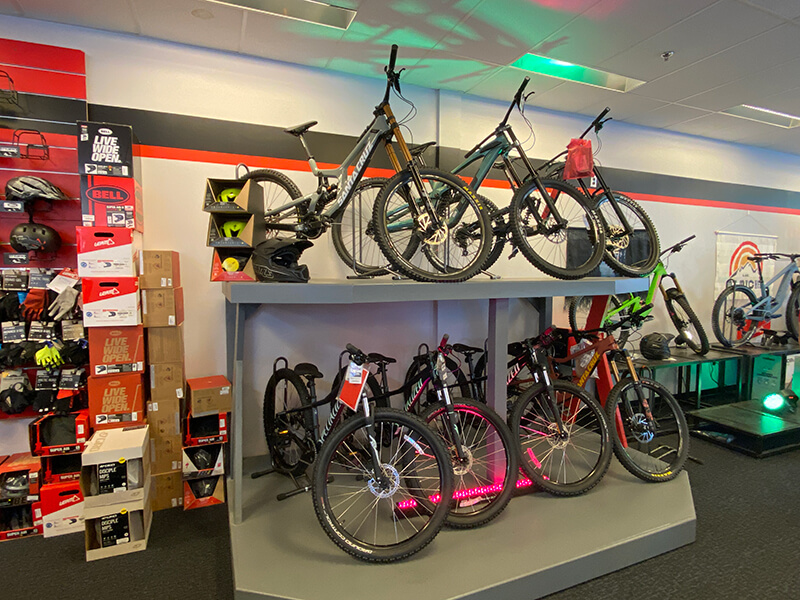 What about service? Spirited Cyclist has you covered with several levels of bike tuning options, including:
Safety Tune – A basic tune – great for maintaining your machine
Bronze Tune – An annual tune-up to get your bike ready for the next season
Silver Tune – This is their "it's been a while" tune-up, for a somewhat neglected bicycle
If your bike has been unridden or stored for years, and you're ready to start riding again, Spirited Cyclist also offers complete overhauls. These services disassemble the bike to the frame, and every component is serviced to ensure a safe and great-performing return to the road (or trail).
Spirited Cyclist also organizes excellent group rides on Monday and Wednesday evenings and Saturday mornings. One of the Monday rides culminates in a gathering at D9 Brewing for a post-ride beer. So, if you're the type that could use some hoppy motivation, there you have it. On Thursday nights, you'll find the team riding at the U.S. Whitewater Center. Make sure you have lights for that ride, and you can look forward to enjoying a few beers afterward. 
Want to test-ride a few new mountain bikes? Check out the Spirited Cyclist demo day events held at North Mecklenburg Park. These are free events where you can test-ride several different models and get some advice from the staff. All you need for the demo events is a valid ID.
It's safe to say that Spirited Cyclist has you covered for all things road and mountain bike. Stop by their shops in Davidson and Huntersville the next time you're in the area!
Spirited Cyclist – Davidson
Address: 610 Jetton St, Davidson, NC 28036
Phone: (704) 948-9300
Spirited Cyclist – Huntersville
Address: 9905 Rose Commons Dr, Huntersville, NC 28078
Phone: (704) 948-9300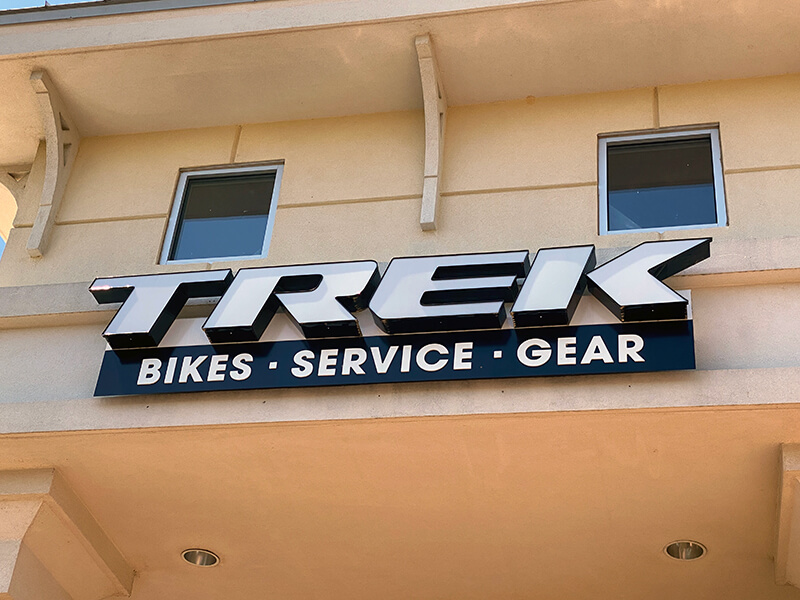 In the world of cycling, there is no brand more prolific than Trek Bikes. The company started back in 1976 in a small Wisconsin barn. Today, Trek is continuing its mission to make the world a better place for cycling by getting more people on bikes and building products that they love. 
Among Lake Norman bike shops, Trek is represented by Trek Bikes of Charlotte with a location in Mooresville. Their neighbor, Charlotte Running Company was our guest way back in episode 5 of the podcast. 
As you might expect, Trek manufactures bikes in every category of the sport, and the Trek Bike Store can put you on one. The categories include:
Road Bikes

Mountain Bikes

Comfort Bikes

Hybrid/Fitness Bikes

Electric Assist Bikes

Kids Bikes

Cyclocross Bikes

Triathlon Bikes
They also sell used bikes and offer a bike trade-in program to save you the hassle of selling your own bike when you're ready to move up. Did you know there's a Blue Book for bikes? Of course there is! Can't quite stroke a check for that $12,000 Trek "Emonda SLR 9 Disc eTap?" No worries, just finance it with a Trek credit card!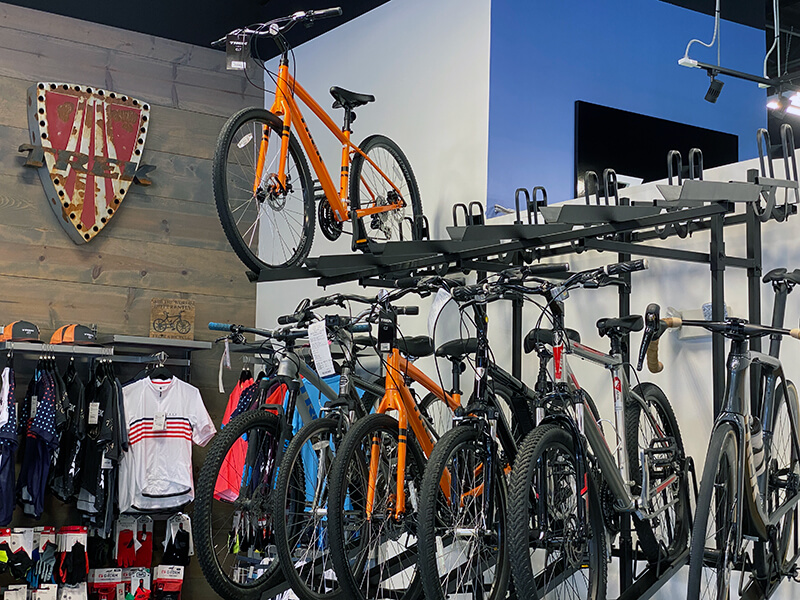 Over in the service department, you'll find technicians that are professionally trained and certified to work on all bike makes and models – not just the ones they sell. They also provide a free tune-up and safety inspection for your new bike, so after the first few hundred miles, just bring it back to have everything adjusted and tightened up. Service walk-ins are always welcome, and estimates are free. Consider calling ahead though to save yourself some time.
The shop also offers Trek Precision Fit Services. Trek lauds this service as the best bike fitment service in the industry.  The basic "Static Fit" is included with your new bike purchase. But, if you're planning on spending long hours in the saddle or riding competitively, you may want to upgrade to the "Saddle Pressure Map Fit." As the name implies, this service provides an analysis of the current saddle on the bike, as well as other saddles to determine the best shape saddle for you. 
How about group rides? The Trek Bike Store offers several weekly rides throughout Charlotte and Lake Norman. Although, COVID-19 did put a temporary hold on these gatherings in 2020. Go ahead and call the shop nearest you for information on current rides. Riding is more fun with others, and the Trek Bike Store loves introducing cyclists to new riding buddies.
Trek Bike Store – Lake Norman
Address: 146 Mooresville Commons Way #5L, Mooresville, NC 28117
Phone: (704) 663-8812
Well, that rounds out our list of the best bike shops around Lake Norman! Ready to set out on your own Tour de Lake Norman? Get to one of these bike shops and get rolling!