Osito's Tacos & Tortas in Cornelius – a Main Street gem!
My daughter was turning seven and we had thirty-four rambunctious kids coming to our backyard for a Jurassic Park themed party complete with a bounce house and a 6-foot inflatable T-Rex.  They were going to eat pizza; but what were all these parents going to eat?  I had a foodie reputation to uphold. 
Enter: Osito's Tacos & Tortas.  I went to Chef and Co-Owner Bobby Davis with an oversized lazy Susan and said "Would you fill this bad boy with your best tacos for a party this weekend?" 
Even though my husband and I worked tirelessly to transform our backyard into Isla Nublar to surprise and delight our Dino-loving daughter, the tacos were the talk of the party.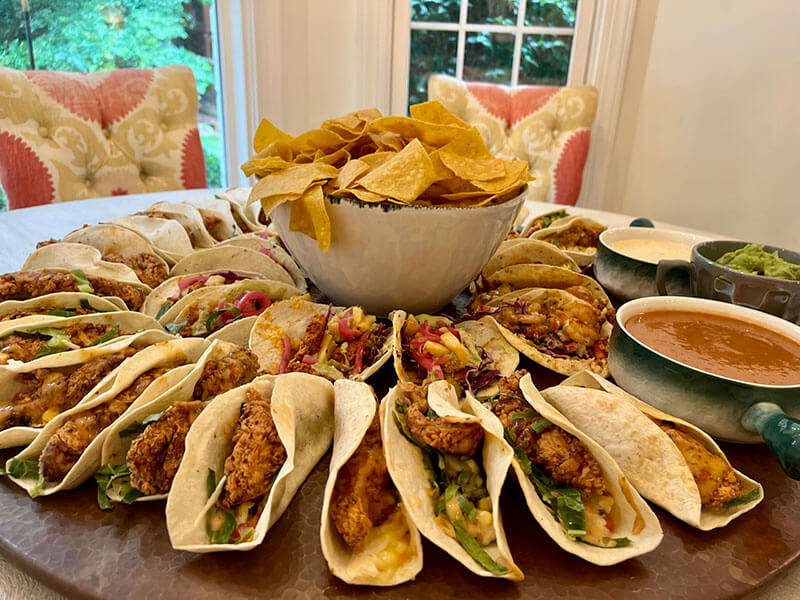 The namesake "Osito" was the crowd pleaser:  a flour tortilla with pickle-brined southern fried chicken tenders, collard slaw, grilled yellow corn, pico de gallo, and Osito sauce.  Osito sauce is that sauce.  The one that makes the entire dish come to life.  You can purchase a bottle at the shop. 
My personal favorite taco, the "Mama Dukes", was another hit: chorizo potato hash, rajas, a fried egg, melted cheeses, and lime crema on a fresh corn tortilla.  I can't tell you how many people asked, "Who did these tacos? They're delicious!"  At first bite, you're acutely aware that this is Mexican food. Yet, somehow, you're also back at your granny's table on Sunday asking for another serving of her home fries.
You see, Mexican street food and southern flavors mingle here to make something that feels new and eerily familiar.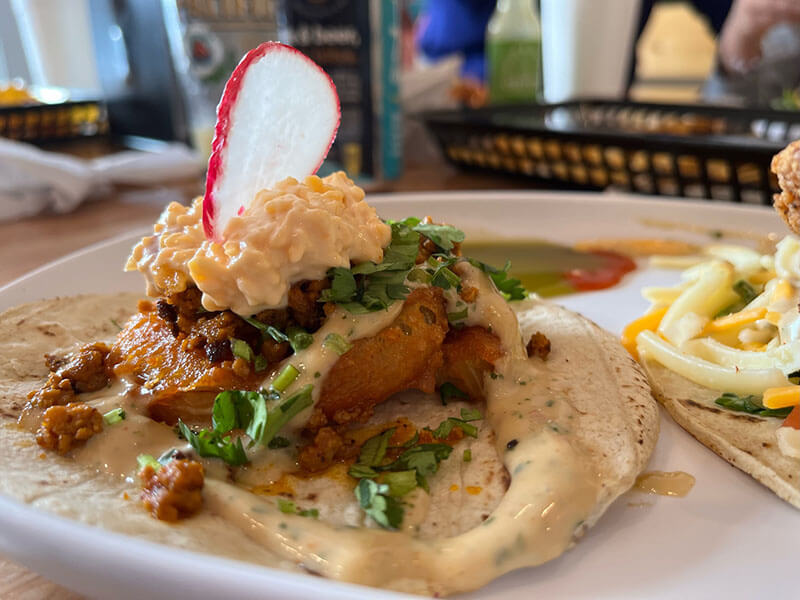 Osito's is Southern-rooted, and Mexican inspired.
Bobby describes it as "Southern rooted, Mexican inspired" and boy, do his dishes put both on the plate. 
"We're not authentic Mexican and we don't want to be,"  he explained with a smirk.  You're not going to find the typical combo plates of ground beef, rice, and refried beans.  They do, however, serve Mexican staples like loaded nachos, burritos that challenge even the fiercest appetite, quesadillas, and of course, margaritas. 
Bobby traveled throughout Mexico with legendary Charlotte restauranteur, Frank Scibelli of Mama Ricottas, Midwood Smokehouse, and Pacos Tacos and Tequila. 
No doubt this chef understands authentic Mexican.  He's consciously choosing to reinvent the flavor profile to tell a more personal story where the South plays a co-starring role.
His cuisine shines when Bobby plates a shrimp and grit cake taco and then smothers it in southern sausage gravy.  Quintessentially southern ingredients make their way into the dishes and this is what makes Osito's magical. 
If you're still wondering what business grandma's pimento cheese has on a taco, well, you might just need to try one to find out.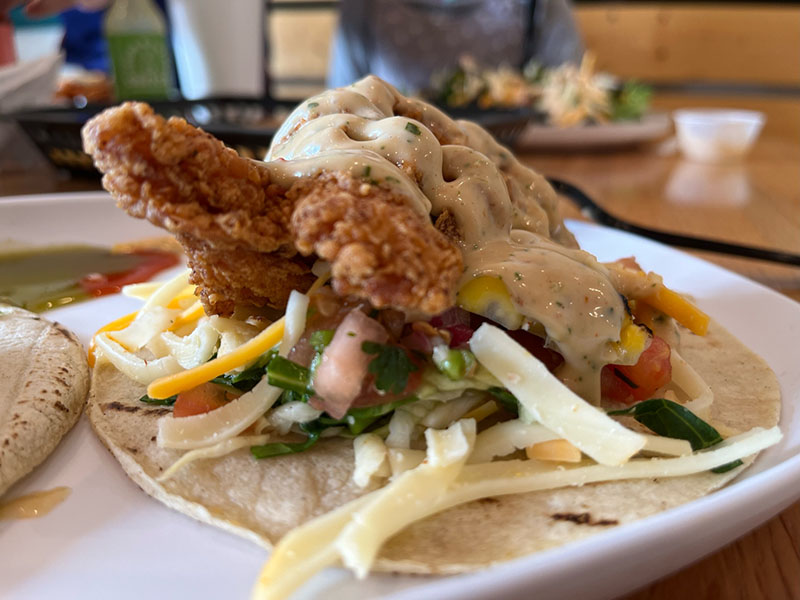 Chef-driven meets fast-casual.
As a fast-casual concept, the ambiance is bright, playful, and clean with indoor and outdoor seating.  Parking is plentiful in the adjacent lot. 
The whimsical Osito, Spanish for "little bear," mascot in the artwork and merch design is delightful.  I love the colorful logo t-shirt so much that I wear it often; though I never wear it to Osito's for fear of looking like some kind of obsessed super fan.
With three point of sale systems, the line never lasts too long and the food comes out quickly though always freshly prepared.  The paper napkins never feel thick enough for those hefty burritos drenched in house red sauce… but it's a taco shop, after all, and the discreet finger lick can be useful.  By the time you take your first bites and a few sips of your agua fresca, your hangry feelings begin to melt away.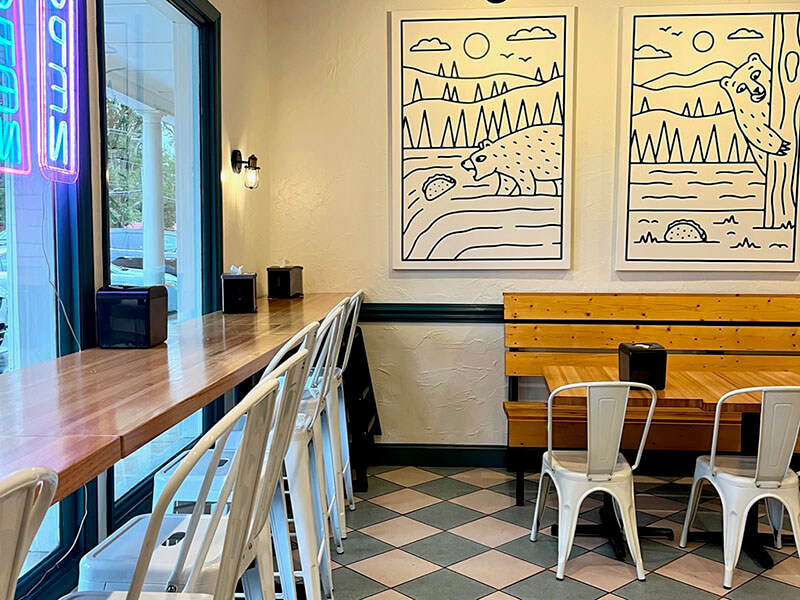 At the door, you might notice dads with kids in soccer jerseys picking up dinner on the way home from practice because it's Taco Tuesday.  Maybe you catch some business associates escaping the office for a burrito because the #Mondayblues has them looking for an Instagrammable lunch. 
College roommates can be spotted sharing local beers, churros, nachos, fry-chos, and queso because studying with provisions is essential.  Tacos bring people together. 
This, we all take, as modern-day gospel truth.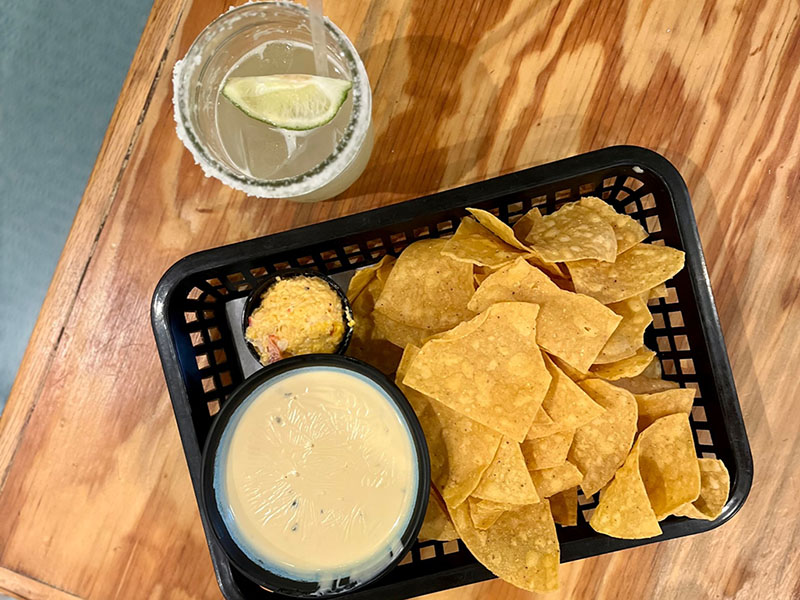 Tacos are only half of the story at Osito's, however, as the sign reads "Tacos & Tortas".  For the unfamiliar, one can think of the torta as the Mexican version of a hoagie.
What sets the torta apart from, say, the sub sandwich, is the bread. The telera is Osito's bread of choice.  It is oval in shape and has three distinct sections on the top of the roll.  Be warned: the tortas are enormous and not for the faint of heart.  The fillings put a Southern twist on the most popular Mexican classics. "El Jefe" serves up steak, ham, hot dogs, and chorizo all on one sandwich. 
Oh yeah, and it comes with guajillo ranch drizzled fries.  Aye yay yay.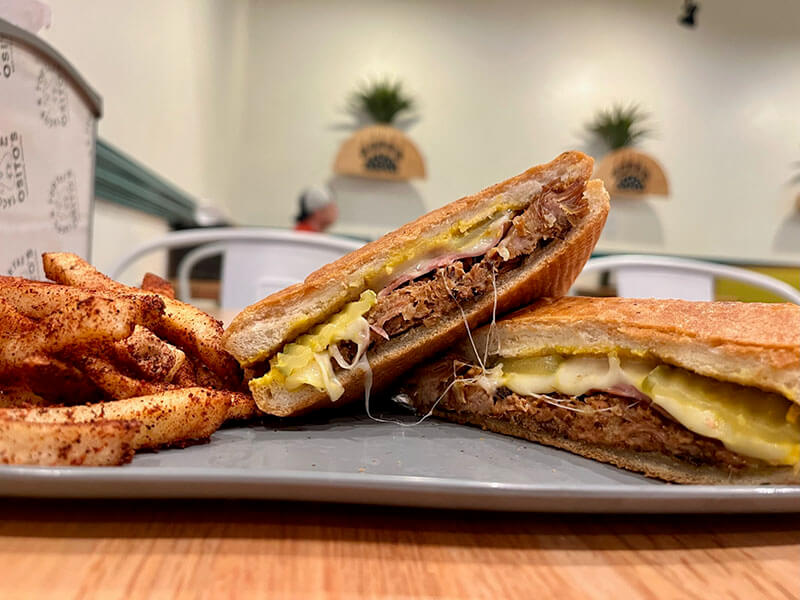 Osito's is personal.  It is curated.  "Olivia's mini burritos" are named after Co-Owners Bobby and Angela's daughter.  "The Don Angel" is an ode to Angela's Cuban father.  "The Miguel" is named after their son Mike who helped open the restaurant during the COVID-19 pandemic. 
Every detail from the little bear sauce bottles to the festive dusting of Mexican spices on the street corn has been thoughtfully executed. 
It's truly a creative expression of all the extensive travel the chef has done throughout Mexico to hone his craft; and simultaneously an homage to the flavors from his home state of North Carolina that ground him to this special place. 
Osito's is a crowd-pleaser.
Think about this Cornelius gem next time you want to surprise the foodie in your life with a spicy and tangy date night that won't break the bank.  Tacos are $5-6 each.  Get some giant tortas to go and cut them into quarters to serve party style. 
The popular pulled pork is a surefire win to feed a hungry crowd.  Maybe take a note from my book of party tricks and save yourself the dreaded "I'll cater it myself" shopping spree and just call Osito's. 
Your guests will be super impressed that your food is interesting enough to be a conversation starter.  Who's complaining about pimento queso? Nobody.  That's who.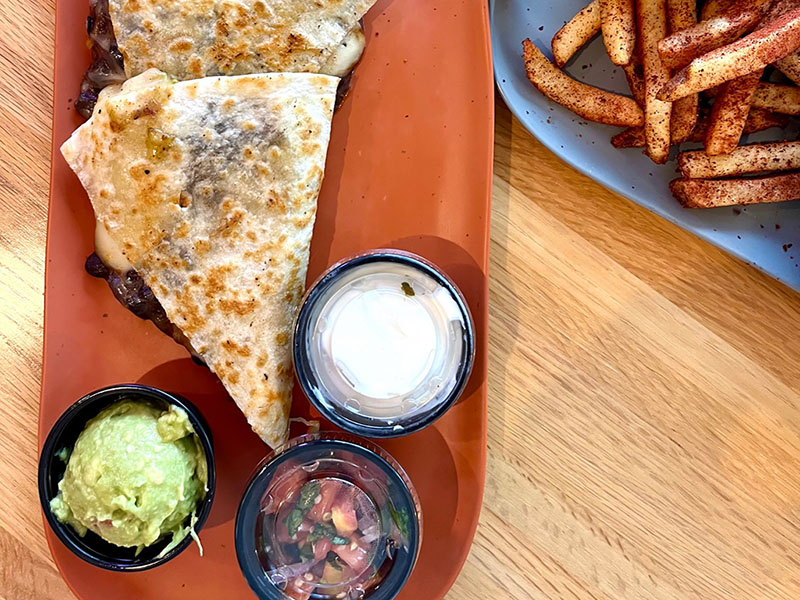 Osito's is a tiny hub of good mood-food driven by a visionary and skillful chef.  Bobby and his staff have a deep commitment to customer service turning first-timers into regulars with their downright delicious plates and Southern hospitality. 
He has a personal invitation for you:  "Come and try us. You're going to get something different here that you're not going to get anywhere else. We don't have a Combo #19."  Mexican street food meets Southern home cooking in a way you didn't know you needed until you tasted it.
Oh, speaking of things you didn't know you needed: order Abuela Lulu's flan.  You can thank me later.  Salud, y'all!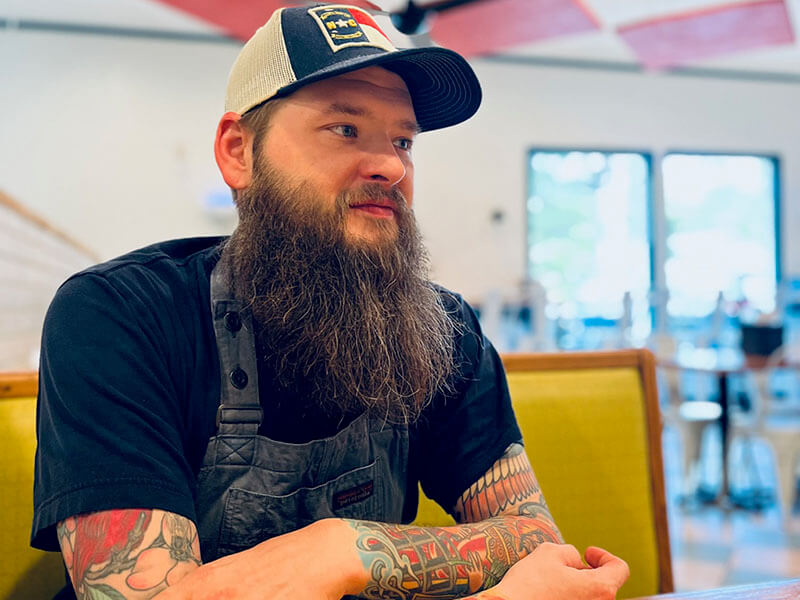 Get to know Chef Bobby Davis in episode 182 of The Best of LKN podcast!
Osito's Tacos & Tortas
Address: 20700 N Main St, Cornelius, NC 28031
Phone: (704) 997-5773
Hours: Monday-Thursday, 11 – 8 PM; Friday-Saturday, 11 – 9 PM; Closed Sunday.
About the author: Jordan Eicher is a resident of Davidson, NC, and a travel and food blogger who is well-known for her excellent restaurant reviews. A member of Yelp Elite Charlotte, Jordan can be found at the hottest local restaurants and traveling the world with her family.