Subscribe to Lake Norman's # Email Newsletter! – Click Here
When Cool Fish says they're not your typical sushi place, they really mean it. I mean, where else do you get to eat cheese curds with chopsticks?
The Inspiration Behind Cool Fish – Lake Norman
Located on Catawba Ave in Cornelius, Cool Fish is an Asian Fusion restaurant combining the best of Japanese cuisine with good ole southern cooking.
While you'll find plenty of sushi bar staples like maki, nigiri, sashimi, edamame, and tataki, the menu also features eclectic concoctions like Asian Tacos, Vegan BBQ Sushi, and Loaded Spring Rolls.
On top of that, Cool Fish also houses a rotating selection of local craft beers and creative cocktails. They're open until 2 a.m., so you can take your time tasting your way through the menu.
Upon entering Cool Fish, we were stricken with how cool (get it?) the atmosphere was. They've certainly taken the "fusion" theme to heart, with an interior that's laid back but lively, modern but rustic, and sleek but cozy, all at the same time.
The servers were friendly and got us seated in just a few minutes. We took our time to pore over the menu, enjoying the low-key atmosphere, which was perfect for unwinding after a busy Tuesday.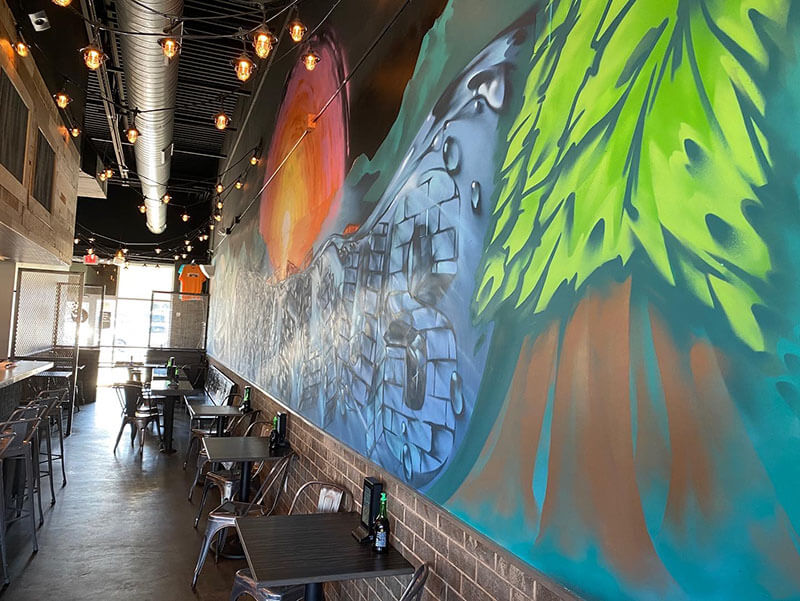 With such diverse fare, we had a pretty tough time deciding what to order, so we opted for a few shareables and a couple of sushi rolls.
First up were the Wisconsin Cheese Curds – my mother's ultimate weakness – which were fried to perfection and served with a side of house ranch. The crunchy, golden exterior gave way to gooey goodness with every bite. The plate was picked clean within a matter of minutes. Lactose intolerance be damned!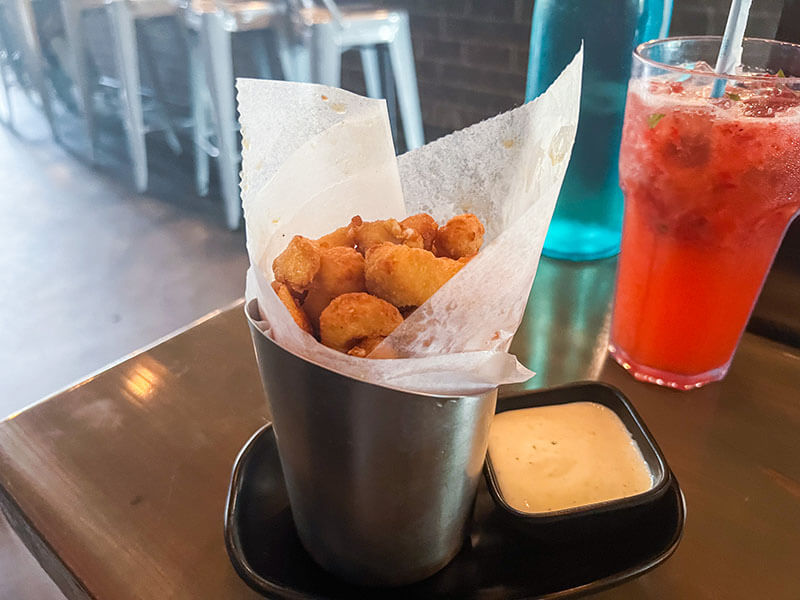 Next were the Not Your Typical Potstickers, dumplings filled with cream cheese, duck, and corn, then deep fried and served with a sesame ginger dipping sauce.
Though duck and cream cheese might sound like an odd combination, these little morsels were out of this world. It was tough not to eat more than my fair share.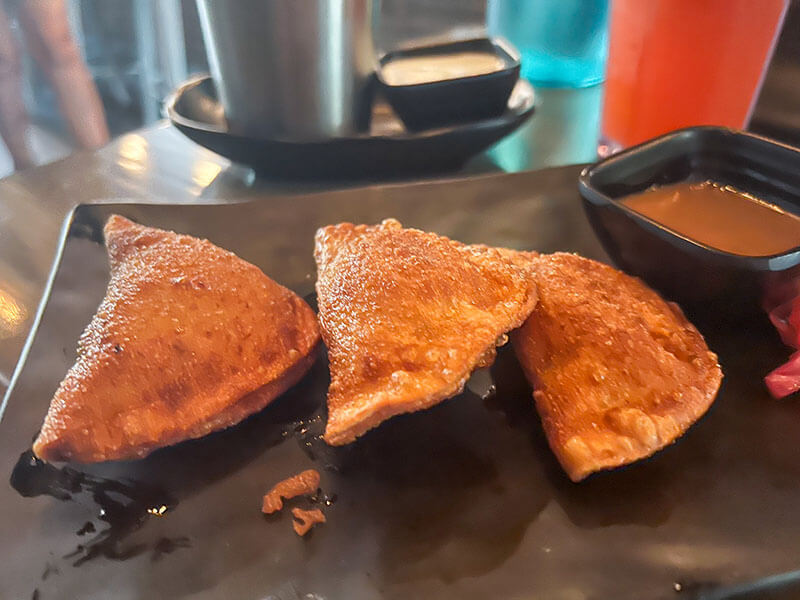 After that came a more recognizable classic: pork buns. It's hard to go wrong with pork belly, pickled vegetables, and hoisin sauce nestled between fluffy, white buns. I've had many a pork bun in my time, but I found these to be just as good as any.
The char on the pork belly added some much-needed texture to the juicy, fatty cut of meat.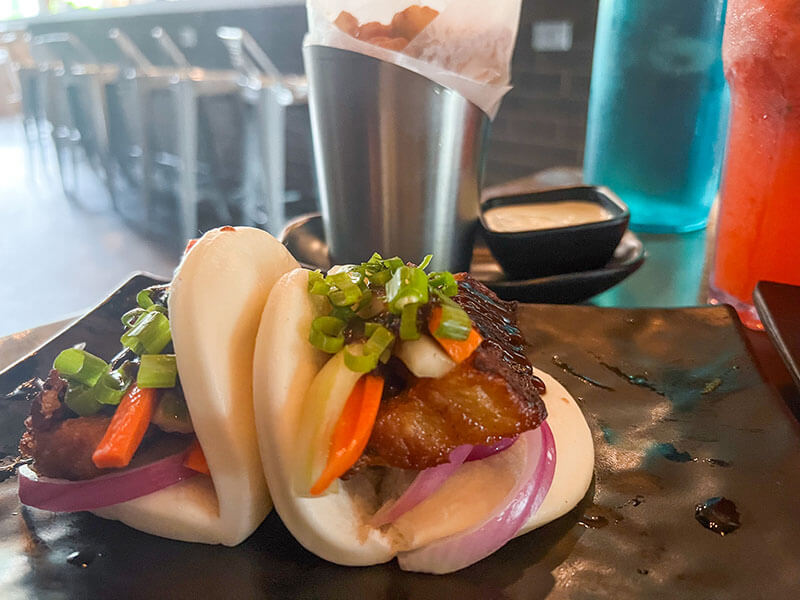 For our final shareable plate, we ordered the Asian Chicken & Waffle Sliders. Deep fried chicken between sweet waffles brushed with jalapeno butter and topped off with orange sauce and Mike's Hot Honey? Yes, please.
I could've eaten six of these. Shamelessly. They were the perfect balance of sweet and salty with a spicy, citrusy kick.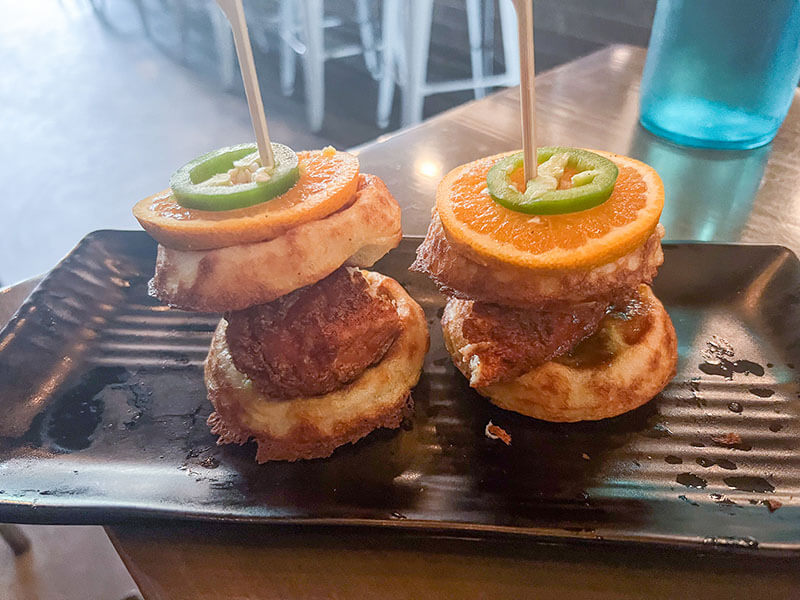 Lastly, our two sushi rolls arrived at the same time: the Crazy Tuna and the Cowboy Beebop.
The former was filled with spicy tuna, avocado, and tempura crunchies, all topped with peppered tuna, tobiko, scallions, and a wasabi sauce.
The latter was filled with shrimp tempura, avocado, cream cheese, asparagus, and cucumber, and topped with flame-seared wagyu, eel sauce, scallions, and a dusting of truffle salt.
Full as I was by this point, I managed to put down a few pieces of each. Both rolls were crafted and presented beautifully, and made for a great combo – the cool, refreshing feel of the Crazy Tuna offered a nice contrast from the warm, rich, and savory Cowboy Bebop.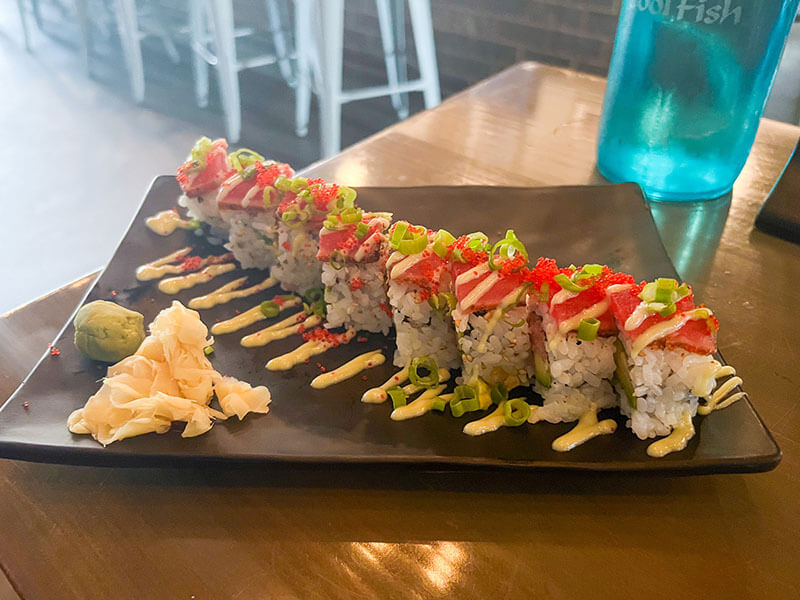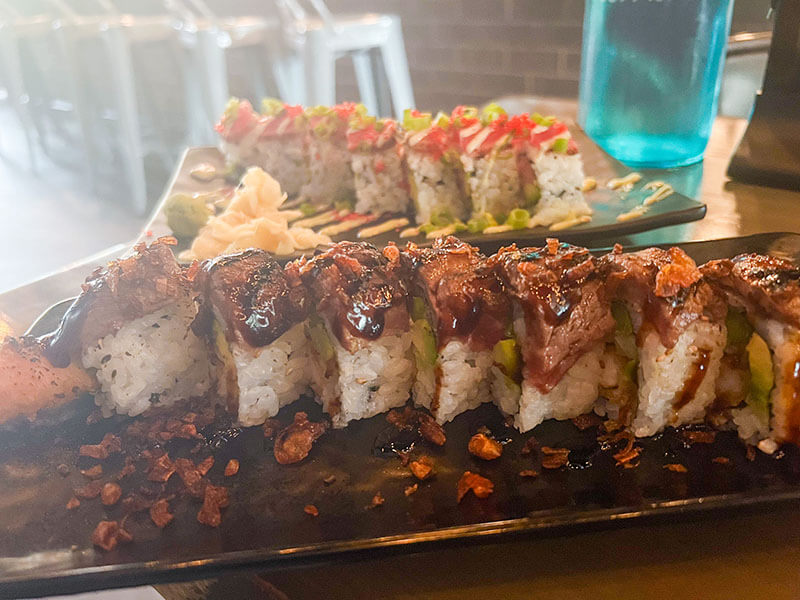 Final Thoughts on Cool Fish 
Cool Fish is a fantastic, low-key joint that's perfect for relaxing after a long day at work. Grab a drink and dance your cares away, or simply kick back with the fun fare and some friends.