The Lake Norman area is perfect for outdoor activities, and golf is no exception. We have access to some of the best golf courses in North Carolina – public courses and private clubs.
In this article, Chris Beeman (B-Man's Guide to Golf) shares his picks for the 10 best Lake Norman golf courses!
Top Lake Norman Public Golf Courses
B-Man's Rating: ⭐⭐⭐⭐⭐ (5 stars)
A former municipal course, Mooresville Golf Club has transformed into a must-play, well-maintained layout with country club amenities and a superior practice complex.
Rates: $47 weekdays, $60 weekends
Scorecard: Par 72, Champion Tees – 6803yds/73.0/135, Men's Tees – 6316yds/70.6/130
Practice Area: Dual-sided grass tee driving range with a short game practice area including a sand bunker, chipping green, and putting green. One of the best practice spots in the area.
Description: Mooresville Golf Club completed a $5 million renovation by Kris Spence in 2016 and is now home to a 17,000+ square foot clubhouse. The course features slick, challenging TifEagle Bermuda greens. It is very walkable and reasonably priced for the quality of conditions and amenities.
Among the 18 holes, there are five par 5's and five par 3's. The downhill par 4 4th hole takes you right into the clubhouse and parking lots – careful you don't go long on your approach! The par 4 9th hole features a dramatic elevation drop and a long, difficult approach shot over a creek to the green, with the clubhouse in the background. With the elevation changes, it pays to play your first round here with a veteran who can give you local course knowledge and help you avoid trouble. Overall this is a challenging course with tricky greens that are kept in great shape year-round.
Notes: The original layout of 9 holes was designed by Donald Ross and opened in 1948. The renovated clubhouse now includes On the Nines Bistro and banquet space for 150+ guests. The club offers membership plans that give you unlimited access to the impressive practice complex.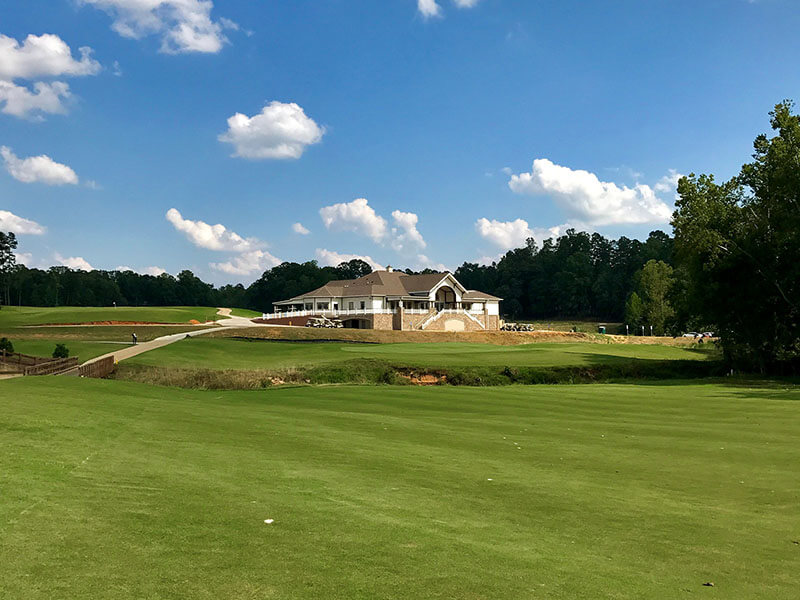 B-Man's Rating: ⭐⭐⭐⭐⭐ (5 stars)
One of the most visually stunning courses in the area, Verdict Ridge offers beauty, challenge, conditions, and amenities on par with nearby private clubs.
Rates: $54 weekdays, $74 weekends
Scorecard: Par 72, Champion Tees – 6926yds/74.4/144, Men's Tees – 6320yds/71.2/141
Practice Area: Grass tee driving range with a chipping green, practice bunker, and two putting greens.
Description: Verdict Ridge is a very unique course with several gorgeous holes. You will find it plays like a mountain course, with steep hills and valleys throughout. You're guaranteed to have some sidehill and uneven lies throughout your round. The course is kept in great condition year-round with fast Champion Bermuda greens.
My favorite hole is the 347yd par 4 9th hole — one of the most beautiful in all of Charlotte. With water all along the right side, it's best to play an iron from the tee off the left slope. Then you have a short iron approach into a green guarded by a small creek on the left and the pond on the right — with a waterfall behind the green offering a scenic backdrop.
There are several difficult holes with hazards and trouble spots that may not be obvious from the tee. You'll want to play your first round here with a veteran of the course to give you some tips. Two of the trickier holes in my experience are the par 4 7th hole with its severely sloped fairway and the difficult par 5 18th hole with several hazards to navigate.
If you can score well here, you've earned it. The course will test all facets of your golf game and you'll want to keep coming back to see how you measure up.
Notes: Built by former Charlotte mayor Eddie Knox, this course is located straight up Hwy 16 in Denver, NC on the west side of Lake Norman. Plan to spend some time in Guilties Bistro after the round for dinner and drinks. If you live nearby, check out their different membership options. The club only allows public play Monday-Thursday to reserve weekends for members only.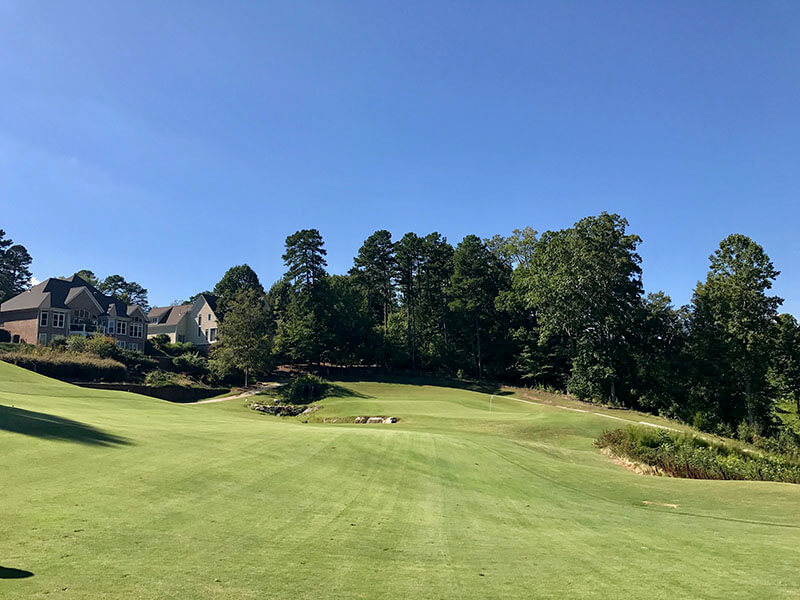 B-Man's Rating: ⭐⭐⭐⭐1/2 (4.5 stars)
A 2019 renovation and change in ownership revitalized Skybrook with upgraded amenities and consistently excellent course conditions, making the course a must-play for Charlotte golfers.
Rates: $62 weekdays, $78 weekends
Scorecard: Par 72, Champion Tees – 7028yds/74.1/137, Men's Tees – 6597yds/72.0/133
Practice Area: Grass tee driving range with a chipping area, practice bunker and a putting green.
Description: Skybrook opened in 2000 and I have played it for nearly all of those 2 decades. It has a distinct mountain course feel to it, similar to Verdict Ridge, with large elevation changes tee to green, sloped fairways, and undulating greens.
Speaking of the greens, like many Charlotte area courses, Skybrook switched over from Bentgrass to Mini-Verde Bermuda grass in 2019. The renovations came with new ownership (Pinnacle Golf Properties, which now managers several other former Carolina Trail golf courses in Charlotte) and renewed community support that have revitalized the course's reputation.
I consider the closing 4 hole stretch here one of the best in Charlotte public golf. From the short but well-bunkered par 4 15th to the long par 3 16th over water to the scary dogleg left pond-guarded par 4 17th and finally the S-shaped signature closing par 5 18th, these four holes will make or break your round and feature several risk-reward decisions.
The course plays long and difficult. So it may take a few rounds here for you to score well, but you will be extra proud of a good score when you post one.
Notes: The upgraded clubhouse features the Skytop Grill with large screen TVs and outdoor patio seating overlooking the 9th hole. The course is located 5 minutes from its Pinnacle Golf Properties sibling, Highland Creek Golf Club, making the pair a convenient 36-hole day option.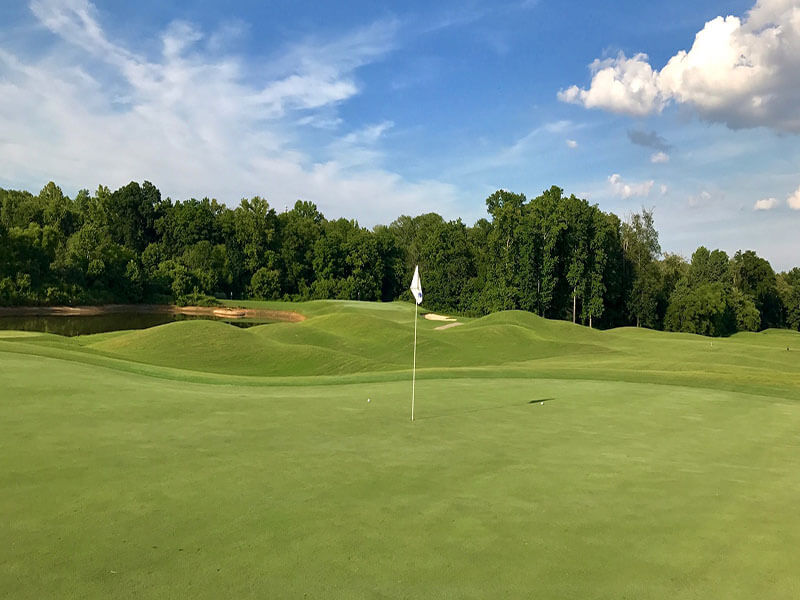 B-Man's Rating: ⭐⭐⭐⭐ (4.0 stars)
This Arnold Palmer design from 1997 is currently under renovation as part of the $45 million redevelopment project that will include retail and commercial space as well as a hotel and condos. The course is set to re-open in late summer this year. 
Rates: $55 weekdays, $70 weekends
Scorecard: Par 72, Championship Tees – 7013yds/74.1/138, Men's Tees – 6485yds/71.2/127
Practice Area: To be re-developed as part of the renovation this year.
Description: As the only public, daily-fee Arnold Palmer design in the Charlotte area, Birkdale Golf Club has always been a popular course and a treat to play. It has endured an interesting decade of ownership and management changes as well as a green renovation in 2021. Pinnacle Golf Properties now manages the course along with the other former Carolina Trail clubs, including nearby Skybrook and Highland Creek. 
The course layout itself is a fun one, full of risk-reward short par 4's, tough par 3's, challenging doglegs, and nerve-wracking shots over water hazards. Speaking of, watch out for the 569yd par 5, 5th hole where your 3rd shot must carry water to reach sucker pins in the front right corner. And good luck on the 436yd par 4, 18th hole, which also has a tough carry-over water and bunkers to a sloped green.
The course now features Ultradwarf Bermudagrass greens which were put in just two years ago. The new greens provide a truer putting surface that is consistently good for play year-round.
The practice area used to be one of the best in the area with a lighted driving range. However, the re-development project will eliminate the driving range altogether. There are plans for a short game practice where the current 9th green is located and the 9th hole will be shortened to a par 3. 
Notes: Follow my newsletter and Twitter feed for updates on the re-opening. The clubhouse will be getting a complete renovation and Arnie's Tavern will be back better than ever.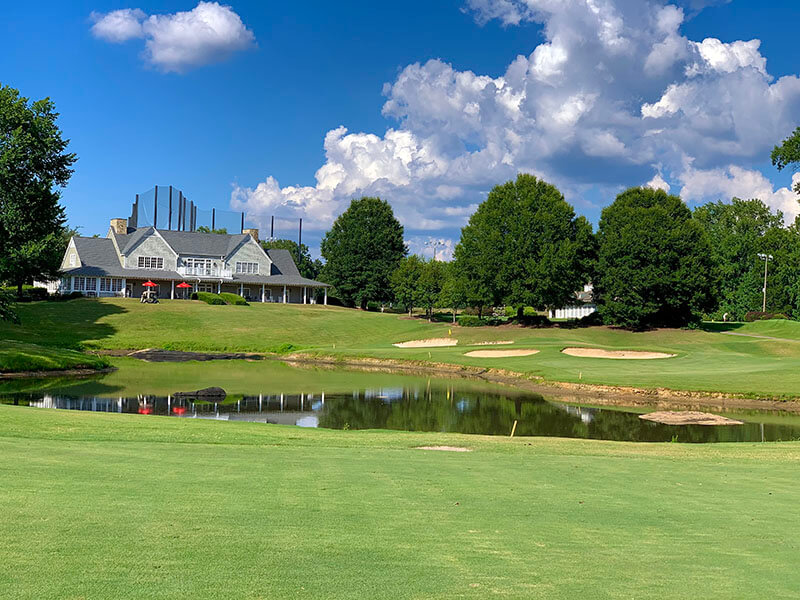 B-Man's Rating: ⭐⭐⭐⭐ (4.0 stars)
With its vibrant Highland Creek Taproom & Beer Garden, this course is now one of the best social and event public golf clubs in the area. 
Rates: $50 weekdays, $70 weekends
Scorecard: Par 72, Championship Tees – 7043yds/74.0/137, Men's Tees – 6520yds/71.5/136
Practice Area: Grass tee driving range, 12,000 square foot sloped putting green (very indicative of actual greens), chipping green, and practice bunker.
Description: Much like Skybrook, Highland Creek has been revitalized by new management (Pinnacle Golf Properties) and the support of its residents. The Taproom & Beer Garden opened last September featuring pizzas from a wood-fired oven, cold draft beers, regular live music, and outdoor seating with scenic views of the 18th hole.
The golf course is one of the few remaining public courses in Charlotte with Bentgrass greens as most have converted to Bermuda over the past decade. The staff has done a great job keeping the greens in good shape even during our typical hot and humid Carolina summers. 
The layout is difficult. Unless you are very accurate off the tee and with your approaches, you will likely lose several golf balls to the namesake creek, which runs along seemingly every hole. The course can play long but the par 5's are all fun risk-reward holes.
The par 5, No. 12 requires 3 strategic shots to navigate split fairways and an approach over a pond. The signature hole is the 487-yard, par 5 finishing hole that is reachable in two, provided you carry the water all along the right side with 2 good shots. I have eagled this hole before so it is doable!
Notes: Check the schedule for the Taproom & Beer Garden which features live music and special events throughout the year.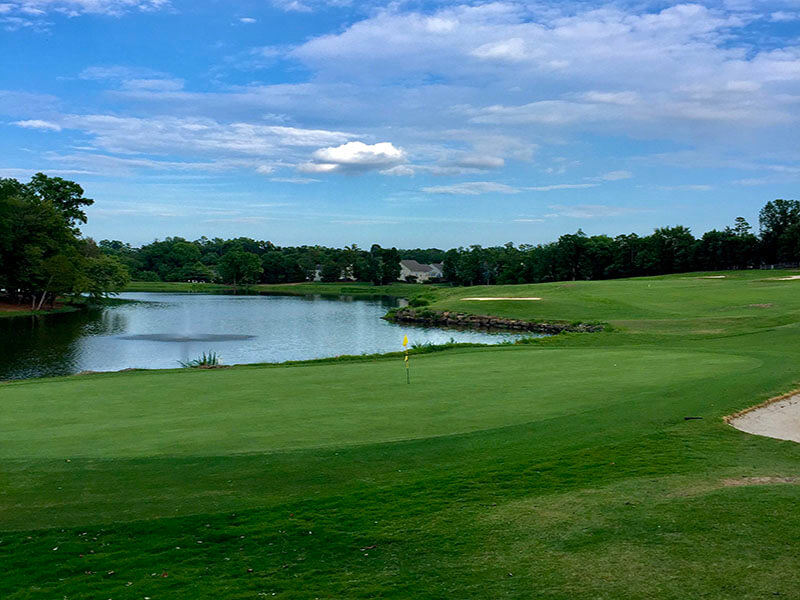 Top Lake Norman Private Golf Clubs
B-Man's Rating: ⭐⭐⭐⭐⭐ (5 stars)
Trump National Golf Club Charlotte is the crown jewel of Lake Norman area golf clubs with ten holes offering views of the lake and a newly added "Fazio Five" short course. 
Membership Options: Full Golf and Junior Golf (under age 34) options with initiation fees in the $50-$75k range and monthly dues/fees in the $500-$1000 range.
Scorecard: Par 72, Back Tees – 7425yds/76.1/147, Men's Tees – 6450yds/71.2/135
Description: Designed by Greg Norman in 1999 and bought by Donald Trump in 2012, this golf club offers stunning views of Lake Norman and the multi-million dollar homes of The Point, the surrounding lakeside community with which the club used to share the name.
The course and the club amenities are exquisite and live up to the Trump name. With lake views throughout both nines, it is easy to get distracted from the golf course, which will challenge all aspects of your game with elevation changes, risk-reward hazards to carry, and large, undulating TifEagle Bermuda greens.
The back 9 is especially memorable, starting with the #1 handicap hole, par 4, No. 10 which requires an approach shot of at least 160 yards with an inlet guarding the entire right side. The finishing stretch of 3 holes includes a reachable par 5 (if you can carry the last 200 yards over the lake), a beautiful par 4 backed by a horseshoe bunker and the lake, and the scenic closing par 4 with one final approach over the water as you make your way back to the clubhouse.
The 2013 redesign after the Trump rebrand truly turned this course into a thrilling round of golf.
Notes: The Fazio Five short game complex was designed by Tommy Fazio II and includes five par 3 holes that are great for practice or quick, fun rounds no matter your age or skill level. The Tavern Dining Room offers a 5-star dining experience and a veranda overlooking the 18th green and Lake Norman. The clubhouse sits on Trump Square, which also hosts a general store, bakery, and gift shop.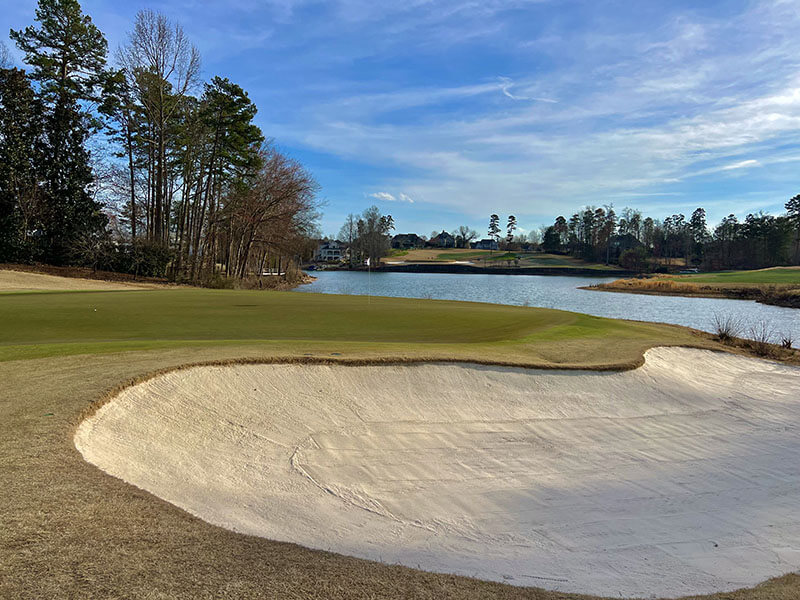 B-Man's Rating: ⭐⭐⭐⭐⭐ (5 stars)
The Peninsula Club is the premier golf club located on the southern side of Lake Norman and features two picturesque par 3's with infinity lake view backdrops.
Membership Options: The club offers equity memberships with initiation fees and monthly dues at the higher end of the Charlotte market. There is currently a waiting list for prospective new members.
Scorecard: Par 72, Back Tees – 6959yds/74.9/142, Men's Tees – 6595yds/72.6/137
Description: The Peninsula Club is a Rees Jones-designed course that plays along the shores of Lake Norman. It is known for scenic views with the lake in play on 3 of the 4 par threes. The greens on the par 3 7th hole – on which Michael Jordan owns a house – and the par 3 16th hole both feature infinity views of the lake.
The Champion Bermuda greens (changed over in 2012) are some of the slickest in Charlotte with Stimpmeter readings rumored to exceed 12 during tournament weeks (to which I can attest). With the tiers and undulations, those fast greens can play very difficult.
The par 5's bookend both nines on this layout, with No. 9 and No. 18 both playing similarly short, downhill, and to the left with lake coves guarding 2nd and 3rd shot approaches into the greens. They make for an exciting finish whether you are playing 9 or 18-hole matches.
Despite the greens being only a decade old, the club has plans for a complete renovation of the course which will shut things down for about 15 months. The ~$20MM overhaul includes changes to every hole, with some small (e.g. new tee boxes and tree clearing)  and some more significant (e.g. complete green and bunker re-design). No details yet on reciprocal options for members during the closure which is slated for October this year.
Notes: The dining options at the clubhouse are top-notch with an upscale, adult-only restaurant, The Veranda, on the top floor and the family-friendly Mulligan's restaurant on the lower level. Both venues offer covered outdoor seating and great views of the 9th green and Lake Norman.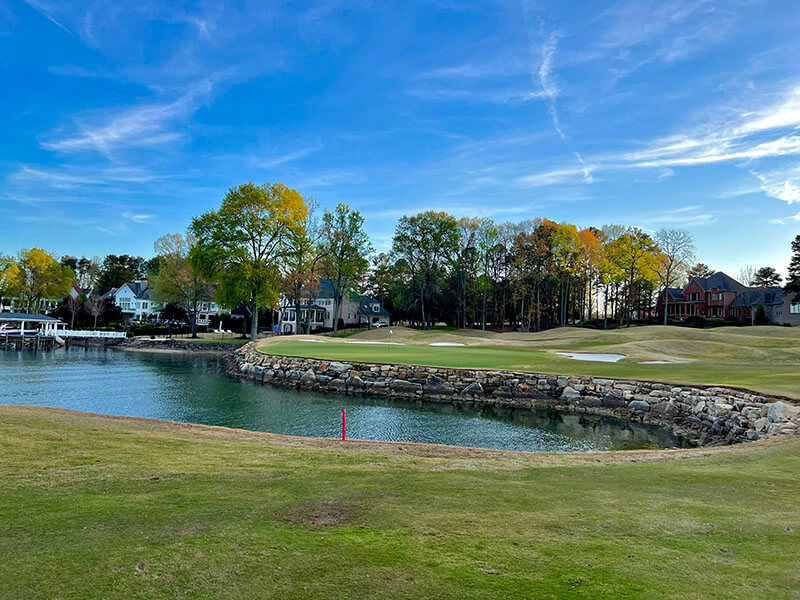 B-Man's Rating: ⭐⭐⭐⭐1/2 (4.5 stars)
Winding through the rolling terrain and beautiful hardwoods of Davidson, River Run has the length and difficulty to challenge pro golfers and has hosted events for the PGA Tour (Web.com) and LPGA (Symetra) in recent years.
Membership Options: Junior Exec, Young Exec, and Full Golf options with initiation fees in the $20-$30k range and monthly dues/fees in the $480-$800 range.
Scorecard: Par 72, Back Tees – 7317yds/75.9/141, Men's Tees – 6501yds/71.4/133
Description: Designed by Robert Walker and Raymond Floyd in 1989, River Run Country Club features a stellar championship layout and an excellent practice facility well-suited to current and aspiring professional and amateur tour players. The club regularly hosts prestigious tournaments, including state/regional qualifiers, local amateur tournaments, and charity events.
With its Bermuda fairways and Champion Ultra Dwarf Bermudagrass greens, the course stays in top playable condition year-round. Creeks, ponds, and lake inlets border and cross many of the holes, giving you several risk/reward decisions to make throughout the round. The 16th and 18th holes illustrate this perfectly.
The par 4, No. 16 (#1 handicap) has a reachable creek at the end of the fairway which sets up a dramatic uphill approach to the green that is well-guarded by bunkers. The dogleg right par 5, No. 18 forces you to carry the signature pond twice before reaching a long, treacherous, 3-tiered green. 
The club is home to the River Run Golf Learning Center which includes an expansive short-game practice complex and the latest swing analysis, ball flight, and functional movement technology tools to help improve your full-swing, chipping, and putting.
Notes: There are capital improvement plans for the golf course this year and next that will affect play. The course will shut down between April and August 2024 as they re-grass all 18 greens. During that time, members will have reciprocal benefits at several nearby courses, including Northstone.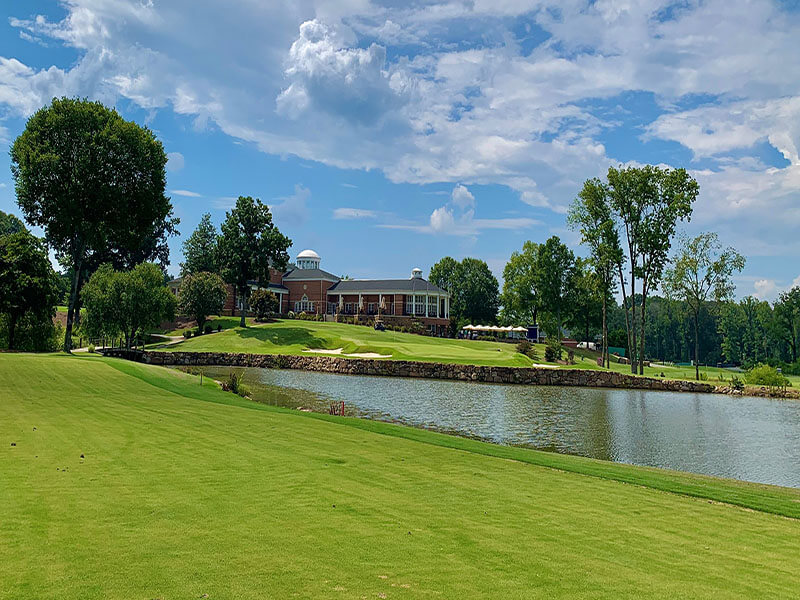 B-Man's Rating: ⭐⭐⭐⭐1/2 (4.5 stars)
Located in Huntersville, NorthStone Country Club is a thrilling but difficult track with creeks, ponds, and backyards (i.e. "O.B.") in play on seemingly every hole. 
Membership Options: Individual, Executive, and Family options with *no* initiation fees and relatively low annual dues.
Scorecard: Par 72, Back Tees – 6989yds/73.8/147, Men's Tees – 6517yds/71.3/138
Description: While NorthStone Country Club does not border Lake Norman, the course is very scenic with several dramatically landscaped holes using ponds, boulders and bridges. Both the 9th and 18th holes play right into the clubhouse providing spectators with a nice vantage point to watch players finish their matches and tournaments.
Designed by P.B. Dye, the course has a great mix of challenges including the aforementioned hazards and out-of-bounds but also elevation changes and sloped fairways. The large Mini Verde Bermuda greens are tiered and sloped which can make for some tricky pin placements, especially when the greens are running fast. The fairways are Zoysia and always manicured well throughout the year.
NorthStone's state-of-the-art learning center features private instructional areas, natural grass tees, covered and heated hitting bays with artificial surfaces, V1 swing analysis, FlightScope launch monitors, putting greens, and a practice bunker.
Notes: Memberships, which require no initiation fees,  are very affordable, especially considering the quality of the course you get.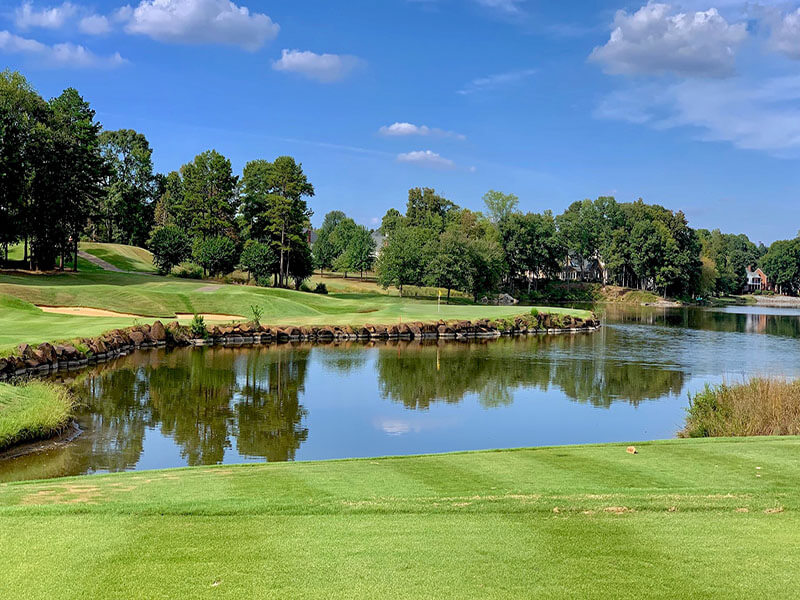 B-Man's Rating: ⭐⭐⭐⭐ (4 stars)
A family friendly, classic golf club located on the southwestern shore of Lake Norman, Cowan's Ford is an affordable alternative to its lakeside neighbors and is kept in great shape year-round.
Membership Options: Full and Junior Golf (under age 40) options with relatively low fees and dues.
Scorecard: Par 72, Back Tees – 6932yds/73.7/134, Men's Tees – 6588yds/72.1/131
Description: Originally opened in 1964, Cowan's Ford Golf Club was renovated by well-known Greensboro architect Kris Spence in 2003 following Donald Ross principles to keep the course fun and challenging for golfers of all skill levels.
The course features well-maintained A-4 Bentgrass greens which are unique among the area's other clubs which have all switched to Bermuda variants. The tree-lined layout is generous off the tee and, while challenging with ponds and creeks in play on seven holes, gives all levels of golfers a chance to post a good score.
The signature holes on the back nine include the par 4 No. 13 with a creek and pond in play for both the tee shot and approach shot. The two par 5's are challenging three-shotters – No. 15 protects par with a hazard and brick wall fronting the green while No. 18 is a long dogleg right with an uphill approach over a large greenside bunker.
The comprehensive practice facility is over 40,000 square feet. It includes a chipping green, a pitching green, a practice tee with hitting mats, sand bunkers, and a large putting green. 
Notes: The club has active Men's, Senior Men's, and Ladies' Golf Leagues as well as a comprehensive Junior golf program throughout the summer months.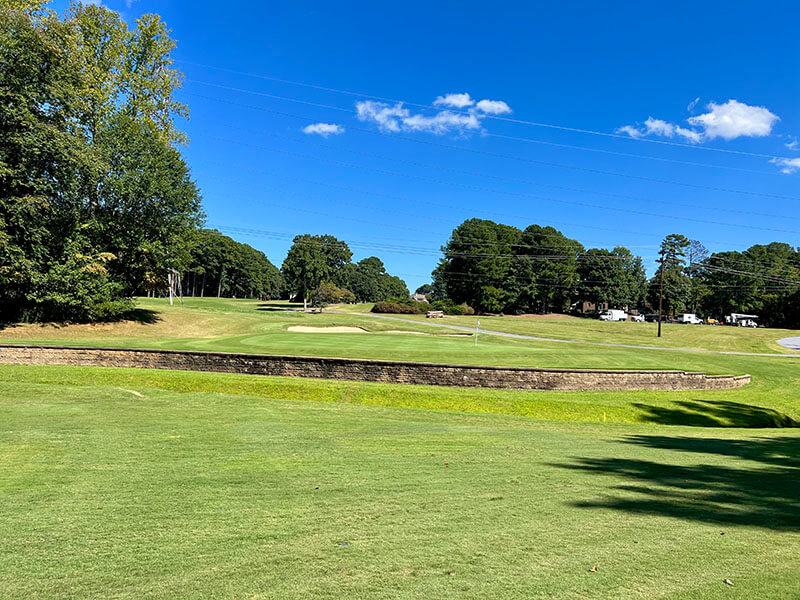 About the Author
Chris Beeman ("B-Man")
Chris Beeman lives in south Charlotte and runs B-Man's Guide to Golf – where you can find detailed reviews and updates for over 45 public courses within an hour's drive of Charlotte. Founded in 2002, the site was built for the golfer, by the golfer. Chris plays on TheGrint Tour (@thegrinttournc), a PGA-style amateur golf tour for players of all skill levels. He also does web design and digital marketing for TripCaddie.com, Homestretch Golf, and several other golf brands. You can follow Chris on Instagram, Twitter, and Facebook – @charlottegolfer.
How B-Man Ranks Golf Courses
There are over 45 public and semi-private golf courses within an hour's drive of Charlotte. B-Man has played them all and also collected other golfers' reviews for the past 2 decades. Last year he joined a private club in south Charlotte, The Club at Longview, and is now making his way through the 30+ private golf clubs in the area. His course ratings (5-star scale) take into account several factors:
The "Wow" Factor – something about the course that is unique, makes you want to come back, and that you tell your friends about
Conditions – consistently great year-round conditions (especially on the greens) are a must to be rated highly
Layout – a mix of fun, challenges, and good design throughout 18 holes
Amenities – practice area, restaurant/bar, clubhouse facilities, etc that make your entire golf experience great
Value – bang for the buck, how the rest of the rating factors stack up to the price of greens fees and membership dues