Milkbread is a fast-casual restaurant concept developed by Joe and Katy Kindred in Davidson, North Carolina. The Kindreds also own Kindred Restaurant in Davidson, NC.
Milkbread is located on Jetton Street near the area known as the "traffic circles" in Davidson.
The shopping center around Milkbread is home to several boutiques, shops, and salons. It's also home to a Harris-Teeter grocery store. There is ample parking, but the area is often very busy and crowded.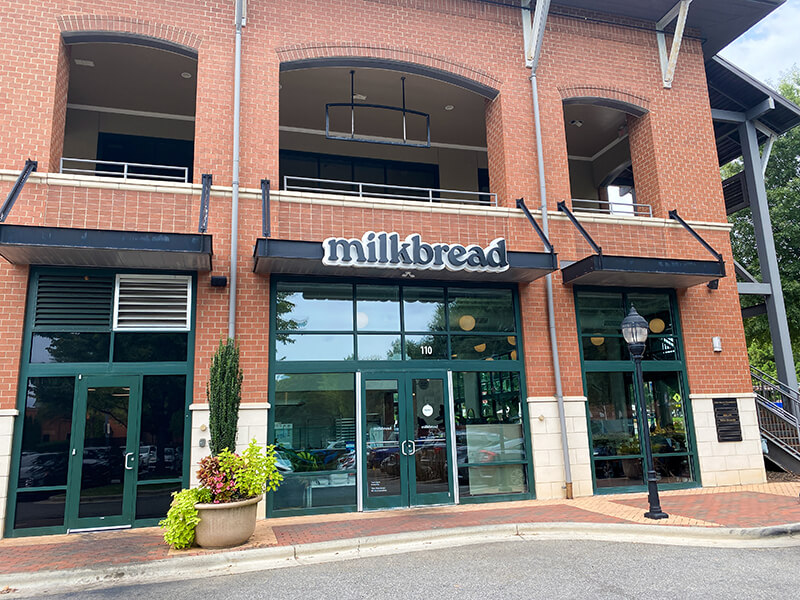 Milkbread is a fast-casual restaurant, which means you won't be greeted by a hostess and there's no table service here. A polite cashier awaits you at the counter to take your order.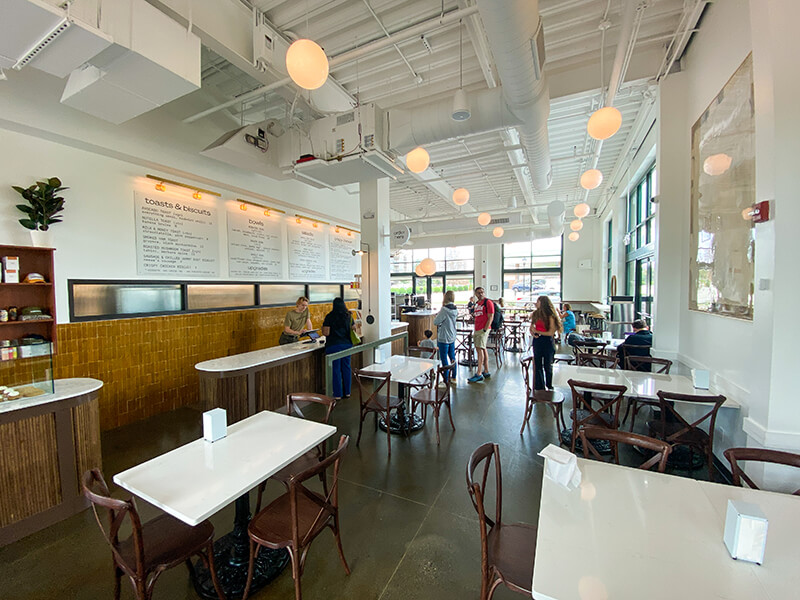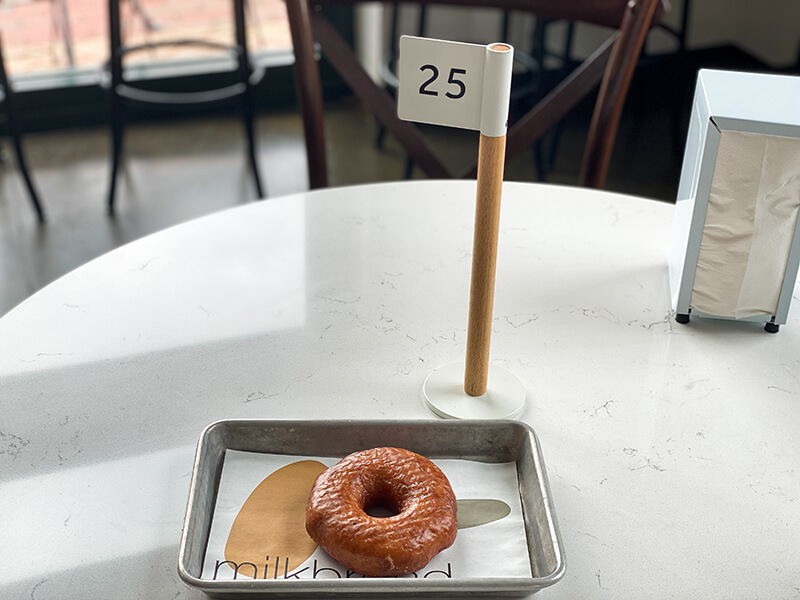 A large menu on the wall behind the counter shows you everything Milkbread has to offer. Toast and biscuits for breakfast, and salads, bowls, and sandwiches for lunch and dinner.
Of course, there are Milkbread donuts "all day."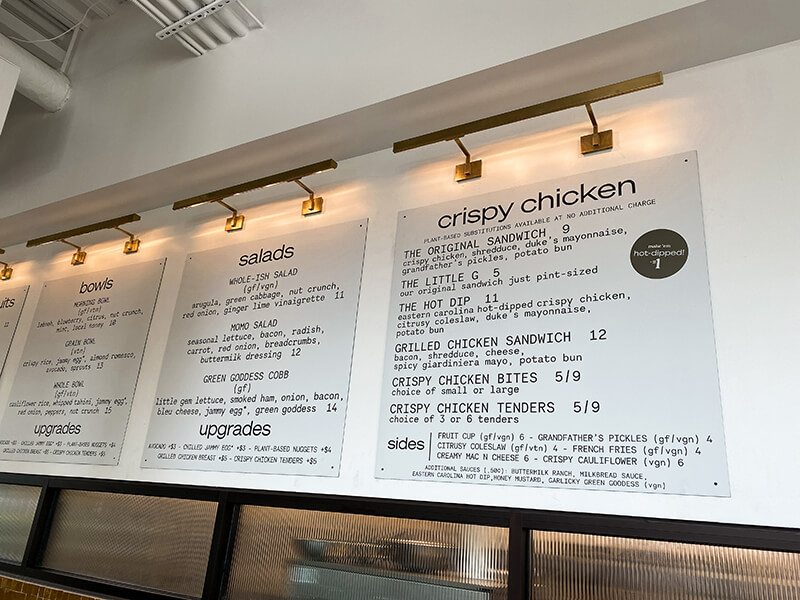 Milkbread makes a lot of sense as a lunch spot. I've heard rave reviews of the fried chicken sandwich at Milkbread, called "The OG Sandwich." It comes with shredded lettuce, mayonnaise, and pickles served on a potato bun.
There are three sauces available for The OG Sandwich – buttermilk ranch, eastern Carolina hot dip, and garlicky green goodness – all house-made. I ordered my sandwich dipped in eastern Carolina hot sauce, and I highly recommend it.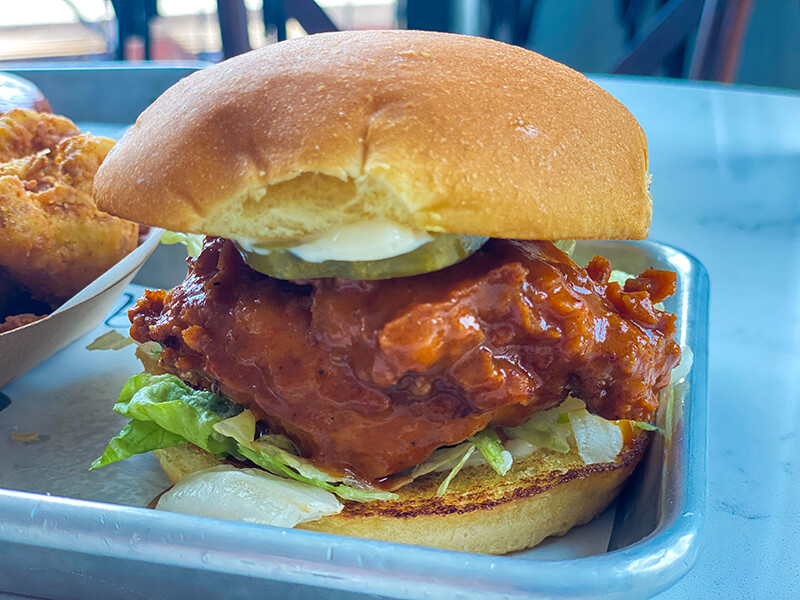 I asked the counter attendant for advice on the most popular side item on the menu. He recommended the Crispy Cauliflower. I enjoyed this side dish very much, and it supports my thesis that anything can taste good when it's fried. It seemed breaded just perfectly. No doubt, there's some of Chef Joe's calabash influence in there.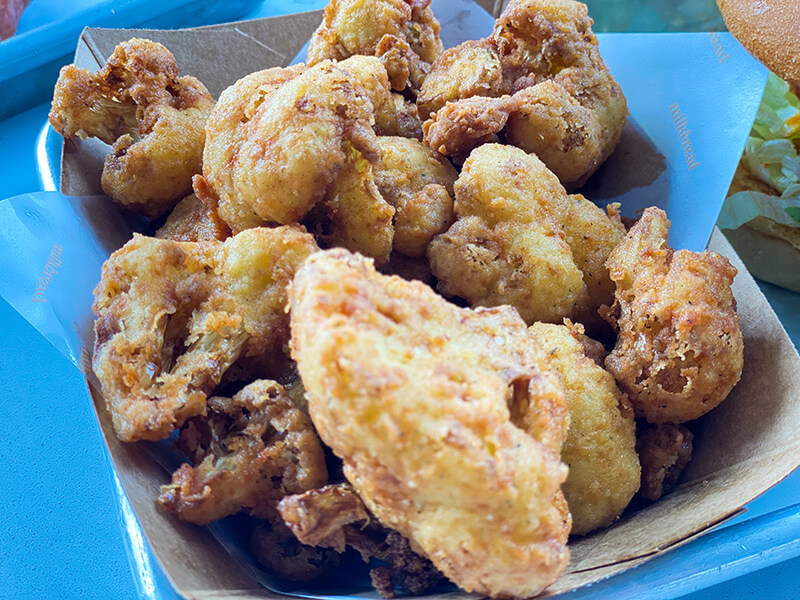 Milkbread does offer beer and wine. Be forewarned, you'll pay $10 for a can of local craft IPA here. Admittedly, it is one really good IPA. The owners of this particular brewery were interviewed on our Charlotte podcast. They're pretty awesome people, and they brew an excellent IPA, so I admit I'm biased. Then again, aren't we all?
Of course, there are lower-cost beer options. On this visit, I selected a soft drink. Ginger ale, on tap, $2.
Dessert was a no-brainer. I had the original glaze Milkbread donut. Next time I'll buy three. So good.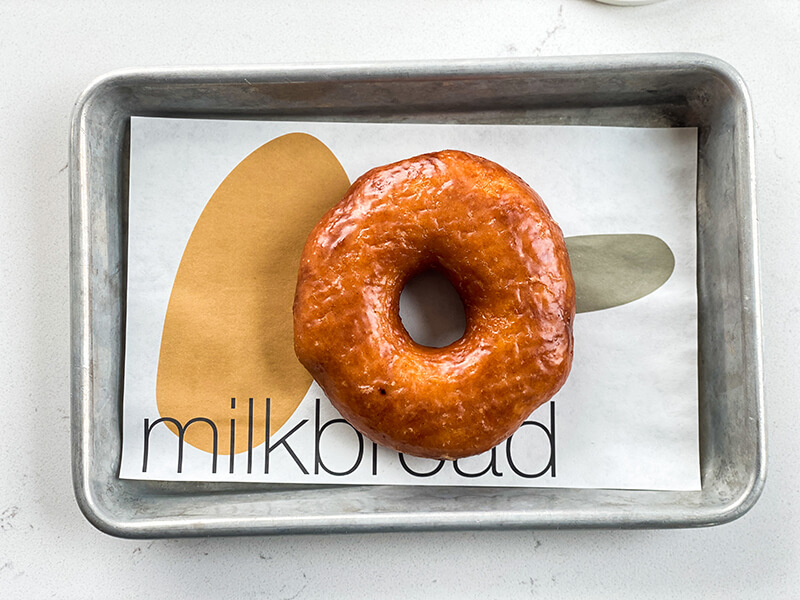 Is Milkbread a Good Value?
For a fast-casual joint, Milkbread is hardly cheap. My lunch came to around $27 including the customary 20% gratuity. The gratuity may seem a little steep, considering meals are ordered by standing in line at the counter, you'll pour your own soft drinks, and it's expected that you'll bus your own table. None of which I mind doing (so, why does it sound like I'm complaining?).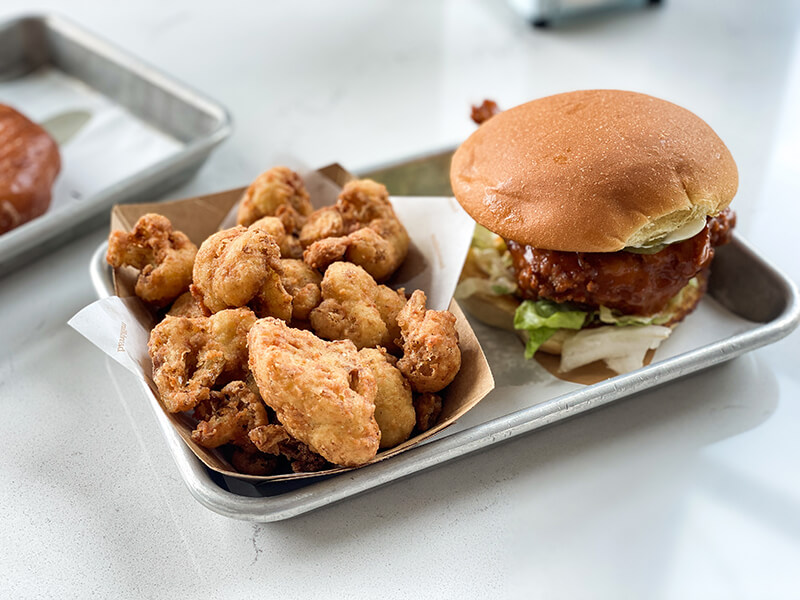 For a journalist/podcaster like me, who works nights at a brewery to help make ends meet, a 27-dollar lunch is a rare luxury. Not something I can repeat often. However, I do look forward to returning to Milkbread. I think the Kindreds hit the mark.
At Milkbread, as in life, you get what you pay for. In this case, you're paying for really good sandwiches, salads, and sides (and donuts). It's worth a visit.
Location: 624 Jetton St #110, Davidson, NC 28036
Hours: 7AM-9PM, daily
Meet the founders of Milkbread, Joe and Katy Kindred, in episode 31 of the podcast!